Best Sound Machine For Baby - Vtech Wyatt Whale Review
If We Hadn't Gotten This Sound Machine, I Don't Know If My Infant Would Ever Sleep
As POPSUGAR editors, we independently select and write about stuff we love and think you'll like too. POPSUGAR has affiliate and advertising partnerships so we get revenue from sharing this content and from your purchase.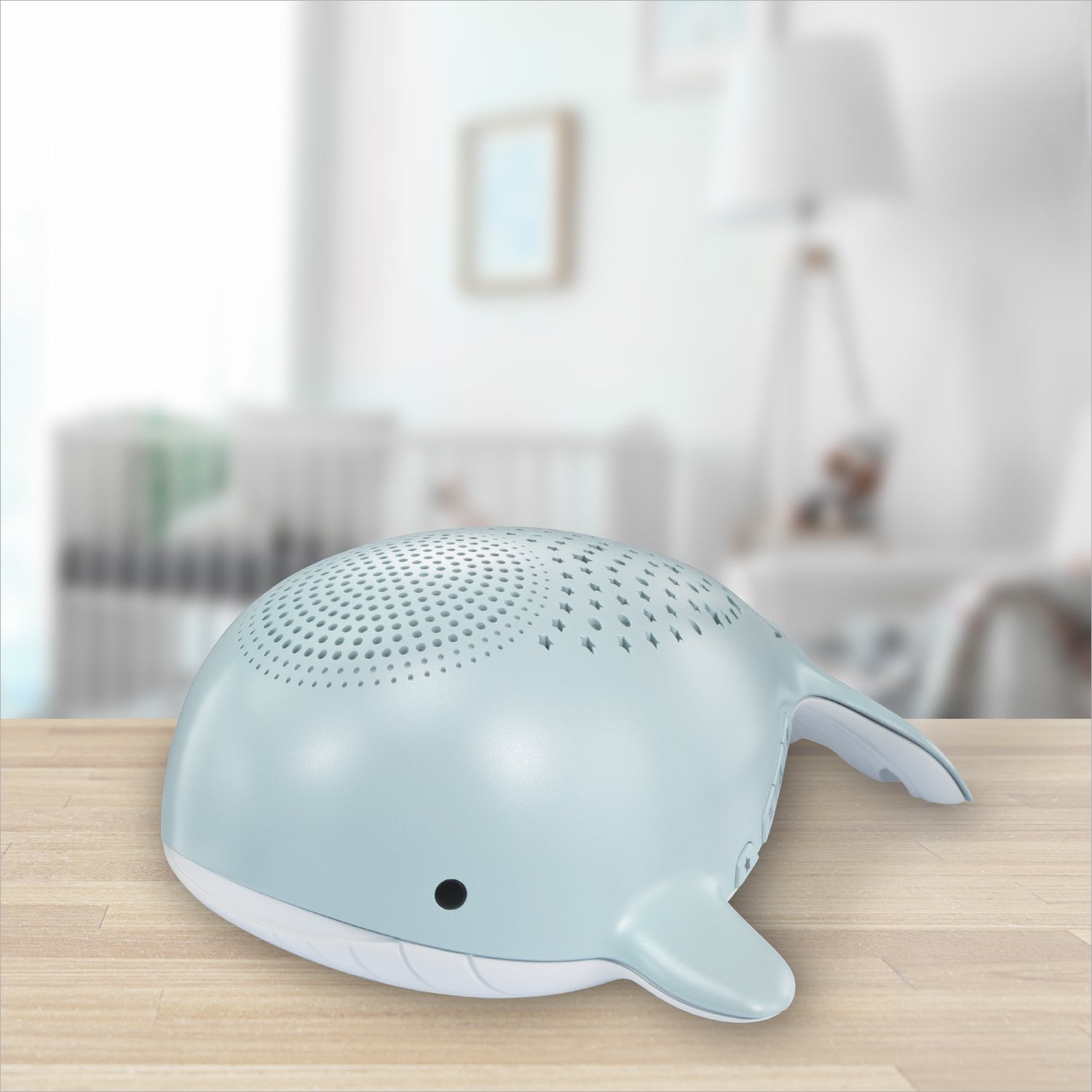 I am currently in the dark, watching my 4-month-old daughter sleep soundly in her crib. A soft version of Graeme Revell's "Hush, Little Baby" is coming out of a whale on her nightstand, and though I've heard it every day for the past several months, the tune doesn't completely make me want to stuff itty-bitty newborn socks into my ears.
We didn't think a sound machine was a necessary purchase — can you tell this is our first child? — so I never put one on our registry. Six weeks into parenthood, and I was shoving my laptop under her bassinet with 200-minute-long YouTube videos of lullabies playing. (The trick is to turn the screen brightness down all the way, so your battery doesn't die.) It was at this point that VTech's Wyatt the Whale ($40) entered our lives.
Wyatt is surprisingly small. He's also very easy to operate, which is important when you're waking up every 45 minutes and you've forgotten whether ice cream goes in the refrigerator or the freezer. He plays a selection of wordless lullabies, white noises (crickets, driving sounds, rain, etc.), and bedtime stories read by a woman with a voice much more soothing than my own. You can skip through any tracks you don't like and set the timer for 30, 45, or 60 minutes. You can even hook Wyatt up to VTech's app, which will allow you to transfer new lullabies and sounds or record stories of your own. (I'm thinking this feature will come in handy as she gets older and we have date night — she may want to hear our voices reading her favourite book before bed.)
Wyatt also projects stars onto the ceiling in blue, orange, or green light. We prefer the option that automatically cycles through all the colours, which seems to fascinate our baby right before she dozes off.
At this point, the likelihood of my daughter falling asleep at her designated naptime without Wyatt is approximately nil — and that's perfectly fine with me. As every new parent knows, it doesn't matter how she gets to sleep, as long as she sleeps.