The Dreamgenii Pregnancy Pillow Is Effective and Compact
This Is the Only Pregnancy Pillow That Stopped Me Waking Up on My Back
As POPSUGAR editors, we independently select and write about stuff we love and think you'll like too. If you buy a product we have recommended, we may receive affiliate commission, which in turn supports our work.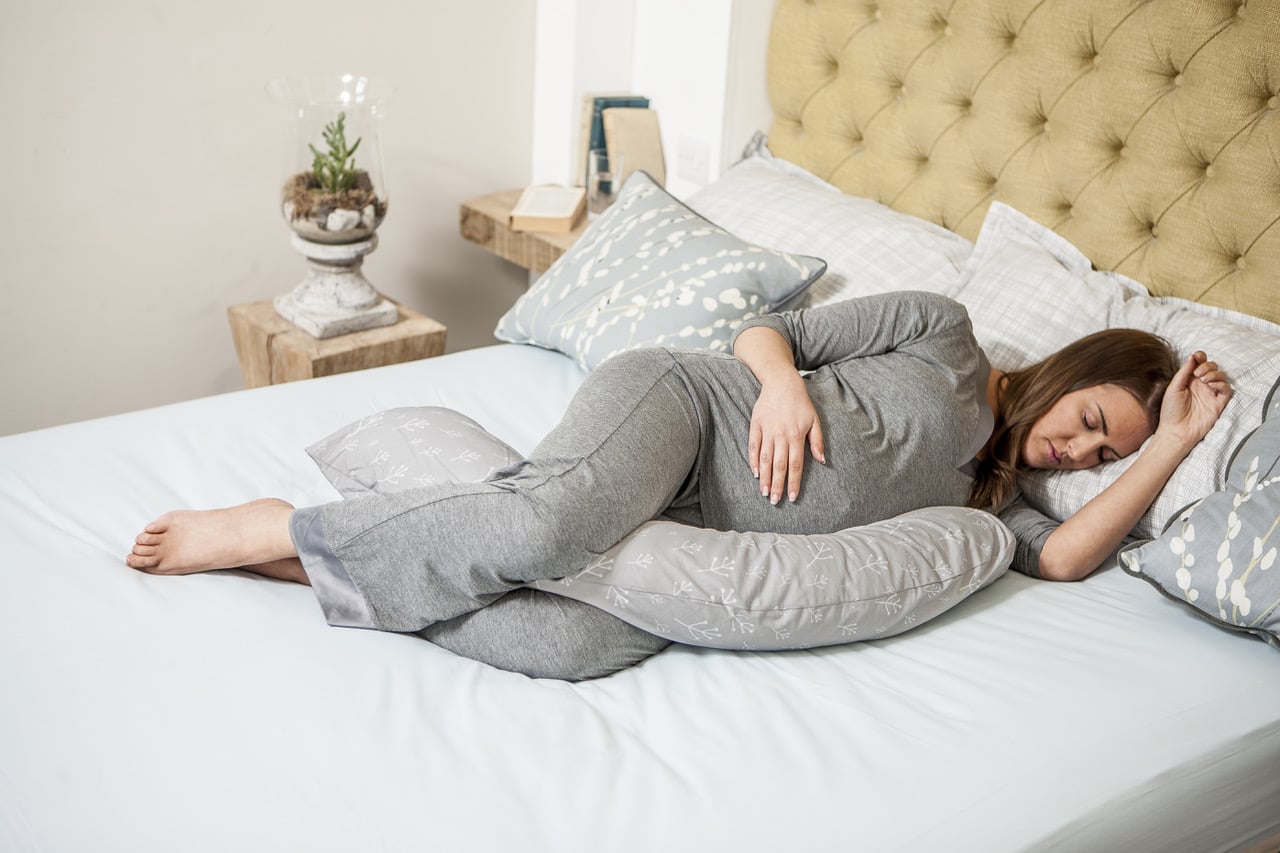 The Dreamgenii Pregnancy Pillow (£45) has won countless awards over the last few years, thanks to its patented design that promises support during pregnancy and right through to breastfeeding. At under £50, it's also one of the more affordable high-spec pillows. Yes, you can buy far cheaper pillows to see you through pregnancy, but if you're looking for something that's been rigorously designed and tested, the Dreamgenii is still one of the more cost-effective options.
I was lucky enough to be able to try the pillow recently, and as I speed quickly towards my third trimester, I've definitely been in need of all the support and comfort I can get at bedtime. Here's my verdict.
The Pros of the Dreamgenii
A few things stand out for me with this pillow. The first is the smart, compact design. There are two sections held together by a flat panel (which you lie on). The small padded section supports your lower back, and the longer curved front section hugs your bump before tucking in between your legs, stacking your hips in the right position to ease aches. It's smaller than most rival products, but for me, this doesn't affect its performance: pillows that go all the way to the ankle are great but not necessary for everyone. Overall, it's incredibly well-designed to offer the support you need during pregnancy. Before I used this, I was testing out a giant U-shaped pillow that took up most of the bed. In contrast, this fits cosily around me and my bump. It also squashes up small enough that it could probably be used for travel.
Due to the combo of back and front support, the Dreamgenii does a great job of keeping me lying on my side. Ironically, after years of being an exclusive side sleeper, I've found myself waking up on my back almost every night during pregnancy. Not only is that not the safest position for the baby as pregnancy progresses, but it also makes me snore, so I'm desperately trying to avoid it, and this pillow has been the most effective in that department.
I also love that the Dreamgenii doesn't come with a built-in head or neck pillow, so I can use my regular pillows alongside it. This offers a bit more flexibility and would be particularly good if you're tall or petite and find the proportions of other pillows don't quite work for you.
Finally, this pillow is, by far, the best one I tried during warm weather. In fact, it's the only one I could bear to use during the hottest days of Summer. This, again, has to do with its size: the pillow itself is relatively narrow and slim and comes with a breathable cotton cover. With some other pillows, particularly the larger ones, I found myself overheating quite quickly, but this wasn't a problem with the Dreamgenii.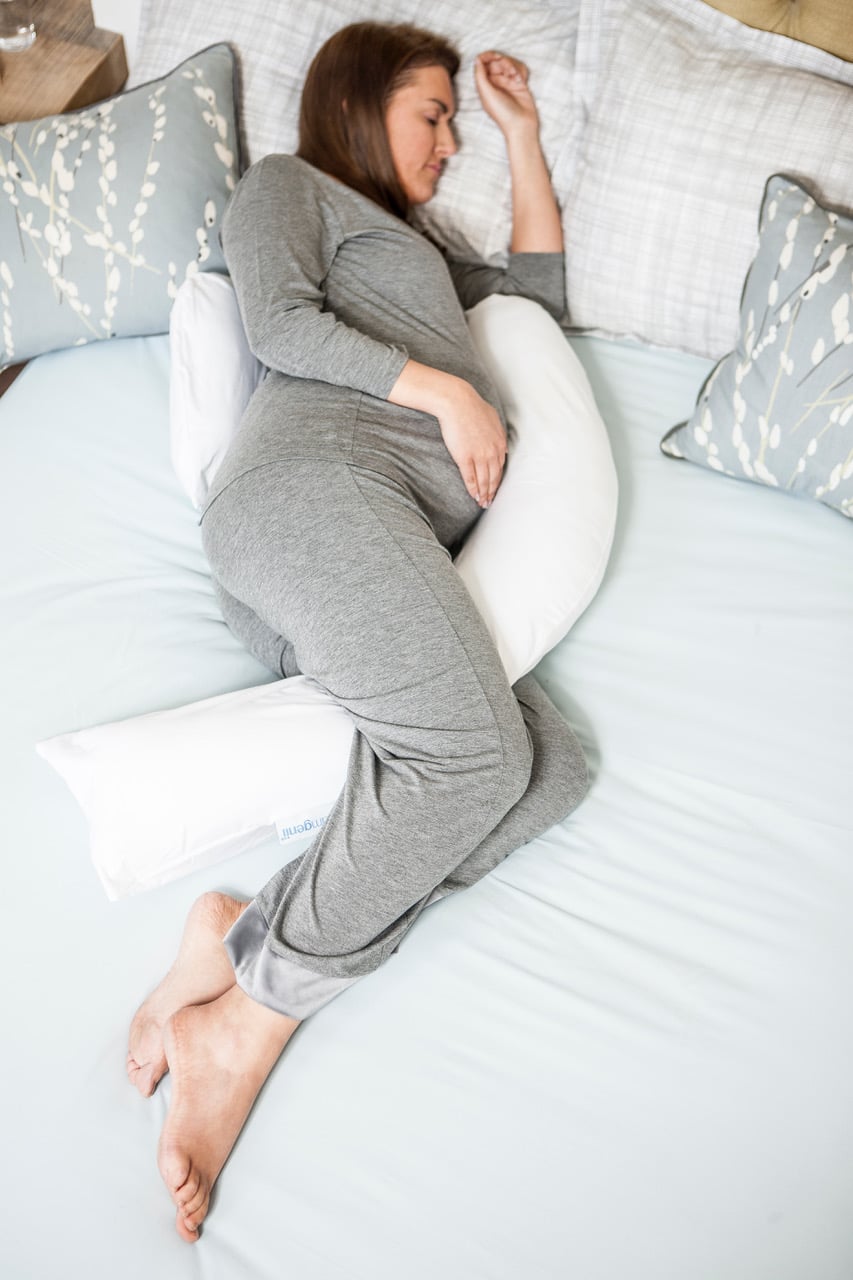 The Cons of the Dreamgenii
The first and most obvious downside of the Dreamgenii is that it's not great for people who roll over in the night. Though I mentioned above that it's perfect for keeping you lying on your side, if you want to change sides in the night, you essentially have to get out of bed, turn the pillow over, and get back in.
When I first used the pillow, it took me a few goes to work out exactly where to place it to get the support I needed, so I'd suggest playing around with it a bit before bed, or you could find yourself (or your partner) getting frustrated. Once you've got it, you'll be in for the night (or at least until you want to turn over).
Finally, the compact nature of the pillow does mean it feels a bit flimsy in places, especially when you factor in the cost. The panel between the two cushions has an open slit (so you can remove the pillowcase to wash it). I've seen some others reviewers say they've found the pillow has ripped here after some use, and I can see how that might happen, especially if you don't fit perfectly into the gap. I've also seen some users complain that the section that goes between the legs is too small or that the padding goes flat after use. This is not something I experienced personally, but it's definitely not as long, chunky, or luxuriously padded as some other pillows. If you want something that feels really firm and cushioned in this area, there are probably better options on the market.
Overall, the Dreamgenii has become an instant favourite of mine, and I find I alternate this and one other pillow (more on that soon!) depending on how I'm feeling and the temperature of my bedroom. If you're looking for something a step up from generic pregnancy pillows or a smaller and more space-saving option, this should definitely be high up on your list.