What Is Mommy's Wrist? Causes, Symptoms, and Treatment
How to Deal With Mommy's Wrist, the Postpartum Pain You Weren't Expecting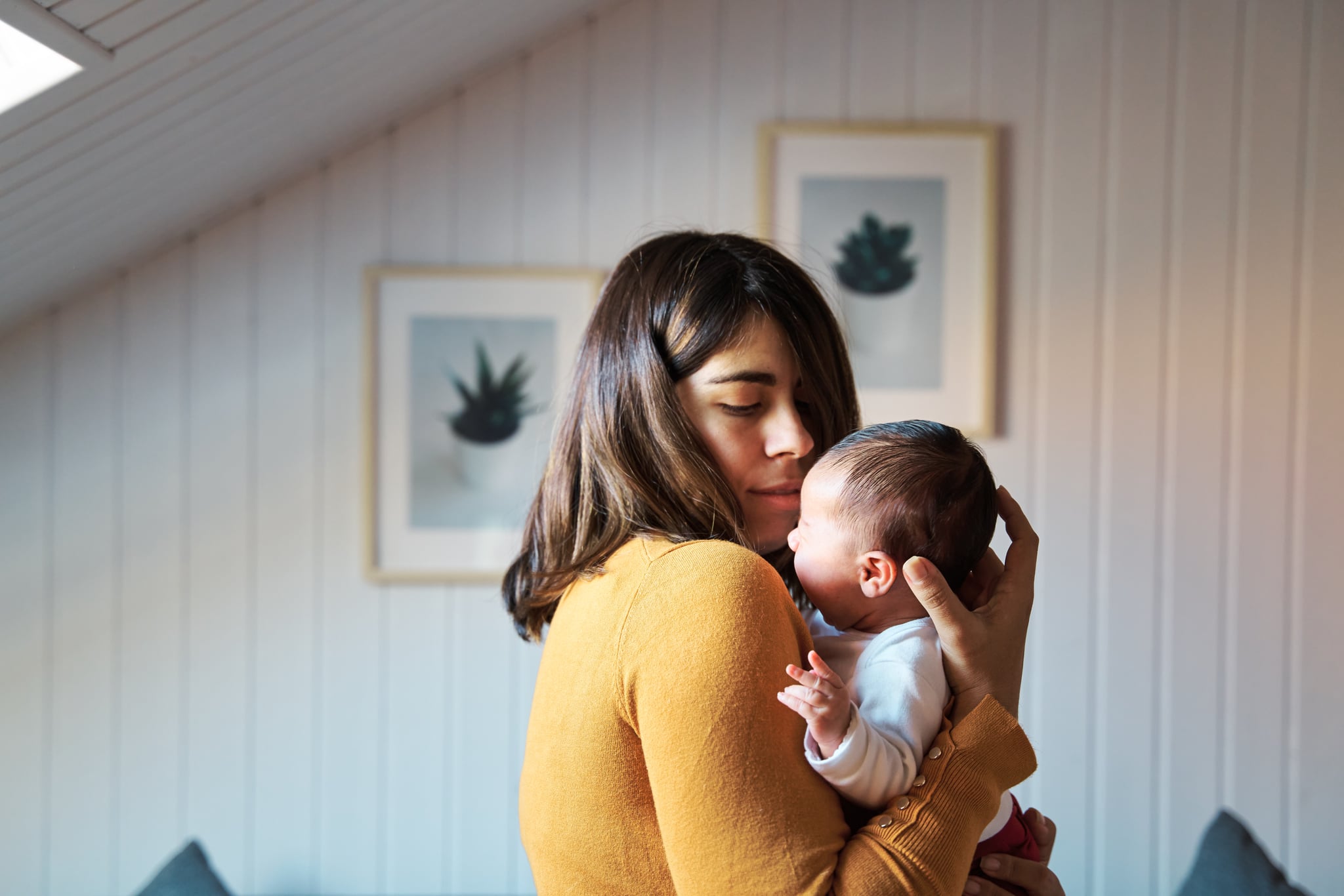 While parenting is a joyous journey, it can also take a toll on your body — and the repetitive tasks involved in caring for an infant can lead to significant discomfort and pain in the wrist and thumb areas. Mommy's wrist (also known as mommy thumb) is a common yet often overlooked postpartum wrist pain that affects many new parents.
This condition, which is medically called De Quervain's tenosynovitis (or tendonitis), can happen to anyone, but new parents and infant caretakers are at increased risk of developing the painful wrist condition, according to the American Academy of Orthopaedic Surgeons.
POPSUGAR spoke to experts to find out exactly what mommy's wrist is and how to find comfort from this postpartum wrist pain.
What Is Mommy's Wrist?
"Mommy's wrist, also known as De Quervain's tenosynovitis, is extremely common in women and caregivers of young children," John Gallucci Jr., MS, PT, DPT, and CEO of JAG-ONE Physical Therapy, tells POPSUGAR.
Gallucci explains that this condition happens when "tendons in the thumb and wrist become inflamed after repeated use," which can result in "pain on the thumb side of the wrist that can gradually worsen if left untreated."
Shoshana Ungerleider, MD, a board-certified family practice and internal medicine physician, tells POPSUGAR that the condition will "typically present with pain and swelling at the base of the thumb," and this pain can radiate along the thumb side of the forearm.
"The pain is often exacerbated by specific movements, such as grasping or pinching, and can be sharp or chronic in nature," Dr. Ungerleider explains. "Sometimes, a 'catching' or 'snapping' sensation may be felt when moving the thumb. Tenderness over the affected tendon sheath is also a common physical finding. These symptoms can impair daily activities."
What Causes Mommy's Wrist?
According to Gallucci, the exact cause of why some people develop De Quervain's tenosynovitis while others don't isn't clear. However, the mechanics behind the inflammation and pain are explained by the compression of tendons in the wrist.
As Gallucci points out, "The compression of two tendons that attach the muscle to your bone is what causes pain when performing repetitive activities." And those repeated activities are precisely why this condition can happen so often in new parents or caregivers. "The awkward positions required to hold or nurse a baby, particularly without proper support, can exacerbate this strain," Dr. Ungerleider adds. "As the tendons become more inflamed, the sheath around them may swell, causing pain and restricting movement."
Can You Prevent Mommy's Wrist?
Dr. Ungerleider emphasises that mommy's wrist, often caused by overuse, can be prevented in new parents through various measures. She suggests adopting preventive actions to minimize the risk of developing De Quervain's tenosynovitis. These include practicing proper lifting techniques, such as using the forearm to support the baby's head and neck instead of relying on the thumb and fingers. Taking regular breaks to rest the wrist and utilising ergonomic baby gear designed to reduce strain on the wrist and thumb are also helpful.
In addition, seeking education on correct holding and nursing positions, possibly through consultation with healthcare professionals, can play a crucial role in preventing this postpartum wrist pain.
How Is Mommy's Wrist Treated?
When it comes to De Quervain's tenosynovitis, the treatment plan is often a mix of home remedies and other conservative approaches.
"There are several effective home remedies for mommy's wrist, which include avoiding overuse of your arm and wrist, as well as purchasing an over-the-counter splint to help give the area time to rest and heal," Gallucci explains. "You can also ice the area to help reduce swelling and inflammation."
Gallucci adds that working with a physical or occupational therapist can also help alleviate pain. "[Physical therapists] and [occupational therapists] can help show you how to return to your daily activities while wearing a splint and also teach you effective exercises and movements that help improve arm and wrist strength while you heal," he shares.
If conservative home treatments have been tried and there is still pain, Dr. Ungerleider says your healthcare provider may suggest other measures, including "refraining from using the affected thumb, applying cold to the area, and taking nonsteroidal anti-inflammatory drugs (NSAIDs) such as ibuprofen and naproxen sodium." And in some cases, a doctor may recommend injections or surgery.
"In more severe or persistent cases, corticosteroid injections may be administered, or surgery might be considered to release the inflamed tendon sheath," Dr. Ungerleider adds. "While treatment is generally effective, recurrence is possible, particularly if the underlying repetitive strain or overuse that caused the condition is not addressed."