Oklahoma Coach Jennie Baranczyk's Daughter Goes Viral
The OU Coach's Daughter Was Mic'd Up For Monday's Game, and Twitter Can't Get Enough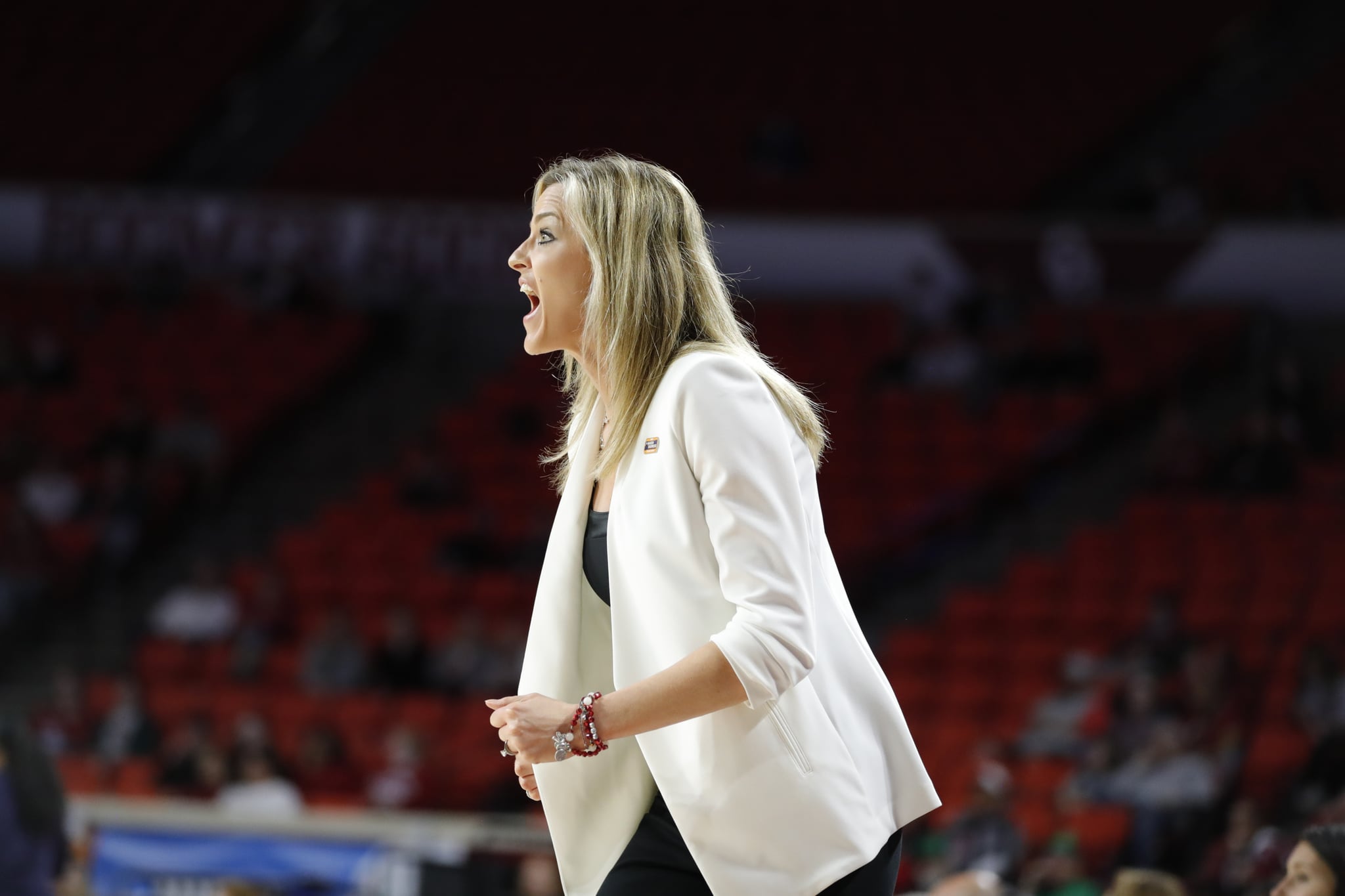 Image Source: Getty / Alonzo Adams
While UCLA managed to topple the Oklahoma women's basketball team in the second round of March Madness yesterday, Sooners coach Jennie Baranczyk was still the talk of Twitter on Monday night — or rather, her 8-year-old daughter, Jordi, was.
During the team's matchup against the Bruins, the younger Baranczyk shot to viral fame thanks to her, ahem, lively game reactions. "Jennie Baranczyk's daughter is absolutely electric," Barstool Sports wrote on the social media platform. "Best fan in America." Another chimed in, "Mic Jennie Baranczyk's daughter up for every game."
And while Coach Baranczyk did a fair bit of screaming herself, apparently the apple doesn't fall far from the tree. In fact, Jordi seemed to garner more screen time than her own courtside mother. The 8-year-old superfan was caught on camera shouting her support throughout the game — outfitted in Sooners gear, of course. "Do not let them stop you! Come on, defence!" she yells in a clip from the game that's garnered 1.3 million views (and counting) on Twitter. "Like mother, like daughter," ESPN wrote in the tweet alongside the clip.
"Watching OU take on UCLA. ESPN has Coach Baranczyk's daughter mic'd up," a viewer wrote on Twitter. "That girl is her mom's mini me. Jennie was just like that playing at Iowa."
Like mother, like daughter 😂❤️@OU_WBBall | @SCNext pic.twitter.com/rGQuChNDjJ

— ESPN (@espn) March 21, 2023
Jordi is a bit of a basketball star herself, playing both post and point guard, according to an interview she did with her mom on "Sooner Sports Talk." And while Jordi's the early MVP of 2023 March Madness (despite the team's unfortunate loss), this isn't her first taste of internet fame. In fact, in 2021, Oklahoma Sooners beat writer Ryan Aber similarly called her out on social media. "Jennie Baranczyk's daughter is stealing the show in this @OU_WBBall postgame Zoom."
Give me more of Jennie Baranczyk's daughter 🤣🤣👏🏽🔥🔥

— Kaci Nicole (@PennyLane449) March 21, 2023
Also I'm a UCLA fan but I am living for the OU coach's daughter. She's incredible

— Molly McManimie (@MolllyMack) March 21, 2023
She also isn't the only one to have gained increasing attention this year. Women's basketball as a whole has seen a spike in viewership. Just last year, South Carolina's championship win over Connecticut brought in a whopping 4.85 million viewers to ESPN, marking the most-watched women's final since 2004, AP News reports. It was also the first year the women's NCAA tournament was allowed to use March Madness branding. This year, ABC will broadcast at least six games throughout the women's tournament.
"Putting it on ABC, we're giving it the best opportunity for success," ESPN's Director of Programming & Acquisitions Dan Ochs told AP. "This tournament continues to grow and deliver for us." And viral stars like little Jordi are only going to help women's sports gain traction.