Coronavirus: Babies, Kids Should Not Delay Vaccine Schedule
Doctor Appointments Amid Coronavirus: Should You Delay Your Child's Vaccines?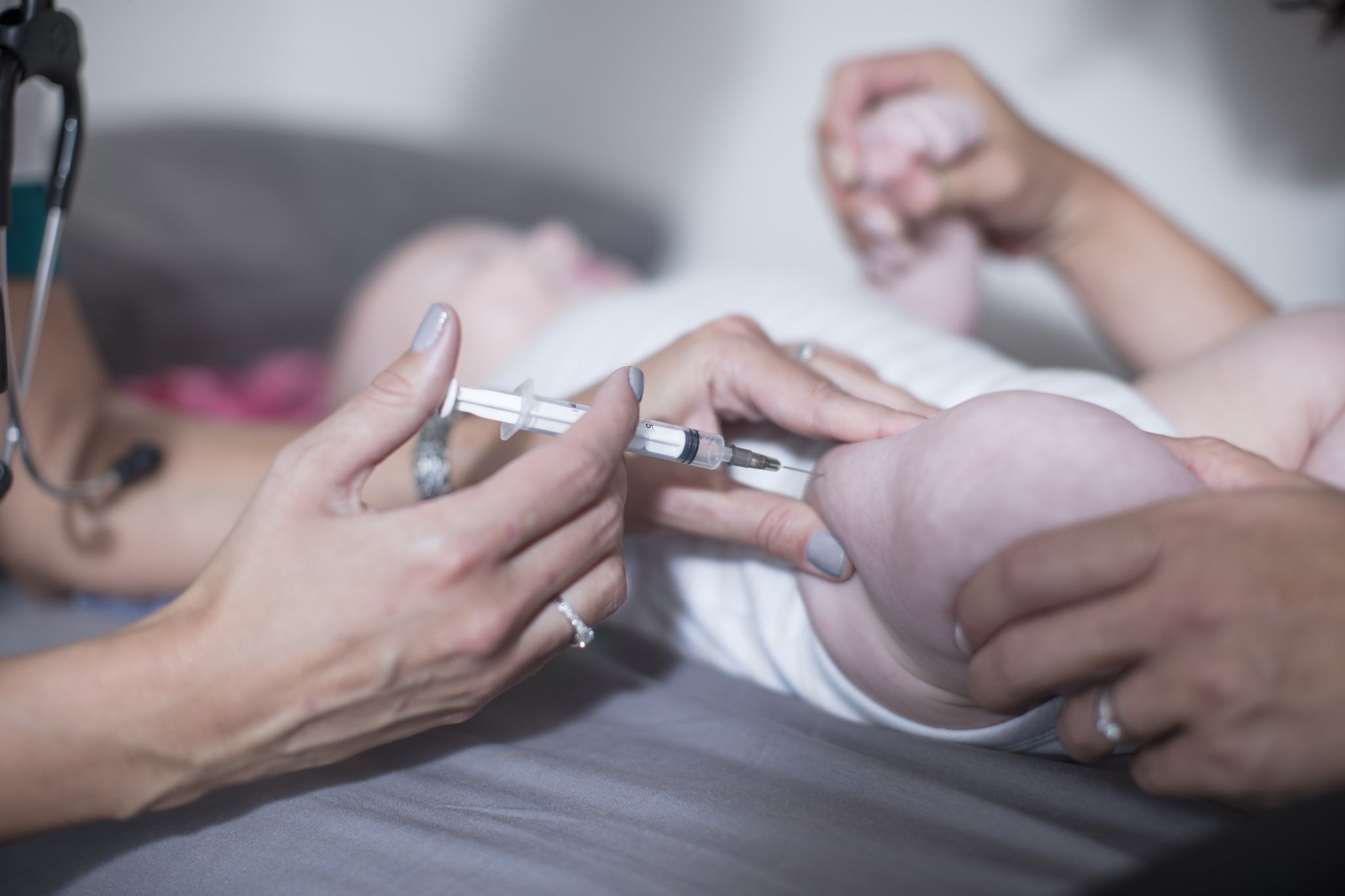 Across the nation, parents are canceling their children's routine checkups and vaccination appointments because they worry about a more imminent concern – getting infected by the coronavirus at their pediatrician's office. Some parents have even delayed the first-time vaccines for their infants for fear of contracting COVID-19. For them, it's a logical concern: why put my otherwise healthy baby in harm's way?
But to most doctors, this is just solving one short-term problem by creating another, much larger crisis down the road.
"Even though our attention has been on COVID-19, there are many other infections still out there. They haven't gone away just because we're preoccupied with a new infection."
"In the long run, delaying vaccines is inviting disaster for everyone," Dr. Roy Benaroch, a pediatrician and professor at Emory University in Georgia, told POPSUGAR. "Now is not the time to let our guard down and allow another epidemic of disease to strike."
That's because delaying immunizations during this pandemic could lead to an outbreak of a vaccine-preventable illness like pertussis, a respiratory infection more commonly known as whooping cough that, he noted, would "be a nightmare" in this current climate.
"Even though our attention has been on COVID-19, there are many other infections still out there," said Benaroch, who recently released a Great Courses presentation that outlines the rise, spread, and dangers of the coronavirus. "They haven't gone away just because we're preoccupied with a new infection. In fact, measles is still present all over the world and far more contagious than COVID."
So what are concerned parents, desperate to keep their young ones safe and healthy, to do?
Parents Should Not Delay Their Children's Vaccinations
The Centres for Disease Control and Prevention has long recommended that children be vaccinated against 14 illnesses – from chicken pox to polio – in their first three years of life. Yet long before coronavirus made the news, pediatricians have had a difficult time keeping parents from delaying their child's vaccine schedules. In fact, the CDC noted in a study released this past February that one-third of children between 19 and 35 months didn't receive vaccines on time. And often, once parents were off their child's schedule, it was much harder to get back on it.
"Although it's possible to get caught up later on vaccines, that's not the best idea," Benaroch said. "Being late means you've left children vulnerable and allowed time for children to be able to spread infections to other people. That's especially dangerous when our hospitals and healthcare workers are already strained."
And it's not just about the child being left unprotected. "The whole community has been put at risk," Benaroch said. "Families should be able to rest easy knowing that their children are as protected as possible, and that they're not putting elderly people, those with immune problems, and babies too young for vaccines at risk."
The American Academy of Pediatrics has also advised that babies and young children should still be brought in for vaccines amid the coronavirus outbreak. However, the AAP did suggest that parents with children at least two years of age – or older kids in need of a booster shot – could put off those appointments temporarily.
Dr. Benaroch, however, still recommends sticking to the vaccine schedule.
"Consider vaccines specific for older children," he said. "Tdap includes pertussis. Meningitis vaccines are also given then, and meningitis is spread by respiratory droplets and cause a very serious infection that typically has to be treated in an ICU – which would be a problem if ICUS are overwhelmed with COVID. The HPV vaccine is also given, which very safely and effectively prevents cancer. These three are usually given together at the 11- or 12-year visit, and I would not delay or split them up."
He added that, say, the HPV booster given one year later could be delayed but that the 16-year meningitis booster shouldn't be postponed.
Parents Should Still "Attend" Well-Child Appointments
It's not only missed vaccinations that are a concern. Although pediatricians track growth and development at all well-child visits, these exams are particularly important for newborns, in which doctors are also looking out for signs of jaundice, congenital diseases, and weight loss – issues that could be much more dangerous than coronavirus at this point. So that aspect of a typical doctor's appointment should not necessarily be skipped, either.
When possible, telemedicine appointments online are ideal, but for some concerns, a physical exam is crucial.
"Different offices are approaching this in different ways," Benaroch said. "We're typically doing our exams in their vehicles, out in the parking lot, when that's practical. We've also set aside a completely separate time for only children coming in for well checks and immunizations and non-contagious concerns. Those children can come into the office during the morning hours, when no children with any contagious symptoms are allowed."
In the event you will need to go into the pediatrician's office, Benaroch recommends the fewer people the better. "Only one parent should come in, with no siblings, if possible." His office has removed all magazines, shared toys, and even pens, so be prepared with your own if you plan to take any notes. He also advises parents coordinate with their pediatric office on the visit timing "so you spend fewer minutes in the waiting room and fewer minutes in the hallway and reception area doing paperwork."
Above all, he said parents should try to remain calm: "Pediatricians are especially aware of the need to keep our offices safe for everyone, even the youngest and most vulnerable."
Image Source: Getty / Westend61