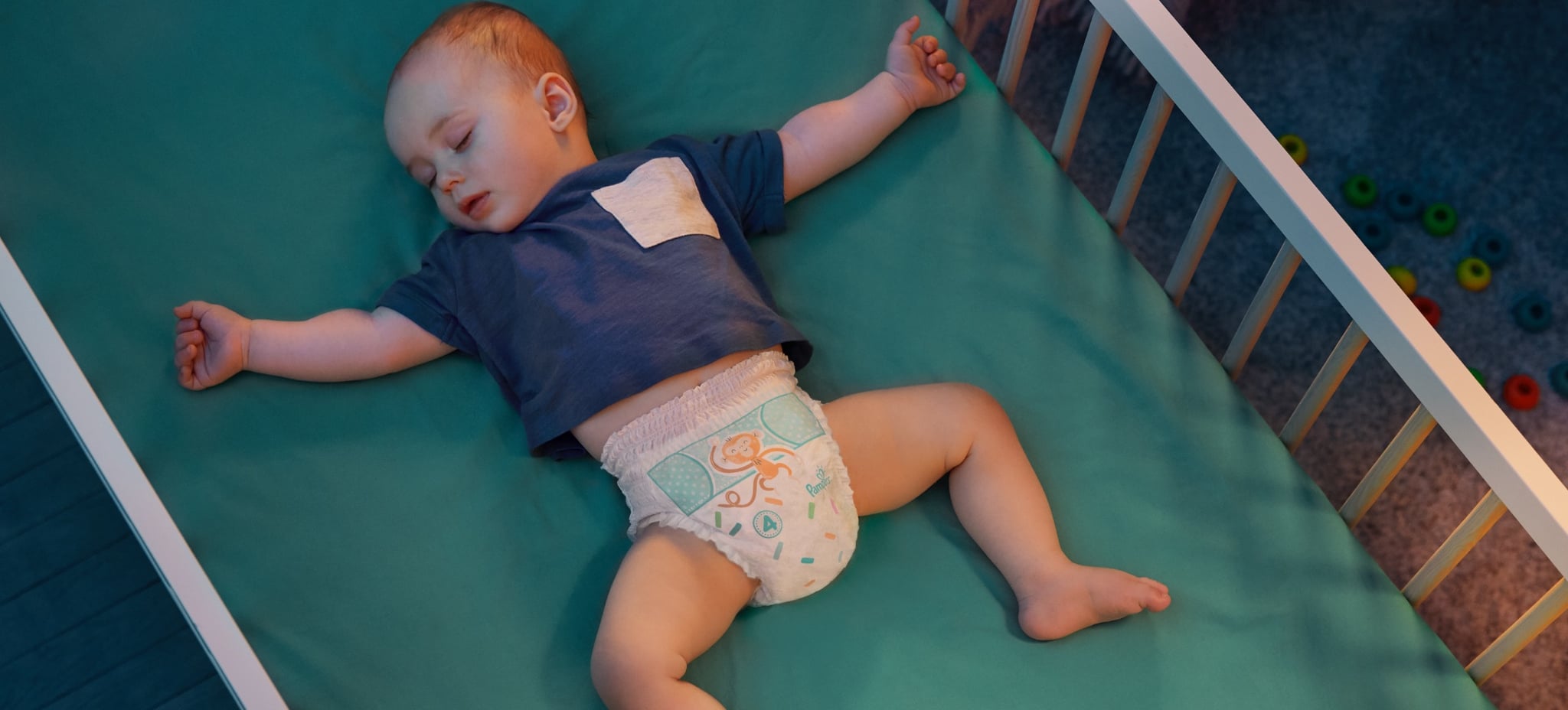 Image Source: Shutterstock
When Should My Baby Start Wearing Nappy Pants?
4 Reasons Why Your Baby Should Start Wearing Nappy Pants Now That They're On The Move
Is your baby suddenly in the crawl or waddle stage? We teamed up with Pampers to share how a good nappy can make all the difference.
If your baby is suddenly mobile — whether that be crawling, rolling, or waddling — it may be time to reconsider what nappy you use on their bottom. The reason? The skin around their nappy area is an extra-fragile zone, and when skin is exposed to wetness and excess moisture, it can cause more friction, especially when your baby is constantly on the move. This can create friction between the nappy and your baby's wet skin, resulting in nappy rashes or discomfort. So even if your baby has been wearing the same nappies since they were born with no issue, it may be time to start researching other options. Keep reading to see the four key things you should keep in mind when researching nappies and why the UK's No.1 Nappy Pants, Pampers Baby Dry Nappy Pants, checks off everything on the list.

1. All-Around Leakage Protection
Let's start with the obvious: you need your nappy to keep your baby's bottom dry. Pampers Baby Dry Nappy Pants provide up to 12 hours of breathable dryness and all-around leakage protection and are designed to protect your baby's delicate skin from irritation. Since babies urinate an average of three to four times per nappy, an absorbent nappy is key. Pampers Baby Dry Nappy Pants has three absorbent layers to protect natural skin moisture: one that provides a dry surface even after baby pees, one that distributes wetness evenly, and another that locks wetness away, so it won't be released back into skin, even while your baby is sitting down or lying in bed.
2. Protect Your Baby's Skin
Did you know that a wet environment can be more than twice as humid and 10 degrees warmer than room temperature? The humidity around a nappy is usually 80 percent, while the ideal level for your baby's skin is 50 percent. And since the skin around their nappy is extra sensitive, it's more easily damaged from excess moisture and friction. That's why Pampers Baby Dry Nappy Pants offer up to 12 hours of breathable dryness protecting your baby's delicate skin for maximum comfort and leakage protection. In addition, the 360° fit flexes to your baby's shape and the double leg cuffs help prevent gaps and leaks! This means your baby can move and groove with no friction — no problem!
After changing up to 10 to 12 nappies a day, you already know that the easier the nappy change, the better. Pampers Baby Dry Nappy Pants are easy to remove by simply tearing the sides and simple to dispose of thanks to the secure tape that allows you to easily roll up the nappy pants and throw them out with your general household waste. They shouldn't be recycled or flushed down the toilet.
Make trying a new nappy fun for your toddler, too! Pampers Baby Dry Nappy Pants has a special DC Superhero edition featuring Batman, Wonder Woman, and Superman, but in general, anytime you can get your toddler excited about a change, the smoother it will go. Show them their "cool new nappy pants," and get them in on the excitement! Find Pampers Superhero Nappy Pants are available at Tesco, Amazon, Asda, Morrisons, and Boots.