How to Make an Economy Flight More Comfortable
How to Have the Best Long-Haul Flight of Your Life, Even in Economy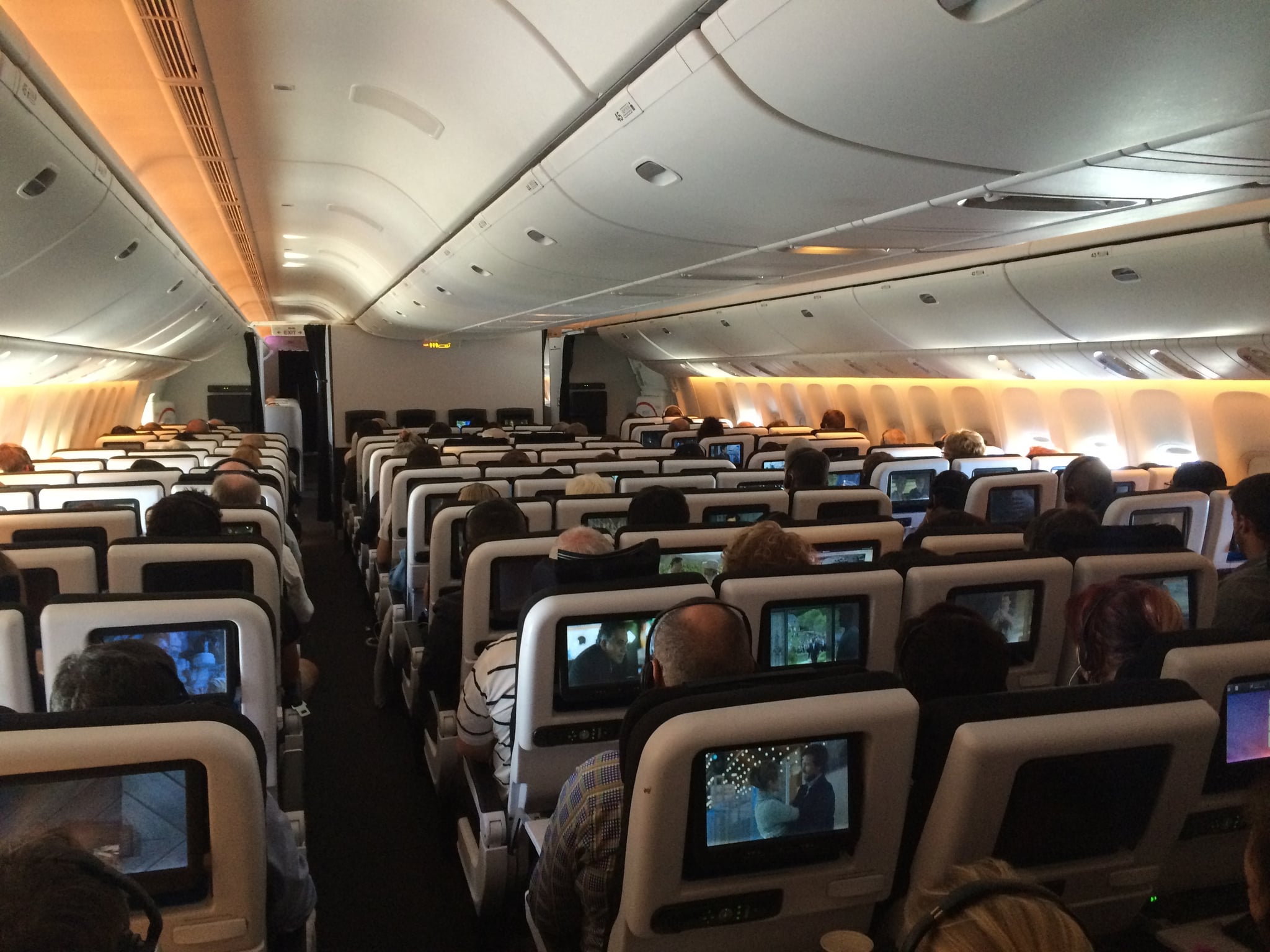 For most of us, the luxury of first or business class air travel is a distant dream. So how do you get through a long-haul flight crammed into cattle class if you're not a frequent enough flyer to benefit from air miles upgrades and priority treatment? From packing the right treats to choosing the perfect seat, here are my tried-and-tested tips on how to survive a 10+ hour flight.
Choose Your Seats Wisely
Not every ticket type will allow you to reserve your seats ahead of time, but if yours does (or if it costs only a small amount to pay for this) do it. People travelling alone often don't bother, but seat reservations are not just for groups. If you leave it until you arrive at the airport, you could end up in one of the worst seats on the plane. Use Seat Guru to find out about good and bad seats on specific aircraft, and think about what matters most to you when you travel. Can't bear crying babies? Best avoid the bassinet seats. If you have to make a tight connection, sit near the front so you can get off the plane quickly. Love looking out the window? Don't sit on the wing. You'll soon discover what works for you. My favourite economy seats on a 747-400, for example, are a few rows from the back. This is where the aircraft narrows and the window rows of three become rows of two. This means fewer people fighting over space in the overhead bins, more space by the side of the window seat, and fewer people to clamber over to get to the toilet.
Don't forget to check both floors of a big aircraft like the Airbus A-380. Some airlines (like British Airways) have economy cabins on both levels, but the seat reservations page will default to one of them. The other might be almost empty if the flight isn't full.
Consider an Upgrade If the Price Is Right
It's virtually impossible to blag an upgrade on a cheap economy ticket, no matter what people tell you. But if you booked your flight directly with the airline, or if you have an air miles account with them, you may find that you get offered upgrades to premium economy or business class at reduced prices in the run-up to your departure date or even at check-in. In certain circumstances, I think this is worth considering if you have the cash, even if it feels like an indulgence. I hover over that "upgrade" button if the flight is longer than 10 hours, it's a night flight, and I know aircraft has a decent premium economy cabin. Do your research: on some older planes and cheaper airlines, you're literally paying £200 for extra legroom and food that is slightly less terrible. But with most well-respected international airlines, there's enough to make it worthwhile (especially with airlines like BA, Qantas, and Emirates that fly airbus A380s on some long-haul routes). Do not underestimate how much easier it is to sleep on a flight when you have a decent footrest, a couple of inches of extra pitch, and more space between you and the person next to you.
Give Yourself Enough Time to Get to the Airport (and Then Some)
I'm notoriously late for most things, but I get to the airport insanely early for international flights. I had a couple of near-misses in the past, so now I'm older and wiser, I would much rather kill time at the airport than spend my entire Uber journey nervously clock-watching and cursing myself. Plus, everyone knows the holiday begins the moment you check in your luggage! Reduce the stress and give yourself an extra hour. Once you've waved your case off you can grab a meal, settle down with a drink, or hit the duty free. The time will fly by. You may wish to ignore this rule on your return journey, though, especially if you're flying home from a tiny resort airport that has limited amenities. Then, every minute of beach time counts.
Be Nice to the Crew
This shouldn't even need saying, but I've lost track of the number of people I've seen treating flight attendants like their own personal servants. Why would you make a enemy of the person in charge of the bar cart? First and foremost, flight attendants are there to keep you safe. The other stuff comes after that, and if you understand that and respect the fact they're doing their job, you are far more likely to get the little extras you ask politely for. Flight attendants have to do a lot that you don't see. If they say no to something, or take a while to get to you, there is probably a good reason. You have every right to complain if something is not up to scratch, but be mindful of how hard it is to keep hundreds of tired people safe, comfortable, and happy at 30,000 feet. Show them some respect, you'll get the same in return, and your journey will be miles better.
You're Not a Celeb. You Don't Need "Airport Fashion"
My in-flight wardrobe requirements are simple. I want clothes that don't feel like clothes. Stretchy, comfy, layered, with no zips, tight waistbands, studs, buttons, or anything that'll dig in. I usually opt for leggings and a t-shirt dress, a hoodie or cardigan, and some kind of scarf or pashmina that'll double as a blanket. This is finished with comfy footwear and wool socks (please wear socks, bare feet on planes are my pet hate, and I bet a lot of flight attendants will agree). I finish with a Uniqlo ultra light down jacket or gilet, which is warm, cosy, and squashes down to nothing. I may not look runway-ready, but chic "travel ensembles" are for people who can afford to fly first class. Dress for comfort on an economy flight. Yoga pants, yes. Supertight jeans, no.
Watch What You Eat (and Drink)
Stodgy, heavy food and carbs will bloat you more than ever on a plane, and I've had one too many journeys where I've felt like absolute crap by the time I landed due to those cheap bread rolls and processed desserts. Sugar crashes also feel a lot more powerful when your body clock is messed up. I hate plane food and have started turning it down unless I'm on a 12+ hour flight. Instead, I'll eat a decent meal at the airport before leaving and pack my own snacks for the journey. All the advice suggests avoiding alcohol too, but I must confess, after a couple of those little bottles of Sauvignon Blanc, it's a lot easier to get comfy for a midflight sleep. If you do decide to drink, keep a bottle of water with you to rehydrate when you wake up. While free water is always available in the galley, if you don't have an aisle seat it may be tricky to access it!
Pack Some Creature Comforts
Other than snacks and drinks, there are four other things I simply won't fly without. One is a pair of good quality noise-cancelling headphones. Always, always take your own headphones! The ones most airlines give out in the economy cabin aren't fit for purpose, and noise-cancelling ones can be kept on for the whole flight to cut out that buzzing noise you get on planes. Next, I have a microbead-filled pillow. Not a U-shaped neck rest: now most planes have folding head/neck supports I don't really use them, but I love a little cylindrical pillow I can put behind my back or neck when my body starts to ache. Finally, moisturiser and mascara. It's not a myth that your skin dries out on a plane. Moisturiser helps minimise the damage, and mascara helps me look like a human when I get off at the other end.
Don't Rely on the In-Flight Entertainment
In-flight entertainment is usually quite good on long-haul flights, but don't rely on that little seat-back TV to keep you entertained, as things can easily go wrong. I've encountered everything from entirely broken screens to screens so old the films were barely visible, even a fidgety neighbour who kept leaning on the controls in the armrest, turning my TV on and off over and over again. Have a back-up plan. Take books and magazines, bring a laptop and do some work if it's a business trip, or download TV shows or films to your tablet or phone. Even puzzle books and adult colouring books are also surprisingly soothing on a long journey!
Research Your Destination
As a meticulous travel planner, it always blows my mind how many people turn up at their destination without a clue what to do, where to go, or even how best to get to their hotel from the airport. Even if you're not the type of person who starts a travel Pinterest board the moment the flights are booked, your flight is the perfect time to do some last-minute cramming. Pack a guidebook in your hand luggage and read it cover to cover on your flight. By the time you arrive at your destination, you'll be one step ahead and ready to enjoy your trip to the fullest!