How to Save Money When Planning a Wedding
The 9 Ways I Saved Money on My Wedding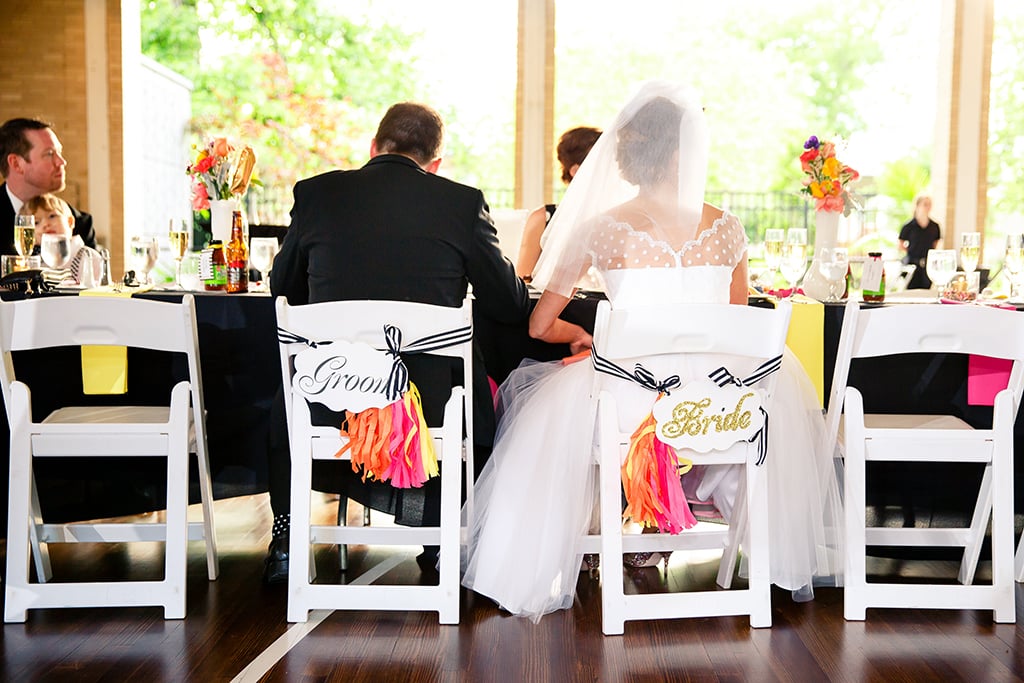 There's no shortage of advice on how to save money on weddings, but not everyone has unlimited time to DIY every last detail, or the ruthlessness to cut a guest list in half. Many of us don't want to cut corners when it comes to one of the most special days of our life. But that doesn't mean you have to spend thousands of pounds on unnecessary details and traditions. There are some real, feasible ways to save money on your wedding without sacrificing too much. I know this, because I did them! Here are all the ways I cut costs but still had a memorable day.
1. Split Things Up
Technically, my husband and I had two weddings. We legally married in Antigua with only 9 guests. We then had a dinner and party for 100 people a couple of months later, which essentially had all the elements of a wedding except the vows and the paperwork. The whole day had a more informal, laid-back feel to it because there was no schedule to stick to. We didn't disappear for 2 hours to take photos, but encouraged our guests to snap away. We still did speeches and had readings but by stripping out the legal bit, we were able to save money and keep things a little more low-key, which suited both our tastes and budget. Even though we had two "weddings", one of them abroad, we still spent considerably less than the UK average, which is allegedly a whopping £27,000!
2. Ditch (or Dramatically Reduce) the Number of Flowers
Lots of people really love flowers, and put a great deal of importance in the symbolism of certain blooms. Flowers are an enduring wedding tradition, and there's no denying they look absolutely beautiful. If you love flowers you shouldn't scrimp on them (but do stick to seasonal blooms: both your florist and your bank manager will thank you). If you find yourself telling the florist to just "do whatever" in a certain colour scheme because you don't really know a carnation from a cabbage rose, consider reducing the number of flowers at your wedding. It's a really easy way to save hundreds of pounds and there are lots of cheaper alternatives for centrepieces, aisle liners, and even your bouquet. In Antigua we just had a bouquet, a buttonhole, and a table decoration. In London, we had centrepieces made from books, topped with paper roses. We chose venues with gardens, where we didn't need hundreds of extra blooms.
3. Start Later in the Day
If you choose a later time for your ceremony, you only have to feed people once, rather than twice. Evening buffets can add anything from £5 - £30 per head on top of anything you're paying for the wedding breakfast. If you sit down for food at 2 p.m. you definitely need to feed people again later in the night. But marry after 4 p.m., follow it with dinner, and nobody will expect a full buffet a couple of hours later. For a cheaper way to fill people's tummies, consider bacon sandwiches, or even takeaway pizza, as a midnight snack! Some more bonuses to having a later wedding: you have extra time to get ready, and you don't end up taking photos in the blazing midday sun, with everyone squinting.
4. Keep Your Bar Tab in Check
One of the best things about marrying in the UK is that you can totally get away with a cash bar for at least a portion of the night! While many couples choose to pay for drinks all night long, it's not required (especially given how hard some people go at weddings). You should obviously provide drinks during the meal and for toasts but beyond that, don't feel the need to fund your granddad's fourth single-malt whisky of the night unless you can afford to. There is no shame in limiting the bar to beer, wine, and soft drinks, or closing your tab at a certain point in the night. In London we did both of these things. Just remember to alert guests ahead of time if they can't use their card at the bar: not everyone carries cash to weddings!
5. Buy Off the Rack
Before my wedding, I had visions of a dramatic designer gown, or perhaps something vintage. I am obsessed with clothes, and I wasn't willing to compromise when it came to finding the perfect dress. I set myself a budget of £3,000, which was an absolutely huge chunk of the overall budget. But I'd saved up, I wanted to treat myself, and I thought it would be worth it. Then I actually started shopping for dresses. My trip to David's Bridal was meant to be a trial run, to just dip my toes in the water and try out a few silhouettes in a more relaxed environment. But after six more appointments at posh bridal boutiques, trying on designer gowns that cost three or four times as much, I still couldn't get one simple off-the-rack gown out of my head. It was everything I thought I didn't want, but once I put it on, the dress chose me. After some smart online research and a little help from a colleague in the USA, it ended up costing me £700, and I spent a further £100 on a second dress to wear later in the night, and about £100 on shoes and accessories. I would never advise a bride compromises on her dress, but I would also encourage her to spread the net wide in her search, try not to be a label snob, try on the wild card choices, and really think about the dress itself, not the name on the label.
6. Keep Your Bridal Party Small
It's great to have your close friends and family around you on your big day, but you don't have to make every single one of them a bridesmaid / groomsman. The rules about who pays for what are a little unclear these days, but even if your wedding party pays for their own outfits, you'll find yourself with a bill for things like hair and makeup, thank you gifts, transport, and all manner of little extras. Unless you think someone will be really upset if they're excluded, keep your list of bridesmaids and groomsmen small: two or three of each is plenty, and let everyone else enjoy the day as guests, in their own clothes, without the extra pressure.
7. Forget the Favours
Unless you've come up with a really cool, appropriate, and memorable favour that is absolutely perfect for your guests (and within budget), don't worry about putting favours on the table. Most of the time they just end up in the bin, anyway! Can you remember what the favour was at the last wedding you went to?!
8. Make the Guests Provide the Cake
Hear me out! Instead of spending hundreds of pounds on a wedding cake in London, we had a bridal bake-off, and it was one of my favourite parts of the whole day. Ahead of the big day, we encouraged guests to bring baked goods instead of gifts. Not only did this mean we had a whole host of amazing desserts to serve at no extra cost (the venue was kind enough to provide plates and cutlery), it also meant our guests didn't feel obliged to buy us expensive gifts. We already had all the plates, glassware, cutlery, and linen we could ever want. Getting to try 15 different cakes on the day was the best present!
9. Do Your Own Hair & Makeup
There's no denying a bit of beauty DIY is a good way to shave a couple of hundred quid off the total cost of a wedding. But it comes with a caveat: you really should only do this if you have practiced, and you're sure you're not going to panic on the day. I had my reasons for choosing to do my own hair and makeup that went beyond just saving money, but it was an added bonus!