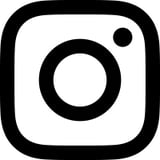 ICYMI, monochrome doesn't just mean black and white. We've partnered with
Instagram
to share how the social media platform has helped innovate this colourful trend.
From your proudest accomplishments to the more solemn moments, your daily outfits to your best attempt at winged eyeliner, and the chronicles of your journey from one apartment, city, or country to the next, your Instagram account is like a digital diary. Deliberately and subconsciously, the updates we share become archives of our stories, and photographic documentation for how we — and the trends we follow — change over time. As a result, the evolution of these trends can be researched, referenced, and shared for all to see. One standout trend that has been heavily shaped by Instagram? Monochrome.
What the world may have once assumed was an umbrella term for all things black and white has rapidly morphed into something bigger — and so much more colourful. Retro styles have come full circle, taking on thriving second lives on modern catwalks, and our willingness to go bold with beauty has contributed to the birth of monochromatic makeup. Even home decor is pushing every boundary on the colour spectrum . . . and it's all thanks to our desire for a perfect photo.

So no matter if you're already ripe on this rainbow of a trend or are still struggling to understand how you can embrace it, we're here to break it all down. Read on as we share three ways #monochrome has quickly become Instagram's very own version of a colour story — plus three niche hashtags that have been born as a result.
Blame it on bloggers or the upswing in streetwear brands, but outfit photos have become an Instagram spectacle in their own right. (And if you don't believe us, just take a look at the 184 million posts hashtagged #OOTD.) The pressure to stand out and make a statement is on, but it's a challenge many have accepted with open minds, open wallets, and their cameras preset to portrait mode.
Attempts to raise the bar have fuelled the resurgence of popular styles from decades past and unleashed the fashion maximalists inside of us all. The monochrome trouser suit is one of many styles we're glad to see back and better than ever. No matter if it's worn in neon hues, softer shades, or even stark white, stepping out in one of these isn't just considered an outfit any more — it's a look. If that's too much for you, try easing into the trend by incorporating multiple pieces of the same colour (i.e., your jacket and boots) into your ensemble first. Or, visit #monochromeoutfit for even more inspiration.
In the age of bizarre brow trends and nightmare-inducing nail art, it's hardly a stretch to say that beauty junkies take the term "risk-taking" to a new level. Playing up colour trends — lavender, rose gold, and even the full rainbow — is an art they've mastered to perfection, so it's no surprise that trying monochromatic colour schemes was next on the list.
The beauty (no pun intended) of the #monochromemakeup trend is that it's fully customisable, and not limited by one colour. Those who aren't quite ready to go bold might opt to try more subtle shades like champagne or blush first. But if you're the truly daring type, we challenge you to see how many ways you can cover your face, hair, and nails in this season's (quite literally) coolest makeup shade: blue.
If juxtaposing patterns, fabrics, and furniture pieces isn't quite your forte, #monochromedecor might just be the answer to your interior design prayers. The latest frontier in this colour trend, single-hued rooms are the ultimate way to make a statement not only within your space, but in your Instagram feed, too.
Want to try the trend? All you have to do is pick a shade. Maybe it's your favourite colour, or maybe it's using colour theory to select one that'll help calm, inspire, or motivate you. Then, it's as simple as decking out your entire space in that single hue — furniture, complementary decor, and your walls included. We suggest starting small (one corner or a small room) and building up from there. Soon enough, you may end up with your very own rainbow home.
In need of more inspo or want to share your own photos? Take advantage of one of Instagram's newest features by following your favourite monochromatic trends at #monochromeoutfit, #monochromemakeup, or #monochromedecor. And for a bit of everything, you can follow #monochrome here too. This way, you'll get real-time updates on the hashtag in your feed — right alongside posts from your friends and favourite accounts! Bonus: you'll even be able to scope out all of the newest developments in the trend before they go totally viral.
Credits: Illustrations: Laura Callaghan; Designer: Diana Weisman