Saddest Songs Ever
Sad Songs That Will Actually Make You Feel Better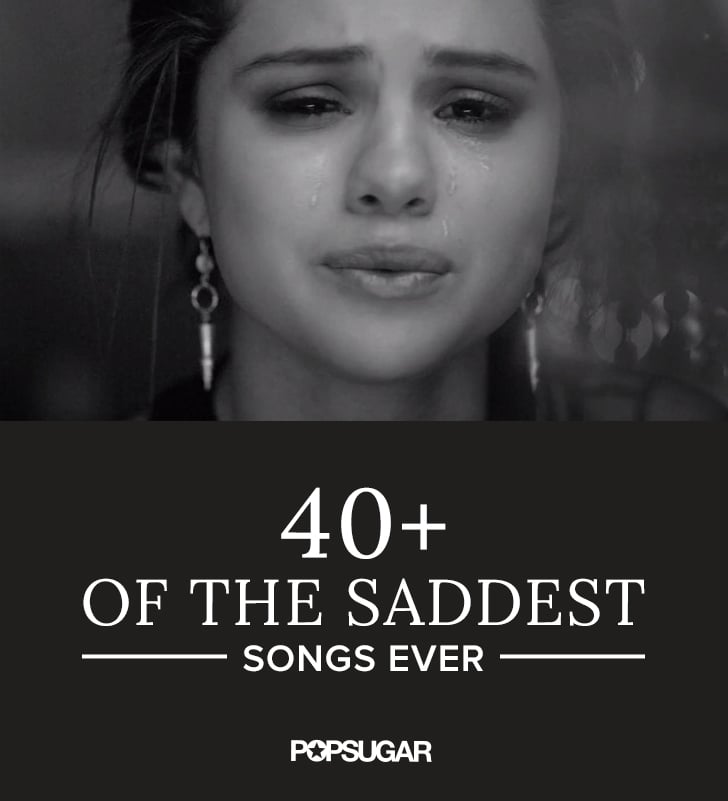 There's nothing like a sad, slow song to aid in a post-breakup cry or to be the soundtrack to a bad day. It's a well-known fact that music is made to bring out emotions in all of us, but what may come as a surprise is that sad music can have the opposite effect to what you would expect. Wallowing in sad songs can actually elicit positive feelings of "transcendence, peacefulness, and nostalgia," according to a recent study. It allows us to reflect and even feel a sense of consolation during bad times. Lucky for us, there are some really amazing sad songs out there — because what are life and love without a bit of heartache? Listen to our Spotify playlist for the saddest songs of all time, and prepare for an onslaught of emotion.
"Someone Like You," Adele
"Stay With Me," Sam Smith
"The Heart Wants What It Wants," Selena Gomez
"Skinny Love," Bon Iver
"Hallelujah," Rufus Wainwright
"Stay," Rihanna
"Everybody Hurts," R.E.M.
"Good Woman," Cat Power
"Samson," Regina Spektor
"Breathe Me," Sia
"You Were Mine," Dixie Chicks
"Hey Mama," Kanye West
"A Man/Me/Then Jim," Rilo Kiley
"Twilight," Elliott Smith
"The Sounds of Silence," Simon & Garfunkel
"Flightless Bird, American Mouth," Iron & Wine
"This Year's Love," David Gray
"I Will Remember You," Sarah McLachlan
"Lost," Michael Bublé
"Fix You," Coldplay
"Heart," Stars
"God Only Knows," The Beach Boys
"Crown of Love," Arcade Fire
"Say Something," A Great Big World featuring Christina Aguilera
"Gloomy Sunday," Billie Holiday
"Mad World," Gary Jules featuring Michael Andrews
"I Will Follow You Into the Dark," Death Cab For Cutie
"Wish You Were Here," Pink Floyd
"Landslide," Fleetwood Mac
"Guess I'm Doing Fine," Beck
"Brick," Ben Folds Five
"Unchained Melody," Righteous Brothers
"Goodbye My Lover," James Blunt
"Whiskey Lullaby," Brad Paisley featuring Alison Krauss
"Something in the Way," Nirvana
"River," Joni Mitchell
"Creep," Radiohead
"The Blower's Daughter," Damien Rice
"All of Me," John Legend
"The Needle and the Damage Done," Neil Young
"I Can't Make You Love Me/Nick of Time," Bon Iver
"Poison & Wine," The Civil Wars
"If You Say So," Lea Michele
"John Wayne Gacy, Jr.," Sufjan Stevens
"Trouble," Cat Stevens
"Make You Feel My Love," Adele
Just remember: you'll need to download the free Spotify software or app to listen to our playlists!