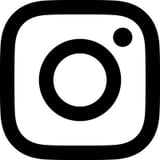 Attention: this is a body-shaming-free zone! We've partnered with
Instagram
to share the significance and diverse faces of one of the internet's most empowering hashtags.
It's more than a hashtag, more than a casual phrase, and the furthest thing from a trend; body positivity is a movement. More importantly, it's one that knows no bounds — shape, size, colour, or story included. To some, it's a highly personal journey to self acceptance and self love, chronicled with the help of hashtagged photos. Others share their message by breaking standards and bearing it all. And in some cases, it can be as simple as knowing you look damn good in that skirt, bikini, or your favourite pair of denim and unapologetically sharing that with the world.
For the internet, the movement exists as a way to normalise and equalise the standards we're taught to strive for, to visually challenge what we've learned to be uncomfortable with looking at. It's education through an endlessly diverse pool of personal experiences — and it's especially poignant and necessary in 2018.
There's power in numbers, and today over 1.7 million Instagram photos are tagged with #bodypositivity. Ahead, we're breaking down this popular hashtag and putting faces and visual stories to the movement that may someday "break the internet" in the best way possible.
ONE SIZE DOES NOT FIT ALL
Isn't it about time we retire the term "one size fits all?" Literally and figuratively, it never has and it never will be true. Take one scroll through #BodyPositivity and you'll quickly see that.
So how do the goals of the movement apply to you? And what does a body positive Instagram post look like anyways? The good news is, both of those answers are yours to decide. How you choose to write and share your story — not to mention, showcase your features IRL and online — is entirely unique to you. All you really need to know is that anyone of any size and background is invited to join. Step out in that revealing swimsuit though you may not fit the image of a classic bikini body (because who decided that anyway)? That's body positivity. Have a more petite frame but feeling proud of your newly formed muscles after months of training? That's body positivity, too. Whether you post one photo or a gallery of 10 and keep your caption short and sweet or spill out all your thoughts, you'll know what feels right for you.
THE MANY BODIES OF THE MOVEMENT
Scars that tell stories, inevitable "imperfections," and the power of personal choice: these are just a few of the diverse ways that body positivity continues to evolve and expand the limitless definition of the word "inclusive." It's images like these that help redefine what it means to accept and confront our unique features. And while it may not be intentional, these photos can truly change the way others see themselves — for the better. The more variety we see in these images, the more we can break down unrealistic expectations and relearn to embrace our bodies.
You might not realise this, but many of the influencers, beauty gurus, and yogis you already love are part of the movement. And if they're not, you can easily find ones to follow! Whether you're a girl who's obsessed with fashion or could use a daily mindful mantra in her feed, consider Instagram a tool to discover exactly the content you're looking for — and stumble upon something new while you're at it, too.
Thanks to one of the app's most recent features, you can now follow hashtags the way you'd follow friends, celebrities, and your favourite meme accounts. Click here to follow #BodyPositivity on Instagram. Share your stories, expand your awareness, and learn something new. Then, invite your sister, your mum, your best friend, or even your boyfriend (all genders are welcome!) to join the movement with you. Soon enough, it'll be even more millions of members strong.