Conair Hand-Held Turbo ExtremeSteam Garment Steamer Review
This Portable Steamer Helps Me Look Polished and Wrinkle-Free When I'm on the Go
As POPSUGAR editors, we independently select and write about stuff we love and think you'll like too. If you buy a product we have recommended, we may receive affiliate commission, which in turn supports our work.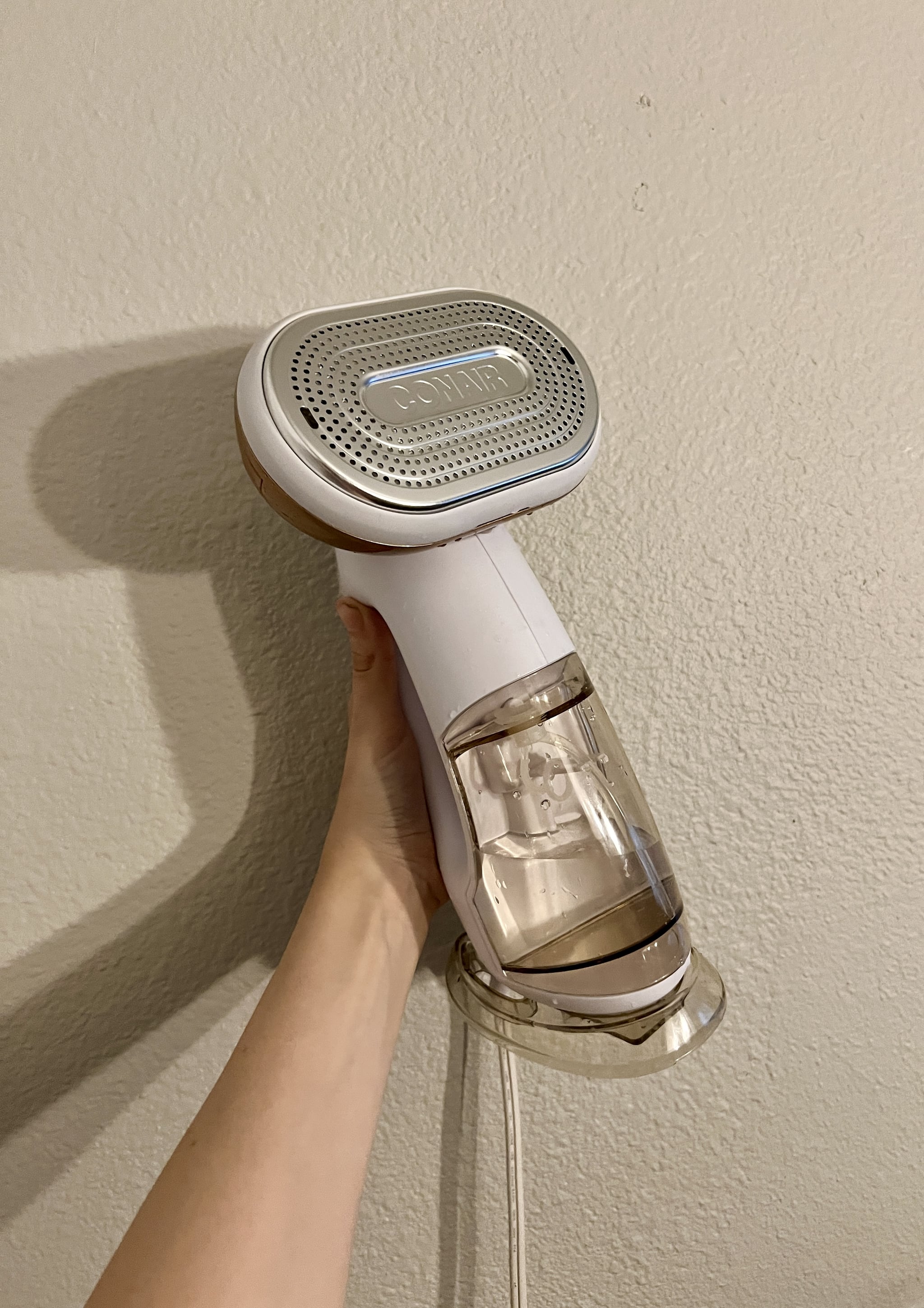 I'm an AirBnb and boutique-hotel girlie through and through, but over this past year — as I've dabbled in more business-travel adventures and work trips — I've encountered a very real dilemma in many of my stays: access to ironing boards (or rather, the lack thereof). Much to my dismay, not all rentals or hotels come equipped with a traditional ironing board, which has proven to be a very real problem whenever I've found myself travelling for work and have been expected to attend more formal events — including New York Fashion Week (aka the absolute last place you want to look wrinkled or unpolished at).
After one too many ironing board-free stays, I figured it was high time I invest in my own quality steamer. A quick Google search introduced me to this Conair Hand-Held Turbo ExtremeSteam Garment Steamer ($57), which has no shortage of rave reviews online. The model is admittedly a bit pricier than other steamers I've had in the past, but with adjustable heat modes and an easy-to-pack design (perfect for travel), I figured it might be worth a shot. Ahead, I break down everything to know about this steamer — including why I think it's the ultimate travel accessory for frequent flyers like myself.
What I Like About This Portable Travel Steamer
I appreciate the fact that this steamer is so much easier to use than a traditional ironing board, yet it manages to deliver just as excellent of results — and also cuts the time that it would normally take me to manually iron a shirt or sheet in half. I simply pop out the clear water reservoir in the front of the tool, fill it up with water, pop it back into the steamer, and plug the product's cord into a normal power outlet. From there, it takes a minute for the device to heat up, and I can adjust its heat mode as needed to accommodate whatever I'm steaming (some fabrics are more heat-sensitive than others, so it's best to do your research beforehand). Once it's fully warmed up, I can then begin the steaming process.
Generally speaking, I use this tool the most on my normal clothes, like trousers and blouses, so I'll usually hang the style up on a hanger and then (starting at the top and working my way downwards) slowly run the device over the clothing article until the piece looks wrinkle-free. The steamer boasts a long cord that provides even more convenience — I have no problem moving the steamer with ease, regardless of how far away a power outlet might be in relation to where the clothes are hanging. Typically, the style will be smoothed out with just one glide over the wrinkled area, but with denser clothing pieces (like denim), I might need to go back over it once more to ensure the wrinkles remain ironed out. The entire steaming process usually takes me less than 10 minutes, which is amazing, seeing as I'm usually running out the door last-minute anyway.
Beyond its easy-to-use functionality, I also appreciate that the tool is relatively compact so I can easily pack it into my suitcase or a personal carry-on bag for any work trips or jet-setting adventures.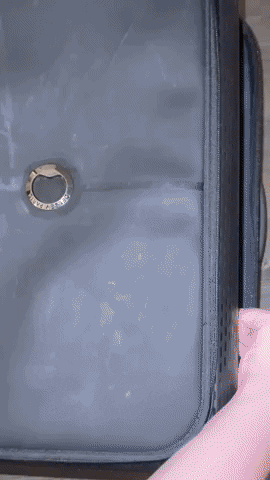 What's Worth Noting
Some shoppers have expressed frustrations with the product's water reservoir, noting that it can leak — either while in use or as it's in the process of heating up. One Amazon shopper wrote: "I'm about to return the second one I bought after I returned the first. It worked great the first two to three times; the water tank started leaking with the first one. The water tank removing and loading is not smooth, you literally have to yank it." I personally haven't had issues with mine, nor have I noticed it leaking in any way. But it's worth acknowledging these concerns among other shoppers.
Another thing to note is that this steamer (while portable and easy to travel with) is certainly larger and heavier than other models I've tried in the past. It's much more heavy-duty compared to the typical plastic variations you can buy for cheap at your local store — and in my experience, that's a great thing, because it means it's designed to last longer. It's important to keep in mind that it will take up a generous amount of space in a carry-on suitcase or travel bag, so if you're looking for something more compact, this might not be the best model for you.
Who Is This Portable Travel Steamer Best For?
Truthfully, I think this handheld steamer is perfect for anyone who hates wrinkled clothes and appreciates having an easy way to look put-together and polished without the need for a heavy-duty ironing board. If you live in a smaller apartment space or home, this is a great space-saving alternative that definitely won't take up as much closet space as a traditional ironing board. And for frequent travellers, it's a great portable solution that you can take on the go and have at the ready in your hotel room to clean up the look of clothes after a long day of travel.
Additional Details
The steamer has four unique heat settings, so you can adjust the heat output depending on what material you're steaming or the type of clothing.
The tool is designed to work across a wide range of products and surfaces. From clothing and curtains to linens, you can use this device for it all.
Unlike other portable steamers, this handheld model is equipped with a safety sensor that works to stop the steam when the tool is placed on a flat surface, and then begin steaming again once it's been picked up. This ensures it isn't working unnecessarily or steaming unwanted surfaces.
Where Is This Portable Travel Steamer Available to Shop?
This practical tool is available to shop at Amazon, Walmart ($70), and Kohl's ($80, originally $100).
Rating:
Image Source: POPSUGAR Photography / Kyley Warren