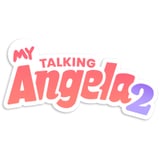 We've partnered with Outfit7 to share with you the return of My Talking Angela 2, the new game that can help stressed-out adults unwind.
Everyone unwinds after a stressful day differently: some people meditate, others go on a run, but have you ever considered casual gaming? While some forms of gaming require full office set-ups, including two computer monitors, our preferred method includes the latest version of My Talking Angela 2 that can be played directly from your phone. When your world is feeling dull or trying, you can pay a visit to Angela's, which is bursting with fun and color. Spoiler alert: virtual comfort baking is involved.
My Talking Angela, a friend simulation game, originally launched back in 2014. Fast forward seven years, and its long-anticipated follow-up is finally here. Whether you're a newcomer to the game or a returning player, it's important to note that Angela's world has completely evolved. While the gameplay is still the same — being Angela's best friend — everything else is different. Not only does she have a new apartment, but she's also living in a new town, sporting a new wardrobe, and collecting the kind of frequent-flyer points that can take her practically anywhere on the map.
Angela has matured, which means her interests have, too. Now, she wants you two to spend your time together painting, baking, and taking care of her plants (even in a virtual life, this can be a challenge). Bottom line: her world is the cosy space you've been eager to escape into, especially after a long day at work, whether this includes hours of video conference calls, standing on your feet, or entertaining your children during summer break. Sure, running is fun, but doesn't taking Angela on vacation to France sound better?
Ahead, we share the latest features you can experience on your own or with the entire family while playing My Talking Angela 2. Prepare to unwind in a whole new way.