August 16 New Moon in Leo Meaning for Zodiac Signs
The New Moon In Leo Is Giving You Permission to Be Selfish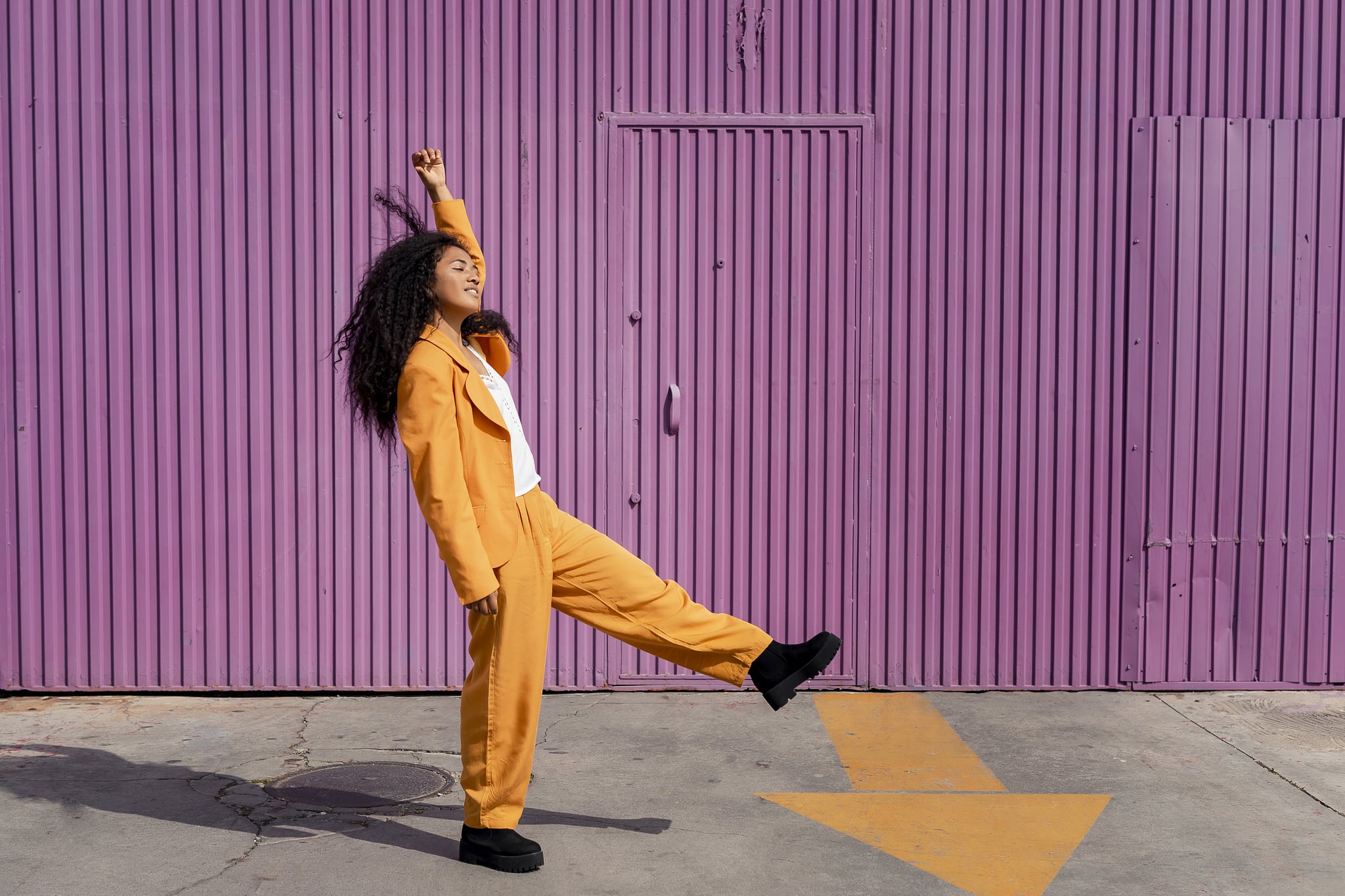 Roughly every month or so, there's a new moon that restarts the lunar cycle, and it occurs as the moon travels in conjunction with the sun, providing that invisible appearance from Earth. From an astrology perspective, new moons herald a clean slate and offer opportunities to flourish and transform. And with a new moon in Leo, it will bring you the chance to grow into your most confident and courageous self.
Cresting the skies on Aug. 16 at 9:38 am ET, the new moon in self-assured Leo invites you to be a little bit selfish with your time and prioritise yourself — even if it means bailing on plans for self-care or setting boundaries with others.
"A lunation in Leo is always a time to shine authentically, and with a new moon, it's about planting the seeds to becoming the brightest version of yourself," says Erin River Sunday, lead astrologer for Birthdate Co. "Leo energy knows that the only way forward is through the heart, and this lunation is all about tapping into those feels!"
Ready to get the full scope of how August's new moon in Leo will affect you? First, POPSUGAR spoke with an astrologer to break down the spiritual symbolism of the August new moon in Leo.
The Spiritual Meaning of the Aug. 16 New Moon in Leo
As a sign, Leo is naturally fun-loving, as it rules all things related to the heart like love, romance, creativity, and all of your passions. That said, Leo season, which lasts from July 22 through Aug. 23, connects you with your inner child, offering you an extra playful perspective on serious matters. It also inspires you to put on your armor in the face of adversity. With the fire sign targeting all of your pleasures, the new moon in Leo is a great time to revel in your passions and get lost in your preferred crafts.
While they have a good balance between being light-hearted and courageous, Leos also have a tendency to be a tad self-obsessed. Meaning, acts of selfishness can hinder your POV and the mechanics of your relationships with others.
"The best use of this energy is acknowledging where your authentic needs may have not been met in the past," explains Sunday. "This is a moment to reflect on what lights you up and put plans in place to bring in more of that life-giving energy."
However, since Venus is retrograde on July 22, Sunday explains that a major emphasis on karmic love may call for even more heartfelt exploration right now. But don't take it as a sign to return to an ex or bury the hatchet just yet. "Noticing anything surprising that surfaces is an opportunity to review what's helping you shine and what's stirring up old wounds ready for healing," says Sunday. Remember, this time is all about following what brings you joy, not just permanent satisfaction.
How the Aug. 16 New Moon in Leo May Affect the Zodiac Signs
Keep reading to find out how the Aug. 16 new moon in Leo may affect your zodiac sign.
Aries (March 20-April 19)
Follow your passions down new paths, Aries. This lunation is permission to be playful and revel in all the things that bring you pleasure. "This new moon is a beautiful one for Aries to tap into their inner child," says Sunday. "Bring popsicles to the park for a nostalgic (and delicious!) romp with a paramour."
Taurus (April 20-May 20)
Retreating to your comfort zone doesn't have to be too predictable, Taurus. This thrilling new moon helps you see that there are plenty of ways to bring excitement to your space. "It's a beautiful time to rethink decor ideas and bury yourself in paint swatches," says Sunday. Establishing boundaries is super important right now.
Gemini (May 21-June 20)
Speaking up for yourself has never been more effortless, Gemini. "It's a beautiful moment for Geminis to set intentions around future learning, and be open to interesting conversations," says Sunday. Exciting new connections may show up right now, too — be open to expanding your community.
Cancer (June 21-July 22)
Taking risks can be a beautiful thing, Cancer. Just don't lose sight of what your end game is. "Cancers are in the process of reviewing their value system with this new moon," Sunday explains. "Surprising money news might make itself known, which is all the more reason to go through their finances with a fine tooth comb."
Leo (July 23-Aug. 22)
Leo, the new moon in your sign is giving you the fortitude to express your true form. From debuting a new style to completely reinventing your values. "The Leonine among us will be reviewing what heart-centreed action really means to them," says Sunday. Use the power of this lunation to set intentions and shift focus on what it means to show up in the world authentically.
Virgo (Aug. 23-Sept. 22)
Getting cosy in your solitude can empower you to resonate with your inner child, Virgo. Get reacquainted with the moments that bring joy into your world. "This is an opportune time for deep rest and relaxation, which might look like indulging in a solo movie or getting lost in an art museum," Sunday explains.
Libra (Sept. 23-Oct 22)
Surrounding yourself with sustainable friendships is what this new moon's all about, Libra. "Party invites are likely to be a dime a dozen, but the test comes in with deciding which ones your heart truly wants to attend," explains Sunday. It's OK to be selective with who you give your time.
Scorpio (Oct. 23-Nov. 21)
All eyes are on you to make a major impression on the world, Scorpio. Be cautious of your work ethic and keep your endgame tightly wound into your vision as you progress forward on projects. "This new moon might bring a few surprises arriving at the office," explains Sunday. "It's about working smarter, not harder, now."
Sagittarius (Nov. 22-Dec. 21)
The fiery new moon is enabling your natural wanderlust, Sagittarius! But be wary of overly impulsive decisions — exploring right now has the intention to shift your POV. "This lunation is ripe with the adventurous energy Sagittarians crave," Sunday says. "While the trip might not go as planned, the knowledge gained will be worth it."
Capricorn (Dec. 22-Jan. 19)
This might be a turbulent time as you sort through what's no longer expanding your growth, Capricorn. That said, this new moon is about braving the art of letting go. "This new moon, while ultimately loving, could also be coupled with encouragement for deep healing," says Sunday. Getting lost along the way is natural, but as long as you're staying true to your inner joy, you won't lose out on anything.
Aquarius (Jan. 20-Feb. 18)
Opening your heart to love and pleasure doesn't mean abandoning your independence, Aquarius. "A partnership Aquarians never saw coming could arrive around this new moon and it's an opportunity to see where their heart stands," Sunday says. Regardless of your relationship status, being vulnerable with your heart will prove rewarding right now.
Pisces (Feb. 19-March 20)
Add some spice to your daily routine, Pisces! Prioritising your wellness is an incredible way to ring in this thrilling new moon. "This new moon is a great opportunity to consider a unique new habit," says Sunday. "Creative ideas are encouraged, as are planting seeds for a streamlined process 9-5."
Image Source: Getty / Westend61