Positive Affirmations For Women To Say in the Morning
Set Intentions For a Positive Day With One (or All) of These 32 Morning Affirmations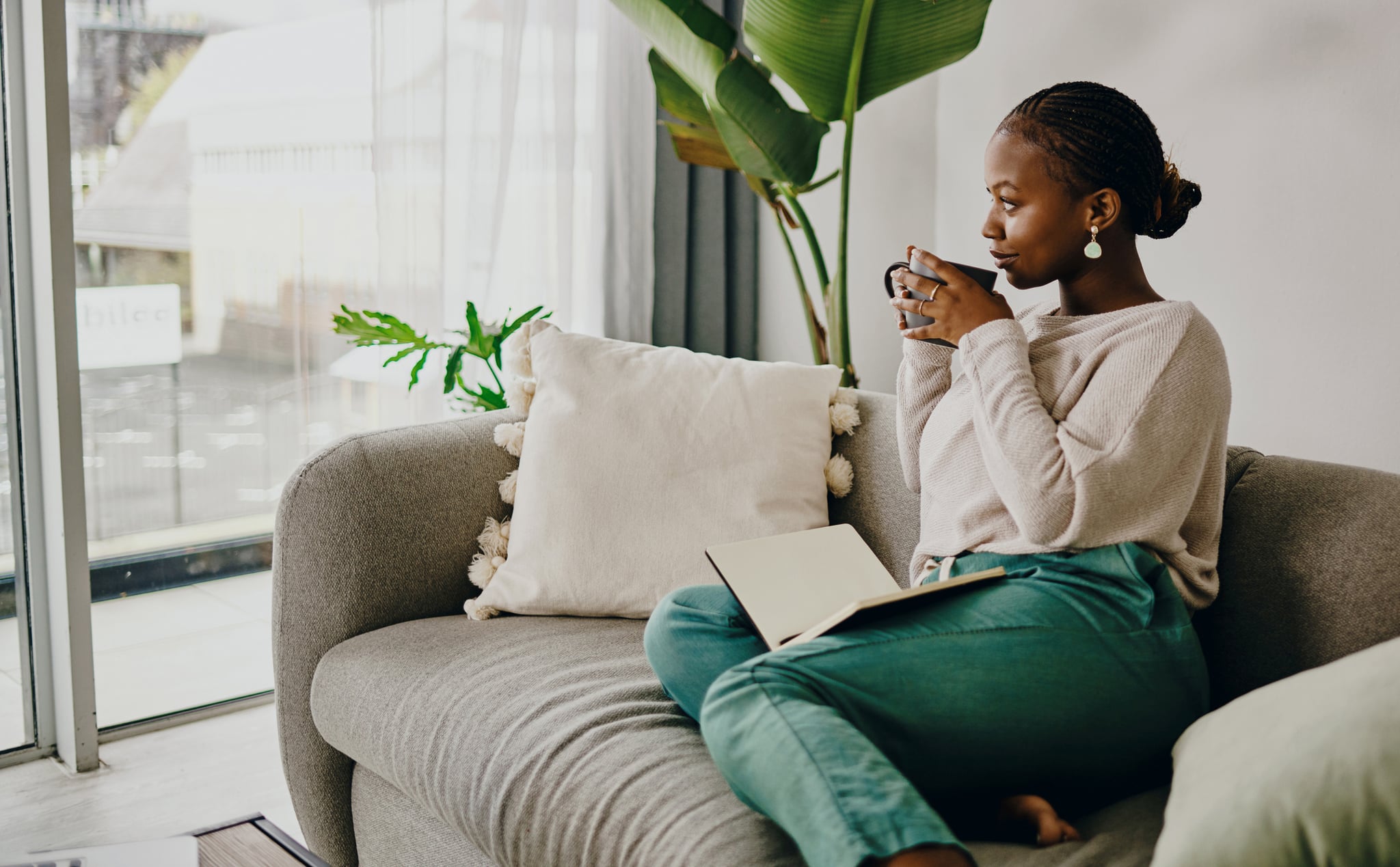 It's easy to slide down a rabbit hole of negative thoughts when you first wake up in the morning (especially if you're not a morning person). You might be tired, not feeling well, or just not in the mood to deal with any responsibilities whatsoever — we've all been there. However, there's a lot to be said behind the power of your mindset and how a thought can shape your whole day. Cue: positive affirmations, short statements that represent a commitment to manifest something — a like a thought or a feeling — into existence.
How Do Positive Affirmations Work?
Essentially, positive affirmations work by repetition — by allowing your mind to become familiar enough with a certain feeling or emotion so you can easily access it. "Shifting our mental attention towards our intention has the potential to help us steer away from negative thinking patterns and create a positive change in mood, mindset, and energy," Dr. Angele Close, PhD, a clinical psychologist and therapist, previously told POPSUGAR. If you repeat a phrase enough, you can push your brain to shift away from negative thoughts and turn a bad day into a good one.
Training yourself to start your day with a positive outlook is also a valid way to cope with things like anxiety, stress, productivity, self-esteem, bad habits, and more situations in which you need a shift in your emotional perspective. "Where goals tend to be concrete and achievable outcomes, affirmations are better used as evoking experiences and shifts in being," Dr. Close said. Even if you're a bit sceptical as to whether or not affirmations work, a low-effort activity like this is worth a shot, right? As someone who has practiced manifestation, I can honestly say positive affirmations, for me at least, hold a type of superpower that I'd yet to experience until I started practicing them. I'm now dealing with less anxiety and am on my way to a healthier lifestyle, thanks to these small but powerful phrases. If you're interested in exploring how positive affirmations can change your mindset, check out these 32 short affirmations to say in the morning.
Positive Affirmations to Say in the Morning and Throughout the Day
I don't chase, I attract. What's meant for me will find me.
I am at peace. Only positive energy will come my way.
Today, I align myself with all things meant for my greater good.
I am grateful for all the joy, abundance, and love that finds me today.
I am open to receiving love, and I am ready.
I let go of what no longer serves me.
I have the power to create my own happiness.
I am worthy of respect and love.
I am worthy not because of what I do, but because of who I am.
It is my birthright to be happy.
All of my desires are attracted to me.
All is well in my world.
I choose to be wealthier than I already am.
Everything I need is within me.
I am always guided toward my purpose.
I claim my power.
My mind is at ease and relaxed.
I am grateful for my life. I am ready to accomplish my goals.
I am attracting positive energy into my life.
I give myself permission to do what is right for me.
I release myself of any energy that no longer serves me.
Everything that I need I already have.
I am worthy of love, and I receive it daily.
I deserve and receive all of my desires.
Everything works out for me.
I will be a positive person toward others.
I am grateful for another day to create a life I love.
I am beautiful, capable, and lovable.
I am a magnet of positivity.
Love and money come to me easily today.
I am always receiving abundance and miracles.
I have it within me to solve any challenges that come my way.