Arlo Home Security System Review
This Camera System Protects My Home AND Lets Me Spy on My Cat, So What's Not to Love?
As POPSUGAR editors, we independently select and write about stuff we love and think you'll like too. POPSUGAR has affiliate and advertising partnerships so we get revenue from sharing this content and from your purchase.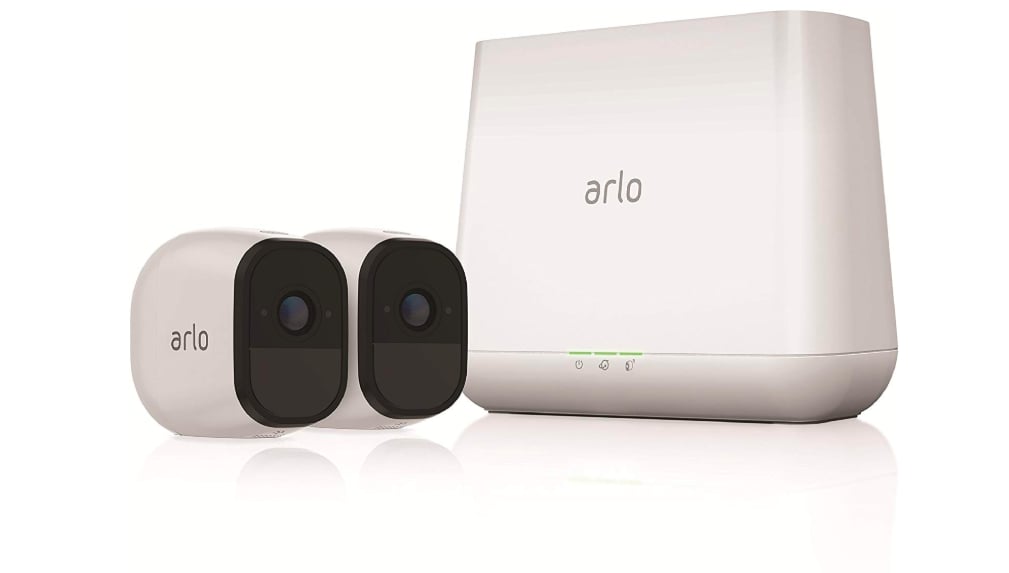 Have you met my friend Arlo? A does-it-all customisable smart home security system, Arlo replaces old-fashioned CCTV, does away with wires and monitors, and allows you to check in on your home using your phone whenever you like. Use it like a burglar alarm, use it to see who comes to your door, or use it to spy on your pets. It consists of a base "hub" and a number of add-ons, so you can choose from a half a dozen different camera types depending on your personal requirements (and budget). From the original wired options to "Pro" models with full HD video, rechargeable battery packs, and audio, the system is constantly being upgraded so you can add on any extras you like.
I took the plunge and invested in an Arlo system 18 months ago, opting for the Arlo Pro 2-Camera Kit (£500). It was expensive, but I got a reduction in my home insurance premium as a result, and so far I think it's been worth the investment, as it provides me with reassurance whenever I need it. It only took an hour or so to set up (including mounting the cameras), and since then it's been a doddle to maintain. The Arlo Pro cameras record in HD video, and the iPhone app I use to control the system is slick and generally easy to use (though I have it on good authority the Android version can be a bit buggy). It just takes a couple of clicks every time I leave the house, and I know my home is being watched while I'm not there. If I wanted to, I could even set it up on a geo-targeted ringfence, so as soon as I (or my phone) leave the house, the camera sensors turn on automatically.
How Does Arlo Work?
Arlo creates its own network using your home WiFi, with each camera connecting to the base station (which is best kept by your router). Some of the earlier camera styles are wired, but newer ones like the Pro and Pro 2 are wireless and come with simple magnetic mounts that can be easily fitted anywhere in the home. Some of the cameras are also suitable to be used outside, and you can buy coloured covers to camouflage and protect them.
Where Is the Video Stored?
Arlo will store up to seven days' worth of motion- and audio-detected video in the cloud for free. You can download those videos (and any photos you take) at any time before they expire. If you need more than this (e.g. saving continuous video or filming over a specific time period), you can sign up for a number of different subscriptions, and the new Arlo Smart plans offer a number of other extras, too. The base station also has a USB slot so you can connect your own external hard drive if you prefer. Obviously, since it uses the cloud, there's a concern that the supplier may stop the service in the future and data could be lost. But it's worth noting Arlo is owned by Netgear, a huge multinational company, so it's unlikely it would disappear without plenty of warning and options, and the option to back up by USB means the cameras won't be rendered useless, even if the cloud disappears.
What Happens If My WiFi Goes Down?
Unfortunately, if your WiFi drops or disconnects, Arlo will stop working, too. This is one of the major downsides of the technology, and it's definitely something to bear in mind if your ISP is unreliable or slow. Once your connection comes back, the cameras will reconnect to the base station automatically, but you'll still have a window with no protection.
Is There a Lag Due to the WiFi Connection?
There does seem to be a tiny lag of about two to three seconds on the Pro cameras that I have. It is discussed quite a lot in the Arlo forums and seems to be related to your ISP's upload speed compared to its download (something I am aware is a problem with my supplier). However, it's never been enough to stop the cameras picking up what's going on when they've been recording.
What Happens If There's an Intruder?
Provided your device is armed, it can do any (or all) of the following: start recording video, send you a notification (by email, push notification, or both), and sound an alarm. If you have an Arlo Pro camera, it also has two-way audio, so you can record the intruder's voice or speak to them. The only thing Arlo doesn't do is notify the police or a response service. That one's up to you.
Does It Record at Night?
Arlo cameras have night vision, and as you can see in the video below, it's pretty good!
Can I Have Different Settings For Each Arlo Camera?
This is one of the things I like the most. You can apply different rules to each camera and turn on different cameras at different times. This is useful if, for example, you want a camera at the front of the house that records every time someone comes to your door but to only receive an alert if that person enters your house and triggers a second camera in the hallway. You can also set cameras to record permanently if you prefer or turn them off entirely. Creating these custom settings in the app might take a while, but once you get the hang of it, it's quite fun.
Can I Add Multiple Users?
Yes, you can add extra users to your devices, but there will always be one main administrator. New users can have different levels of access, but if you want someone to be able to turn the cameras on and off, you'll need to give them a higher level of access. Because of this, there is a certain level of trust involved: anyone with access can log in and watch the cameras whenever they want, so you'll need to think about this and position the cameras accordingly. If you have tech-savvy teenagers, for example, they may quickly clock the fact their parents can basically spy on them at any time!
How Long Do the Batteries Last?
This depends on how many instances you film over a week. If you only have it set up to record intruders, you should find most batteries last three to five months. The rechargeable ones will need to be charged once every few months (I can count on one hand how often I've had to charge mine over the last year). Don't leave it until they've run down completely to charge, as this can cause issues with pairing; if one dies completely, it can take a while to get the system working again. I charge mine up when they get to about 30 or 40 percent to keep them juiced up at all times.
Will My Pet Set Off the Alarm?
They shouldn't. Set the camera up high, and small pets won't set off the sensor, only humans. You can also adjust the sensitivity depending on the size of your pet. I have a cat, and she has only ever triggered Arlo once, and that was because she was miaowing so loudly, she triggered the audio sensor! She's never set off the motion detectors.
But Could I Set It to Watch/Record My Pet If I Wanted To?
"People" do it (OK, yes, I do it)! You can log in to the live cameras at any time and spy on your pet, or you could set up an Arlo low to the ground, and it should film your pet when it's nearby.
Could I Use It as a Baby Monitor?
I wouldn't advise you use a regular Arlo camera because if it doesn't pick up small pets, it may not pick up a baby's movements either. But Arlo does make a specific baby camera, the Arlo Baby Monitor (£270).
Would You Recommend Arlo?
Having Arlo has been worth the investment for me purely for the peace of mind. I'm the kind of person who worries at least once or twice a week that I've left the iron on or forgotten to close the front door. Being able to check in on my home from anywhere, even when I'm out of the country, is brilliant. It's super easy to install and maintain, and the app is straightforward for most users. I'm now keen to expand the system with outside cameras, too, and it's easy to do this as the newer models all work with my original base station.
However, there are some issues to consider. First are the minor annoyances: the Android app is a little buggy, you need really good WiFi for the cameras to work to their highest potential, and there have been times when I've struggled to reconnect the cameras after charging them. Then there's the trust issue: the cameras can be turned on and off and watched remotely at any time by anyone with the right level of access. That's fine in a family home but probably wouldn't work in a shared property. Finally, you do need to consider what would happen if your house does get broken into: wireless cameras are easy to remove, disconnect, and tamper with, so you really do rely on that instant upload to the cloud to catch intruders in action.