Evernote Laptop Bag
The Designer Behind Evernote's Svelte Laptop Bag
As POPSUGAR editors, we independently select and write about stuff we love and think you'll like too. POPSUGAR has affiliate and advertising partnerships so we get revenue from sharing this content and from your purchase.
"In mobile phones, in TVs, in laptops, there are new improvements every day. But in bags and wallets, there is no innovation . . . so we started thinking from scratch. If I had never seen a laptop bag [before], what would I make?"
That was the mantra going through Japanese designer Kazushige Minami's head as he began drafting Evernote's Triangle Commuter Bag ($199), the latest addition to the software company's collection of physical wares.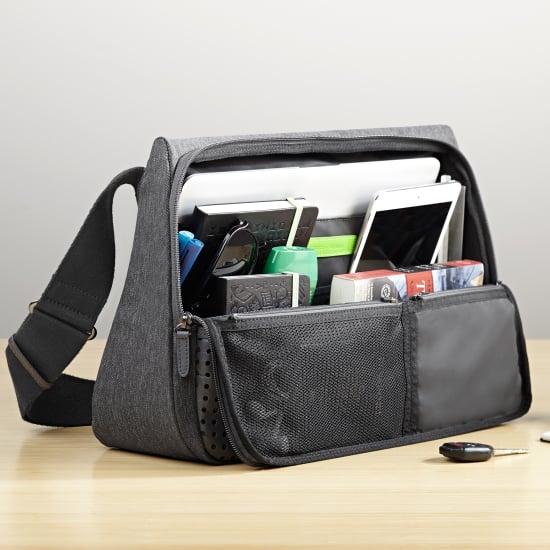 At the 2013 Evernote Conference in San Francisco on Thursday, CEO Phil Libin announced that the company was moving beyond its organisation app, with an increasing number of partnerships that combine Evernote users' digital data with tangible products.
This Triangle Commuter Bag was developed in conjunction with the Japanese accessories company Abrasus, which Kazushige founded, and it was by far Evernote's most compelling product announcement on Thursday. We sat down with Kazu after the keynote to ask about his design process for the bag, which, unlike most other over-the-shoulder messenger cases, doesn't flop over when set down.
In 2009, Kazu quit his job as a tight-collared venture capitalist to begin devising tech accessories that put function first. "In the fashion industry, there is so much good [bag] design, but we don't want to compete with them. We only make what we want to have, and functionality is very important."
The Triangle Shape
When most messengers are dumped on a table, they swell and collapse on themselves — and Kazu wanted Evernote's laptop commuter to be the complete opposite of that. The bag's triangle shape makes it extremely stable, but it also lends itself to a slimmer, more body-hugging profile.
Kazu slid his MacBook Air into the built-in laptop sleeve, with the thickest part of the computer at the top of the bag. "This is very top heavy right now, but it will never fall down," he said.
The rigid form keeps the bag upright, and it also cuts down on space. Kazu explained how objects shift down to the bottom, and in traditional backpacks, there is lots of "air" and room at the top. The bag's wider base and tapered top eliminates this "air."
The outside pocket isn't just for looks, either. It's perforated so that a phone's rings and pings remain audible, and it also allows you to stick on buttons and pins without ruining the fabric.
Interior
Zip open the main compartment, and the flap will fall down. This is intentional, of course, and the flap's pockets have zippers that are placed accordingly. "Everything is visible," comments Kazu, who didn't want to have to fumble through the bag to find anything.
As he pulled out everything in his bag — MacBook Air, laptop charger, iPad Mini, iPhone, pens, various receipts, water bottle, passport, and about 15 other random gizmos — I was impressed by how much could fit into a such slim carrier. The Triangle Commuter Bag easily fits up to a 15-inch MacBook Pro, but you'd never know it by looking at its interior.
Everything fits so snugly. Kazu apologised for his messiness, but I hardly noticed. The bag has a compartment for every type of gadget and accessory. Even when things are in disarray, the bag looks orderly.
The Strap
Take a closer look at where the crossbody strap is attached to the bag. It's sewn in at an angle to make the messenger feel as snug as possible. When a strap is attached at the top, the bag sticks out and feels heavier.
This angled strap hugs the laptop bag closer to the body and transfers the weight of the pack onto your back.
The Downsides
Evernote and Abrasus's svelte messenger bag looks and feels great, but it does have one major drawback: its price. At $200, it's more expensive than TimBuk2's and Chrome's over-the-shoulder carriers.
But it is Evernote branded, which may mean something if you're a fan of the company's products. Can an app become a lifestyle?