I Tried Barbie Blond — With Photos
Margot Robbie's Hairstylist Made Me Barbie Blond — and Now I'm Everything
As POPSUGAR editors, we independently select and write about stuff we love and think you'll like too. If you buy a product we have recommended, we may receive affiliate commission, which in turn supports our work.
Margot Robbie has the best blond colour, full stop. Whether she's gone slightly more "brond" or full-on platinum Barbie, she is hands-down my blond inspiration. You should see my Saved Posts page on Instagram — it's basically a shrine to Robbie and her hair.
But who I should really be bowing down to is her colourist: Jacob Schwartz. Not only is he the mastermind behind Robbie's Barbie-blond colour, but he's also responsible for some of Hollywood's most iconic blondes, like Sydney Sweeney and Brie Larson.
So when I wanted to try the Barbie-blond trend for myself, I went straight to the source. Schwartz, who works out of the LA-based celebrity-favourite salon Mèche, took my lackluster ombré and gave me the full Robbie treatment. Keep reading to find out more about his technique, what you should ask your colourist if you want Barbie blond, and the products you need to keep your blond bright at home.
What Is Barbie Blond?
According to Schwartz, there have been many shades of Barbie blond, ranging from ultra platinum to more light gold. "I would say that in the salon, I have seen an overall lightening and highlighting for brunettes and redheads, [which is definitely] a reaction to the film and [the] essence of my technique." What I was looking for was a bright, light blond that still stayed on the warmer side. I've found that an ashier or full platinum blond tends to wash out my complexion.
Schwartz says that when you visit your colourist, always bring a photo with you. "I would specify it to be softer and more subtle with the highlights all over without changing your base colour (unless you have grey)," he says. "Avoid asking for anything too rooted or ombré, but ask for something only a few shades lighter than your natural hair colour. In other words, something in between the colour of the highlight and your natural base colour to just take the edge off."
How to Achieve Barbie Blond
For Schwartz, it's all about meticulous highlighting, meaning they are not done in stripes but with only a few hairs per section or foil. On Robbie specifically, Schwartz used his signature method: #spunwithgold. "It's all about having highlights throughout your hair so when the light hits your hair, it's glistening," he explains. "For Margot at the 'Barbie' premiere, you see blond consistently woven everywhere, even the sides and underneath. The magic really happens when art and science come together, as crazy as that sounds. I like to keep Margot's highlights at a gold colour and not platinum. Then when I gloss her, I just focus on blending the roots and the middle with a demi permanent. It just gives the overall look a seamless, soft finish."
Because my hair colour started a bit darker than Robbie's, Schwartz's method had a few tweaks. "There was a remaining warm base colour that was a few inches down," he says, "so we were combatting some brass. I did two rounds of highlights: The first one, I highlighted your hair all over to see how much lighter I could get you. The second round, I could see the remaining leftover orange from the base colour. I used the demi-permanent Schwarzkopf Vibrance ash shades to low-light some of that out while I did a few more highlights. I love to break things down in steps rather than doing 10 things at once."
Because Barbie blond is so customizable, Schwartz says it's totally possible for people with darker or redder base shades to get the colour. The only limitation would be coming from an all-over black or very dark brown hair colour, as going this blond would be very damageing for the hair.
My Barbie Blond Results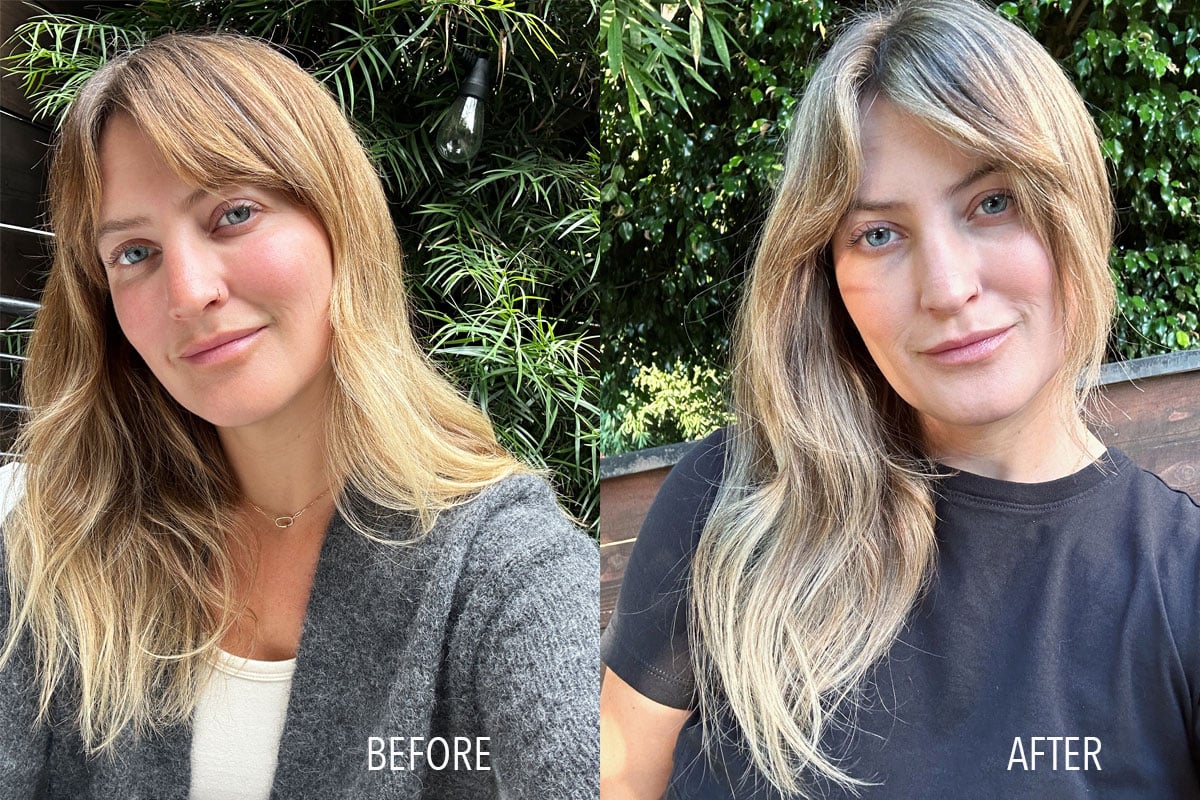 For me, this colour is perfect (and nearly identical to the inspiration photo at the top) because it didn't skew too platinum or too warm. Just right, as they say. More than anything else, it feels very natural — like Schwartz talked about, the highlights feel integrated and seamlessly woven together to catch the light.
Barbie-Blond Maintenance
In terms of how often you need to head to the salon for touch-ups, it will vary depending on how fast your hair grows, how often you wash your hair, and what kind of water you have where you live. For Schwartz, the sweet spot is between six and 12 weeks. "That's the beauty of [this colour]," he says. "You really have a nice grow-out. Some people, in my opinion, can pull off over two to three months, but it always depends on the client's preference. Some people like their colour less rooty than others. But on average, I see each of them around once every two months, but it's not a hard and fast rule."
He says it's all about the at-home upkeep. "I recommend that my clients use Olaplex No. 4 Bond Maintenance Shampoo ($30) and Olaplex No. 5 Bond Maintenance Conditioner ($30) in between salon visits to protect and maintain the appearance as if they just left my chair," he says. To keep my hair looking shiny and "expensive" à la Barbie, I use a combo of the Ranavat Mighty Majesty Glossing Hair Masque ($64) in the shower, the Crown Affair Hair Oil ($40) before heat styling, and the R+Co Two-Way Mirror Smoothing Oil ($37).
It's been a few weeks since going Barbie blond, and I can say with confidence: I truly am everything.
Image Source: POPSUGAR Photography / Aviel Kanter