I Tried Chris Appleton's Beach Waves Hack: See Photos
I Mastered Beach Waves in Under 10 Minutes Thanks to This Hair Hack
As POPSUGAR editors, we independently select and write about stuff we love and think you'll like too. If you buy a product we have recommended, we may receive affiliate commission, which in turn supports our work.
One of my biggest character flaws is that I'm always late. My friends know that if we have a dinner reservation at 8 p.m., I will 100 percent be utilising the 15-minute grace period. It doesn't actually take me too long to get ready — I wear pretty minimal makeup, and my hair routine doesn't take that long — but I do spend a lot of time in a towel, lying in bed and scrolling TikTok. What can I say? No one is perfect.
During one of my "lounging while I should actually be getting ready" moments, I saw a TikTok video with more than a million views of celebrity hairstylist Chris Appleton demonstrating a hair hack for how to get Kim Kardashian's beach waves, and the process took less than 10 minutes. A trick that would give me the celebrity-approved hair and cut down my getting-ready time? Yeah, I bookmarked it immediately.
I'm no stranger to beach waves, but I typically get them using a curling iron. I love the looser, "s" shape of the look, but the way you typically get it — by using a flat iron — has never been something I've been able to master. Appleton's approach to getting the style, however, seemed so much easier to do than any other tutorial I've attempted. It was also completely different from what I'd seen before because it utilised braids before applying heat. Plus, if there's anyone I trust when it comes to a hair hack, it's the hairstylist behind some of Kardashian and Jennifer Lopez's best looks.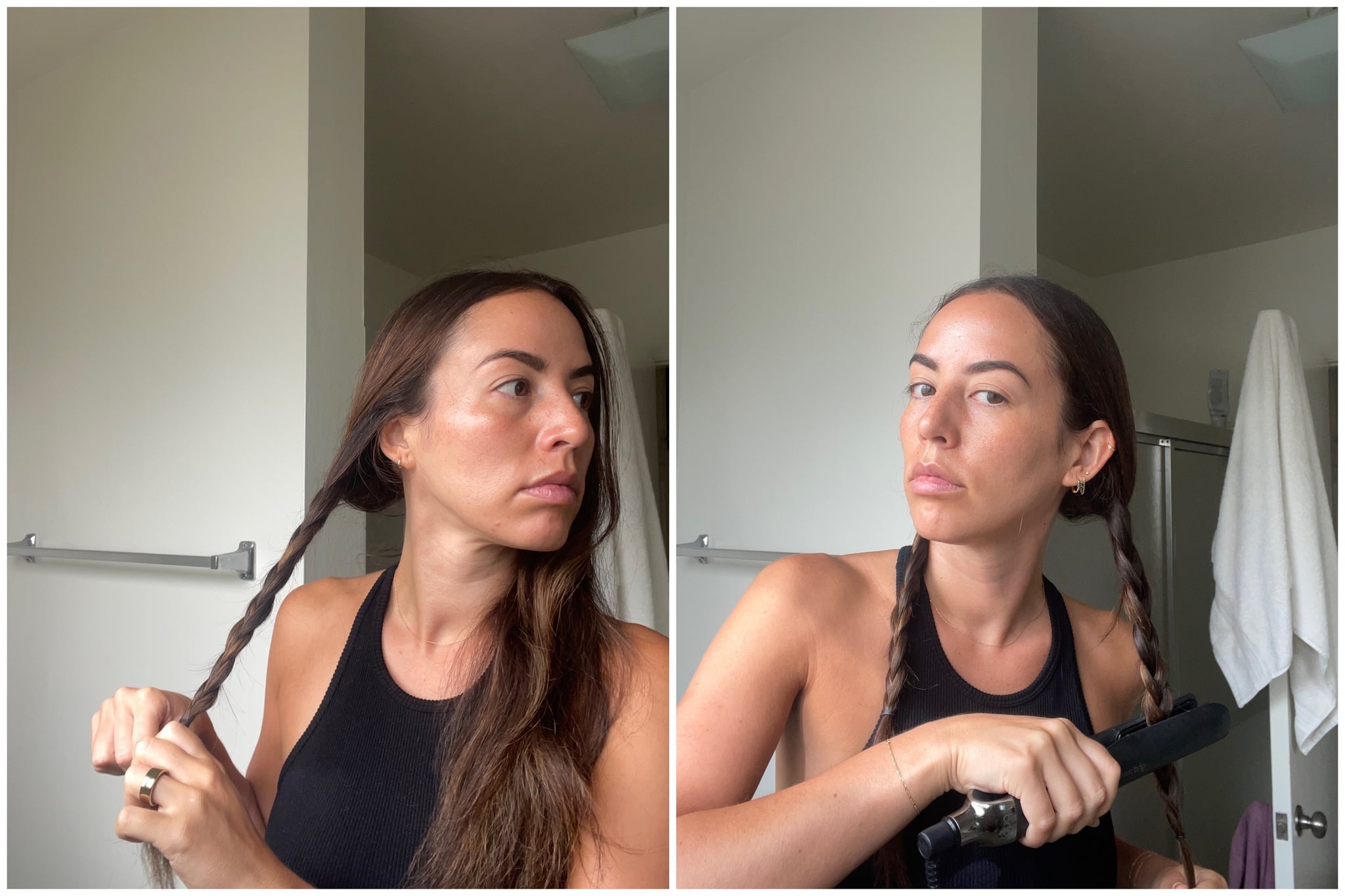 To test this hack, I started by dividing my dry hair down the centre into a left and a right side. I brushed through everything to make sure there were no knots, then spritzed on a heat protectant; I like the Drybar Hot Toddy Heat Protectant Mist (£25) because I can use it on dry hair. Appleton also recommended a lightweight texture spray. He used the Colour Wow Style on Steroids Performance Enhancing Texture Spray (£24), but I opted for the Andrew Fitzsimons Après Sexe Texture Spray (£10), which is a POPSUGAR Beauty Award winner.
Next, I plaited each side of my hair and secured them with small rubber elastic bands. This is what Appleton says is his "secret," and he notes that the more braids you do, the more defined the waves become. He also mentions that if you want something a little flatter at the roots, start the plaits lower down, which is what I did. Then, I went over each braid from top to bottom with a flat iron, clamping it down onto my hair for a second or two before moving to the next plait. After taking the braids out, I spritzed everything with texture spray again just to make sure the waves would hold.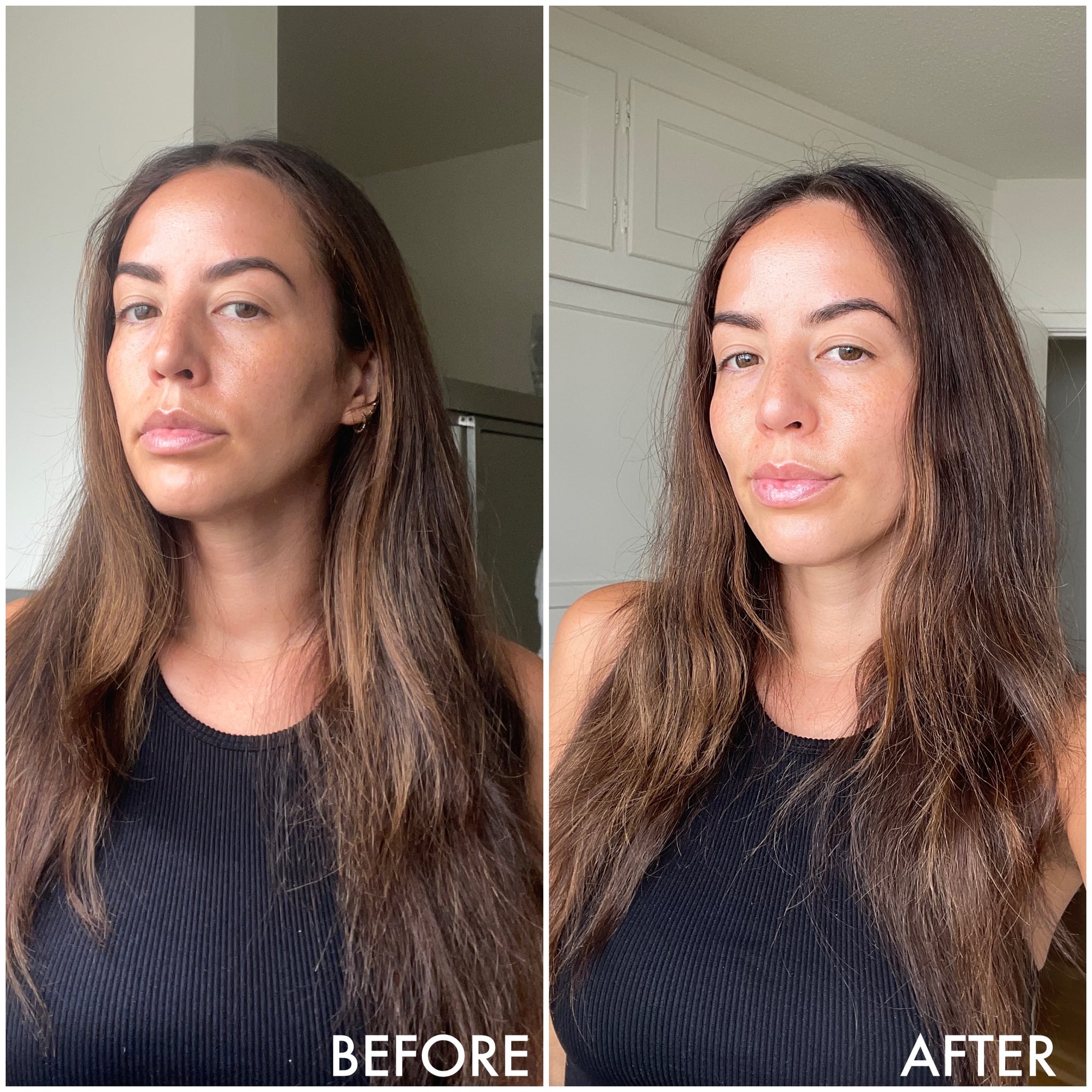 The final result left me with a simple bend that looked great, even if it wasn't exactly like Kim K's. The best part? The entire process took less than 10 minutes. While my typical beach waves take double the time, this hack was fast and easy and looked good, which makes it a trick I'll continue to use in the future.
Image Source: POPSUGAR Photography / Renee Rodriguez