Clear + Brilliant Laser Treatment Review With Photos
I Couldn't Believe My Results From a Clear + Brilliant Laser Treatment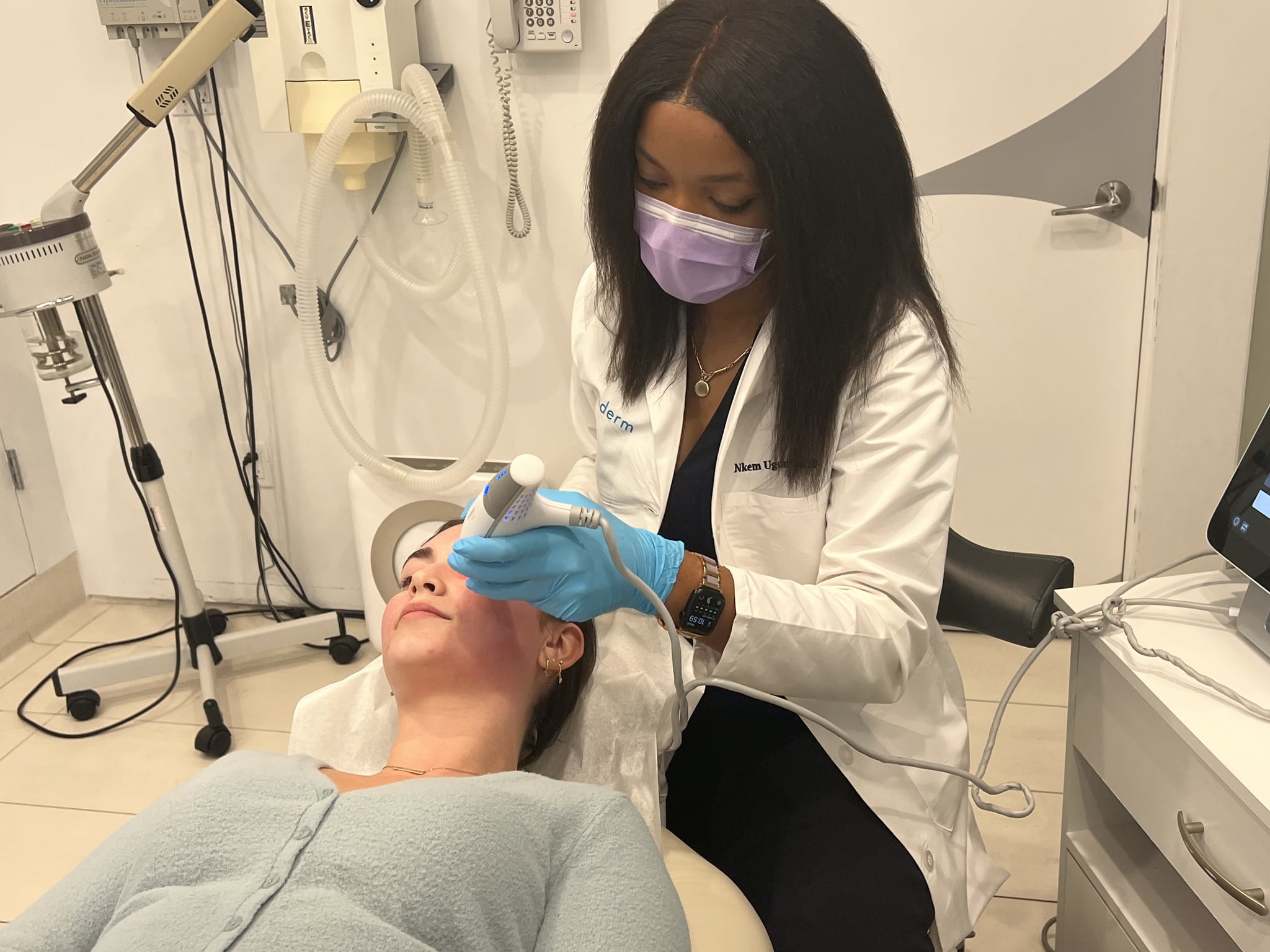 Our editor tried the Clear + Brilliant Laser Facial treatment.
She got the laser treatment to target dark spots and dullness.
See before and after photos from the Clear + Brilliant treatment, plus read the full review.
The world of laser treatments is vast and can feel overwhelming, but as someone who's started to dip a toe into the many, many options available, the Clear + Brilliant laser facial stood out to me. This minimally invasive skin resurfacing treatment targets a myriad of skin concerns including fine lines, dark spots, discoloration, and dullness.
It's fast, it's not very painful, and it requires very little downtime — all of which appealed to me, so I gave it a go. Keep reading to hear more about my experience with the Clear + Brilliant laser treatment at UnionDerm in New York City.
What Is Clear + Brilliant?
Clear + Brilliant is a laser resurfacing treatment that works by creating thousands of microscopic treatment zones in the top layers of the skin and signaling for it to regenerate. A treatment takes 30 minutes or less, and involves gliding two hand pieces over the skin in a very methodical manner.
The treatment is fast and thanks to some numbing cream, your skin should only feel a little hot and tingly. Once you're done, it's recommended you ice your face for the first day to bring down the redness.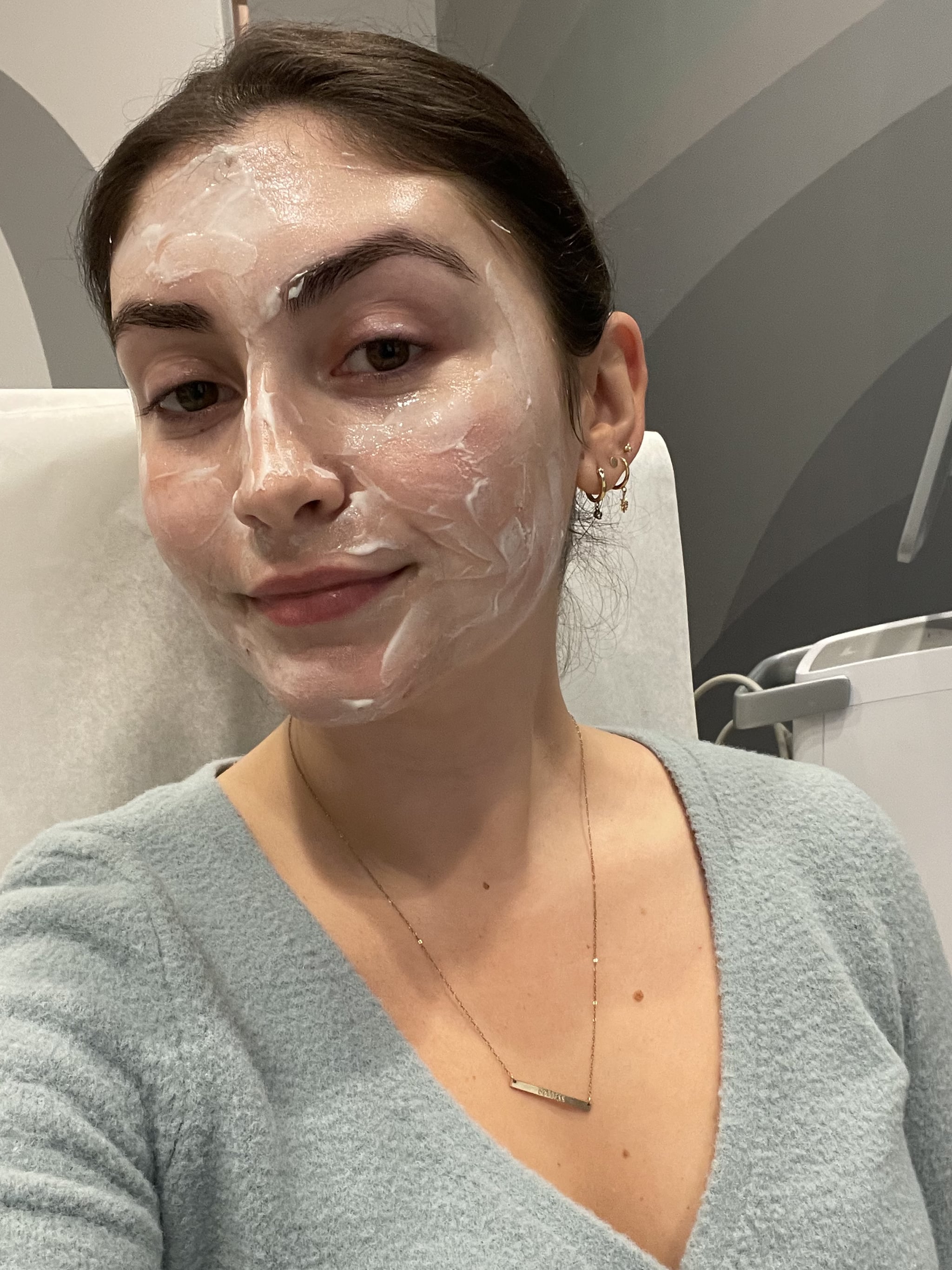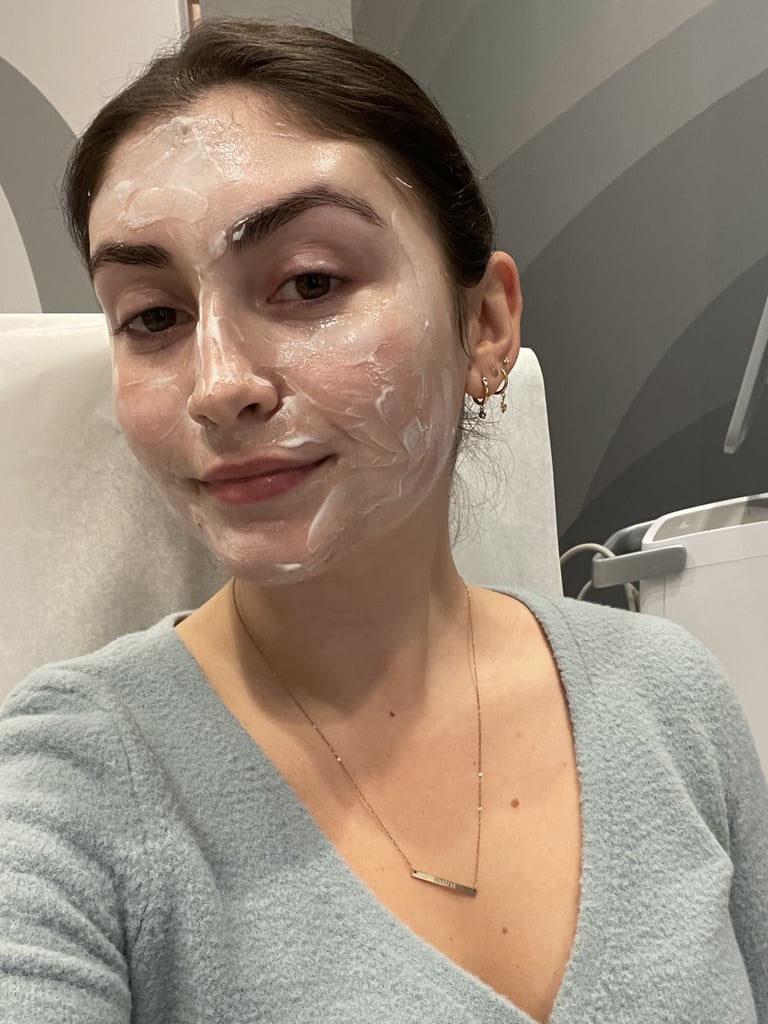 My Experience With the Clear + Brilliant Treatment
To start, my face was numbed with a topical lidocaine cream, which was left on for approximately 15 minutes. Once the excess of the numbing cream was wiped up, dermatologist Nkem Ogonabo, MD, came in to asses my skin and give insight as to what type of treatment I'd benefit from. Each handheld piece on the Clear + Brilliant machine does different things: one piece brightens skin tone and fades discoloration; the other piece targets wrinkles. Because I'm still fairly young (and wear sunscreen every day, as you should, too), I don't yet have wrinkles, so we decided it'd be best to focus on skin tone.
My machine only took seconds to power on, and the doctor began treating my cheeks before moving to my forehead, then chin, and lasthly my upper lip and nose. It doesn't hurt — it's just a little uncomfortable. Some areas are more sensitive than others. Personally, I found my forehead and upper lip to be the spiciest.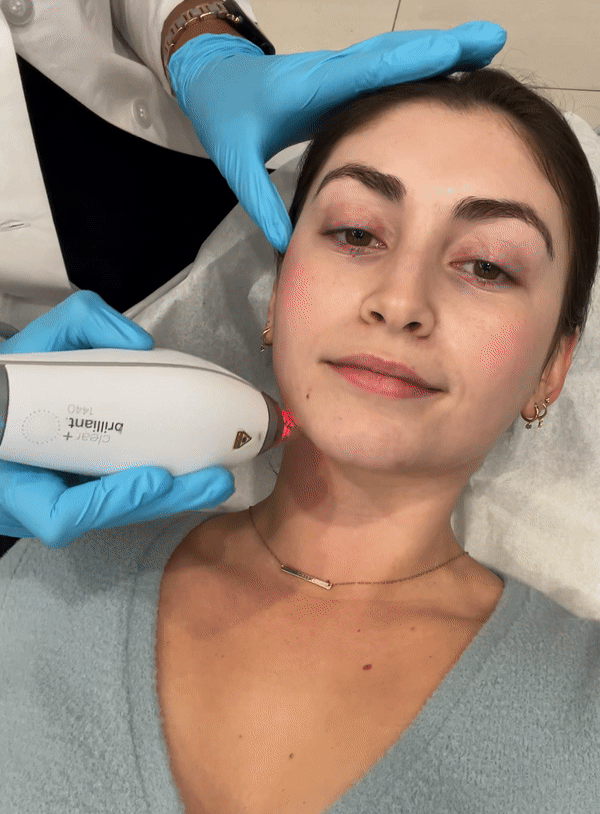 After the dermatologist went over my entire face for about 20 minutes, my treatment was complete. I looked like a tomato and my face felt incredibly hot as if I had a horrible sunburn, but it wasn't intolerable. They gave me two ice packs to put on my face, slathered me in moisturiser with SPF, and sent me on my way.
The rest of the day my skin was really red but it started to go down after just a few hours. The only time I was uncomfortable was when I was in the car home — my Uber driver had the heat on, which felt really dry on my already hot skin, but the ice packs helped.
My Face Immediately After Clear + Brilliant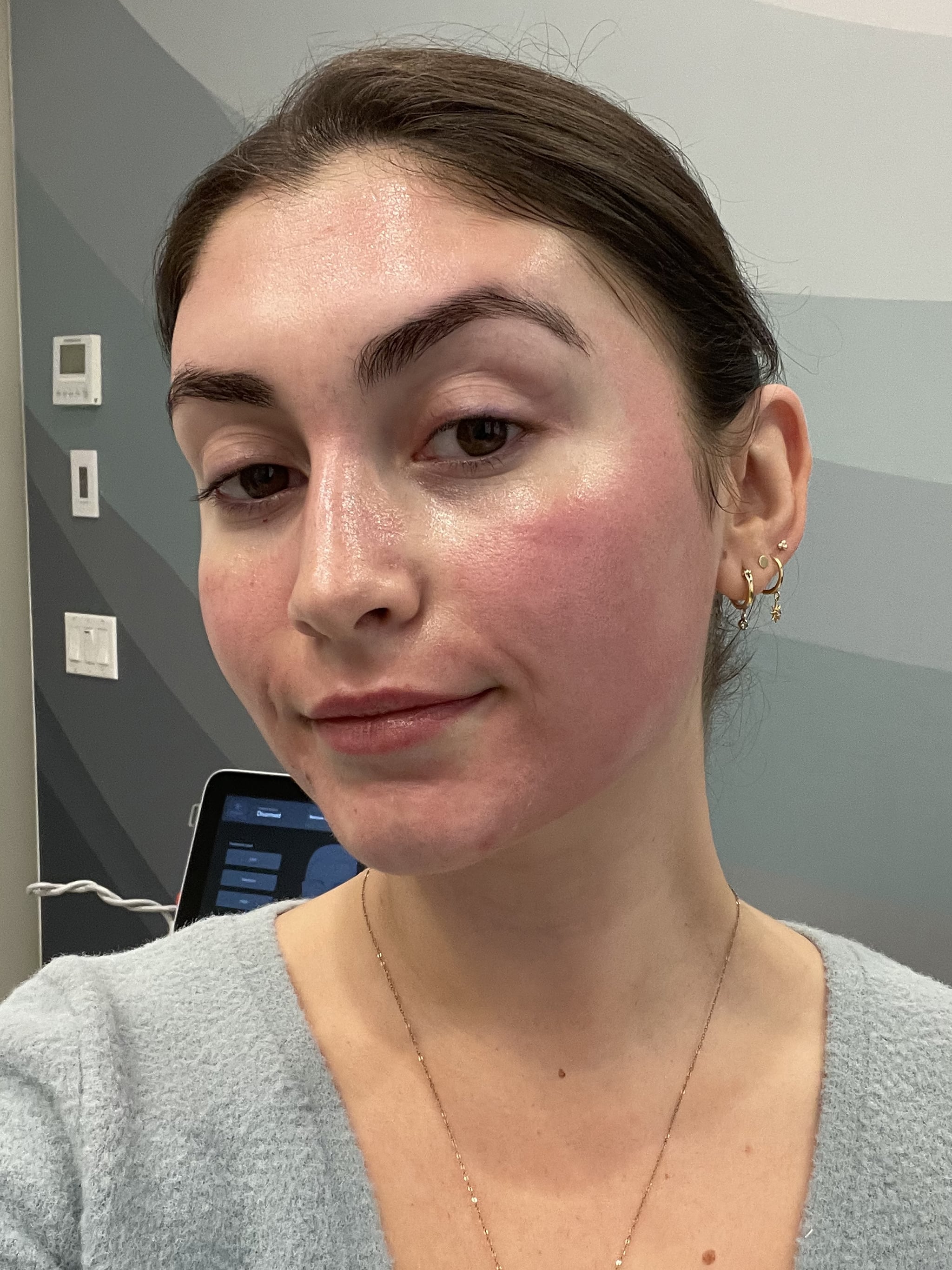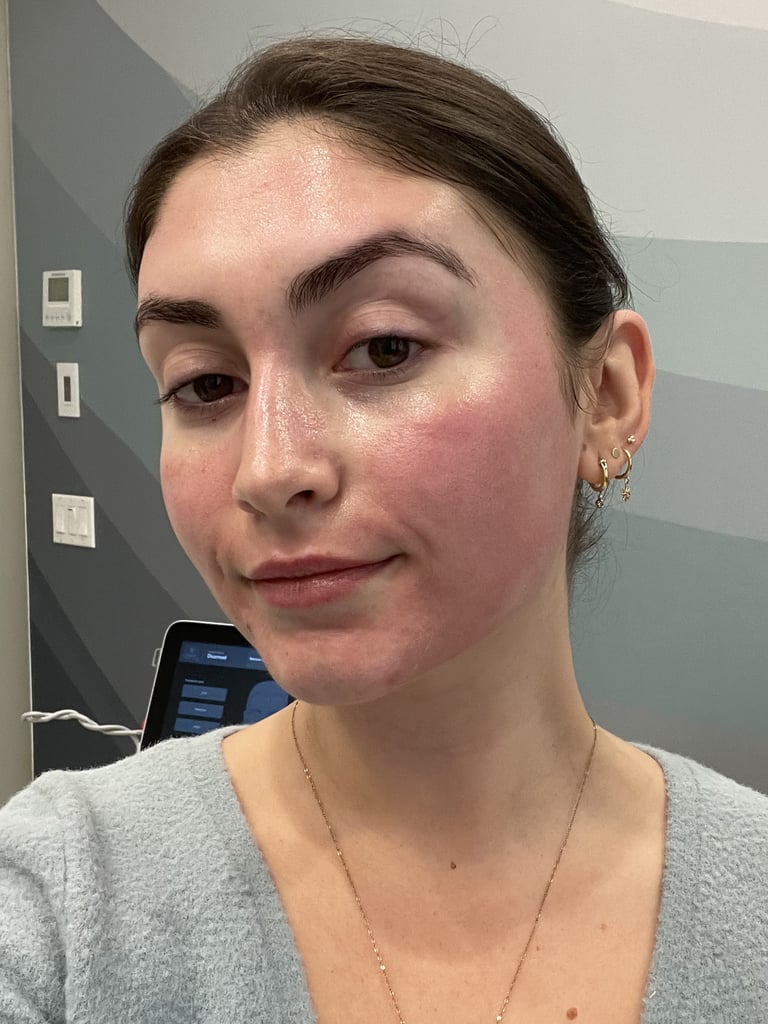 Post-Clear + Brilliant Laser Facial
For the first day after my treatment, I was instructed to not put on any makeup and to keep my skin hydrated with a plain moisturiser. You can wash your face with a straightforward cleanser at the end of the day, but otherwise, you shouldn't apply any topicals — especially not any exfoliants or retinoids — for about five days to a week.
The redness from the Clear + Brilliant laser facial lasted the rest of the day but it got progressively better by the hour. The discomfort, on the other hand, passed completely about two hours after my treatment.
My Face 1 Day After Clear + Brilliant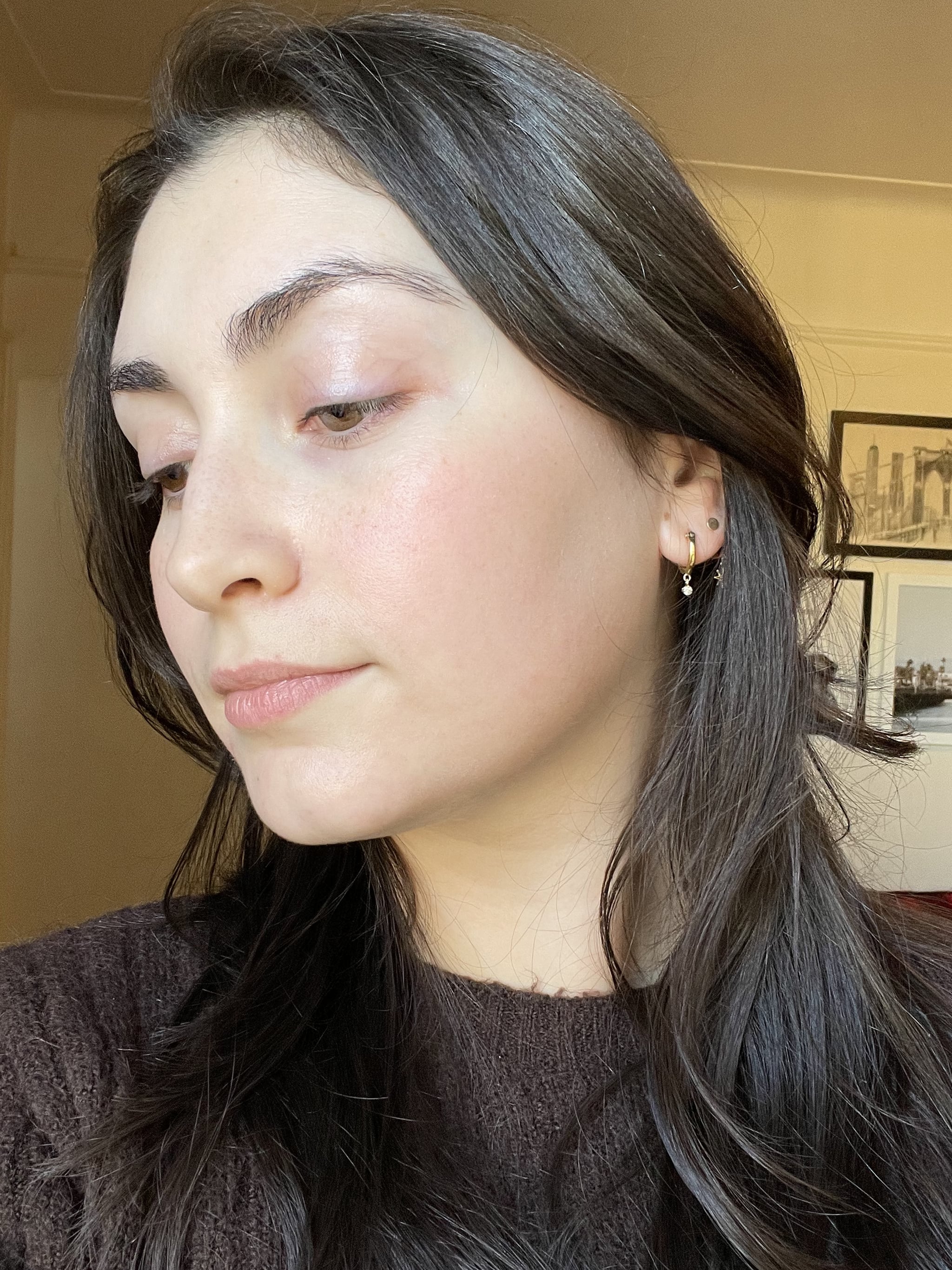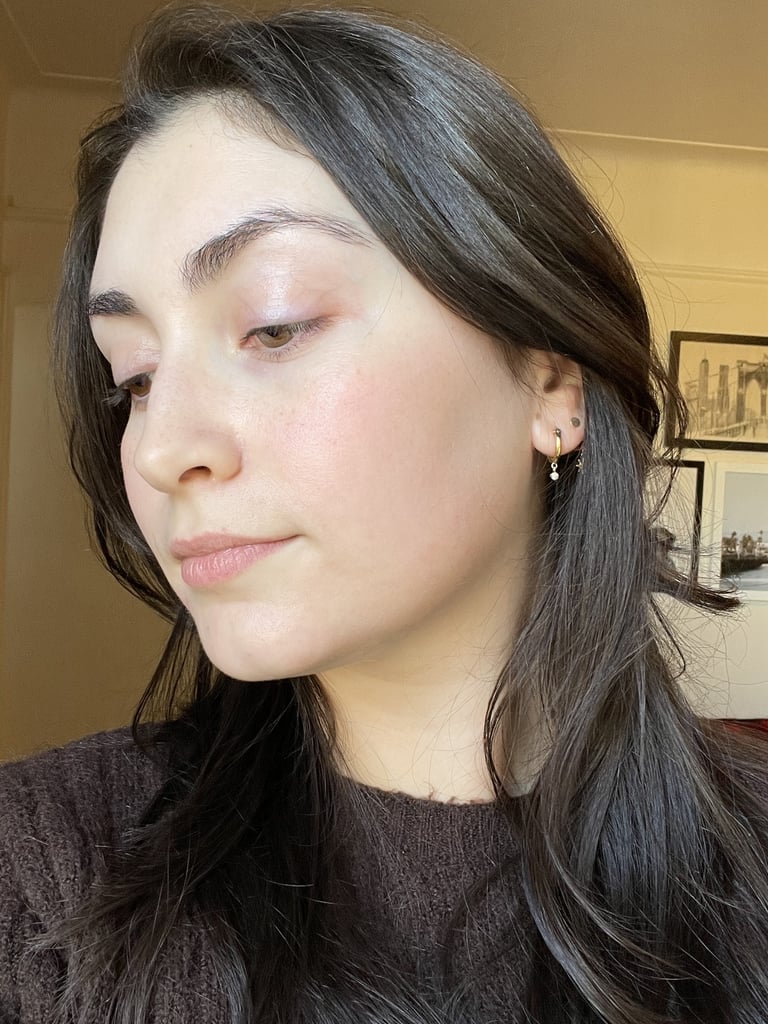 That night after washing my face with a gentle cleanser I put on a barrier-restoring moisturiser and went to sleep. In the morning, I woke up with absolutely no redness. My skin already had a nice glow to it, and the only sign that I had gotten the laser treatment the day before was the dry, sandpapery texture to my face. After washing, my skin felt a little tight and was craving hydration but this lasted only a few days post-laser. It goes away faster the more you moisturise your skin.
Now, it's been about a week and a half since I got my Clear + Brilliant laser treatment and my skin is best in its regular, hydrated, smooth state. My complexion is noticeably brighter and more radiant, and some post-acne dark spots that I had on the lower half of my face are gone. Given how fast a Clear + Brilliant treatment is and the fact that there's no downtime, I'd do it again without any hesitation.
Image Source: POPSUGAR Photography / Jessica Harrington