Dentistry During Coronavirus: How to Care For Your Teeth
With Dentists Closed Due to Coronavirus, Here's How to Handle Dental Emergencies and Care For Your Teeth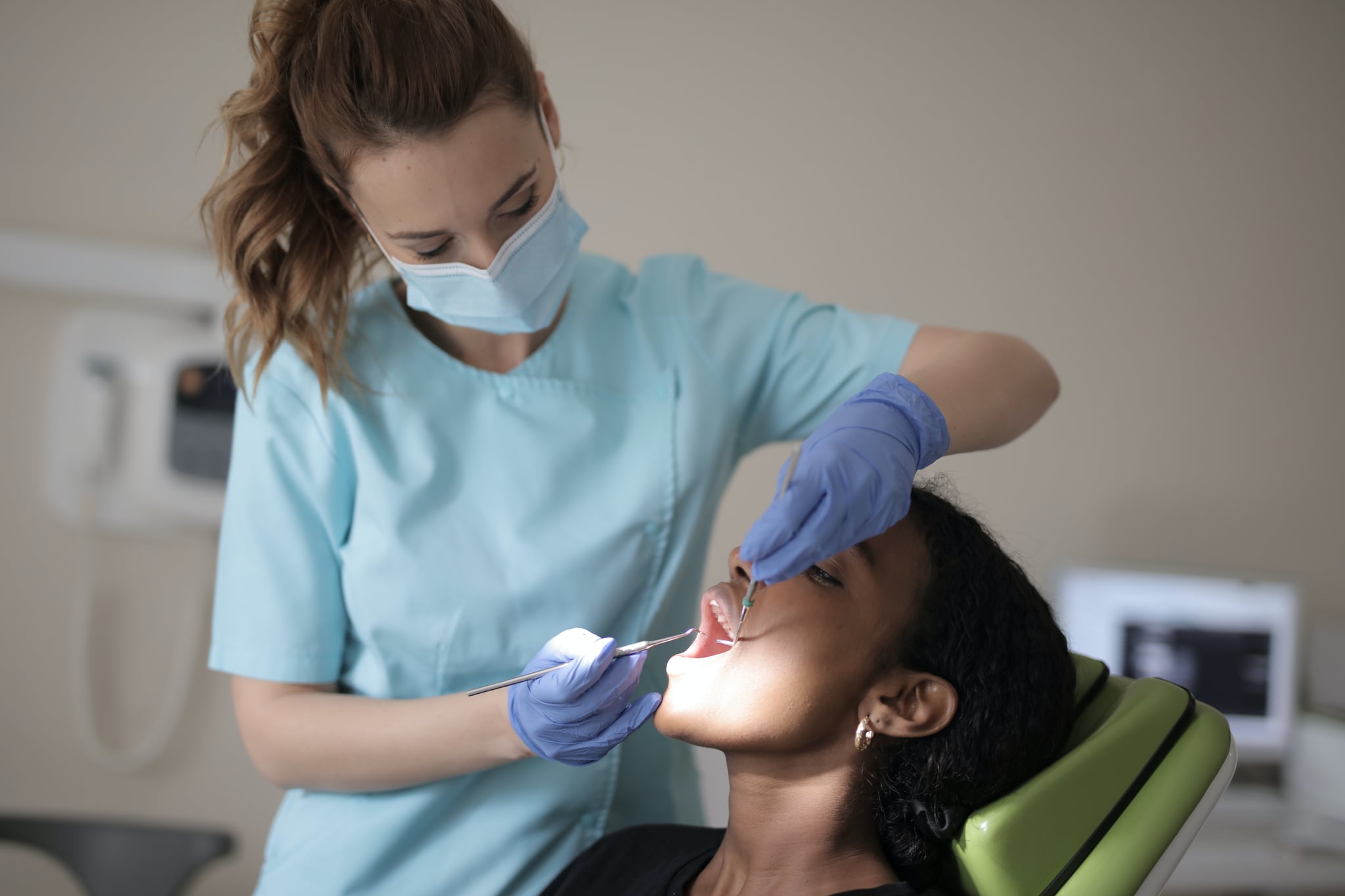 Beyond daily brushing and flossing, it's rare that we take much notice of our teeth. Until, that is, toothache strikes. Of course, a quick trip to the dentist fixes most teeth woes, but with dental surgeries closed during the coronavirus pandemic, some people are taking things into their own hands. The Daily Mail online reported that last month, "desperate dad" Bill Taylor, 33, from Devon, England, took it upon himself to pull out his own tooth after suffering from excruciating toothache (editor's note: please don't be like Bill.) But is it really impossible to get a dentist appointment right now? Dr Rhona Eskander, multi-award-winning dentist, shed some light on the situation.
"COVID-19 hit and, all of sudden, we had to close," said Dr Eskander. "We were told that there were dedicated NHS centres, located in different places across the country, designated for people with dental emergencies. So, for example, you can go to Guy's Hospital if you have a toothache, but a lot of patients don't want to go to a hospital right now. Many of the treatments that are being done at these centres are general patching up of teeth, so they can be fixed when dentists reopen — and in many cases pulling them out as there are no other options. But delaying some dental treatments can cause long-term issues; infections can turn into abscesses."
"Some patients are in tears begging me to see them," Dr Eskander added. "Infections can become life-threatening, so we are having to prescribe antibiotics which we would prefer to avoid."
Dental surgeries have been closed due to a lack of PPE equipment, but Dr Eskander told POPSUGAR that dentists have been working to source PPE so they can safely reopen. "I came across a group of dentists called Pandora Dental who have been lobbying the government to get dentists safely and swiftly opened up again," explained Dr Eskander. "They sent a letter containing details of a new seven-point plan — with supporting evidence to allow practices to open safely and sooner — directed to Matt Hancock, secretary of state for health and social care. We want the health minister to have dentists on board to help make new rules and regulations, because we know, more than anyone, what's realistic."
Dr. Eskander told us that, of course, there are bigger things going on right now than dental problems, but by reopening dentists, it will alleviate the added stress on the NHS of running these emergency dental locations at hospitals. "We're fully prepared to deal with patients. We've bought disinfection machines, air purifiers, gowns with sleeves, and headgear, amongst other things, to ensure we are minimising the risks — our evidence shows that with all seven elements advocated in place, the risk to patients and dental professionals is 0.1 percent."
While we await more detailed guidelines following Boris Johnson's address to the nation on the country's lockdown exit strategy, Eskander hopes that the issue of dental offices reopening will be addressed and dentists will able to get back to work soon. In the meantime, she revealed what you need to do if you're suffering from these eight common dental problems.
1. General Toothache
All you can really do is manage the pain until you can get to a dentist. Take over-the-counter paracetamol in preference of ibuprofen, especially if you have COVID-19 symptoms. For severe pain, you can try codeine or Co-Codamol, but this can leave you drowsy or knock you out.
2. Extreme Sensitivity
Switch to Sensodyne toothpaste (£15). You can rub it onto affected areas and leave it there, without rinsing, for a targeted treatment. Also, try using Orajel, which is an anaesthetic gel that can numb the sensitive area.
3. Wisdom Tooth Pain
Thorough cleaning is key if you have wisdom tooth pain, explained Dr Eskander, so make sure to diligently clean in and around your gums. Try using Corsodyl mouthwash (£8) for one week and switch to a softer diet. A warm saltwater wash can also help to keep the area clean. "If you are having difficulty swallowing, call your dentist or 111, as you may need antibiotics," she added.
4. Bleeding or Inflamed Gums
If your gums are bleeding, or look very red and inflamed, gum disease is probably to blame. To help, use a fluoride toothpaste and an electric toothbrush for two minutes, twice a day. Be sure to brush the bleeding and inflamed area — it's your body's way of telling you that the area needs cleaning — and use dental floss or TePe Interdental Brushes (£4) daily.
5. Broken Filling or Crown
It's unlikely the emergency dental centre will see you for a broken filling or crown. There are temporary filling kits that you can buy, and while they don't do much damage, they also don't last that long, as they are meant to fill the tooth for up to 48 hours while you await an appointment. If left for too long, a broken filling or lost crown could require a root-canal treatment. On that note, if you were half way through a root-canal treatment, this will have been delayed. If you have any questions about next steps, it is best to contact your dentist directly.
6. A Chipped Tooth
If a tooth is sharp, grating against your gums or tongue, or you notice ulcers in the area, then switch to a soft diet. You can use warm saltwater as a mouthwash, and try analgesic and anti-inflammatory Difflam Spray (£8). Painkillers and Bonjela can help, too. "Some of my patients have had excellent care at the emergency centres, so call 111 if you think you need an appointment," Dr Eskander added.
7. Due For a Hygienist Appointment
"If you're noticing a build-up of plaque and tartar, then try switching to an electric toothbrush and flosser. I recommend Philips Sonicare Electric Toothbrushes (£105, originally £299) to my patients," said Dr Eskander.
"As for the electric flosser, both the Philips AirFloss (£80) and the WaterPik (£55) are good options," said Dr Eskander. "And as for mouthwash, I always say it's like using deodorant without having a shower: you need to make sure your teeth are cleaned properly first."
8. Partially Complete Invisalign Treatment
If you're in the middle of your Invisalign treatment and you have run out of aligners, ask your dentist to contact Invisalign. They will send you three identical sets of your last aligner, which will allow you to pause treatment without regressing.