5 Skin-Care Trends to Avoid, According to Dermatologists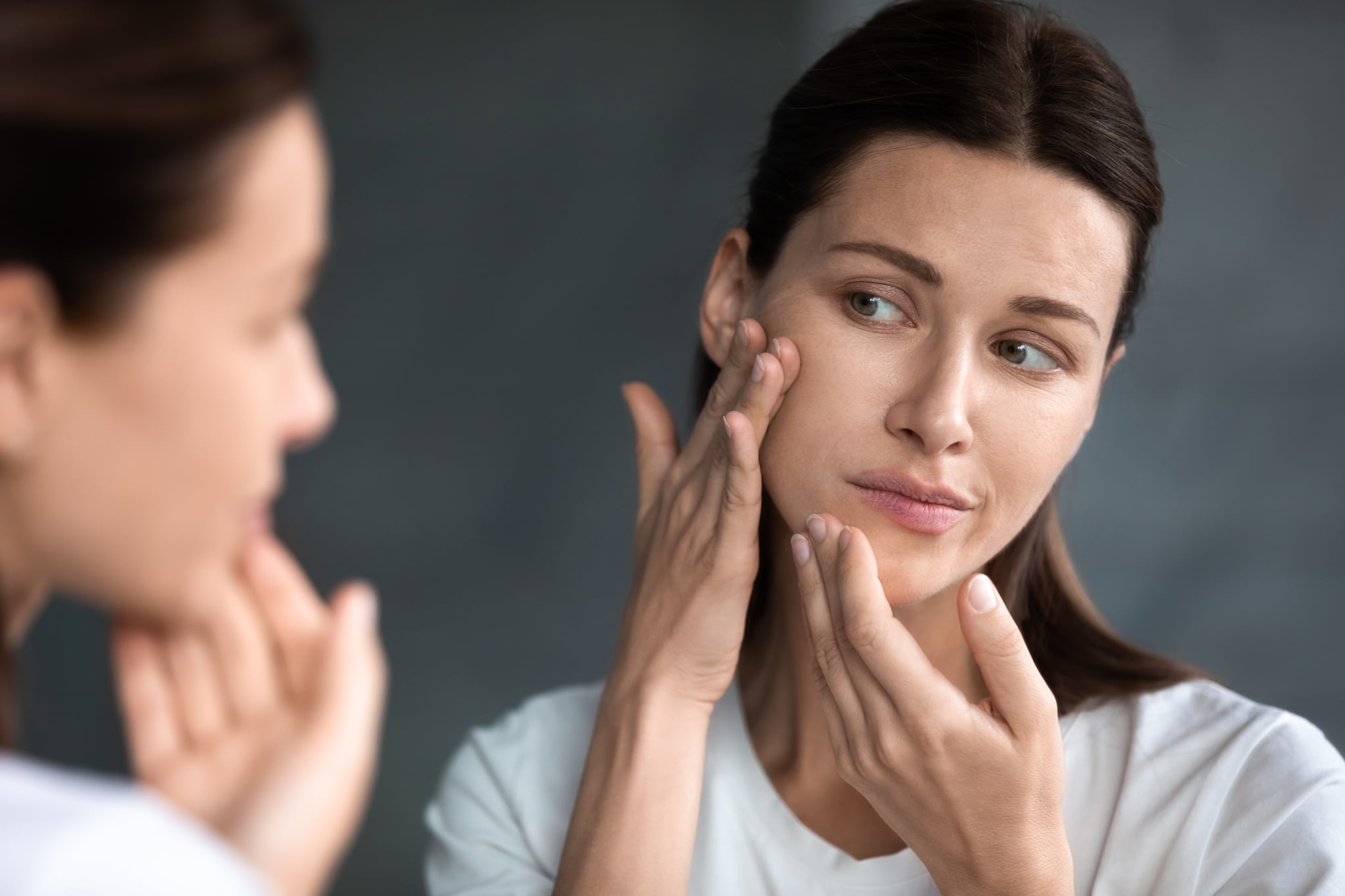 Image Source: Getty / fizkes
New skin-care trends are popping up on social media every day.
While some trends can be beneficial, others can be dangerous.
Learn about the skin-care trends to avoid, according to dermatologists.
Social media is both a blessing and a curse. While we're grateful for platforms like Instagram and TikTok for introducing us to some of our favourite beauty hacks — like how to fake a fuller ponytail and how to contour like a pro — we recognise that social media is also full of, well, duds. There was a time when using calamine lotion as a makeup primer went viral and even a short window when people were saying you could use hemorrhoid cream for undereye bags (you shouldn't do either). There always seems to be a new skin-care trend popping up on the horizon, and they aren't always safe.
Curious whether dermatologists had thoughts on the skin-care trends to avoid, we tapped Kunal Malik, MD, a board-certified general and cosmetic dermatologist, and Jessie Cheung, MD, a board-certified dermatologist, to pick their brains about the most dangerous trends and safer alternatives.
Sunscreen Contouring
In 2020, a TikTok video of a woman using sunscreen to contour her face went viral. In the clip (which has racked up more than 1.9 million likes and 13.1 million views), platform user Eli Withrow explains how she uses SPF as a contour product. "I'm convinced that if you put a base sunscreen of SPF 30 on, and then SFP 90 on all the spots that you would put highlighter on, the sun will contour your face, and you will be naturally snatched," Withrow says.
According to experts, this is one of the top skin-care trends to avoid. "Sunscreen is not makeup and should never be used as a contouring product on only select parts of the face," Dr. Malik says. "It is well-recognised and accepted to apply SPF 30+ daily to all parts of the face and body to prevent UV-induced skin damage, ageing, and skin cancers." Dr. Cheung agrees, adding, "Don't sacrifice the long-term health of your skin; use makeup instead."
While one safe alternative is using makeup to contour, like Dr. Cheung recommends, Dr. Malik also suggests contouring using a self-tanner, also known as "tantouring."
DIY Exfoliation Scrubs
@shondamartin_

I don't know the science behind this but my esthetician put me on to using baking soda paste and I will never look back! Crazy how we spend so much money on skincare products and baking soda is only $2 & has been working better!

♬ original sound - Shonda Martin
If you do a quick search for "baking-soda face scrub" on TikTok, you'll be met with thousands of videos where users showcase how to create DIY face scrubs at home using bicarbonate of soda. The hashtag #bakingsodafacemask has hundreds of thousands of views, and many users on the platform claim that the product has helped them clear their acne quickly. However, experts say this method is not safe.
"While it is cheap and accessible, bicarbonate of soda does not belong on the skin," Dr. Malik says. "It has a very alkaline pH and can be very harsh and disruptive to the skin's barrier, leading to dryness and dermatitis." Dr. Cheung agrees, adding, "These can create micro-tears in your skin, leading to infections or rashes."
Instead, Dr. Malik says, "I would rather someone incorporate chemical exfoliators into their regimen, such as alpha hydroxy acids like lactic acid or glycolic acid, or retinol."
If you're looking for a physical exfoliant, Dr. Cheung suggests visiting your local drugstore in order to find a skin-safe and affordable option.
At-Home Pore Vacuums
Pore vacuums have been all the rage on social media for the last couple of years, but are they safe? "Pore vacuums are suction-based devices that physically remove blockages from your follicles," Joshua Zeichner, MD, an associate professor of dermatology at the Mount Sinai Hospital, previously told POPSUGAR. While medical-grade pore vacuums are used during some in-office treatments like HydraFacials, there are less-powerful versions available for purchase to use at home — but they can be dangerous if used incorrectly.
While it all comes down to how you use them, Dr. Cheung says aggressive suction can lead to skin issues. Dr. Malik agrees, adding that pore vacuums can be "very damageing to the skin and can cause broken superficial capillaries, tears, and scarring."
Dr. Cheung also notes that "unless your skin is prepped to loosen your blackheads, you're better off using a cleansing oil followed by a foaming cleanser and a facial cleansing brush."
Instead of pore vacuums, Dr. Malik suggests noninvasive gentle exfoliation methods such as chemical peels or resurfacing lasers in the office.
Hyaluron Pens
A hyaluron pen is an at-home tool that can be used to self-inject lip fillers. The product recently went viral on TikTok, and it can be purchased and administered without a medical licence. If the last two sentences aren't ringing alarm bells in your head, they should be. Here's why:
"One of the worst and most dangerous trends is using the hyaluron pen for 'at-home lip fillers,'" Dr. Malik says. "The device uses high pressure to push hyaluronic acid into the skin. These devices are not FDA approved, and it is not guaranteed that the materials in the pen are actually hyaluronic acid. Furthermore, without a comprehensive anatomy-guided approach, the use of these devices poses a very high risk for blood-vessel occlusions and skin necrosis, where the skin can die and permanently scar."
If you are looking to achieve fuller-looking lips, skip the hyaluron pen and instead consult with your doctor or dermatologist about potentially trying lip filler.
At-Home Microneedling
"Microneedling is a skin rejuvenation treatment that uses a derma roller to cause precise micro channel injuries to the skin," dermatologist Michele Green, MD, previously told POPSUGAR. "Through these micro-injuries, the skin is able to stimulate collagen production as it heals."
While microneedling is a popular in-office treatment, Dr. Malik says using the tools at home is a completely different story: "This is not a great trend as the at-home microneedling devices cannot achieve the same results as professional in-office devices." Plus, he adds that "in-office treatments can adjust needle depth according to [a patient's skin] goal and can be performed in a sterile fashion."
When used incorrectly, at-home microneedling devices can result in contact dermatitis, the spread of bacteria, infections, and sometimes even permanent scarring.
If you're interested in trying microneedling, the best and safest option would be to schedule an in-office treatment with a licenced professional.