Meet Glowday, the UK's Airbnb of Cosmetic Treatments
Introducing Glowday, the Airbnb of Aesthetics Set Up by a Former Science Teacher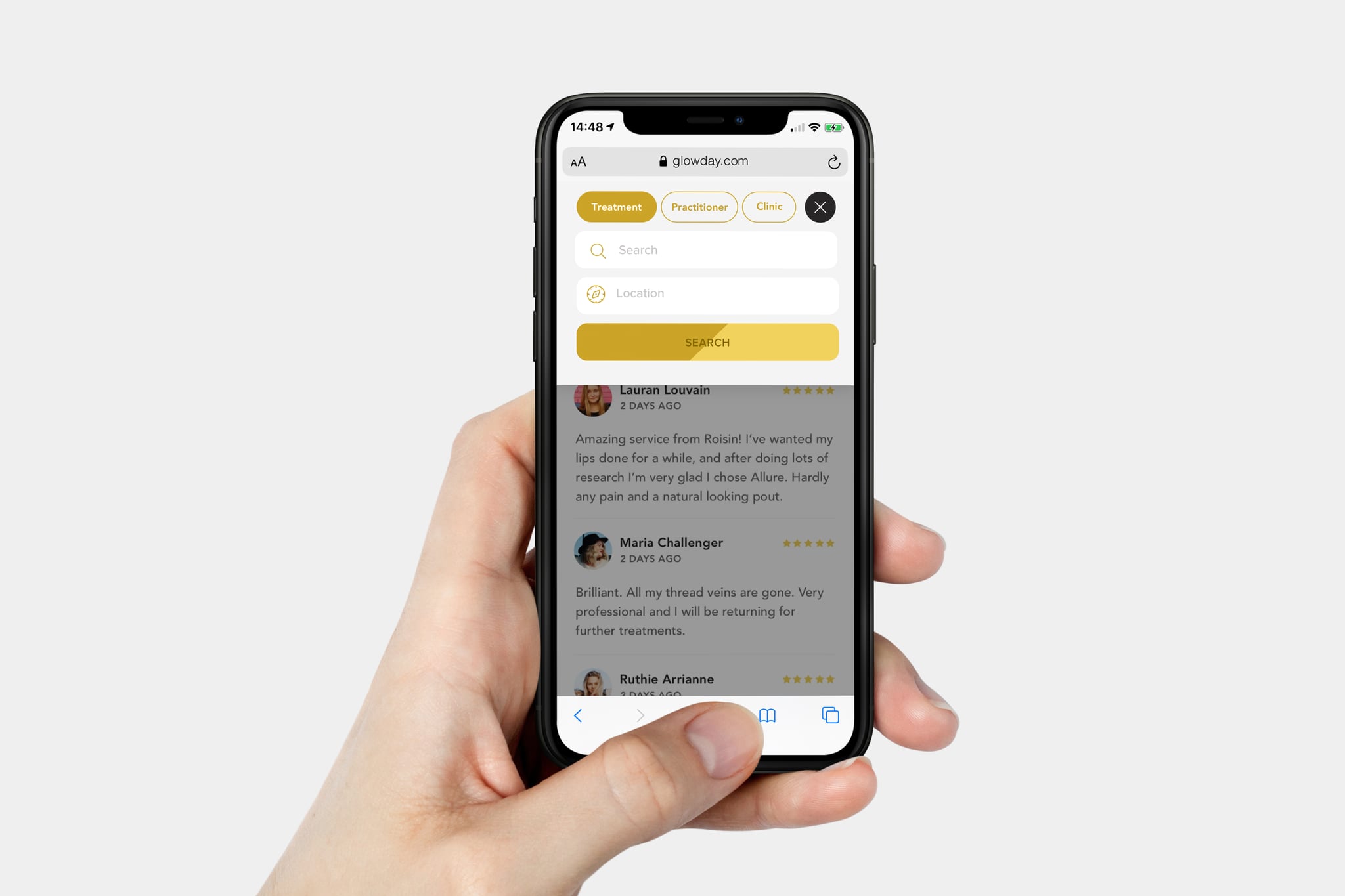 For a country that rigorously regulates what goes into your medicine, food, and even the skin care you put on your face, you'd think the injectables industry would be regulated to the same degree. Unfortunately, that couldn't be further from the truth.
People wishing to become dermal filler injectors — which, let's remind you, involves sticking needles and chemicals into your face, close to the eyes, nose, and mouth — only need to take a short course (sometimes just a day or two) without any prior medical background or knowledge. Besides sounding terrifying, this has led to the aesthetics market being flooded with unqualified practitioners administering injectables, sometimes in non-medical-grade facilities, which in many cases has led to devastating consequences and expensive correction work for consumers.
Despite the lack of regulation, the aesthetic and injectables industry is booming. The UK's cosmetic surgery industry as a whole is worth an estimated £3.6 billion, which means there are a lot of people out there making a lot of money with only a few days of training under their belt.
Thankfully, there are doctors and experts looking to make the aesthetic industry a safer place. In 2016, cosmetic doctor Tristan Mehta founded the Harley Academy, a comprehensive online aesthetics training course that has not only been endorsed by The British College of Aesthetic Medicine but also appointed Allergan's (it manufactures Botox) preferred training provider. But while the Harley Academy is for practitioners, there's still been a lack of help and guidance for consumers. Until now.
In July 2020, Glowday became the UK's first online marketplace dedicated to connecting consumers with high-quality aesthetic treatments from medically qualified practitioners, providing them with a safer way to find, research, and book aesthetic treatments.
"In the UK, [the injectable industry] is completely unregulated, to the extent that you need more training to cut hair than you do to inject filler."
Think of Glowday as the Airbnb of aesthetics — book reputable treatments from vetted experts, access research on different types of fillers and injectables (which have been edited by industry professionals), explore local clinics, and even browse photos of practitioners' work alongside consumer reviews, all from just a few taps on your phone.
You're probably thinking that the platform was the brainchild of a total beauty buff or doctor. Nope. It's actually the brilliant idea of former science teacher Hannah Russell (with the help of her husband, Joby, who has previously worked on hugely successful consumer marketplaces including Purplebricks), who found herself wanting an aesthetic treatment to help with fine lines and not knowing where to turn.
Like many people, Russell found the idea of stepping into a clinic intimidating, and the research required to find a treatment and practitioner tedious and hard to find. "I'd gone from never having a facial to having a shed ton of Botox with nothing in between," Russell told POPSUGAR. "But Glowday was [born from] not really knowing where to go, who to see, who should be administering these treatments, and the amount of research I had to do. And most of [what I found] was through Facebook and Instagram — I couldn't really trust the sources or how much it was going to cost," she added. Russell also knew she wasn't alone. In a recent survey conducted by Glowday, 47 percent of people admitted they don't know what to look for when it comes to practitioner qualifications.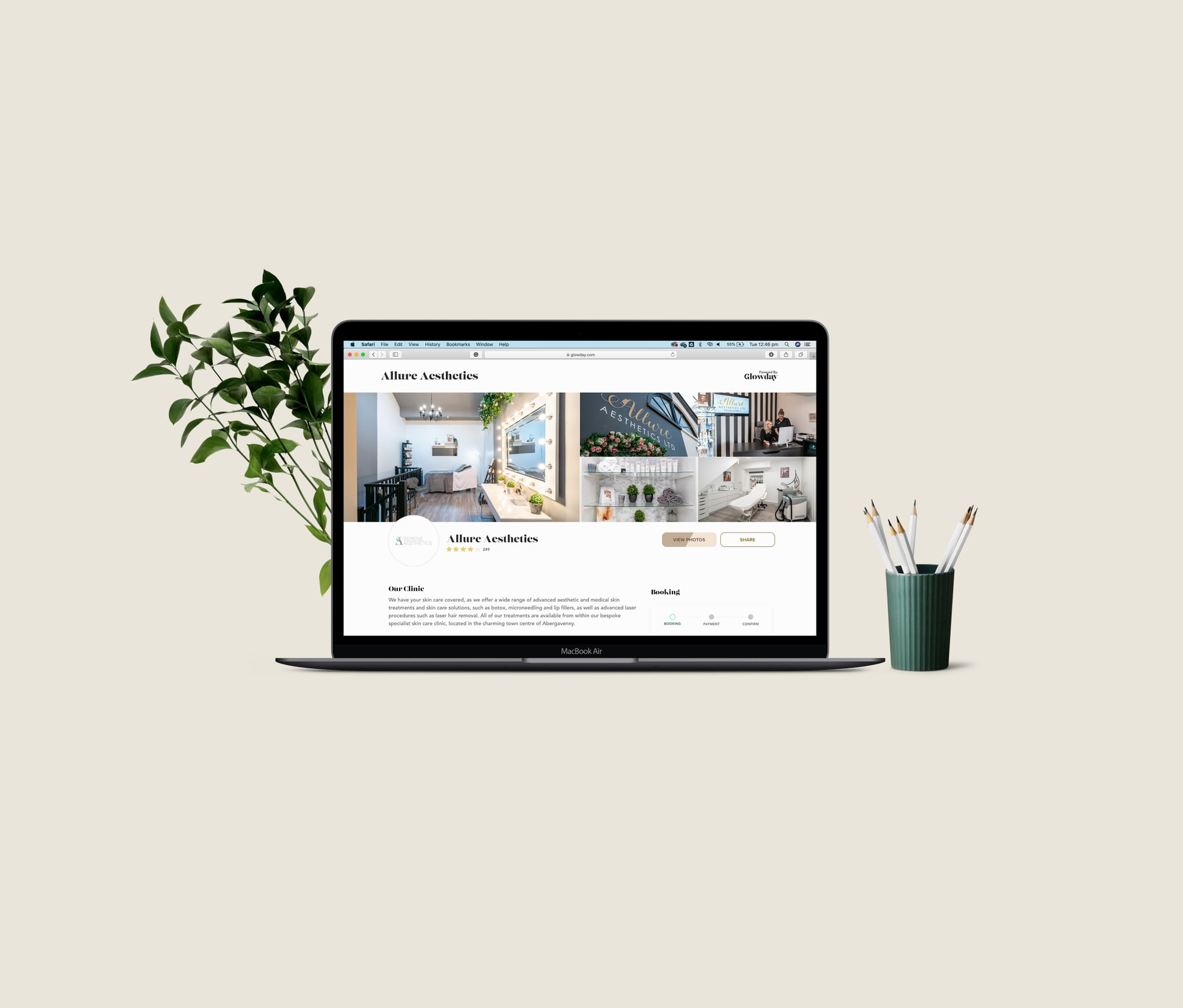 For Russell, the most important aspect of Glowday was onboarding solely medically qualified practitioners. "In the UK, [the injectable industry] is completely unregulated, to the extent that you need more training to cut hair than you do to inject filler," she said. Each professional on Glowday is listed with the GMC (General Medical Council), NMC (Nursing and Midwifery Council), GDC (General Dental Council), or GPhC (General Pharmaceutical Council).
It was important to Russell that consumers were in control over who they chose to carry out their treatments, not only for safety reasons but also for building that longterm relationship. "Just in the same way as you would pick your facialist or you pick your hairdresser, you build a really great relationship with that person because you're trusting them with your face and how you look. And in the consultation process, if it's done properly, it's quite cathartic," Russell said.
Easy-to-find information is crucial to Glowday's ethos. The platform has everything you need to know in one place when it comes to treatment options — whether that be peels, laser, microneedling, thread lifts, Botox, or filler. "These treatments are massively effective, and if you had to rate the efficacy of the treatments, you'd probably rate them quite highly. But with high efficacy comes increased cost and increased risk. I think what I found, as a consumer, was that I just couldn't get a straight answer," Russell said. That's why Glowday offers trustworthy, straightforward information, which is guest edited by medical professionals so consumers can ultimately make better-informed decisions.
The team is also on a mission to put Glowday at the forefront of destigmatising aesthetic treatments and encouraging people who may have felt injectables and fillers weren't a viable option for them. Russell admitted that during her initial tweakments research a few years back, she thought, "They're for exceptionally wealthy people; they don't speak to a consumer like me." Truth is, if you're in the position to get aesthetic and injectable treatments, they're accessible for anyone (over the age of 18, of course) who is curious about treatments. "A lot of people discount themselves when it comes to aesthetic treatments. They say, 'It's injections, it's too scary, and it's too expensive'. So, what we're trying to do is normalise that actually people and women like me, a mum, can and do have treatments like these."
In recent years, the UK has seen a slow but steady shift in people opening up about the cosmetic treatments they've had done. However, Russell is still aware that "there's a lot of snobbery within the industry towards injectables and other treatments; we just need to hurry that conversation of normalising it along. What would you choose to do with your face is entirely your business."
While we wait for the government to get its act together in implementing stricter regulations, Glowday is a beautiful and accessible space where getting cosmetic treatments is far less intimidating and, crucially, much safer — because when it comes to the injectable and aesthetic industry, a bargain is never a good thing.
Image Sources: Glowday and
Getty