How the Nail Industry Has Coped With the COVID-19 Pandemic
Despite the Government's Disrespect, The Nail Industry Has Found Ways to Thrive During the Pandemic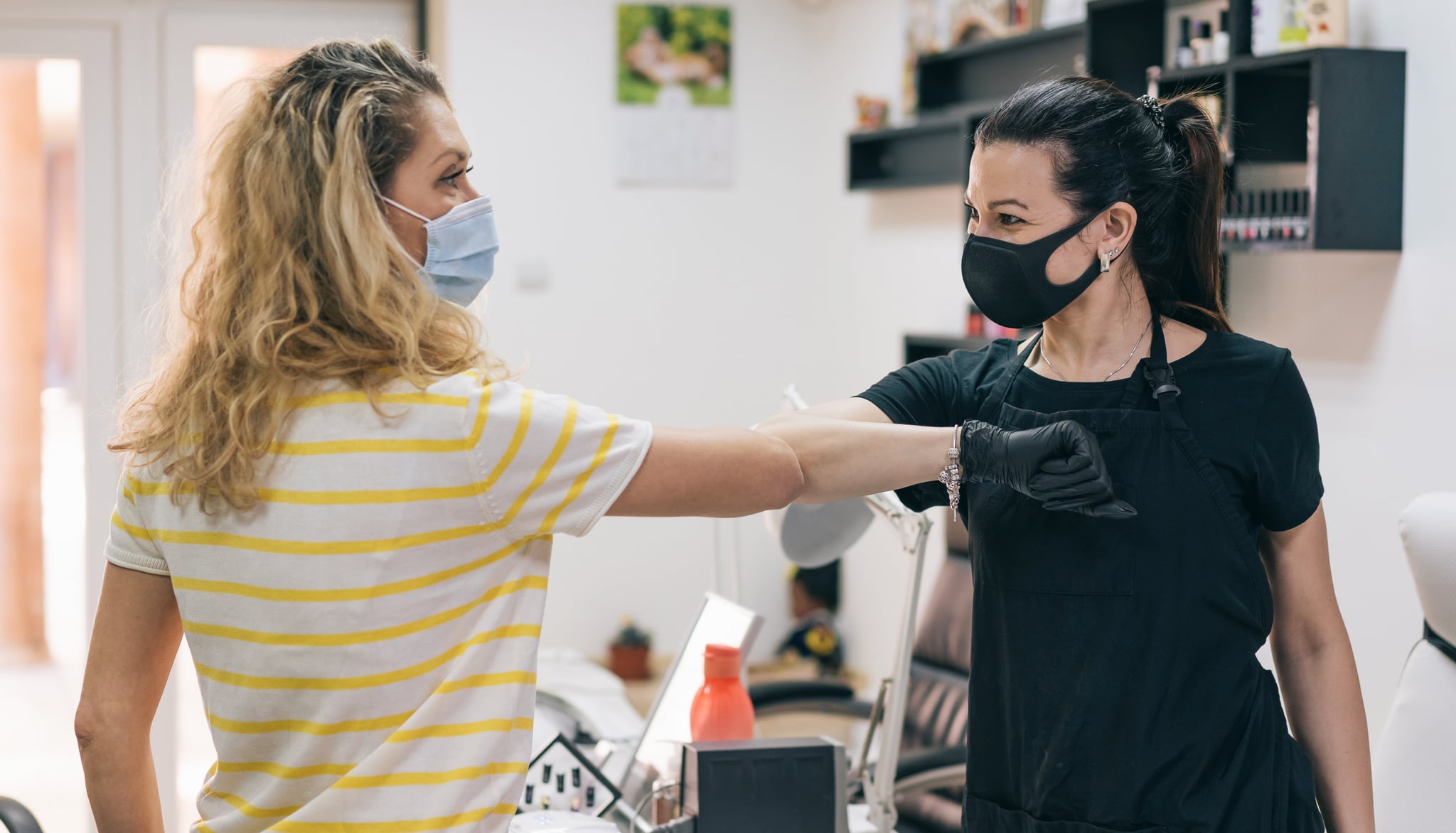 I adore all things nails, and have since I was 5 or 6 years old. I vividly remember my first nail art experience, it was in Santa Monica and I got a teeny tiny snowman painted on my teeny tiny fingers. The manicurist put a photo of me on the salon wall proudly showing off my new snowmen-adorned fingernails. I was beaming. I'd found my happy place. And ever since then, I've loved the craft, the industry, and the remarkable people that way.
The nail industry epitomises creativity, community, and extraordinary talent, with a large side order of hustle. This sense of community and hard work has given people in the industry the tools to not just cope with the loss of business during the coronavirus pandemic, but, against all odds, thrive during it. Although, it hasn't come easy.
Nail Bars and Manicurists Get Left Behind
When it was announced that nail bars would not be opening along with hair salons and pubs on 4 July, it meant tends of thousands of people could not return to work. It served a devastating blow to manicurists and nail businesses, many of whom have already spent their hard-earned cash updating hygiene measures, after initially being included in the 'personal care' category that was promised an early July reopening in the government's Plan to Rebuild announced back in May. And this is despite being one of, if not the, most sanitary customer services businesses. "With the news that Boris [Johnson] wasn't allowing the beauty industry to return to work, my whole industry fell to its knees," recalls London-based manicurist Kate Williamson.
To add insult to injury, during the 1 July PMQs, Prime Minister Boris Johnson and MP William Wragg unapologetically turned the entire beauty industry, and thousands of people's livelihoods, into political banter when put under pressure to make a U-turn on the decision not to reopen the beauty sector. It was hard to watch as these men in power — the ones who dictate whether or not people are able to go back to work (many whom don't qualifying for current government funding schemes) — joke about visiting a salon (which they chose to call out by name, adding another layer of disrespect), triggering roars of laughter from the backbench MPs. They offered no support, no timeframe, and no guidance, instead showing total ignorance and disrespect for an industry that contributes £30 billion to the UK economy every year. To put this into context, in 2018 the beauty industry supported £7 billion in UK tax revenues, which is the equivalent of the combined salaries of 250,000 nurses and midwives. In short: the nail industry is neither a frivolous, nor a laughing matter.
Additionally, on 3 July, the beauty sector was placed in the same risk category as nightclubs, casinos, and "sexual entertainment venues", by Public Health England's new regulations. These regulations will only be reviewed every 28 days.
But guess what? Despite an unsupportive and disrespectful government, nail professionals have found many ways to keep the industry alive during the pandemic. As nail bars began to close and photo shoots came to a halt, the industry, which relies entirely on one-to-one personal contact with clients, realised that if it was going to survive the pandemic it had to adapt —and it had to do it fast.
Nail Artists Turn to Social Media
"It's easy to get sucked into this vortex of self doubt and anxiety, but a little message to say 'I'm missing you' from clients has empowered me," said manicurist, Kate Williamson.
A few weeks into lockdown, I was scrolling on my Instagram feed and came across posts from top manicurists reading: "Join my masterclass at 7pm", "DM for custom press-ons", "Link in bio for advanced payments and pre-booking". quickly the nail industry was shifting due to the pandemic. I soon realised that they weren't just coping, they were f*cking thriving, and they were using social media to do so.
Recalling the moment in March, when it was announced that the UK was going into lockdown, Williamson said: "One minute I'm fully booked 6 weeks ahead, the next... no clients and no income." Sadie Jordan, London-based freelance nail artist, echoed this. "The pandemic has stopped me from receiving any jobs for session work, which involves doing nails on-set for photoshoots and music videos," something she's come to rely on as a newly freelance manicurist in her early twenties.
"Two weeks into lockdown, I made a U-turn and decided to do all of the things I've wanted to do via social media but have never had the confidence or the time," Williamson realised, after she'd recovered from the initial shock, stress, and uncertainty of the future, that is. "It's easy to get sucked into this vortex of self doubt and anxiety, but a little message to say 'I'm missing you' from clients has empowered me."
Virtual Masterclasses Officially Took Over
"I have been proactive during this downtime," said nail artist Michelle Humphrey, whose clients include the likes of Dua Lipa, Rita Ora, and Katy Perry. Humphrey launched MH Masterclass — hosted by fellow manicurist Robbie Tompkins — where she imparts her nail art wisdom to industry professionals, (and little old me who listened in) on Wednesday evenings. This is when it became abundantly clear to me that the community was adapting to the current situation, and adapting well. The people taking part in the masterclass are competitors to one another, yet here they were, sharing tips, their social media handles, product recommendations, and words of support. Jordan also took the masterclass route, leaning into teaching her skills of hand-painted letters, demonstrating her technique to manicurists around the UK.
Beauty brands quickly caught on, and it wasn't long before nail artists were working in collaboration with brands to host masterclasses as part of this new virtual event world. Founder of London-based salon House of Lady Muck, Laura Southern, told POPSUGAR they've been busy participating in multiple Instagram takeovers for beauty brands.
And it's not just freelancers and salon owners grabbing this virtual opportunity with both (immaculately gel polished) hands. Popular nail polish brand CND, and beauty supplier Sweet Squared, also pivoted to offer online events, mini-masterclasses, videos, and interviews, keeping educators very busy and customers topped up with knowledge.
Bespoke Press-On Nails Became Made to Order
About a month into lockdown, we saw more and more professionals start making bespoke press-on nails, which I, for one, am thrilled about. Our dedication to manicurists runs deep and so does our love for the craft, so it's unsurprising that people were jumping at the opportunity to have their nail technician's create unique nail art designs for them, without having to step foot into a salon. Humphrey and Jordan both created various custom press-on sets for clients. Jordan even leveraged her graphic illustration talents, creating a custom packaging design for her press-on nail kits for her clients.
Personal Branding Got Pushed to the Forefront
Second to talent, being a nail technician — like many creative jobs — also requires smart personal branding. Williamson decided there was no better time than now to create a website, film demos for her Instagram, and "start putting my face out there." Humphrey has also been busy creating content for her social media, building a website, and writing plenty of quotes for articles (including this one!).
This is something that CND educator, Nataliya Al-Ta'ai, has noticed. "Lots of pros have been taking this time to revamp their salons, looking at restructuring their service menus, and paying more attention to their social media platforms", something they otherwise wouldn't have had the time to do.
Sharing Words of Advice With Each Other Became Vital
The industry is thriving in the new virtual world, but the end goal is still to open their salons and get back to hand-to-hand-services, and they've leaned on each other's advice to make this a reality in the near future.
The British Beauty Council has been leading the way with advice and guidance from industry experts to support and prepare the industry for returning to work post-pandemic. "Millie Kendall, CEO of the British Beauty Council, has gone above and beyond to fight our corner by encouraging everyone to contact their local MPs," said Williamson.
Professionals are leaning on each other for words of encourage and support, too. Forums were created, webinars set up, and more collaboration between techs and brands have been established. "I'm actually really enjoying the sense of unity and support within the industry," said Humphrey.
They even took personal protective equipment (PPE) into their own hands. Sharmadean Reid MBE, founder of beauty booking startup, Beautystack, created PPE for the company, which she provides to salons and to provide to salons and freelancers who might otherwise not have access — all with the goal of getting customers back through salon doors.
What Does the Future Hold For the Nail Industry?
It's likely we'll see these virtual and no-contact business ventures continue beyond the pandemic and lockdown life. "Going forward, I would love to carry on doing masterclasses," Williamson said. "It gives the option of increased audience capacity, and is a way to bring everyone together. Not everyone can afford the luxury of having any beauty treatments, but with an online class, it gives those people an opportunity to not just feel good about themselves, but do something that might not otherwise be available."
Humphrey notes that although online classes won't replace education, "it will be beneficial for professionals wanting to learn how to recreate specific trends or looks." She adds: "Some Beauty professional's are making more money right now than they could possibly dream of making in-salon, with online workshops generating huge profits."
Until the day comes that we can hop back into the pink velvet chairs we've come to cherish, let's buy hand-painted press-on nails, attend masterclasses, pre-book appointments, and share these artists' beautiful work all over social media. Few industries have been able to pivot so much and in such a graceful manner. Nail technicians — we're in awe of you.
And a word to the Prime Minister and MPs: how about you don't disrespect an entire industry worth billions of pounds, and instead, support the incredibly talented people creating art for us all to enjoy who are contributing just as much to the economy as your beloved barbers. As Williamson said: "we're all ready and raring to go."