I Used a Pasta Strainer as Hair Diffuser Hack: See Photos
TikTok Claims You Can Use a Pasta Strainer as a Hair Diffuser, So I Tried It
As POPSUGAR editors, we independently select and write about stuff we love and think you'll like too. If you buy a product we have recommended, we may receive affiliate commission, which in turn supports our work.
A hack for diffusing hair with a pasta strainer recently went viral on social media.
To test it out, all you need is a pasta strainer and a blowdryer.
One editor tried the hack and is sharing her results.
I'll be the first to admit that I've done some weird things in the name of beauty. I've tried curling my hair using a coke can (and probably not the way you're thinking), dabbled in making my own lip stain, and even applied my makeup with a spatula. And while I thought my days of using kitchen items for beauty purposes were behind me, a new social media trend showing people diffusing their hair with pasta strainers would convince me otherwise.
I have thin, fine hair that is also frizzy. I don't typically air-dry or wear it wavy very often, and instead prefer to give myself blowdrys once or twice a week to last me three or four days. Still, for the purpose of testing this new colander trend, I started out by washing my hair (on a non-wash day, no less).
To test the hack, all I needed was a pasta strainer and a blowdryer. To see whether using a pasta strainer worked better than a traditional diffuser, I decided to do one half of my hair using my regular method and the other half using the TikTok hack.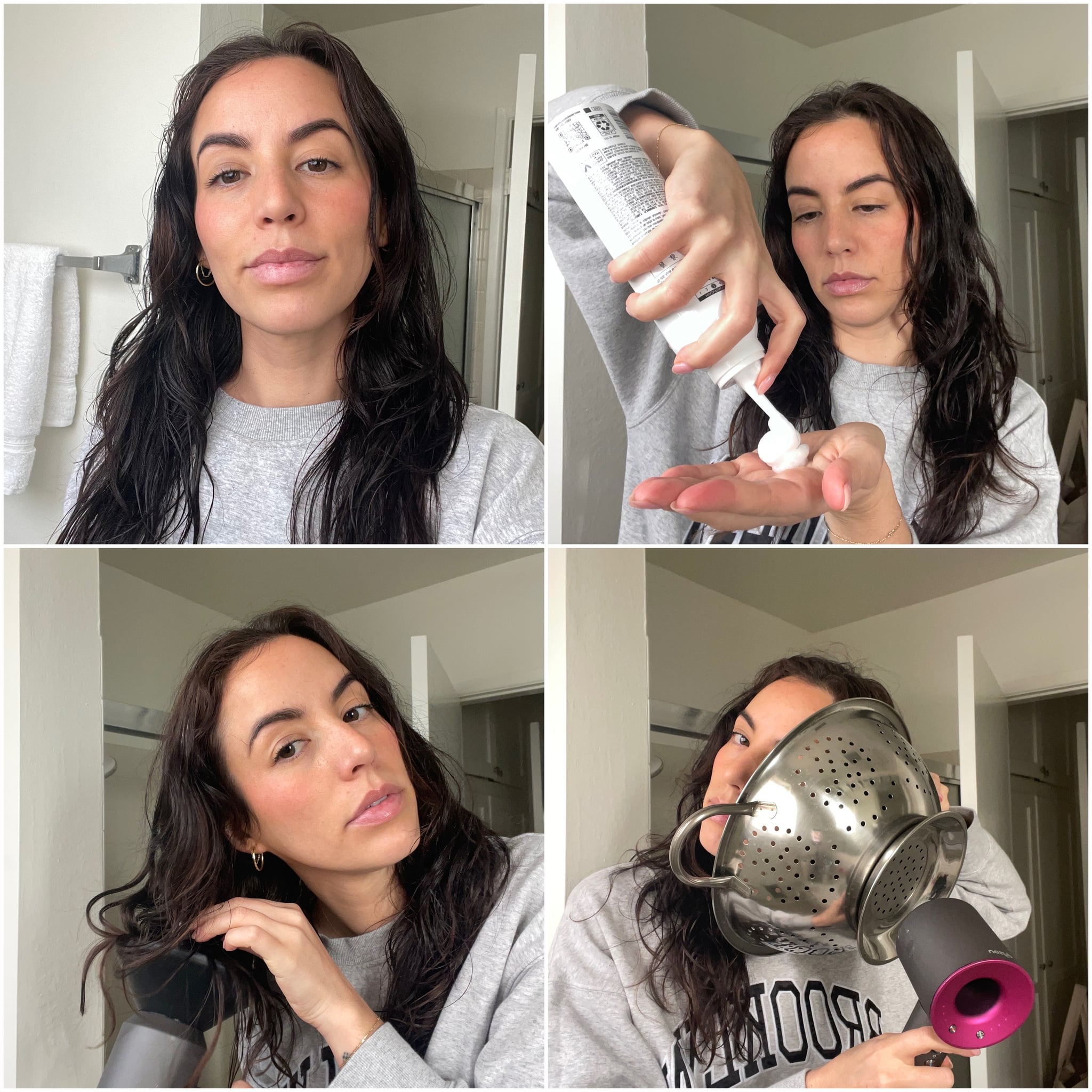 I started off by dividing my hair into two sections: the left side, and the right side. While my hair was still damp (but not soaking wet, about 10 minutes post-shower), I took a dollop of styling mousse and scrunched it evenly into my hair on both sides.
Then, I grabbed my Dyson Supersonic Hairdryer (£330), put on the diffuser attachment, and began drying just the left side. I love the Dyson blowdryer because it works quickly and efficiently, and I often need to get ready in short periods. The end result looked as it usually did — wavy but not too curly, and a little on the frizzy side.
Next, I took the right side of my hair and gathered it in the pasta strainer. I won't lie — it immediately felt like the pasta strainer was way too large for my small amount of hair, but I made it work. Once I got everything inside (which didn't take much effort), I held it up to my ear and began blowdrying the strainer directly. I had to check on my hair a few times since I couldn't tell how quickly it was drying, but after five minutes I was finished.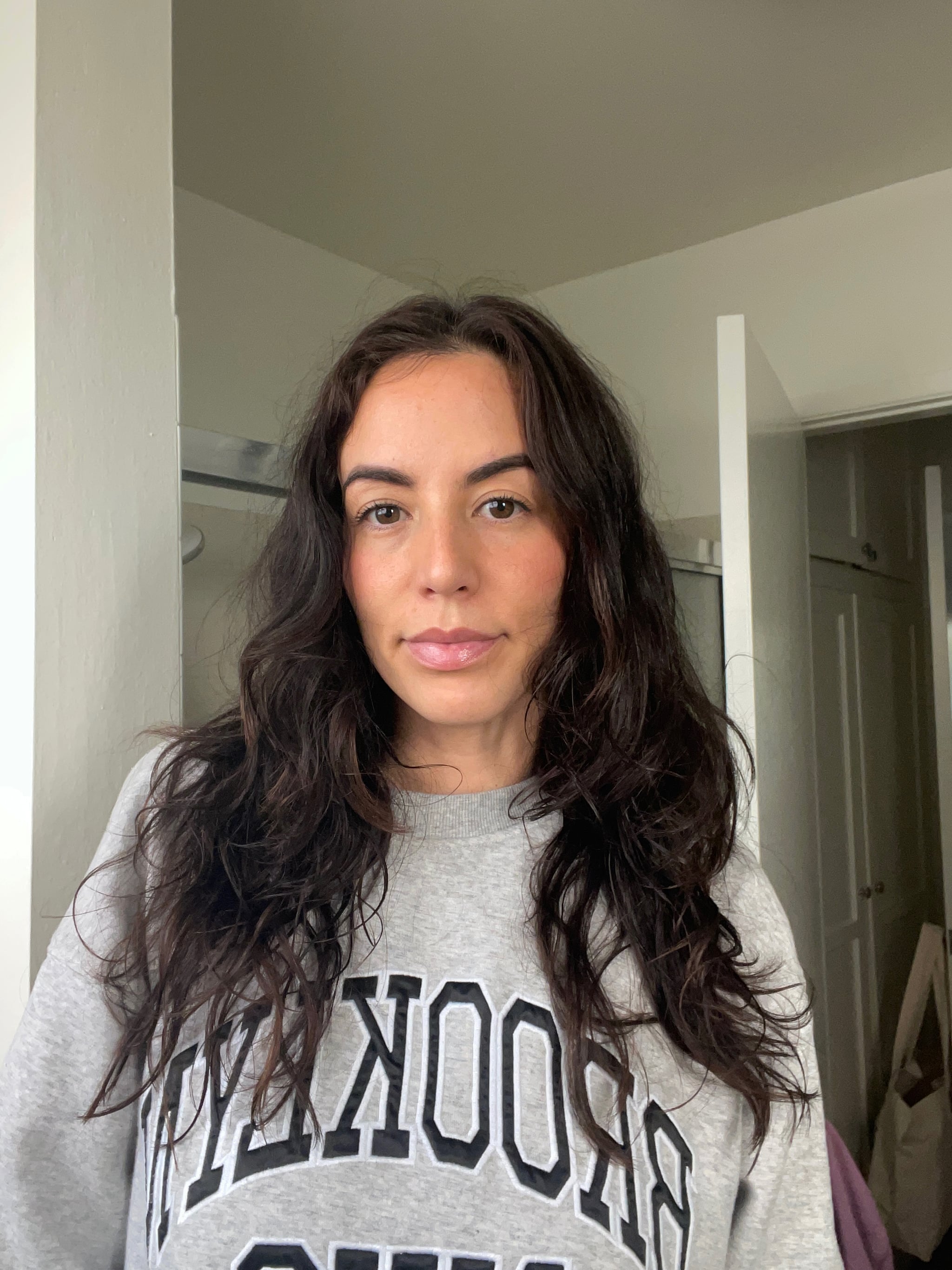 In the end, the side using the pasta strainer did look less frizzy than the side without it, which I would assume was due to the fact that there was a barrier between my hair and the hot air. However, it looked like the side that was hit directly with the diffuser had a bit more wave to it, especially around my face-framing pieces, which could be thanks to that more targeted heat.
Overall, while I think the pasta strainer is a nifty hack to keep in my back pocket if I ever find myself without my diffuser (and somehow with a pasta strainer), I think I'll stick to the more traditional methods of drying my hair.
Image Source: POPSUGAR Photography / Renee Rodriguez