I Got the S-Curve Haircut for Summer: See Photos
I Got The S-Curve Haircut Celebrities Are Loving Right Now
As POPSUGAR editors, we independently select and write about stuff we love and think you'll like too. If you buy a product we have recommended, we may receive affiliate commission, which in turn supports our work.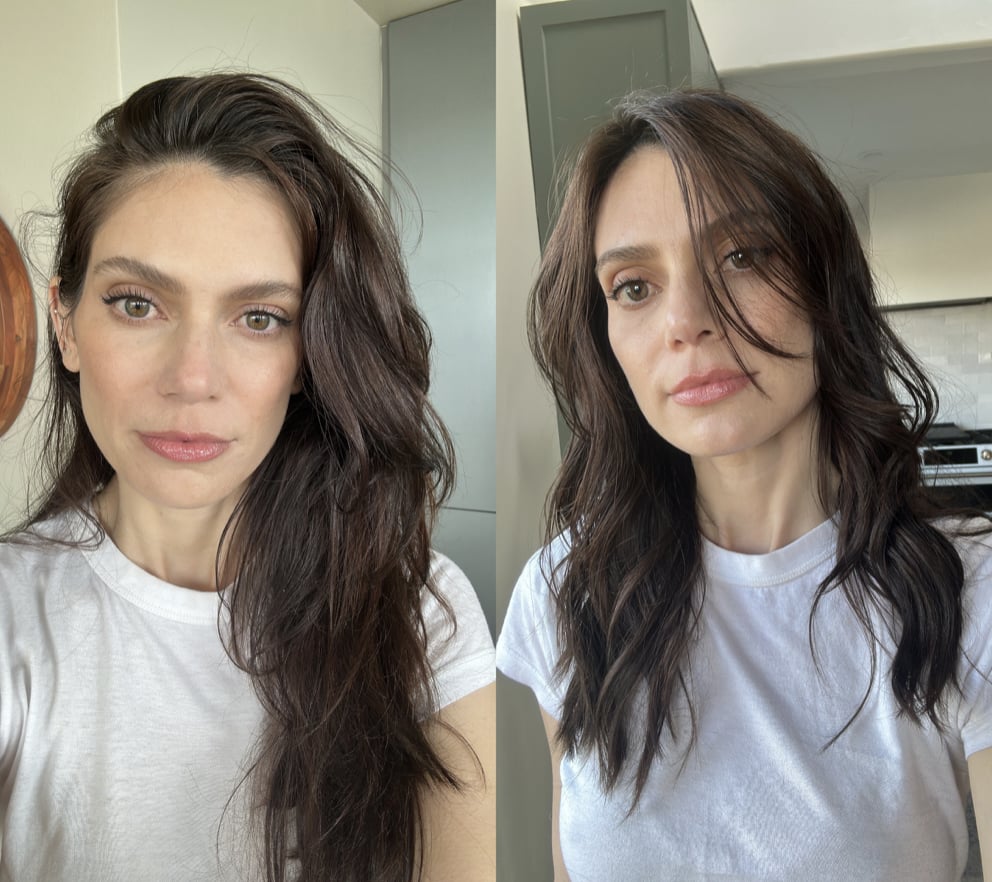 As celebrity hairstylist Gregory Russell once told me, there are spiritual properties to hair. Many look at hair like spiritual sensors to the world that hold onto the energetic imprint of what you experience in life. The "crown chakra" (or energy centre) situated atop the head symbolizes the connection the universe in certain energy healing traditions, perhaps explaining the longstanding cliché of getting bangs or a new haircut to coincide with breakups. This was the type of mindset that fuelled my decision to go for the celebrity-beloved s-curve haircut.
As I entered Crâne salon in Los Angeles, I was ready for a shift. In the preceding nine months, I lost my beloved dog, endured a horrific home renovation, am currently prepping the 'house of horrors' (as I fondly call it) to be listed, and have been left with an unsettled nervous system, to put it mildly. I decided to get a hair makeover to herald in a new era while I regain my balance. With each snip of the scissors, I would symbolically leave a rocky chapter in LA behind. Ahead of me, a seaside townhouse with ocean views awaited — and a fresh new 'do for summer to complement it.
Choosing my new style was a process. I have fine hair, but I have a lot of it. It grows rapidly and becomes so voluminous that it takes on a life of its own, overwhelming my small frame. Every time I washed my hair, my natural shedding made it look like a cat coughed up a hairball in my shower, and I was ready for a change. I was looking for something that would drastically reduce the amount of hair on my head while working with my natural texture. Another reason I needed a more manageable cut was that my scalp had been irritated with flares of malassezia overgrowth that formed itchy plaques. With so much hair on my head, it made it hard to apply my medicated shampoo and serums.
The moment I saw the s-curve haircut on Lucy Hale, chopped into a lob by celebrity hairstylist Dimitris Giannetos, I knew I wanted it. But I wasn't sure about going quite that short, and decided to see if it could work in a medium-length variation. Then I booked my appointment with celebrity hairstylist Aaron King, co-owner of Crâne, who has styled Hollywood hair muses like Kaia Gerber and Camila Morrone.
What is the S-Curve Haircut?
When discussing the cut itself, King emphasised the importance of opting for a timeless style rather than a trend, per se. "People are always looking for movement with their hair, and the 'S curve' just refers to that wavy phenomenon as seen around the face in Lucy's picture," he says. In the summertime, King is a big fan of cuts that allow for longer lengths to fall forward when you put your hair up or under a hat.
As it turns out, adding just a couple more inches would make the s-curve haircut much more low-maintenance. Because I am also a bit lazy with my hair (I used to live in Paris and really embraced the live-in lifestyle there), he agreed that a slightly longer version of Lucy's lob would be best. "That is actually a high-maintenance cut that requires a lot of styling," he says. "When it's not styled correctly, it can create a bowl-looking shape around the head — I call it a 'helmet on stilts.'"
The cut we agreed upon is an iteration of the S-curve cut called a modern shag, which would fall to a medium-length yet capture some characteristics of a bob. For instance, a blunt edge at the front and the ability to angle it from back-to-front with a hint of an A-line's asymmetry.
How to Style the S-Curve Haircut
"The key to how you wear this cut is movement, and embracing your natural texture. The haircut is meant to be the style," King says, adding that I would "want to invest in a curl cream and start using the Dyson Air Wrap ($600)." As for a curl creme, I have long loved Kevin Murphy Motion Lotion ($24, originally $29). On days when I straighten, celebrity hairstylist Jessica Elbaum recommends the heat-activated Hair Rituel by Sisley The Cream 230 ($110).
But aside from daily care, the cut's low-maintenance appeal means it will grow in well. King adds that I should pay attention to how it grows in. Once I can pinpoint the exact length and stage at which I love the cut the most, he can duplicate it at future appointments.
Getting the S-Curve Haircut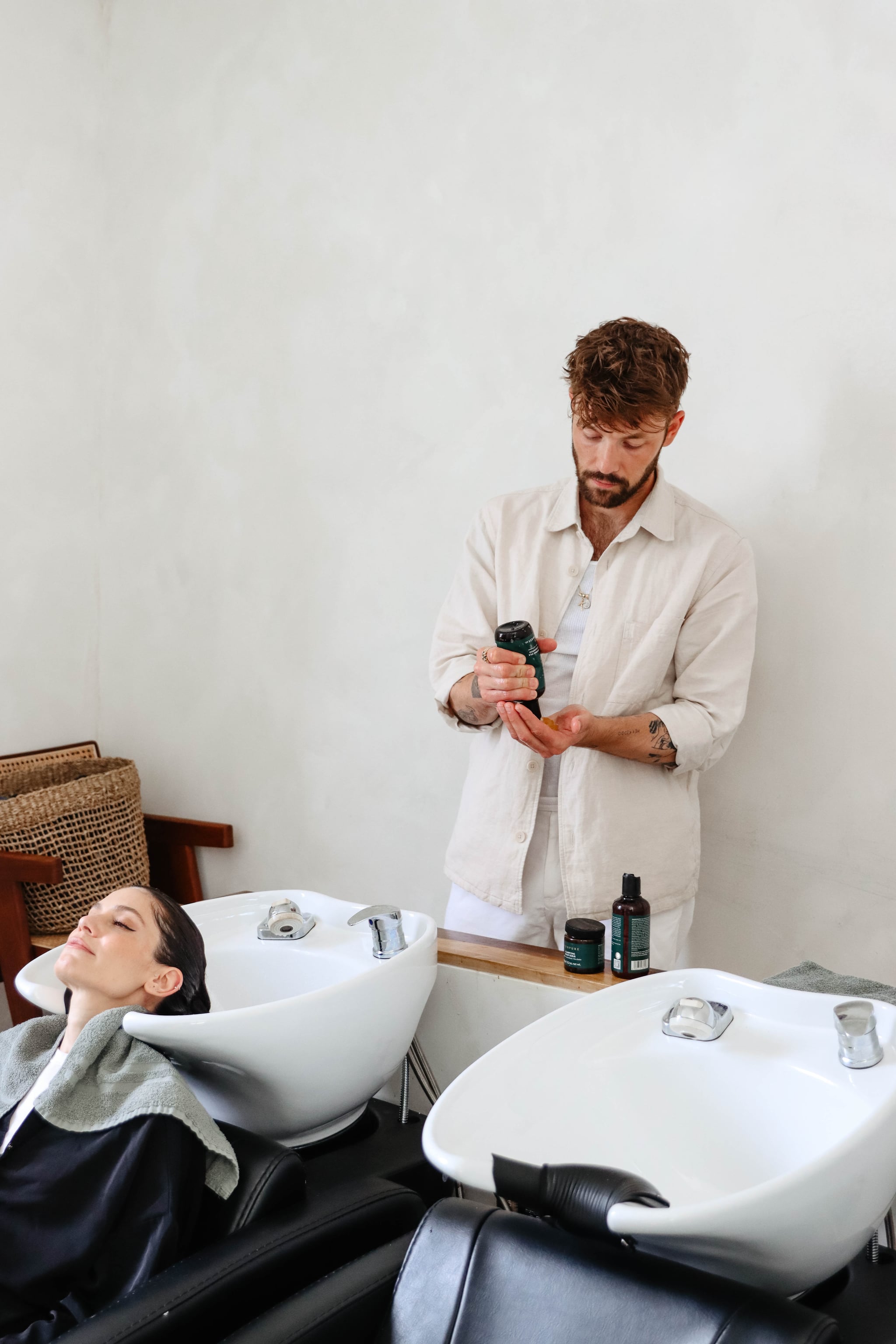 Image Source: Photo via Dylan Lujano
The treatment began with a scalp scrub and massage that greatly soothed and purified my scalp with jojoba beads. He spot-treated my scalp with
Monpure Follicle Boost Density Serum ($113), and recommended the Monpure Hydrate and Soothe Scalp Serum ($81), which has worked wonders on irritated scalps like mine in clinical trials. He explains that tending to the scalp will help with the overall quality of my hair — like adding fertilizer to the soil where hair follicle forms — while also preventing things like miniaturization (the thinning of the hair shaft such as with "baby hairs").
After the preparation and scalp treatment, I got settled in the chair and decided on the part. As much as I love a severe and precise centre part (I'm a Virgo), I tend to let my part fall naturally. He noted that I am a "flipper and flopper" — meaning that I frequently switch the lengths of my hair from one side of my head to the other. All of these factors helped him decide how to proceed with the cut.
I can see why he is a celebrity go-to (after all, he gave Kaia Gerber her first bob), because I have never had such an extensive snipping process. There were times when he had me lean my head forward, and to the side. When I looked around, it was hard to imagine just how much hair was falling from my head. Then again, it was also a relief, and I imagined leaving behind the stressed-out energy stored in those strands from the six months of stress that preceded me.
Before blow-drying, King added the Monpure Ultralight Hair Oil ($79), that smells like Jasmine (my favourite). After, he used a flat iron to add dimension and curl.
The Results
The first thing I noticed was that I felt like I had shed a major weight from my neck — along with enough hair to stuff a pillow. I don't think this was just from the sheer mass of hair I was relieved of. The elysian ambiance, the conversation, the scalp massage, and the relaxation of entrusting my hair to an expert all contributed. I left feeling nurtured from my crown chakra to my follicles, feeling coiffed to perfection.
My hair itself felt soft as silk, and when I grabbed it, I loved feeling so much less bulk and the absence of dead ends. Everything from shampooing, to conditioning, to masking, and blow drying, now takes less time than before. I also find it much easier to focus on my scalp health with so much less hair getting in the way. "The shorter length makes it easier to use a scalp scrub and a scalp serum," he says. "Exfoliating the scalp is key to healthy, shiny hair."
Now that I have a new summer cut, all that is left to do is to find the perfect colour combination to complement my new look and life in a new city.
Image Source: Jessica Ourisman