Sydney McLaughlin-Levrone Talks Skin Care and Sports
How Olympian Sydney McLaughlin-Levrone Blurs the Line Between Sports and Beauty
As POPSUGAR editors, we independently select and write about stuff we love and think you'll like too. If you buy a product we have recommended, we may receive affiliate commission, which in turn supports our work.
Long before Sydney McLaughlin-Levrone was a decorated Olympian (she took home two track and field gold medals at the 2020 Games in Tokyo), she was a self-proclaimed "sporty girl" who felt like she had no business playing with makeup and skin care.
"Growing up, I felt like I wanted to be like the other girls who were into fashion and beauty and all of those things, but it didn't seem like those things could combine [with me being an athlete]," she says. "But that was just something that was made up in my head, and now, I love being able to bring both of those worlds together."
Last month, McLaughlin-Levrone became the freshly minted face of Neutrogena, joining a new class of brand ambassadors who are leveling the playing field for athletes in beauty. For so long, women in sports have had to fight against the stereotype that they aren't "feminine" because of their athletic prowess, but now, that's started to change as they've begun to carve out space for representation in the worlds of skin care, hair care, and makeup. Just this year, Clinique partnered with English rugby player Holly Aitchison as part of its "Game Face" initiative, Glossier partnered with the WNBA, and Hally Hair teamed up with women NCAA athletes at Baylor University.
Not only do these campaigns prove to young women that you don't have to choose between being an "athlete" and a "beauty girlie," but if you think about it, why shouldn't we be turning to sports stars — who are exposed to sweat, sun, and other environmental elements — for our skin-care advice?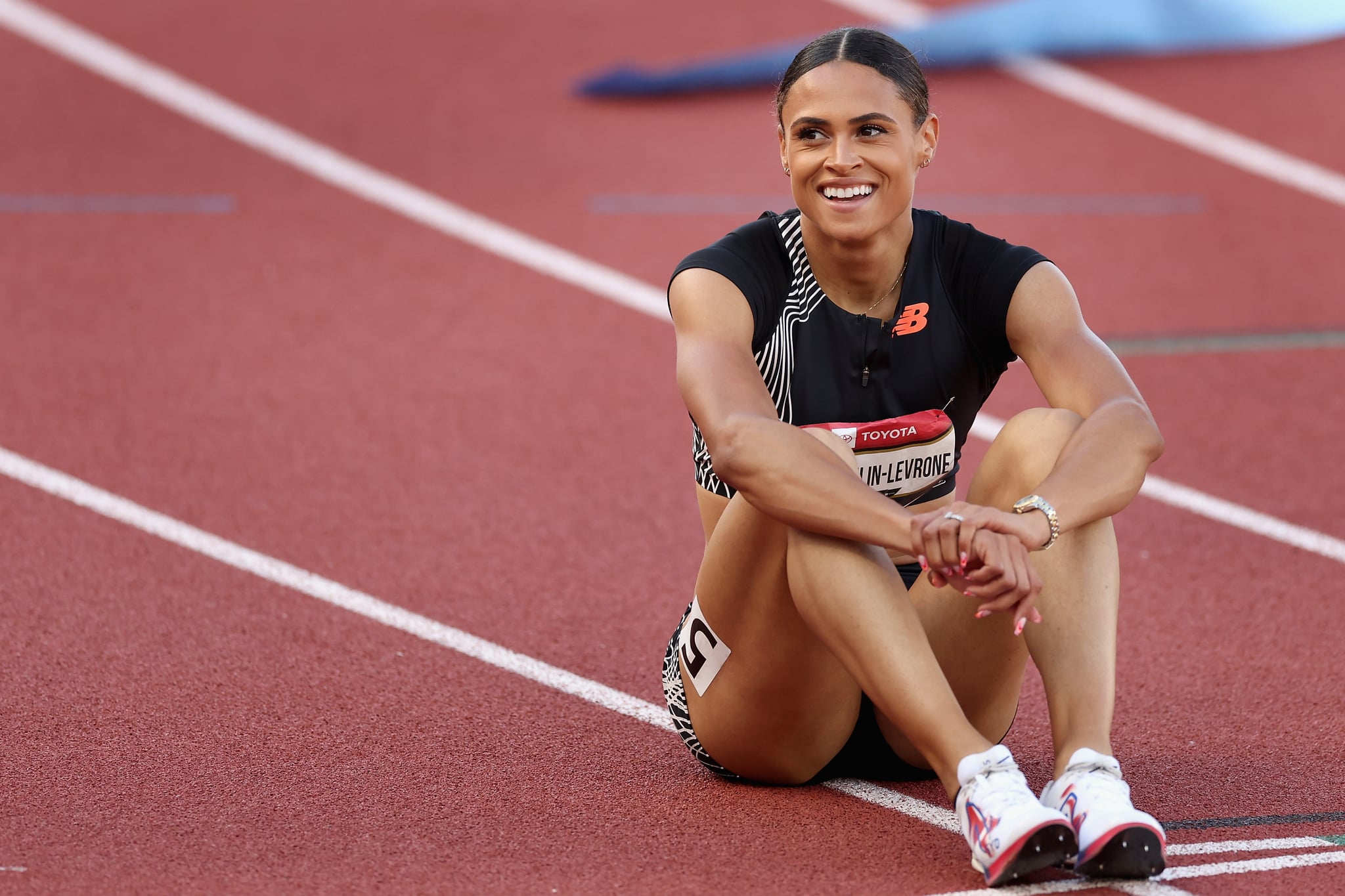 For McLaughlin-Levrone, thinking about her skin mirrors the way she thinks about her sport: focusing on prehab so she doesn't have to deal with rehab later on. "When you're an athlete, it's all about being preventative so that you don't have to deal with injuries later, and the same thing goes for taking care of my skin now so that I don't have to deal with the effects [of ageing] later," she says. "It's doing what I can to preserve my skin and make sure it's as healthy as it can be now so that down the line, I don't have all of these issues I'm trying to prevent."
Unsurprisingly, this approach centres on sun protection. "I'm out in the sun three hours a day running around the track, and even when I don't notice it, it's affecting me," McLaughin-Levrone says. She swears by the Neutrogena Ultra Sheer Sunscreen ($8, originally $10). "I keep that in my bag at all times, and all my teammates ask to borrow some."
As for her post-workout essentials, "quick and efficient" is tantamount. "When I'm sweating, I'm dirty, because I'm also touching the track and touching my face, so I also keep the Neutrogena Makeup Remover Wipes ($10, originally $14) with me just to clean everything off because I go straight from the track to the weight room, so there isn't always time to do a full routine," McLaughlin-Levrone says. "And I have stubborn acne; when I get blemishes or breakouts, I use the Pimple Patches ($8)."
The sports-skin connection doesn't stop there. "Listening to my skin the same way I listen to my body — knowing when it needs a rest, and knowing when I need to chill with the makeup and let it breathe — has been huge for me," McLaughlin-Levrone says, likening it to knowing when her body needs a break from pounding the pavement (case in point: she recently skipped out on the World Track and Field Championships to recover from an injury so she could be in tip-top shape for the 2024 Paris Olympics). "Just knowing some of the signs and knowing what's going on — Are my hormones doing something? Am I drinking enough water? Am I touching my face too much? Is something in my diet? — there are so many different factors that go into it, and being keen to those has made a huge difference," she says. For example, she knows her skin gets extra dry any time she's travelling, so she boards her flights with the Neutrogena Hydro Boost Water Face Cream ($23) in hand for extra hydration.
Another way athletes like McLaughlin-Levrone are blurring the line between sports and beauty is by choosing to wear makeup while they compete. What started with gymnastics and ballet has made its way throughout the women's sporting world (who could forget sprinter Sha'Carri Richardson's electric orange hair and XL lashes?), giving women athletes an opportunity to reclaim makeup and express themselves on the field. "A lot of women in track right now do full faces of makeup — it's like getting ready to go to war, and we all have our war paint on," McLaughlin-Levrone says. "It's just a fun part of getting ready and feeling confident going out there to do what I love to do."
Let it be known, though, that for McLaughlin-Levrone and her counterparts, experimenting with beauty has little to do with wanting to "look good" on the world's stage. Instead, it's all about feeling like the best version of yourself. "I don't feel like I've ever felt the pressure to look perfect when I compete, but I've felt the pressure to be perfect in terms of my performance," she says. "But I think there's a healthy balance of knowing who you are and knowing where your identity is placed. In that, there's freedom to feel beautiful within yourself, and that outward expression shines through and shows on your face. That's when you can be the most confident in what you do."
When it comes to sports and beauty, it doesn't have to be an "either/or" scenario. As McLaughlin-Levrone puts it, "At the end of the day, I am a woman who is good in her craft but also loves to take care of herself, and I think there is beauty in being able to do both gracefully."
Image Source: Neutrogena