The Obsession With Vampire Beauty
The Cultural Obsession With "Vampire" Beauty
As POPSUGAR editors, we independently select and write about stuff we love and think you'll like too. If you buy a product we have recommended, we may receive affiliate commission, which in turn supports our work.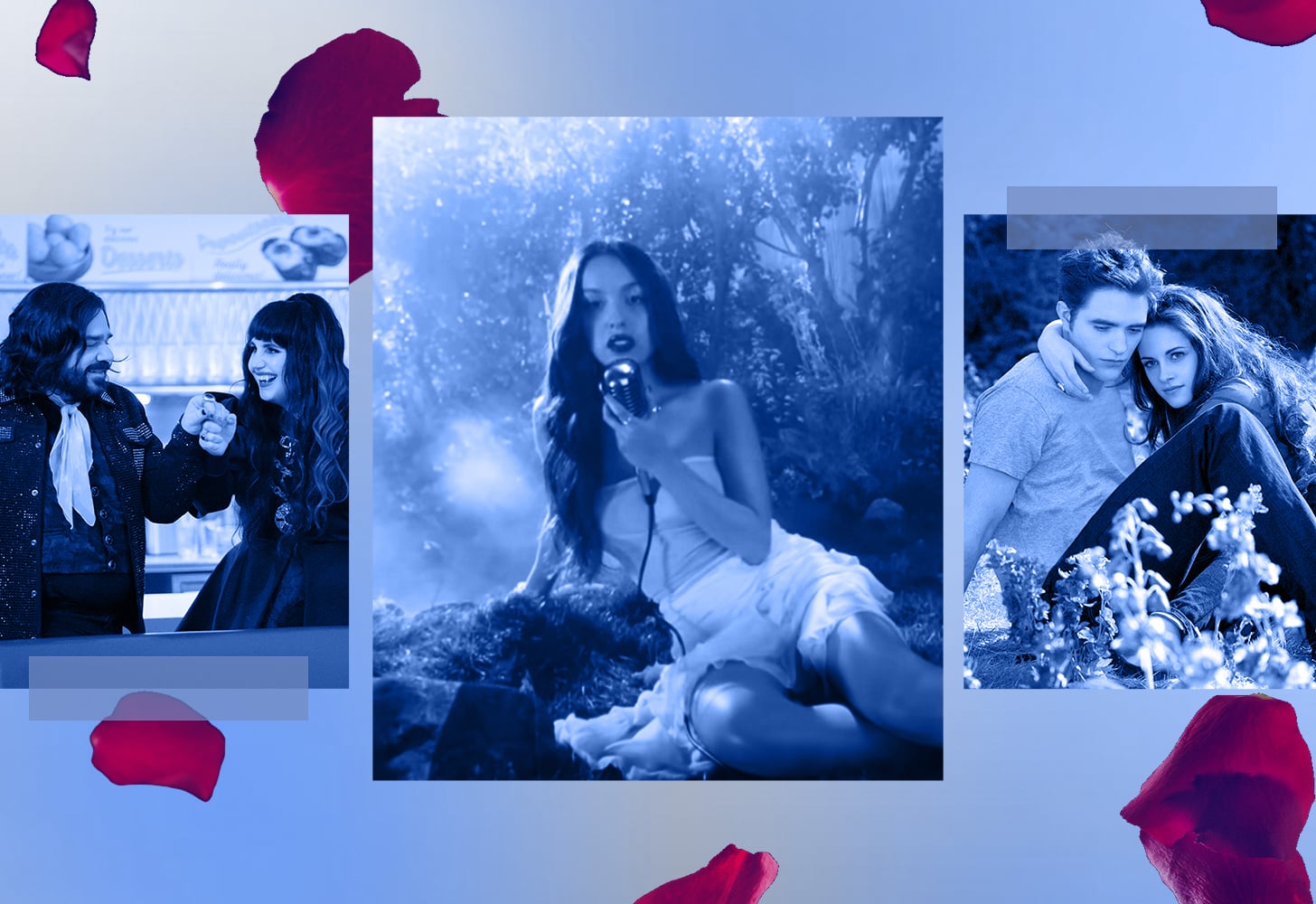 With Olivia Rodrigo's "Vampire" dominating the charts, a "Twilight" TV reboot in the works, and "What We Do in the Shadows" earning near-perfect critic approval ratings, you might say we're in the midst of a vampire renaissance.
It's true: vampires are once again having their day in the sun (metaphorically, of course), and their reign doesn't stop at Hollywood — they've also sunk their teeth into the beauty world, and they aren't letting go anytime soon. From the blood-infused "vampire facial" to its body-lifting counterpart the "vampire breast lift," it seems there's no shortage of cues taken from the undead to go around. Even real-life fangs have entered the chat.
Still, with their perfect, occasionally sparkling skin, can you really blame anyone for taking inspiration from vampires? "Vampires are sexy," says Erin "El" Porter, content creator and makeup artist. "[They] are more often portrayed as sexy monsters, one where you're like, 'I know this is bad, but I'm still into it.'"
Like the vampires of cinema, which range from the 18th-century aristocrats of "Interview With the Vampire" to the late-'80s bikers of "The Lost Boys" or Nicolas Cage's interpretation of Dracula in "Renfield," vampire-inspired beauty is incredibly diverse. Not only does it cater to every race, gender, age, and sexual orientation, but it also cuts through cosmetic dermatology, TikTok makeup tutorials, and even dentistry. Keep scrolling as we dive into the cultural fascination with all things vampire beauty.
The Vampire Facial
Perhaps the most widely known vampire-inspired beauty trend is the vampire facial. And while it's nicknamed after the famous monster, it's by no means exclusive to the fans of Anne Rice novels. In fact, it was broadly introduced to the general public by Kim Kardashian in 2018 and has been considered a subject of fascination ever since.
"A vampire facial is a combination of drawing your blood to get the PRP, which is the platelet-rich plasma, and then microneedling that back into your face," says Cara Audrey, a licensed aesthetician and owner of Aesthetic by Cara Audrey. "Microneedling is a facial treatment that creates little microchannels using a handheld device with tiny pinprick needles that go into the dermis of your skin to help produce collagen."
Vampire facials, also referred to as PRP microneedling, earn their name because of the process of drawing blood from a patient's skin. However, you could also argue that it takes inspiration from the immortal glow many fictional vampires possess, as this process can make your skin appear tighter and smoother, combat acne, minimise scarring, and even reduce hyperpigmentation.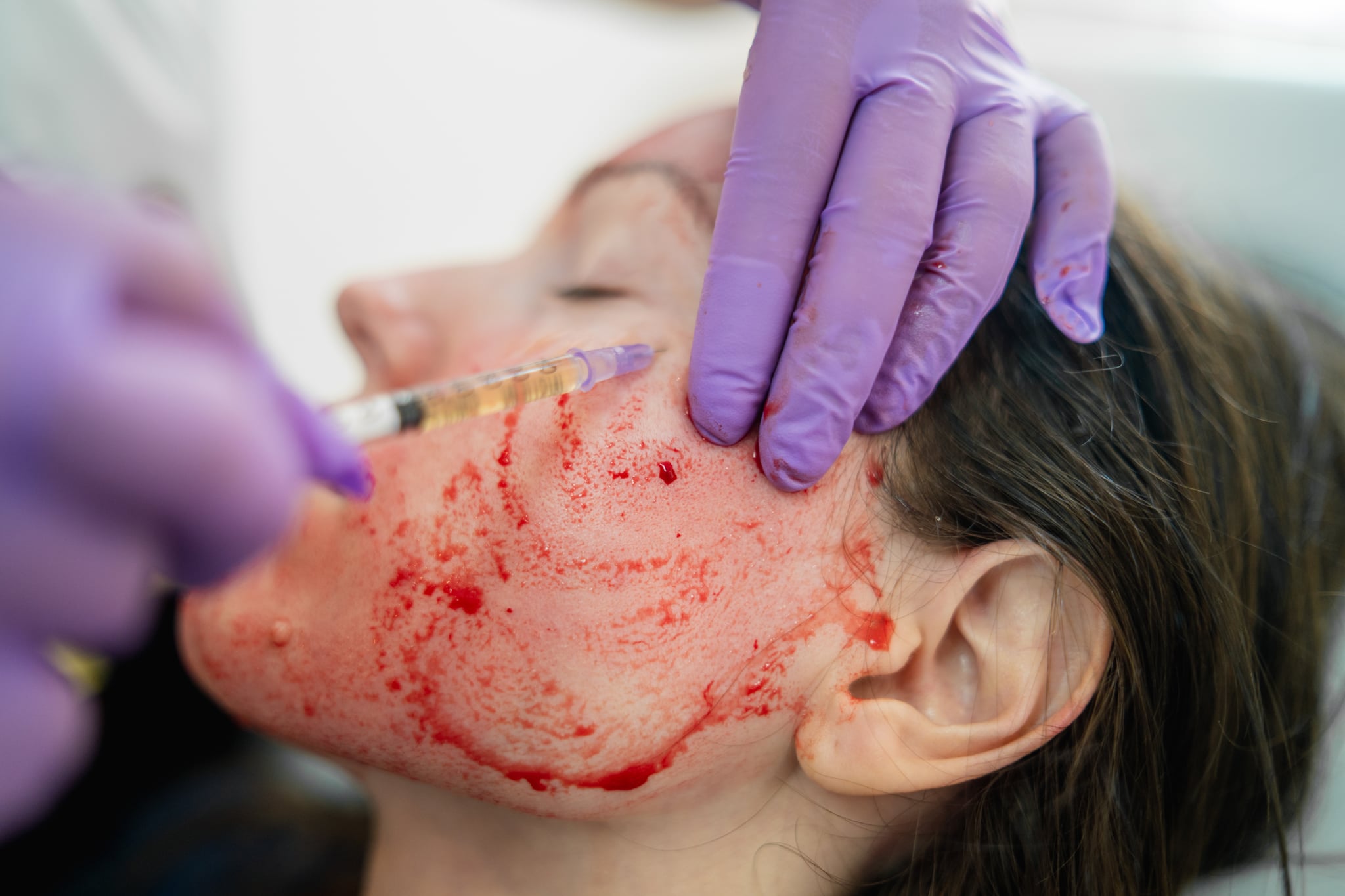 Image Source: Getty
"The results start showing immediately," Audrey says. "Basically, you get it done and it starts building up that collagen from the bottom up to smooth out your skin. You'll see your best results after three months, and it's recommended that you get three treatments within three months to have a year's worth of results — if that's what your skin needs. Your skin may need six or even eight treatments depending on the condition it's in, but typically three is a good start."
Obviously, clients should not expect to leave the office looking like a bloodthirsty vampire after a fresh kill, despite what they may have seen online. "My goal as an aesthetician is not to have you leave bloody at all," Audrey says. "I wish that was something people didn't automatically believe when they think of a vampire facial. There are also many microneedling serums, such as the ZO Accelerated Firming Serum or the ZO Skin Health Rozatrol, that will give you the equivalent results of a vampire facial."
Although you may not leave the office with skin that literally reflects the light like a diamond à la "Twilight," you can expect to feel nice and glowy when the results of your vampire facial take full effect.
The Vampire Breast Lift
While the face may be the most common place to have PRP microneedling done, it can be performed virtually anywhere on your body that you might notice damaged, discoloured, or ageing skin. "Let's say you've had a baby, you're done breastfeeding, and you may have some scars on your belly from a C-section," Audrey says. "Those would definitely be able to be smoothed out or even eliminated with PRP microneedling, depending on how old and deep those scars may be."
Just like a vampire facial can give a client a more youthful appearance sans surgery or Botox, so can a vampire breast lift. This procedure follows similar steps to a vampire facial, and while it's something that's considerably less popular, it works in the exact same way to build up collagen in the skin. "From what I understand, it definitely has a lifting effect," says Audrey, who has not performed a vampire breast lift at her studio but has done PRP microneedling on other areas of the body.
"Generally, it's done on the top of the breast rather than all around or underneath," she says. "It's not going to be the kind of procedure that you notice results from immediately, but it will create smoothness and elasticity for the skin on your breasts."
Alternatively, there's also the "fat vampire" breast augmentation that combines PRP with fat transfer augmentations, which you can read about in full here.
Vampire Skin
While a subtle glow is great, sometimes you're seeking something that's a bit more, dare we say, holographic. That's where "vampire skin" comes in. This is often seen across vampire TikTok, a thriving community for undead creatives like Porter. As a content creator and makeup artist, vampire TikTok has not only allowed her a digital space for her artistry to thrive, but it also led her to meet her fiancé, Louie.
"I would describe 'vampire skin' as the glowy, healthy skin that's been trending through the beauty community, but on steroids," Porter says. "This takes it to the next level where it's not just a glow from within, it's a sparkle from within."
There are many variations on the vampire skin trend, as content creators approach it with different products and techniques to achieve the desired effect. However, it usually starts with a combination of liquid foundation and some form of glitter. "It was actually trickier [to create] than I'd expected," Porter says. "I did try at first to just put straight-up glitter into my foundation, and I think that worked better with a liquid glitter, but it worked best by building it up in layers. I had the most success by using a couple different shimmer glitters mixed together on a really dispersed fluffy brush and patting them on where I wanted it to go."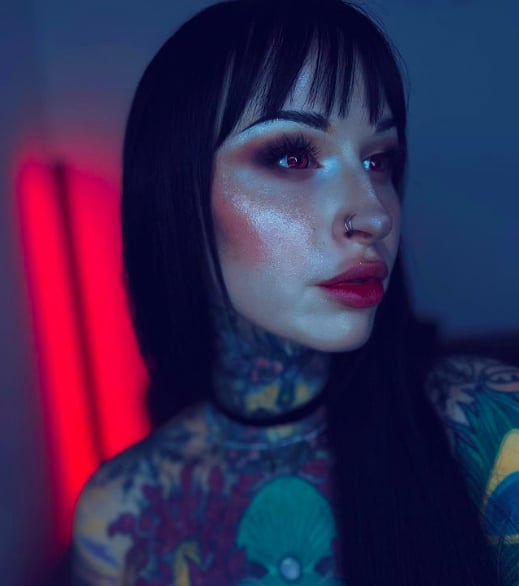 Image Source: Erin Porter
To create a glowy base, Porter typically leans on the Rare Beauty Liquid Luminiser in Enlighten (£24), followed by a skin tint like the MAC Studio Radiance Sheer Foundation in C0 (£34). "Then for the glitters, I mixed a discontinued MAC loose powder in Silver Dusk with some finely milled craft glitter. The Stila Liquid Glitter Eyeshadows (£25) or the Made by Mitchell Blursh Lights in Drip Drip (£16) would be perfect for this, but I had to improvise."
While she was sceptical prior to trying this trend, it's now one Porter is willing to give another go for a night out. "If you're going to be anywhere where you'll get hit with a spotlight, it's almost like surprise makeup," she says. "From far away, it just looks like you have glowy skin, but when the light hits you, it's beautiful. Now I wish I had somewhere to go other than my living room."
Semipermanent Vampire Fangs
While glowing, ethereal-looking skin is a staple for many fictional vampires, if you want to go all the way, you can't forget about the fangs. Fangs have been widely associated with vampire lore since Bram Stoker's 1897 novel "Dracula," which was one of the first modern depictions of vampires following John William Polidori's 1819 short story "The Vampyre." And although Bela Lugosi's 1931 portrayal of Dracula may not have come with fangs, that didn't stop other films and television shows from making fangs integral to the vampire subculture.
Father Sebastiaan, a fangsmith, author, and impresario of the Endless Night Vampire Balls, grew up in the dental industry and nearly 30 years ago acquired his first pair of fangs. This led him down the path of creating fangs himself, a process that he's finessed over time and has made him world-renowned.
"I make five basic types of fangs in my Sabretooth line that are based on my original fang designs," Sebastiaan says. "There are Classic Canines, which are your normal standard fangs. Then there are the Lilith Laterals, which are like 'The Lost Boys' style. Then I make Sabres, which are Classic Canines and Lilith Laterals in an even format, double set. I have Lost Boys, which have short canines and long laterals. And last I have Brooklyn, which are inspired by Eddie Murphy in 'Vampire in Brooklyn,' with long canines and short laterals."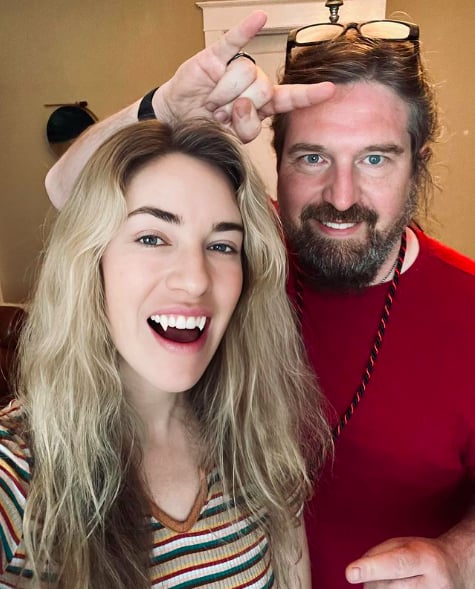 Image Source: Father Sebastiaan
Sebastiaan's Sabretooth fangs are far from your ordinary pair of costume store or cosplay fangs. His are custom and made to order to fit comfortably in the mouth and allow for drinking, singing, smoking, and kissing during wear. His process begins with having his clients purchase a custom moulding kit, which he has recommendations for on his website, and after sending in the impression, Sebastiaan can begin creating their fangs. "I scan the mold in a 3D scanner, and I take the scans I have of teeth that are premade cap designs, layer them on the teeth, print them out, place them on a 3D mold, and mail them to the customer."
Sebastiaan's Sabretooth fangs are also colour-matched to each individual for a seamless look that's fit for everything from cosplaying to modelling to everyday wear. They're also constructed from high-quality dental acrylics that will last for approximately two to three years with good care, longer if you're extra careful.
Vampire Beauty, Now and Forever
While another cosmetic procedure may eventually eclipse the vampire facial, TikTok's vampire skin may become another timeline memory, and semipermanent fangs may lose some of their initial bite, vampire beauty will always exist in some shape or form. Not only will there still be books, films, and shows about vampires in circulation, but the enthusiasm for emulating Hollywood's favourite bloodsucker will also continue to live on, because no other monster can hold a candlestick to the vampire.
"The vampire has the ability to be anything, and anybody can be a vampire," Sebastiaan says. "They can be science fiction, like in 1985's 'Lifeforce'; they can be ancient aliens; they can be cursed by God; they can be cyberpunk. There's so much that you can do with the vampire genre that you can't do with other genres. The vampire can bring together people from all different cultures and backgrounds; you just need a 'black heart,' as we call it."