Kim Kardashian Lists Her Celebrity Haters
Kim Kardashian Is Sending Valentines to Her 12 Biggest Celebrity "Haters" — Here's Who They Are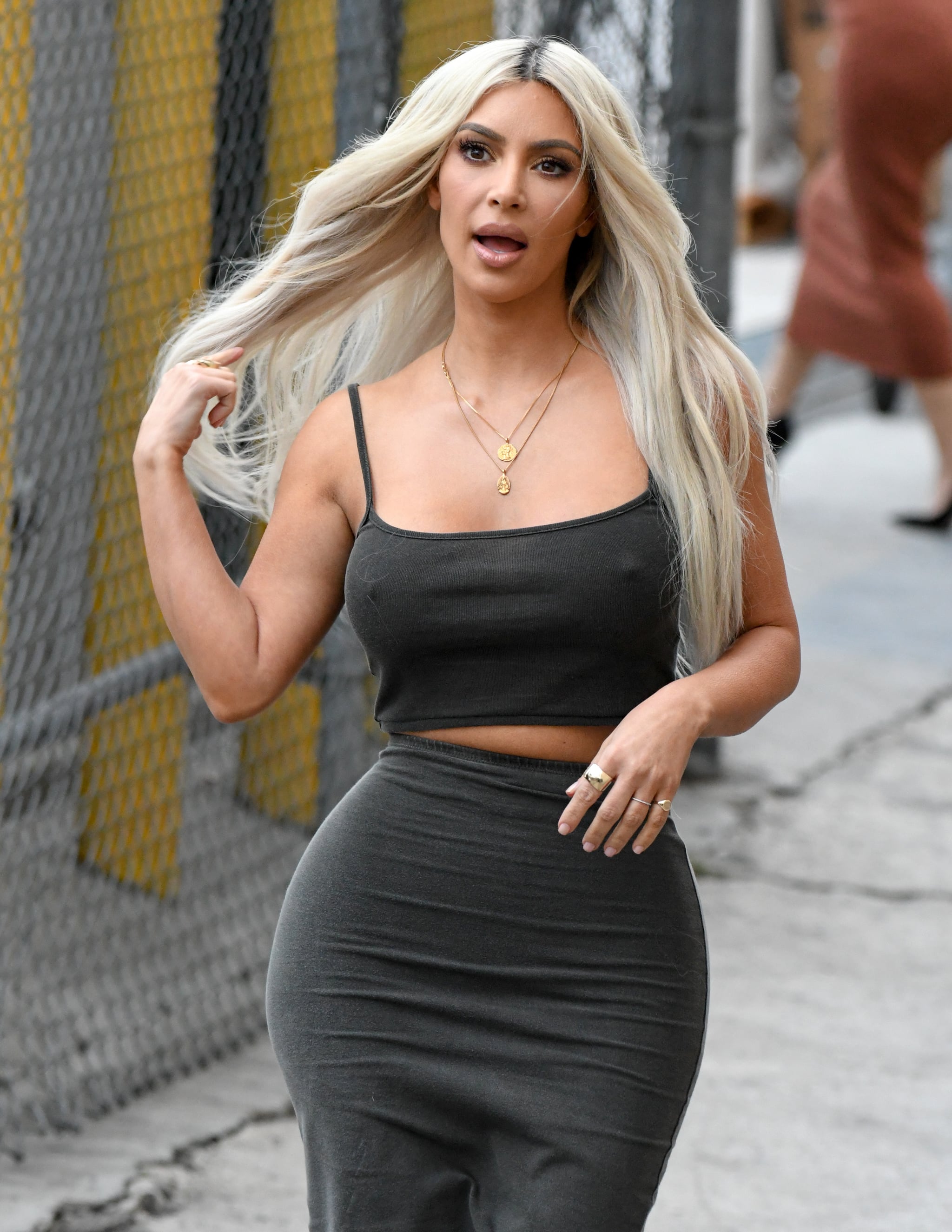 Image Source: Getty / Bauer-Griffin
Gather 'round, children, and settle in for an epic tale of pettiness, the likes of which our ancestors could only dream about. Kim Kardashian has officially turned her Instagram account into a Mean Girls-style "burn book," using her Valentine's fragrance launch as a chance to show off her list of "haters" to the world at large.
For a bit of context, Kim's V-Day fragrances are shaped like candy conversation hearts and read "BFF," "Bae," or "Ride or Die." To promote the new launch, Kim has been sending the candy-shaped perfumes to press and influencers in large, chocolate hearts that have to be cracked open with a wooden mallet to reveal the bottle inside.
In an Instagram story, Kim showed her followers a large list of names written on sticky notes. "All right, guys, I am writing the list for my press boxes! I'm gonna send them to way more than this, but I decided for this Valentine's Day, everyone deserves a valentine," Kim narrated, zooming in closer to the names. "So I'm going to send them to my lovers, to my haters, to everyone that I think of . . . because it's Valentine's Day, after all." Here's the list, with 12 noted "haters" on the left in green: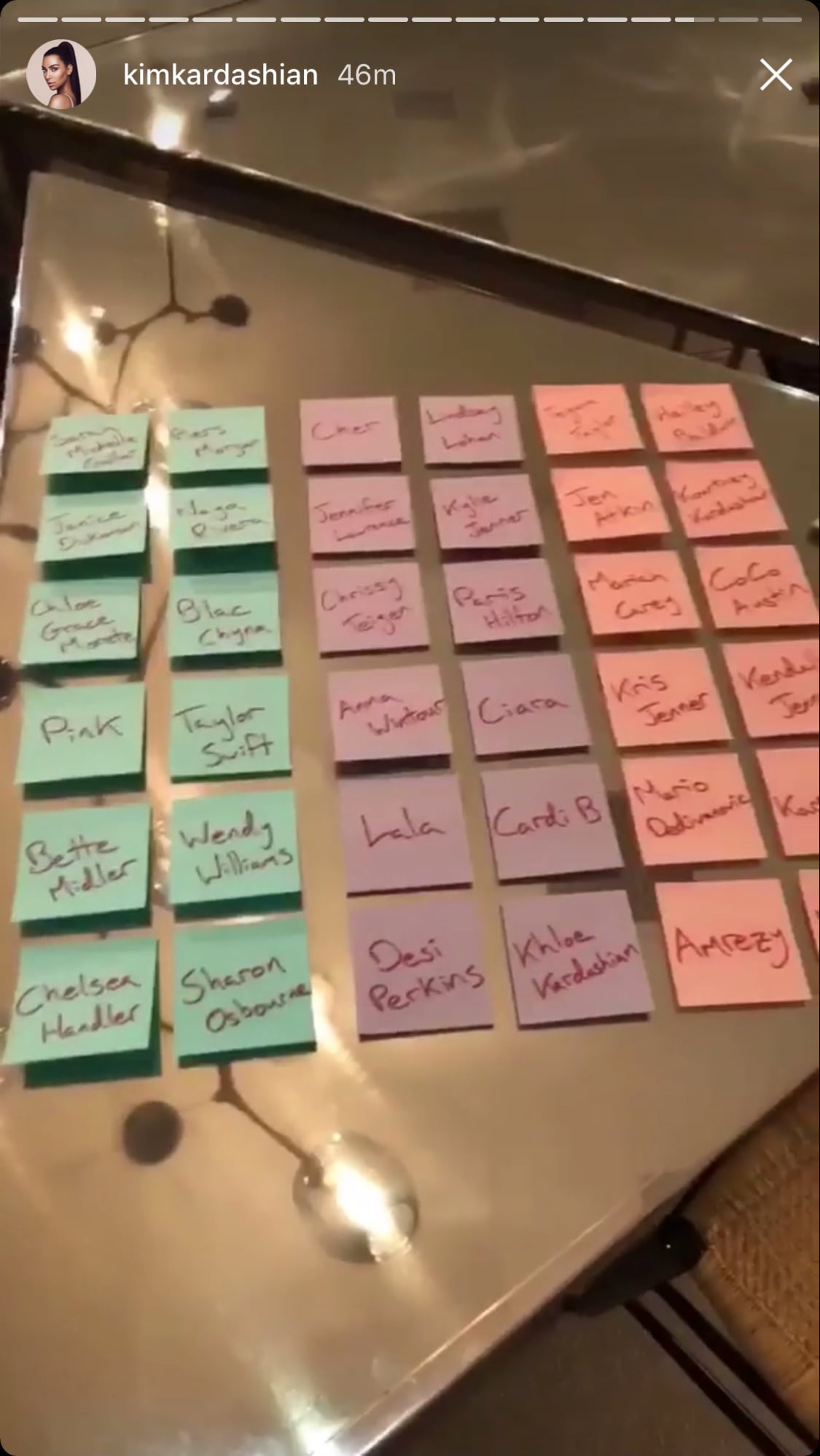 Image Source: Instagram user kimkardashian
So, who's on the list? And more importantly, what did they do to deserve their places there? Allow me to explain.
Kim's Haters
Sarah Michelle Gellar: After Kim and Kanye appeared on the cover of Vogue in 2014, Sarah Michelle Gellar tweeted about cancelling her subscription and urged fans to do the same.
Piers Morgan: Piers (who never hesitates to drop his hyperconservative, slut-shaming opinions into conversations which he wasn't invited to in the first place) is a regular Kardashian hater. Most recently, he slammed Kim for posting a topless photo on Instagram in January 2018, tweeting: "Put them away, for goodness sake."
Janice Dickinson: The retired supermodel insulted the Kardashian-Jenners when she said "They're not models!" during a 2016 TV interview evaluating their place in fashion and referred to their "plastic" butts.
Naya Rivera: Naya left a shady comment about Kim Kardashian's nude Paper magazine shoot in 2014, chiding, "You're someone's mother." A pregnant Naya then posed for her own nude magazine shoot the next year.
Chloë Grace Moretz: Kim and Chloë had a very public Twitter feud in 2016 after the actress encouraged Kim to be a better role model to young girls.
Blac Chyna: There's so much to unpack here. Read up on their drama to understand why Chyna is on the list!
Pink: The singer also indirectly shamed Kim over her nude mirror selfie in 2016, then reignited the feud in late 2017 by speaking about it in the press.
Taylor Swift: Much like with Blac Chyna, there's a lot behind this particular feud. Read up on the details here.
Bette Midler: When Bette tweeted in 2016 that Kim would have to "swallow a camera" to show the world a body part they've never seen, it ignited a pretty savage feud.
Wendy Williams: On her talk show in January 2018, Wendy suggested that Kim posts nude selfies because "Kanye does not pay attention" to her.
Chelsea Handler: Chelsea has used the Kardashian family as the butt of her jokes frequently over several years, and it clearly doesn't sit well with Kim.
Sharon Osbourne: In a 2017 interview, Sharon called Kim a "ho" and suggested that she is not a feminist.
Whew! So there you have it — the top haters on Kim's presumably long list. But don't go thinking that they all got "bae" conversation heart perfumes; Kim clarified via Twitter that only her loved ones received those.
let me just say all haters didn't get bae. some of my real bff's got bae too and my mom!

— Kim Kardashian West (@KimKardashian) February 1, 2018
Because Kris's name is written on a pink sticky, we're assuming the names on that column all received "Bae" perfumes. But what did the "haters" column receive? Knowing Kim, probably a facetious "BFF." Remind us not to get on her bad side.