Bella Thorne Reveals Her Favourite Mental Health Trick
Bella Thorne Shares Her Secret to Powering Through Industry Pressures and Self-Doubt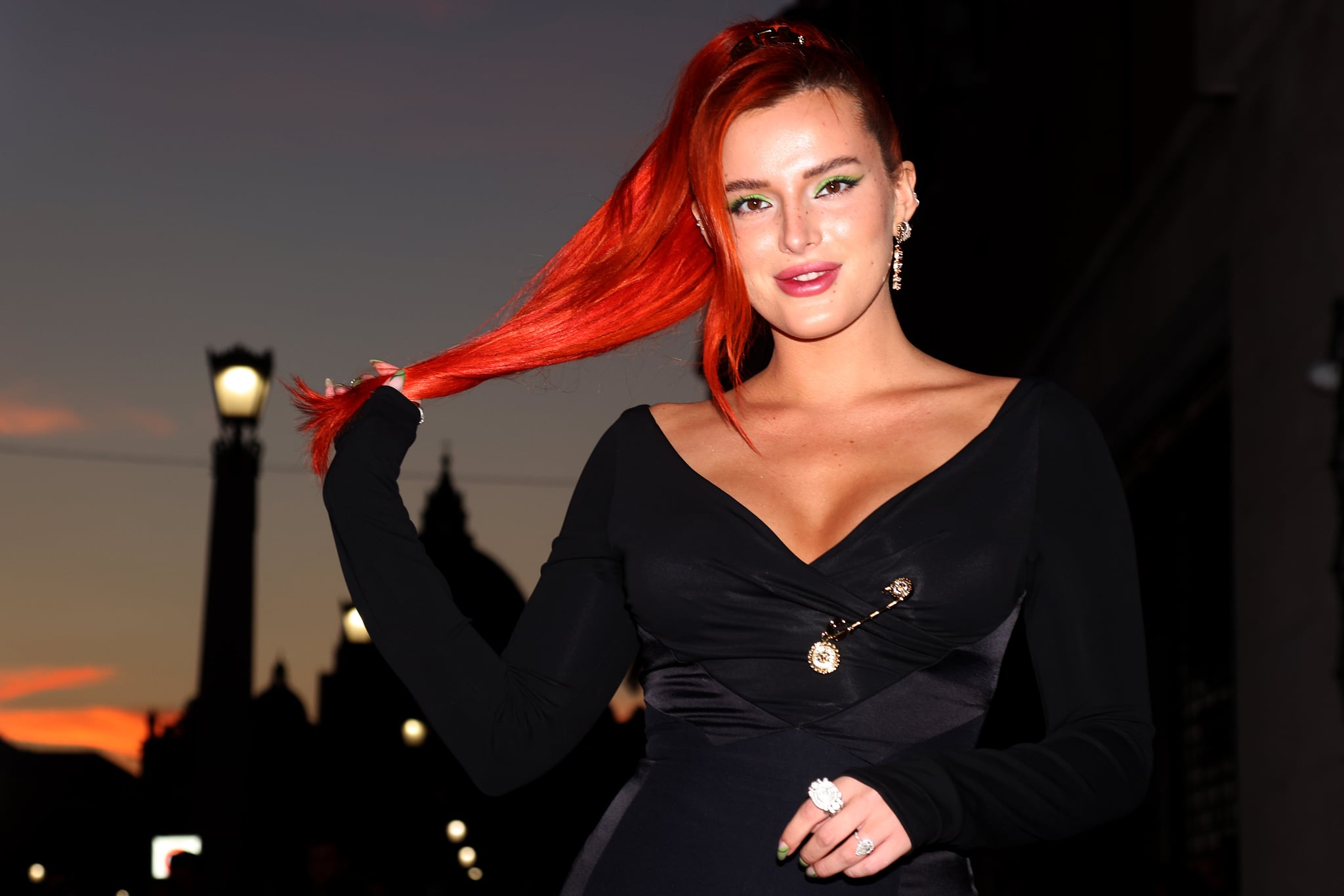 Bella Thorne is used to being under pressure. She booked her first acting gig when she was only 6 weeks old, and as a child, she felt responsible for supporting her single mom and three siblings. "I modelled every single day growing up — my whole life, like, three jobs a day, you name it," she told ABC News in 2018.
Her big break came when she landed a starring role on Disney Channel's "Shake It Up" at the age of 12. Now, at 25, she still has people trying to pigeonhole her into the image she projected when she was young. "People look at me now and they're still like, 'Please be that girl. Please be the girl with the long, nice, red hair that's blown out and the light lashes and the little bit of eyeliner and the little bit of a lip, but not too much 'cause you don't want to be too much, you want to be just enough,'" she told ABC. In 2021, she told Harper's Bazaar that "as a famous young woman, you're either a whore, a drunk, crazy or bitchy."
But Thorne has refused to align with that image — or anyone's image of her — for years. She's instead managed to blast through boxes through a combination of honesty and bravery, perpetually challenging Hollywood's perception of what femininity should be like, and she's designed her career on her terms.
These days, she's as busy as ever — she has multiple movies in the works, and most recently, she played a mystical-healer figure in Sundance's trippy sci-fi thriller "Divinity." She's also the founder of a weed company and a jewellery line. On top of it all, she has over 25 million followers on Instagram — where she recently hard-launched her relationship with producer Mark Emms.
None of it has been easy, of course. All the pressures and judgement she's faced throughout her life take their toll, and at night, she's plagued by the same negative thoughts as anyone else. "I would say [they're] the worst out of all the things to deal with," Thorne tells POPSUGAR. She's refreshingly candid about things that many people find hard to talk about — such as "the negative thoughts that don't leave you alone, that just harass you and make you feel bad about yourself," as she describes them. These are the kind of thoughts that flare up "when you're going to go to sleep, and your mind just starts f*cking you up and telling you that you're a piece of sh*t and you didn't do enough work," she says, "and everybody else around you is doing so much better than you are, and they're younger than you are, and everybody's just successful and having a great time, and you're doing nothing."
These kinds of thoughts are all but inevitable in an industry and culture that seem to hold women to impossible standards above all else. Thorne has industry pressures to contend with, and she's also been open about the struggles that she's faced in her life, from childhood sexual abuse to hyper-sexualization. She has since detailed them and processed them through her poetry and her interviews and her films. She's also worked to reclaim her sexuality by directing her own porn films and proudly coming out as pansexual, and she's even begun refusing to sign photos of herself that were taken when she was under 18.
Over the years, the star has also been working on healing and setting boundaries, slowly but surely, and she has a few tried-and-true tricks up her sleeve. "My therapist taught me this thing," Thorne says. "She was like, 'You need to start noticing: what is a negative thought, what is an unhelpful thought, and what is a helpful thought? Constructive criticism — that's good. But then, there's one step past constructive criticism — now you're just hating on yourself.'"
When she becomes aware of her negative thoughts, Thorne says, her therapist told her to just simply pause and then to look around and find a nearby brightly coloured object. "Pick up that bright object, put it in your hands, set it back down on the table. Pick it up again, sit it back down on the table. Do this in repetition, and your brain just interrupts that bad thought," Thorne says. "It interrupts that moment, and your brain is able to think about something new."
When she's able to keep herself from following the thought spiral, then things can clear up. This is the art of retraining the brain — a practice she's been working on in therapy, a way of seeing the world differently. As she explains it: "As soon as I break that habit of the bad thoughts — now, the sun is shining, it's beautiful. The grass is green, the trees are alive, my shoes are untied."
After practicing this technique for some time, Thorne no longer needs to physically pick up a brightly coloured object to reroute a spiral anymore. She's getting better at overcoming the doubt that the entertainment industry — like so many others — thrives on, the doubt that keeps people caught up in comparison instead of appreciating their own unique gifts and circumstances.
While she may feel like she's not doing enough, Thorne is definitely doing more than most. Perhaps because of how busy she is, she's taking a break from therapy for now, "as people do," she says. "I need to get back into it," she adds. "It is hard to always have those conversations that you really don't want to have or that you spend most of your life pushing down."
But Thorne is definitely not here to run from anything; that's never been her way. She's here to face her fears — and, fortunately for us, to share a few tips and tricks along the way.