Big Freedia Empowers HBCU Students at Queen Charlotte Event
Big Freedia Is Using Her Title as Hip-Hop Royalty For a Greater Good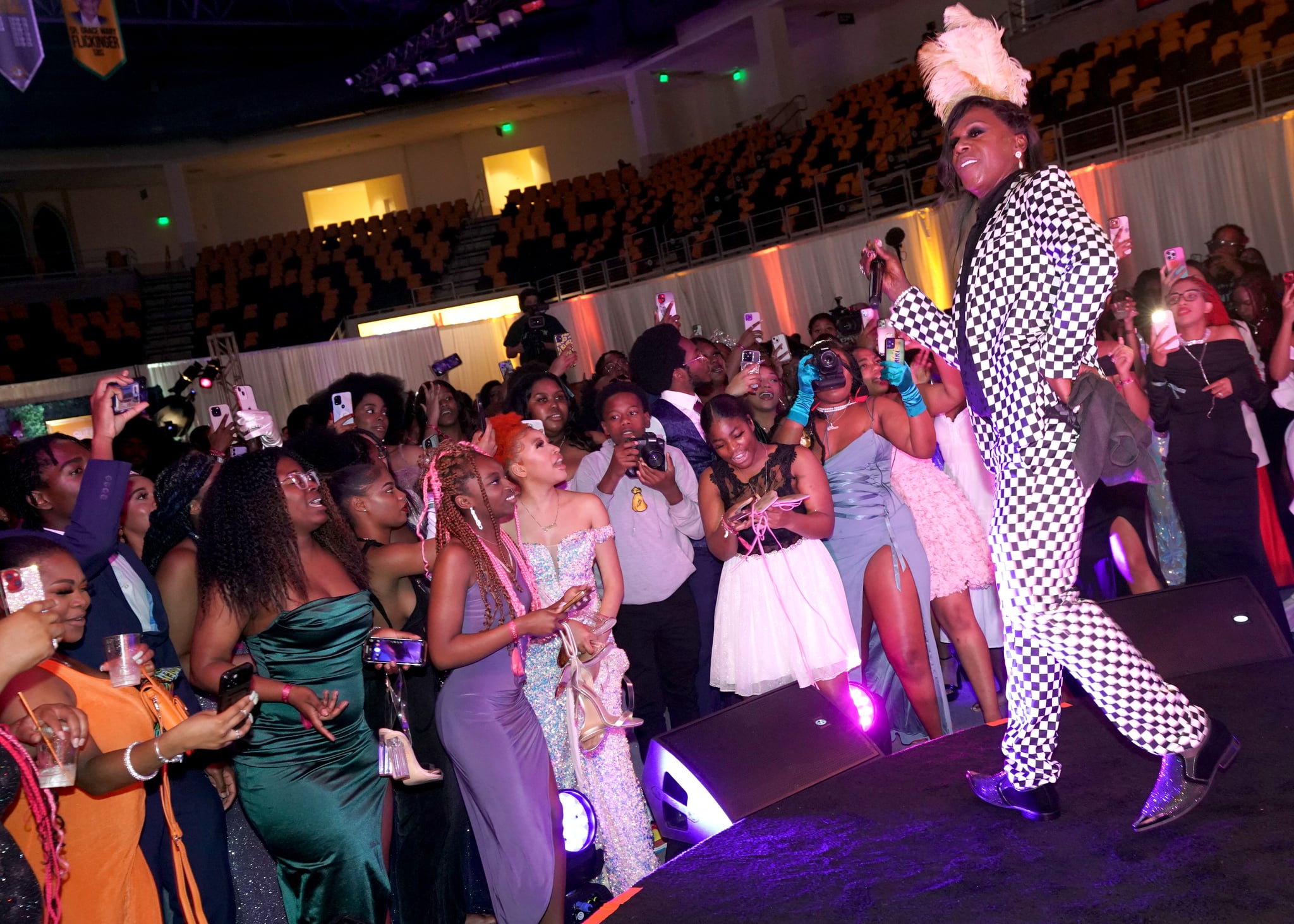 In the longview of hip-hop's 50 years, it's extremely rare to truly have one undisputed king or queen of a city or a subgenre — especially someone who's openly gay, identifies as gender-nonconforming, and uses fluid pronouns. And even among the few true "kings" and "queens" of rap, there usually comes a time when these icons no longer represent their inventions themselves and instead become a CliffNote in a newer artist's Grammy acceptance speech.
But New Orleans's Big Freedia has defied many norms in the past two decades as the reigning queen diva of bounce — one of hip-hop's most energetic dance genres, which you may know for originating twerking. She's become the go-to hype person to bring joy and explosive flair to some of today's biggest chart-topping hits, like Drake's "Nice For What" and Beyoncé's "Formation" and "Break My Soul." But it's her genuine love for and connection to the people of her city that have won her this title. And now that she's reveling in her mainstream queendom, the most exceptional thing about Big Freedia is that she's stayed in community and in touch with the true meaning of her role: to empower her people.
Last week, I caught up with Big Freedia at Xavier University, an HBCU in New Orleans. She was performing at an event for Netflix's "Queen Charlotte," a Shondaland "Bridgerton" prequel premiering May 4 that focuses on the queen's backstory as a Black woman who gets pressured into a turbulent marriage with the king of England. Big Freedia had been tapped to create a music video for the show and perform at a "Spring Waltz" that Netflix threw for Xavier students.
Before attending the event, it was hard to wrap my mind around what a bounce-meets-waltz, "Bridgerton" universe plus Big Freedia mashup event would be like. But Freedia was unconcerned; she's been bringing her signature voice and style to a wide range of genre collabs, from smooth R&B tracks to pop and EDM.
"I'm always down to do something crazy and different, and I'm used to collaborating with people from all different walks of life in different genres. So it wasn't surprising to me," she told POPSUGAR on the red carpet ahead of the event. She joked that she sits on thrones all the time — this was just another one. But she also added earnestly that she wanted to participate because it's been "great to see Netflix showing all walks of life of royalty and celebrating queens of all backgrounds."
The music video and event both paid homage to the rich tradition of HBCU campus royalty. The tradition started back in the 1920s as a way for historically Black colleges and universities to celebrate their own images of beauty, academic excellence, and decorum in schools and broader society (Ebony Magazine, for example, annually published pictures of HBCU queens with a cover spread). And since then, campus royals who uplift school morale alongside marching bands have become a staple around the country, especially during homecoming season, as Beyoncé's 2018 Coachella performance famously nodded to.
"We take Black royalty very, very seriously."
At the Xavier event, college students entered the halls in elaborate tiaras, sashes, and even carrying scepters, but they weren't playing dress up for the party theme — they were wearing official regalia that has been passed down for generations by previous campus royalty. The school's 87th Miss Xavier, Nina Giddens, explained her crown was given to her by an alum who was a campus queen in the 1950s during the Jim Crow era.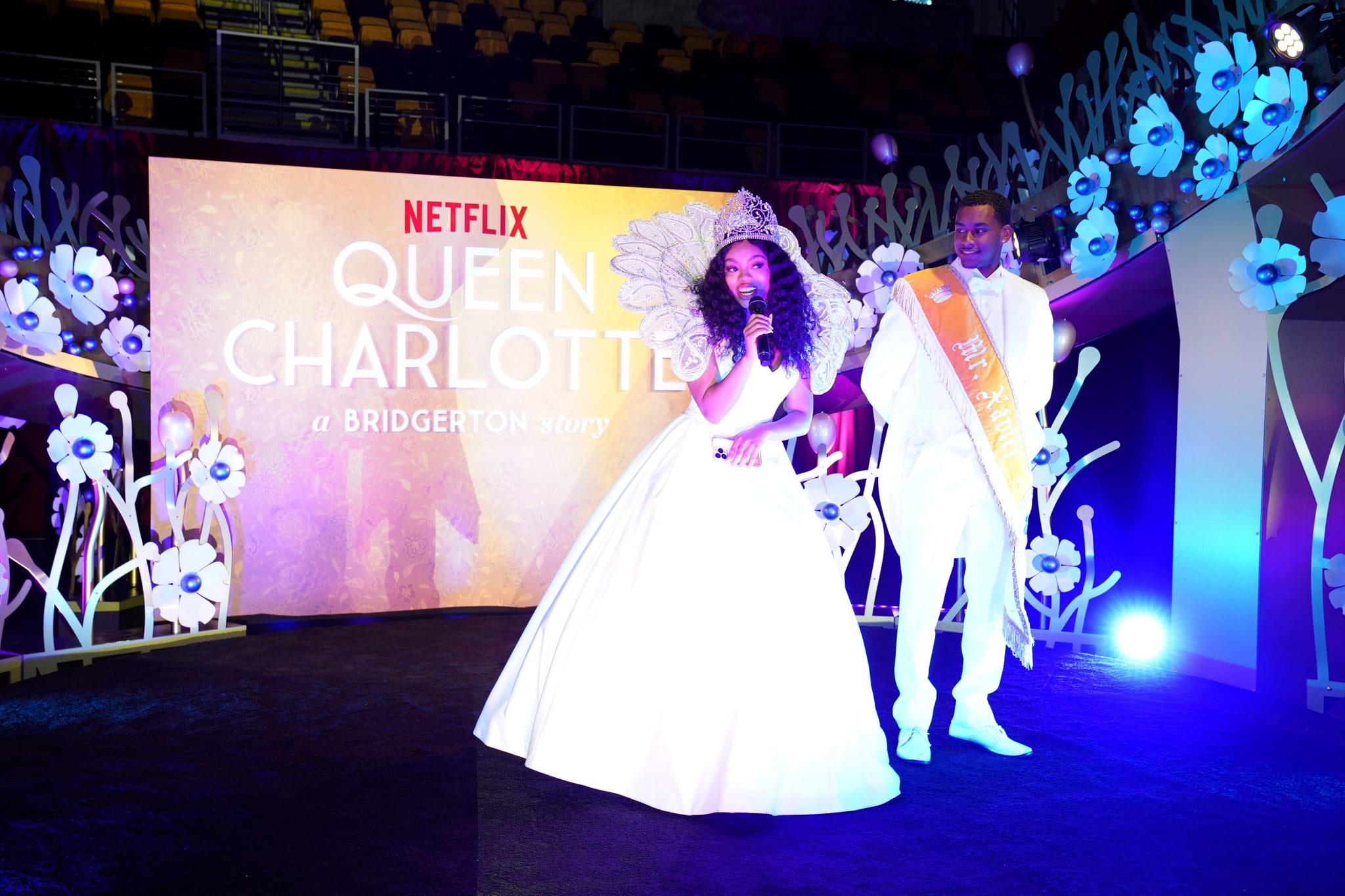 "In New Orleans, we take Black royalty very, very seriously. And we take the royal experience up a notch," Giddens said. She explained that her getup for the event — which included a scepter and full mantle adorning her shoulders — was actually not as grand as it gets. She wears a 40-foot cape and has honour guards that hold swords for her to walk under as she enters more formal ceremonies like coronation, she said.
"And then the brass band really grounds our celebration, because it goes back to our ancestors," Giddens explained. "While we're celebrating Black royalty and the regalness and pageantry of it all, we're still paying homage to our heritage and having a good time while doing so."
While the connection between "Queen Charlotte" and HBCU campus royalty is pretty clear, I was curious to see where Big Freedia fit into the mix. When I asked Freedia what she finds regal about bounce — famously known for making people twerk so hard that their hands are on the floor and feet are in the air — she exclaimed with a laugh, "Me! It's Queen Freedia. I'm that girl." (Period! No further questions.)
"I just do what I do. I have to be comfortable in my own skin."
Freedia's response was perfect; after all, she's a queen who's secure in knowing the value she brings to culture, no matter who she's in a room with. Throughout the night, different aspects of Black culture were patchworked together to show that all aspects of Black tradition can be regal: the event went from a traditional waltz performance by the school's royal court to a brass band performance, and then continued on with fraternities strolling, people swag-surfing, and eventually everyone twerking it out with Freedia. Even the queens of different universities were dancing on stage with Freedia by the end, underscoring that stigmatizing Black dances as "improper" is just thinly veiled anti-Blackness. The event, much like Freedia's career, was about owning all of who you are.
Learning how to stay true to one's culture in the face of more restrictive institutions can be a lifetime struggle for many Black people, including the character of Queen Charlotte in the "Bridgerton" prequel. But not for Freedia. She explained that despite how explicit or raunchy she can come off to some people, she doesn't worry about toning it down or code-switching. "For me, there's no other way to be. When I go into a room, I usually light the room up or excite the room, and it's always been that way since I was a kid," she said. "So I just do what I do. I have to be comfortable in my own skin, and if something feels uncomfortable or awkward, I'm gonna make the room feel awkward before I do."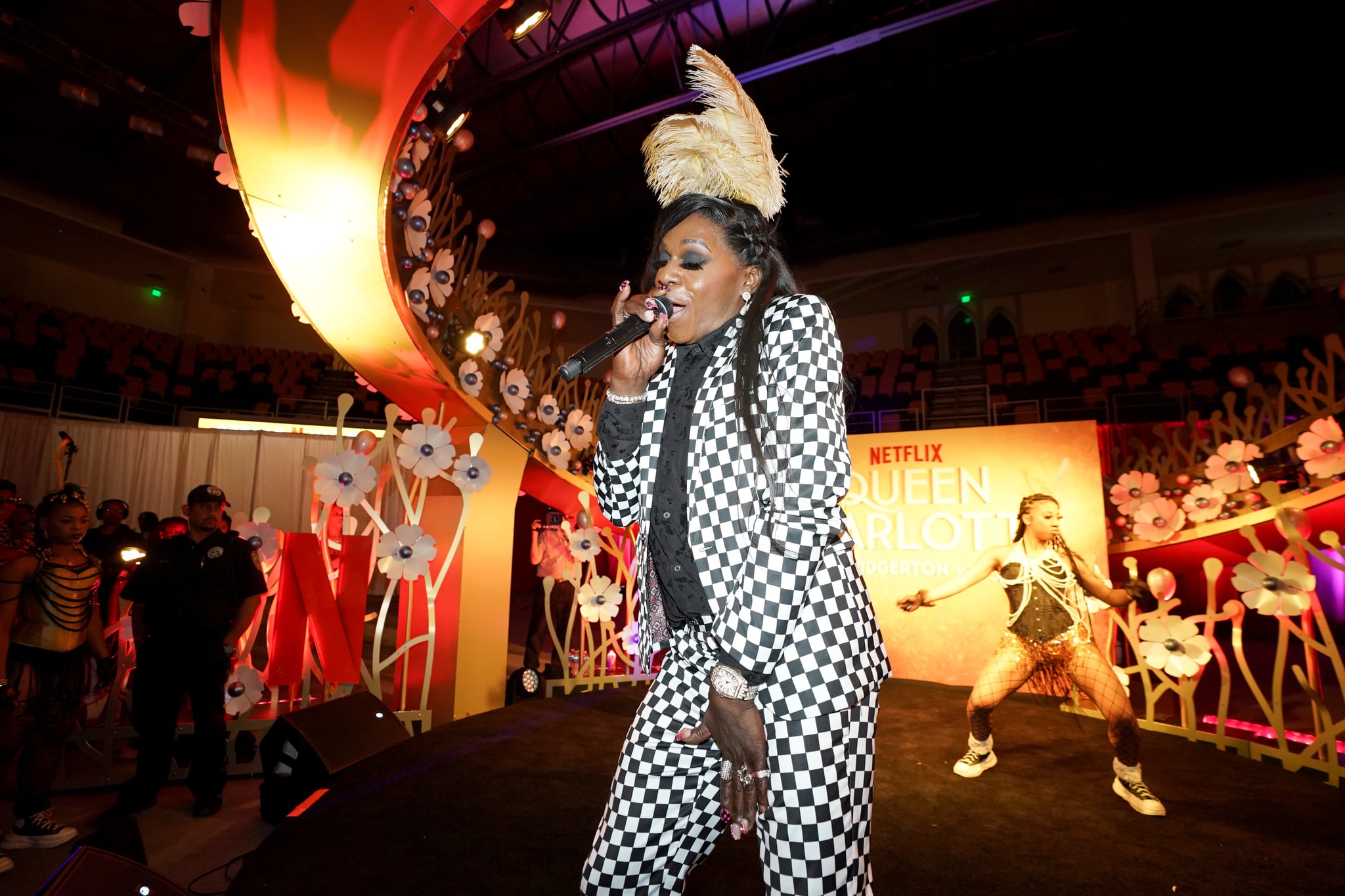 Freedia explained that when it comes to being herself in a notoriously homophobic genre like hip-hop, she has been able to look up to queens like trans woman media personality Ts Madison, trans bounce icon Katey Red, and Black gay Southern music legend Little Richard, whose open queerness surprisingly became an asset for his stardom in the 1950s as a founder of rock 'n' roll. (Interestingly, Little Richard's upbeat, bouncy piano playing and signature shouts also position him as a musical forefather for Freedia.) "I look up to all of the girls out there doing something positive for our community and I hope the same for me," Freedia said of her queer elders.
"I have definitely solidified us in the legacy of hip-hop."
Freedia's unique position as a mega star who still stays close to her community makes sense, given the way she earned her title as Queen of Bounce. As she explained it, legendary New Orleans female emcee Mia X from Master P's No Limit label gave her the title at a show back in 2005, right after Hurricane Katrina. "The show was crazy, phenomenal. [Mia] just kind of crowned me and passed the torch," she recounted. Poetically, Freedia became the leader of a new wave of bounce right as the genre was playing a key role in lifting people's spirits and reviving the upbeat culture of New Orleans post-Katrina.
Big Freedia's knack for uplifting her people in difficult circumstances has given real meaning to her title. In her music, she doesn't do that just with party anthems that get crowds dancing, but also with touching songs in solidarity with marginalized folks, like her smooth R&B song "Be Thankful For What You've Got," which is a collab with NOLA darling Lucky Daye.
And at the event, students were excited to meet her and pose with her on the red carpet, but they also seemed to be pretty comfortable around her. That could be because she still regularly performs at New Orleans music and culture festivals, and uplifts the city's LGBTQ+ community in doing so. This year's Xavier campus queen Giddens, who identifies as a Black queer woman and advocates for queer students, explained that she first met Freedia when she came to host the Catholic university's first annual Pride "Gayla" in 2021.
"It was a bit surprising, because I consider her a huge mega star. But to me that just reconfirmed that passion and love she has for the city, the fact that she wanted to be part of the event," Giddens said. "The event marked a turning point for the school's trajectory."
Despite the Louisiana legislature advancing so-called "Don't Say Gay" bills that would prevent public schools from discussing gender and sexuality or affirming self-selected pronouns, Big Freedia is still one of the state's biggest stars, representing New Orleans on a global scale.
That she's been chosen to represent the entire city's culture makes her queerness a bigger symbol of New Orleans' identity. That means anyone, regardless of their identity, can feel welcome to queer it up for the culture when she's around.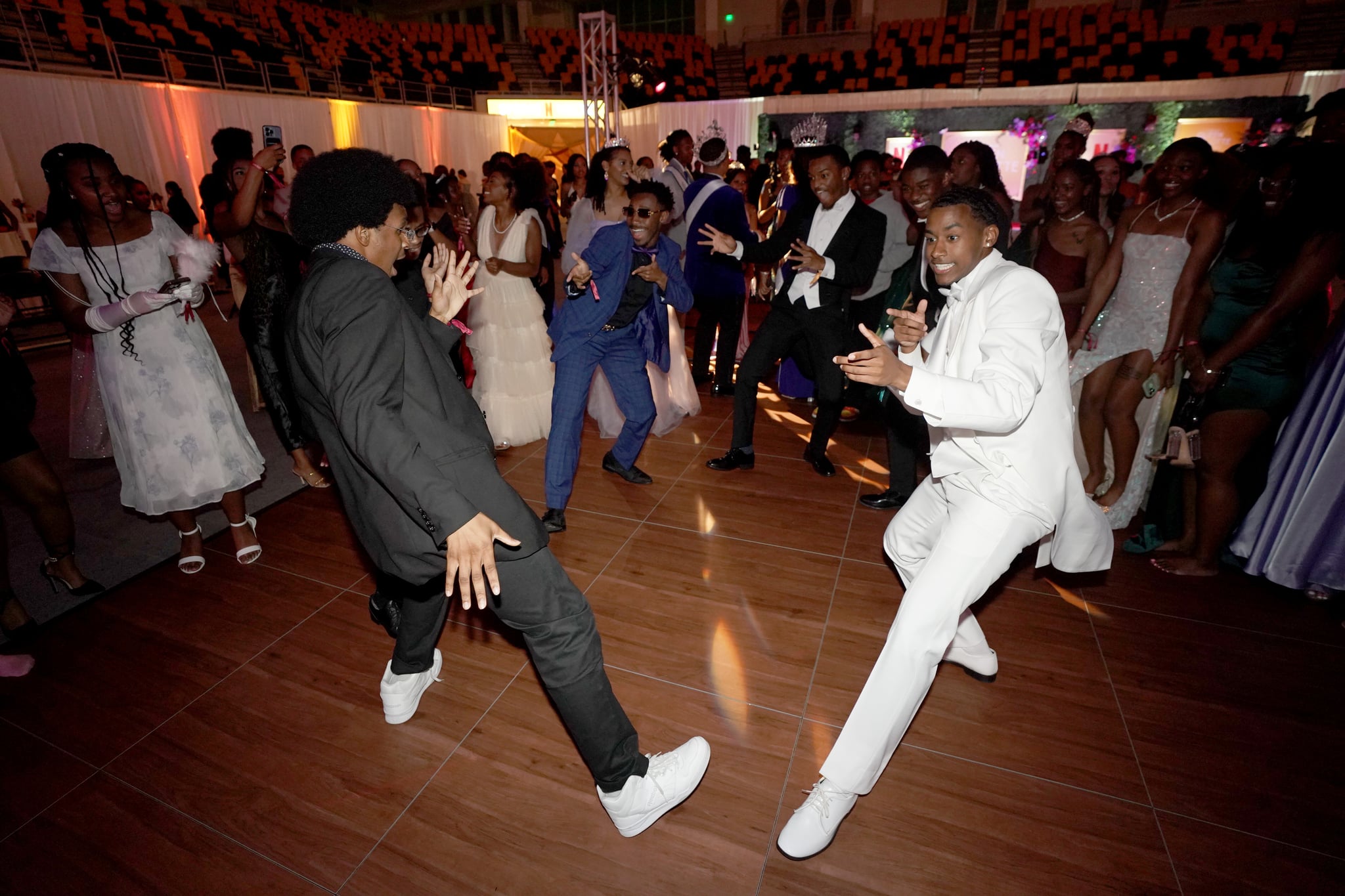 When Freedia was performing for students at the "Queen Charlotte" event, she interrupted her usual routine of letting women in the audience join her on stage to twerk it out, and singled out two men. She pointed at the surprised young men, saying, "Yes, you," demanding that they come up and dance battle each other — and that they "better serve!" The two adorable young men tried their best to gyrate for the queen like good sports. Throughout the event, there were moments of casual gender-bending in the room, with tiaras worn atop traditional suits and sheer lace tops glimmering in the light. The Freedia effect was in full swing.
Indeed, Big Freedia leads by example, proving that bringing your full grandeur, campiness, and flair to any situation is a regal way to live. And as far as the ever-evolving hip-hop landscape goes — where appropriation is rampant — she's stayed on the forefront because her stamp is a real and unique currency. "I have definitely solidified us in the legacy of hip-hop, even us just being recognised as a subgenre of hip-hop. You see everybody wanting to do [bounce], all the big artists, every different type of artist out there wants to put a little bounce in it," Freedia said. "So we're happy that bounce has stamped itself in the game, and I hope it continues to go further."
But in true Big Freedia style — amid the glimmering royalty at Xavier — she brought the conversation back to the deeper meaning of her work. "It makes me proud and happy to know that I'm one of the chosen ones to represent for my people, the city of New Orleans, for my people in the LGBTQ community, and for being hood and where I come from," she said. "I'm really grateful to be able to represent."