Pink Supports Britney Spears Amid Sam Asghari Divorce
Pink Swaps Concert Song Lyrics to Support Britney Spears Amid Her Divorce From Sam Asghari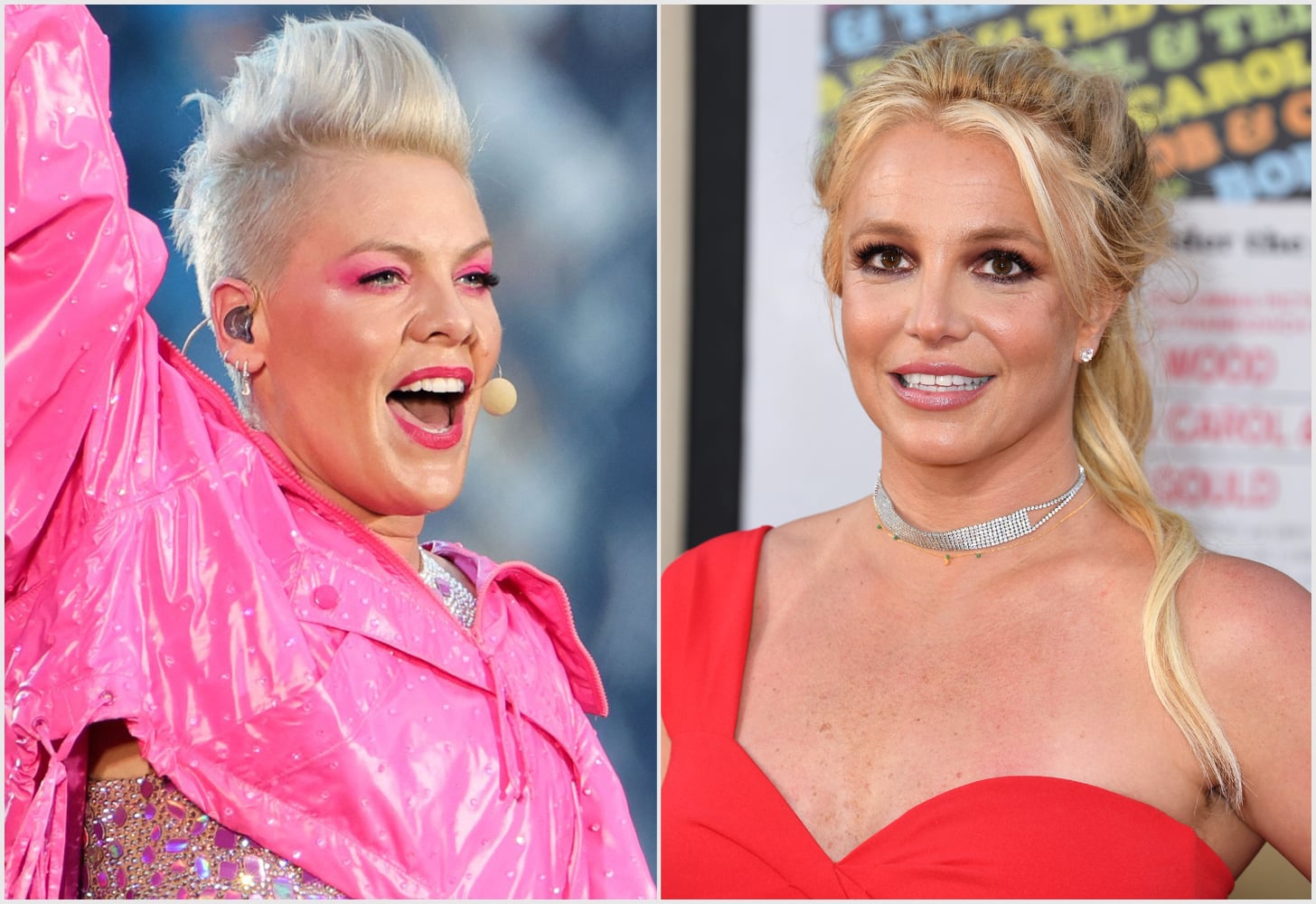 Fellow stars are supporting Britney Spears amid the singer's divorce from husband Sam Asghari. On Wednesday, during her Detroit Summer Carnival tour stop, singer Pink changed the lyrics to her hit song "Don't Let Me Get Me" to show Spears some love. Via a fan video, instead of singing the original line, "Tired of being compared to damn Britney Spears," Pink swapped the last three words for "sweet Britney Spears." She continued, "She's so pretty. That just ain't me."
Back in February, Pink reflected on the song and her early friendship with Spears, telling People, "People think I was picking on Britney on 'Don't Let Me Get Me,' but I've always felt like a big sister to her." She added, "I'm very protective of her, and she's the sweetest person in the world." The outlet noted that the two were not in contact at that time, but Pink said, "I wish her well. I cover her in light all day long."
"I wish her well. I cover her in light all day long."
Pink isn't the only celebrity who's voiced support for Spears following news of her split from Asghari. On 16 Aug., comedian Loni Love posted a screenshot of a Page Six article on Instagram that alleged Asghari is threatening to release "extraordinarily embarrassing" information about Spears if their prenup isn't negotiated. Love captioned it, "And it begins… #freebritney." Octavia Spencer came to Spears's defence in the comments too, writing, "Extortion is illegal."
News of Spears and Asghari's breakup arrived that same day, in which reports initially stated that the two were separating after 14 months of marriage. Just a few hours later, Asghari filed for divorce. According to court documents obtained by POPSUGAR, he listed the pair's date of separation as 28 July, 2023, and noted "irreconcilable differences" as the cause of the split. He's also seeking spousal support.
Though Spears, 41, has yet to publicly address their divorce news, Asghari, 29, issued a statement on his Instagram Story on 17 Aug., writing, "After 6 years of love and commitment to each other my wife and I have decided to end our journey together." He continued, "We will hold onto the love and respect we have for each other and I wish her the best always. Sh*t happens. Asking for privacy seems rediculous [sic] so I will just ask for everyone including media to be kind and thoughtful."
According to People, a source said that things between Spears and Asghari, who met back in 2016 and tied the knot in June 2022, had reportedly been "very toxic" for some time. "Their marriage has been on the rocks for months," the insider said. "There has been constant drama. It's sad. A divorce would be devastating for Britney."
Image Source: Getty / Andreas Rentz / Steve Granitz