J Balvin Has Taken Time to Drop New Music, and It's Coming
After Taking a Year to Focus on Family, J Balvin Says He's a "New Artist"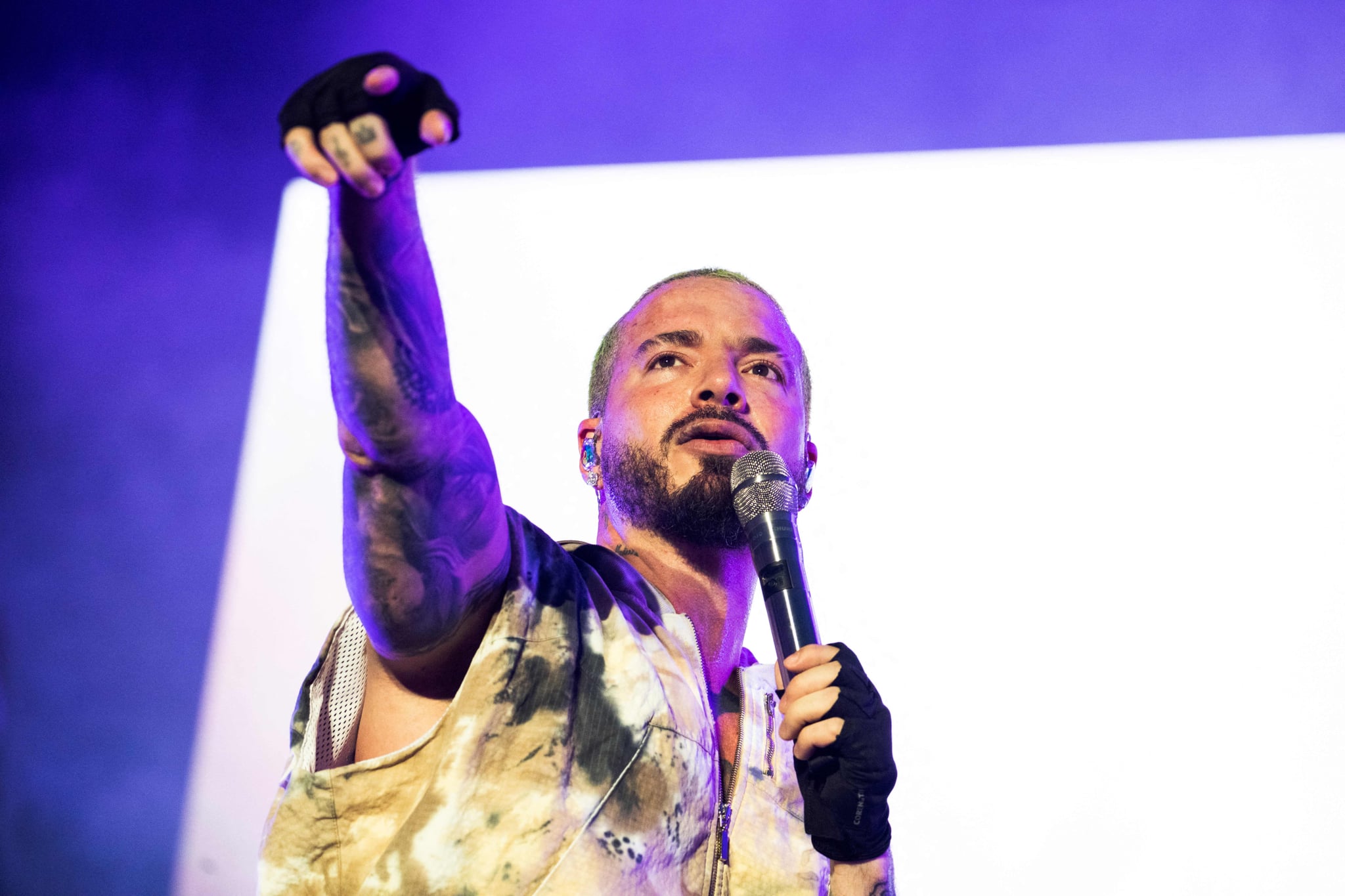 It's been two years since J Balvin dropped "Jose," his fifth studio album. And while the Colombian artist has been mostly lying low, by no means did he go dark.
Balvin had other priorities last year. Aside from spending more quality time with his partner, Valentina Ferrer, and their son, Rio, Balvin was very much focussed on launching Oye. It's the first bilingual mental health app for Latine communities, and it was inspired by his own battles with anxiety and depression — and led to Balvin being honoured last fall at the United Nations' Latino Impact Summit for his commitment to breaking the stigma around mental health issues for Latine communities. This year, he officially joined Roc Nation as a management client, and he's been busy in the studio making new music; he dropped his latest Air Jordan 3 sneakers; and he recently collaborated with Verizon on its newest "Catch My iPhone" campaign, which features Balvin's latest single, "Dientes."
Balvin's campaign with Verizon launched as an AR activation on Friday, Sept. 15. It features a 300-foot-tall version of him walking across the country to fans' homes, giving them a chance to win the new iPhone 15. The fun collaboration really speaks to the impact Balvin has had globally as a Latin music artist. Years ago, when he was told he had to sing songs in English to cross over as a global artist, he insisted he could get there by sticking to his native Spanish. He's not only since achieved that, but he's also managed to remain close to his community and his fan base, even while taking a year to really look within and focus on himself.
His latest single, "Dientes," featuring Usher and DJ Khaled, speaks to the global reach and popularity Latin music has garnered over the years. While "Dientes" translates to teeth in Spanish and Balvin's bars are all in Spanish, the track isn't a solely reggaetón track. Usher and DJ Khaled's lyrics are in English, and the song feels more like a reggaetón-meets-EDM single inspired by Usher's 2004 hit "Yeah!"
Even the way the collaboration came about would give anyone chills. Balvin shares that he was in a nightclub in Paris the evening before hitting up a Paris Fashion Week show and remembers the nostalgia that took over him when "Yeah!" came on. That same week, he ran into Usher at one of the Paris Fashion Week shows. The two sat next to each other, and Balvin shared with him how much of an inspiration "Yeah!" had on his musical career. He asked him if he could sample the track, and fittingly enough, Usher laughed and said, "Yeah!" Next thing they knew, Usher was also on board for being featured on the single.
"I felt so blessed that he said yes. I was like, I want to make this song even more legit and actually have the real legend on it — Usher. So it's really cool that we had this opportunity," Balvin tells POPSUGAR. "It's not 'Yeah!' part two. We're showing to a new kid that type of sound . . . but it definitely has that DNA. It makes my inner kid happy that I got to work with one of my favourite artists since I was a kid, doing a song that I love while feeling nostalgic at the same time."
Balvin's goal with the song was to make people feel happy regardless of where in the world they're from or what language they speak.
"What I wanted was to spread our sound around the world and then give my Latin fans what they really want, so it's finding a balance, but I'm always going to be — and I feel that I already am — a global artist," he says. "It's cool that I'm Latino, and I think about Latinos, but the world is big. What I wanted was a song that had a higher vibe. Forget what it's saying, and just enjoy the feel of when the song hits you. That's what I wanted to spread. Connect with the beats and have fun with it even if you don't understand Spanish."
Still, a big part of what sets apart Balvin and a lot of today's reggaetón and Latin trap artists, like Bad Bunny, is how they have chosen to do things on their own terms. Balvin doesn't follow any rules — he makes his own.
"You know, I took a year to focus on me and my family, but I'm definitely ready to make different moves."
"You know, I always like going to the left when people are going to the right. I'm not a follower," he explains. "I know where I come from. Coming from Colombia and shaking a lot of the rules that used to be in reggaetón, I know I can do it. You know, I took a year to focus on me and my family, but I'm definitely ready to make different moves."
In September, he shared the stage with another Colombian artist who's breaking records right now: Karol G. He appeared as a guest during her sold-out concert at MetLife Stadium and was met by an excited and roaring audience. The two performed some of his biggest singles, including "Mi Gente," "Ginza," and "X."
"You are the queen," Balvin told her on stage. "You think I inspired you . . . You are my inspiration! I am at your feet."
Balvin shares that he was home with his son watching a movie when Karol G called and asked him if he could be a guest performer at her show. His answer was, "Of course."
"Not everybody can stay quiet for like a year and then get on stage and have people be like, 'That's my man.'"
"I'm so happy for her, because she deserves it. She's such a hard worker. It was so beautiful when I received the call when she was like, 'I want you here because you inspire me, and you made me believe everything is possible,'" he says. "It was beautiful because the crowd went crazy. I couldn't even hear because the crowd was too loud . . . I was like, people loves us, man. I'm grateful. Not everybody can stay quiet for like a year and then get on stage and have people be like, 'That's my man.'"
In terms of an upcoming album, Balvin says he can't share much. While there's no release date yet, he did confirm that there is in fact an album in the works and that the time he's taken to reflect and reinvent himself has inspired him musically.
"I definitely needed it," Balvin says of the time off. "I've been in the game now 12 years, or a little bit more. But I feel like I needed to reset myself and get away from all the bullsh*t that was happening, so I was like, let me go back to what really makes me happy. And that's when a song was born and I was like, 'OK, now I know what I'm going to do,' and I started learning different things and focusing on different things."
Balvin adds that he hasn't been this excited to put out a new album in a while.
"As an artist, we put all our love and happiness in the music, and when it's not going well, then you're not as happy. That happens with everybody in the world," he says. "When something is going on with work, it starts to feel like our lives are just about work, and we stop being grateful for everything we have around us. I learned that . . . the time really helped me connect with myself, with my wife, and with my son. And [it gave me] time to go into the studio and be a new artist."