Jazlyn Martin Talks Bel-Air, Hopes of Meeting Tyra Banks
"Bel-Air"'s Jazlyn Martin Reveals What She'd Ask Tyra Banks About Their Character Jackie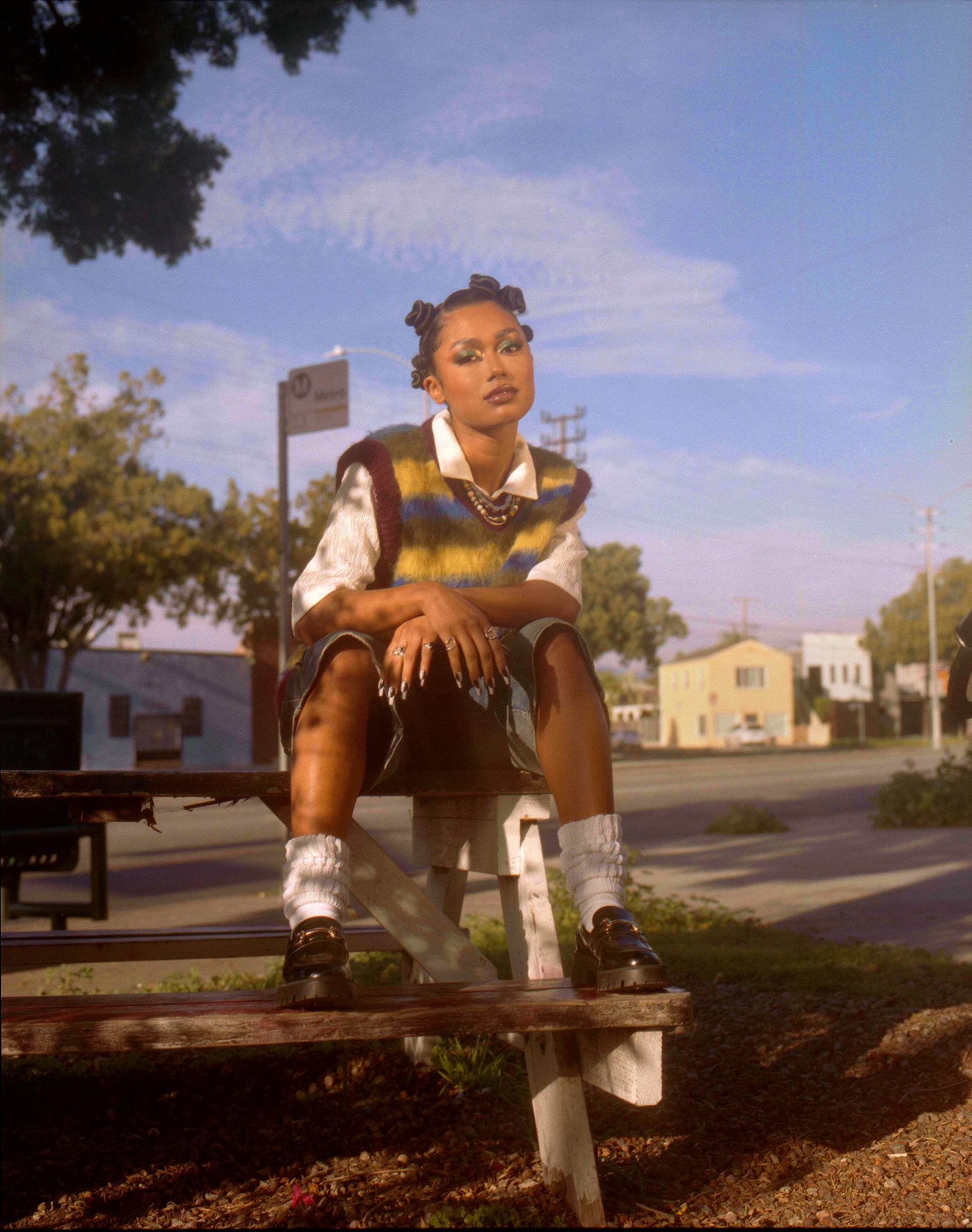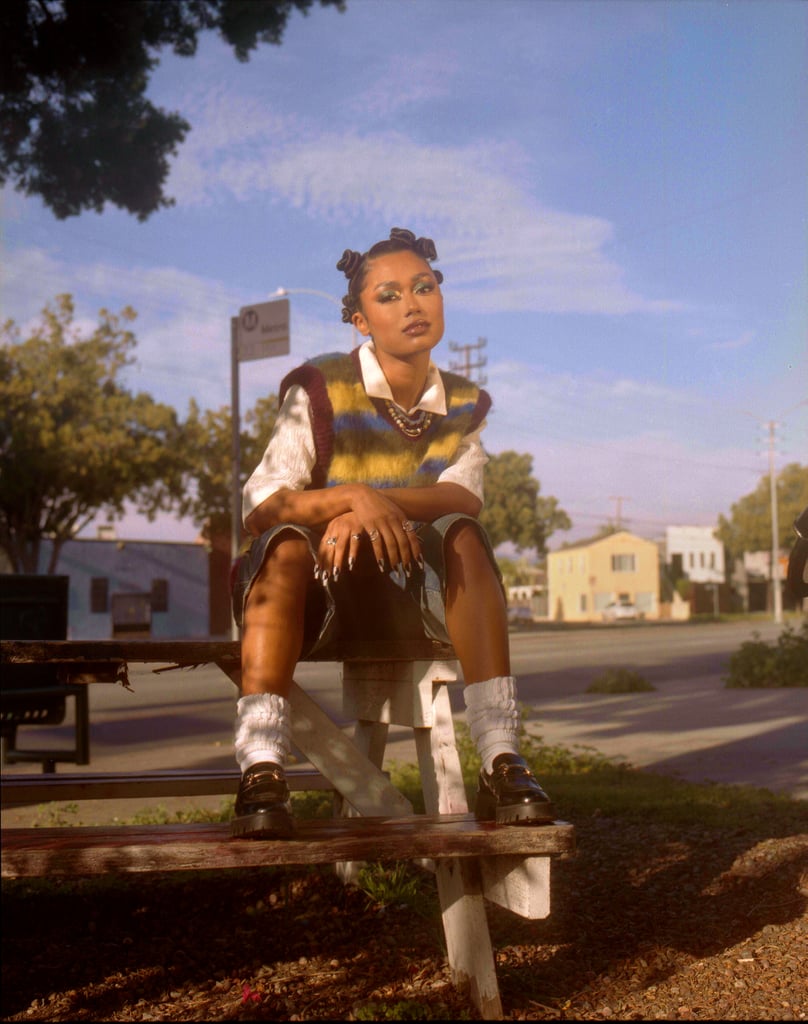 Image Source: Juliet Wolf
In our Q&A series POPSUGAR Crush, we get to know some of our favourite celebs' more intimate details — from their first celebrity crush to their best love advice. This month, we're crushing on "Bel-Air" actor Jazlyn Martin.
Jazlyn Martin knows she's the new kid on the block in "Bel-Air" season two. The 25-year-old Los Angeles native and junior UCLA student stars in the hit Peacock drama as Jackie, a new face with a familiar name for "The Fresh Prince of Bel-Air" fans who recognise Tyra Banks's character from the '90s sitcom.
In "Bel-Air," instead of portraying one of Will's (Jabari Banks) childhood friends from Philly as her older counterpart once did, Martin's version of Jackie acts as Will's new love interest. She's also the niece of his new basketball coach, Doc (Brooklyn McLinn).
Martin beams over her "Bel-Air" experience, though she admits to POPSUGAR that she was initially a little nervous to join the show's tight-knit cast in its second season. "At first it was a little intimidating because they're so close and I'm the new girl on the block, so I'm like, all right, I feel like I have to prove myself to be here a little bit," she shares. "But they were super welcoming. They were super warm. They're so funny. Being on set, it doesn't feel like we're at work. It just feels like we're on a playground and we're just goofing off. The entire cast is hilarious. Cassie [Cassandra Freeman], she's a comedian."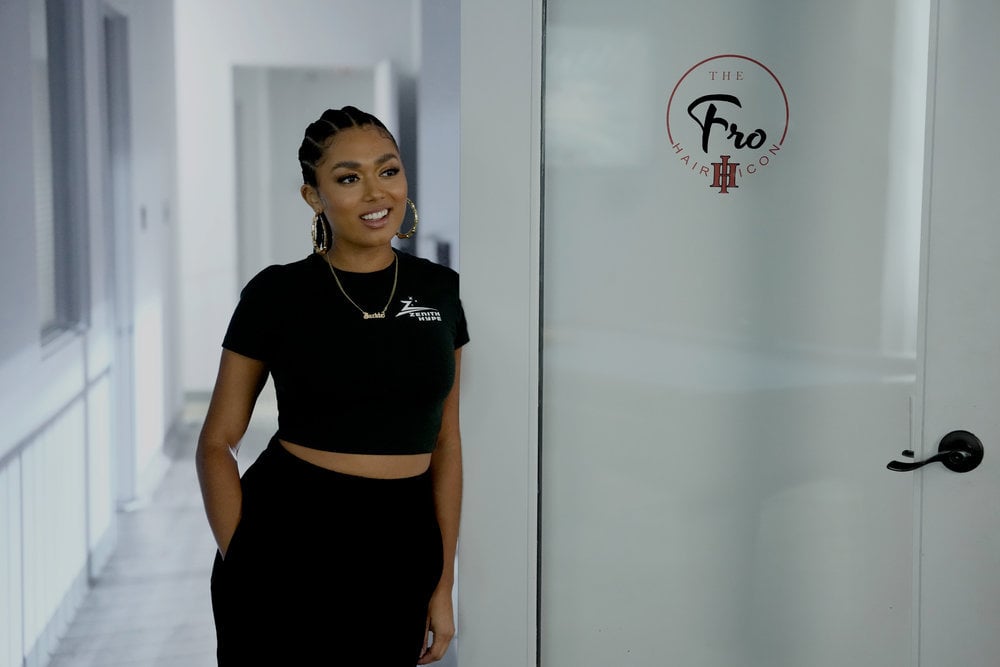 Image Source: Peacock
Coming into "Bel-Air," Martin says that her character's description "was really vague" — "17, Afro-Latina, street smart from South Central, and her uncle raised her" is what she recalls. But it gave the rising star the perfect opportunity to mold that vision into her own — much like "Bel-Air" has done so far with its dramatic reimagining.
"I was just really determined to bring authenticity. I knew it was going to be a different take from Tyra's and I think I lived in that, that it would be different," Martin says. "Bringing an Afro-Latina girl from South Central and not dumbing that down or giving what people think they want to see. I just wanted to be truthful to Jackie's perspective and her life and really showcase and represent that."
While some of Martin's costars have had the opportunity to get wise advice from their "Fresh Prince" equals, the actor says she's still manifesting a run-in with Banks. "I'm sure she's a real busy woman. Got a lot on her plate, so I haven't had the honour to connect with her, but I would absolutely love to," Martin shares, adding that she hopes the former supermodel "watches the show" and "likes it." If she ever had the chance to speak to Banks, Martin says, "I would ask her what her perspective of Jackie was. What she sat in as Jackie's truth and how did Jackie grow up on her side."
Martin has high hopes for her character's future in "Bel-Air." Though the series has officially been greenlit for a third season, the actor says she's still waiting to find out if she'll reprise her role in it. But in the meantime, she's hopeful that viewers will get to learn more about Jackie's backstory, especially after we got a vulnerable glimpse at it following her drunken mishap in season two's seventh episode.
"I would love to explore her background more, where she grew up, how she grew up, what her dynamic is with Doc," Martin shares. "Because you don't really get to see it that much. It's kind of distant but I think it's for a reason. She's independent, she's an achiever, she dances, she's good in school, but I would like to explore her history."
Keep reading ahead to learn more about Martin and stay tuned for the rest of "Bel-Air" season two, which concludes on April 27.
Who was your first celebrity crush?
Ginuwine. Early "Differences" Ginuwine.
What's your go-to drink order?
Either a chai tea latte or a matcha latte. I'm just a tea girl. I hate coffee.
What are your dating red flags and green flags?
A green flag would be [someone who] knows how to respect my boundaries. And not just respect but honour [them], too. Also, [someone who's] able to empathize. That's so important to see where I'm coming from, to see the world beyond their own lenses. A red flag, I would say, is a lack of accountability and not [being] able to self-reflect. Mhmm, you got to go.
What's your ideal first date?
It'd be an all-day thing. It'd be cute if we went to the beach, rode some bikes, went to go get some vegan food. I love to go to movie theatres. I just love it, I think it's a magical place. So the movies and then go see live music somewhere, like live jazz or something.
What's your favourite form of self-care?
I'd probably say reading. I love, love reading. I love also being outside. Maybe a hike or a picnic with myself and read and just be outside. That's always simple but it goes the distance.
Favourite gift you've ever received?
My dad got me a little guitar when I was maybe 10. It was a pink sparkly guitar and it kind of started my journey in guitar playing, so that was really sweet. It was during Christmas.
If you could travel anywhere in the world, where would you go?
Either Rio or I would go to Thailand. [But] my number one is Switzerland — their landscape is crazy.
Three things you can't live without?
Oxygen, water, God.
What's the most romantic thing you've ever done for someone?
It was Valentine's Day and we did a surprise trip to San Diego. I got roses delivered to the room and then I scattered them all on the floor, on the bed, and got a little champagne. So then when we walked in, he was like, "Oh my God, what?" It was cute, and the little view, the bay, and we were drinking our little champagne.
What's the best love advice you've ever received?
"How you love is just as important as who you love."