Lance Bass on Being a Dad, Pride Month With His Kids
Lance Bass Admits His 19-Month-Old Twins Have Never Listened to *NSYNC
As POPSUGAR editors, we independently select and write about stuff we love and think you'll like too. If you buy a product we have recommended, we may receive affiliate commission, which in turn supports our work.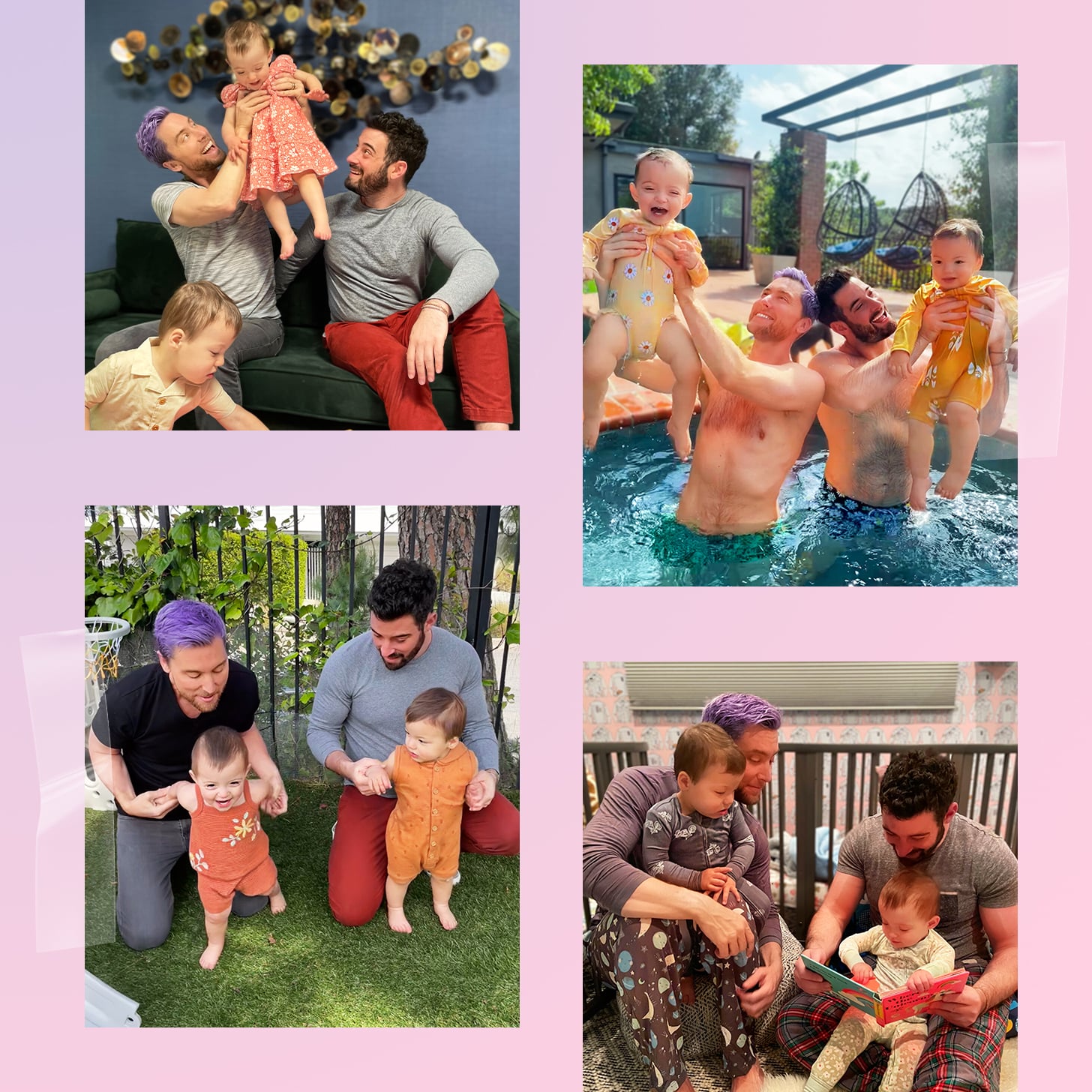 Lance Bass is a proud dad to 19-month-old twins Alexander and Violet, but he tells POPSUGAR something that might shock his fans from his boy band days: they've never listened to an *NSYNC song. "It's so weird that I have not played them any *NSYNC songs because we play music all the time," he says. He and husband Michael Turchin pick a lot of different music for them, including ones in different languages because it helps babies' brain function. "They go to sleep to French lullabies. They watch Spanish 'Sesame Street' during the day," he says. The kids are also huge fans of Selena's "Bidi Bidi Bom Bom."
"But I have not played them any *NSYNC thing stuff yet, which is very odd," Bass admits. "They not knowingly say 'bye, bye, bye,' a lot when I'm leaving, but they have no idea that they're saying one of my songs."
"It's weird that they're even the age to enjoy it," but it's probably "time" for him to take the plunge with them, and their first song probably will be "Bye, Bye, Bye." "I think every kid loves that, loves the dance to it," he says. "I'll play them up-tempo stuff first and then we can rock them to sleep with 'God Must Have Spent a Little More Time on You.'"
Bass is partnering with Gerber Childrenswear for their "Big Little Moments" campaign to celebrate the expansion of their modern moments collection, exclusively at Walmart. The collection now includes swimwear, travel accessories, and nursery décor in addition to clothing and nursery bedding. Big Little Moments are the small moments with their kids that parents can look back on and realise were the big moments that mattered all along, and for Bass, one of those Big Little Moments is spending time reading with his kids, who've already gone through "hundreds and hundreds of books." "They really enjoy pop-up and peekaboo books, but you can't leave them alone with them because they just rip them out," he jokes. "I learned that the hard way."
"My favourite thing to do at night is we take a bath, read them a book, and then they start repeating after you," he says. "You say a word and they're trying to repeat it. It's so great to see them trying so hard." They're "at the stage where they've picking up everything," he adds.
Bass is especially excited for his kids to celebrate Pride month in person this year. "This will be the first time they'll actually go down to the boulevard and dress in fun clothes and see the parade," he says, referencing celebrations in Los Angeles. "The good thing about them is they just love people."
Bass is aware of the challenges his kids will face as part of a queer family in a world where many are still hostile toward LGBTQ+ people, but he plans to be "very open and honest" with his kids from as early of an age as possible. "I want to have those conversations with them," he explains. "They need to realise that everyone has a different upbringing, and everyone has so many differences, and some people don't agree with that. But [we'll] teach them respect, but also how to be safe." He notes that he's always gotten public attention, not just for being gay but also for being part of *NSYNC and that he wants his kids to be prepared for the good and bad that attention can bring.
As for now, Bass is focussed on cherishing every Big Little Moment his twins bring. "Our kids are obsessed with swimming. They're constantly in the pool," he says, and Bass is always reaching for their Gerber swimsuits. "I'm pretty fashionable, and we have to make sure our kids are fashionable, too."
Image Source: Gerber Childrenswear