Madonna Talks Britney Spears, Marriage, and Sex
Madonna Reveals She's "Gagging to Work With Britney Again"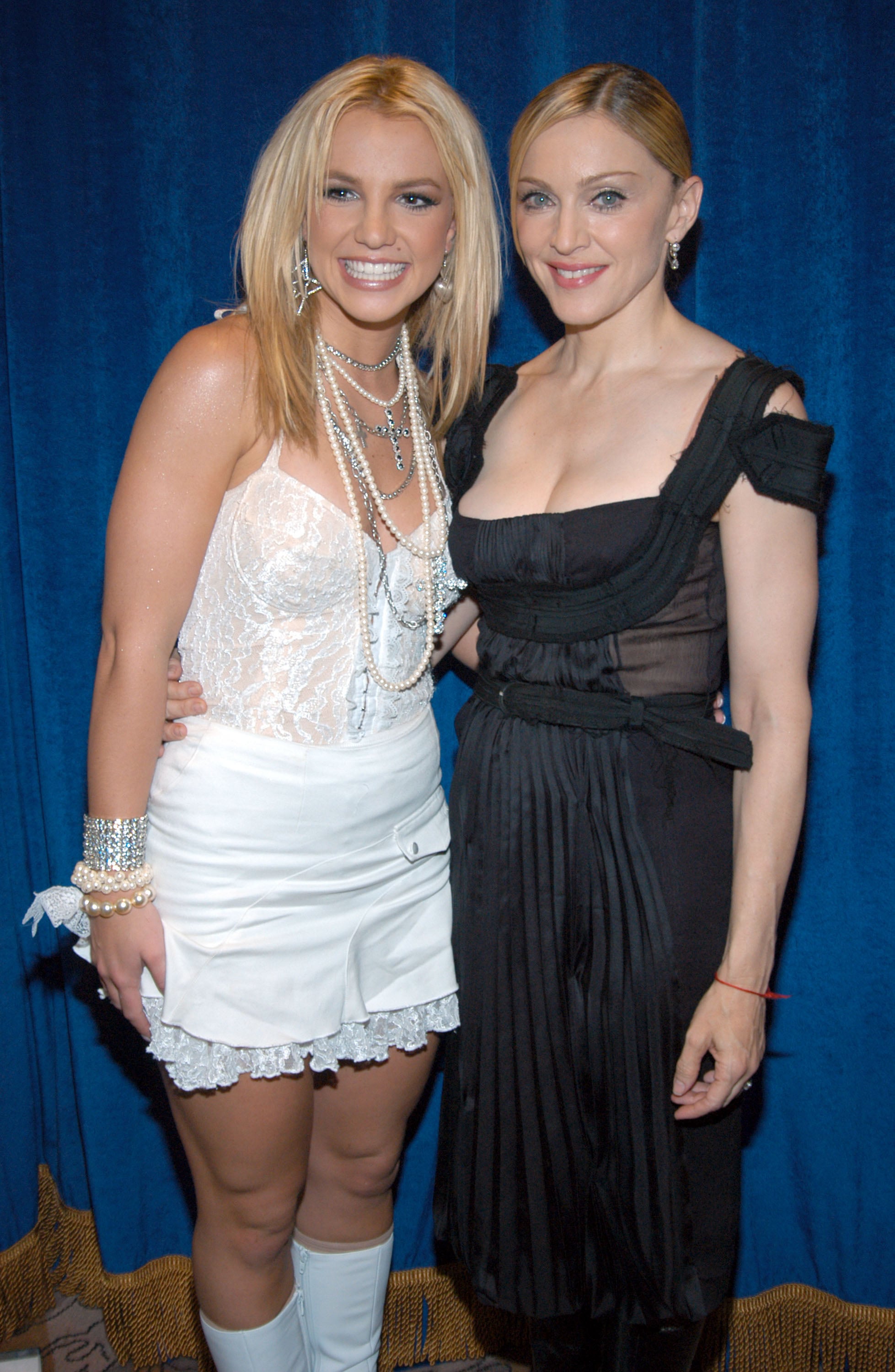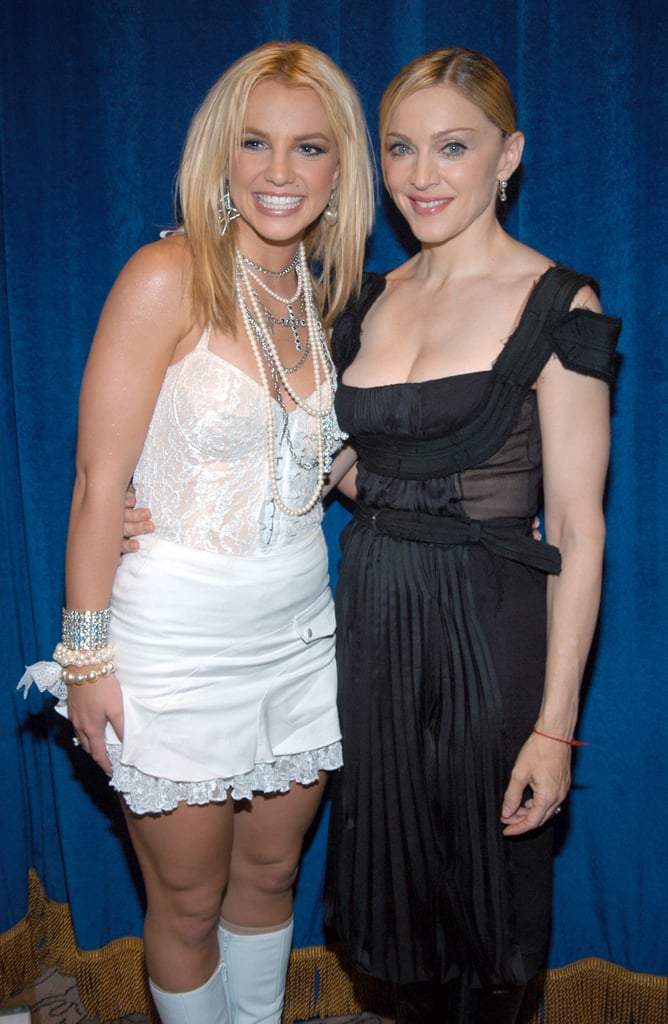 Britney Spears is officially making music again after a 13-year hiatus, and there is one superstar eager to collaborate with the "Toxic" singer. Yes, original "Material Girl" Madonna is the latest celebrity to hint that she'd like to work with Spears again. Celebrating the release of her "Finally Enough Love: 50 Number Ones" remix collection, the Queen of Pop shared a video on her YouTube channel on 30 Aug. answering 50 personal questions from fans . When asked, "Can we ever expect another collaboration with Britney?" Madonna replied, "I am gagging to work with Britney again!".
The pair famously worked together in 2003, with Madonna featuring on Spears's track "Me Against the Music". The song's iconic video saw the duo dancing fiercely in androgynous suits and engaging in a cat-and-mouse chase before almost kissing in the final frame. The duo reenacted this passionate stance when Madonna kissed Britney and Christina Aguilera on stage at the MTV VMAs in 2003 — a moment that is still one of the most talked about in pop culture history.
Madonna and Spears have been friends for decades, all starting with Madonna being photographed sporting a "Britney Spears" T-Shirt back in 2000 to show her support for the newcomer. In more recent years, the 64-year-old was one of the first celebrities to raise awareness about the "Toxic" singer's problematic legal situation and revealed that she had been "checking in" on Britney throughout the ongoing battle. Madonna was also present at Spears's wedding to Sam Asghari in June of this year, and the long-term friends even re-created their VMAs kiss on the big day.
After being released from her infamous conservatorship, which saw her finances, business decisions, and personal life being controlled by her family and others for more than a decade, Spears is finally able to take back creative control over her music. She marked her return to the industry with an Elton John duet, released on 26 Aug. called "Hold Me Closer", a remix of his famous song "Tiny Dancer". So this latest Madonna revelation has got tongues wagging. Will a Madonna-Spears collab be next? We can't say for sure, but at least it hasn't been ruled out by either of the artists.
The rest of Madonna's interview was as scandalous as you'd expect from the rule-breaking celeb. Hilariously, she spoke a lot about sex. What keeps her going? Sex. What's her life mantra? Sex. What's her star sign? You guessed it, sex. What's her secret to success? Sex, of course. The American singer-songwriter and actress also took the opportunity to throw shade at ex-husbands Guy Richie and Sean Penn, saying that "getting married, both times" was a decision that "looking back, maybe wasn't the best idea".
A potential duet with Britney isn't the only hope fans have to hear more Madonna music. Alongside her upcoming biopic (which is due to be released sometime in 2023),a Madonna tour may be in our future. After releasing her Greatest Hits album on 19 Aug., the interviewer asked Madonna if fans can expect a tour next year. Not giving anything away, Madonna cheekily responded, "Do you want me to go on tour?" Yes please — and bring Spears along, too!