Miley Cyrus Cries Discussing Her Father, Billy Ray Cyrus
Miley Cyrus Tears Up Discussing Childhood With Billy Ray Cyrus: "It Makes Me Emotional"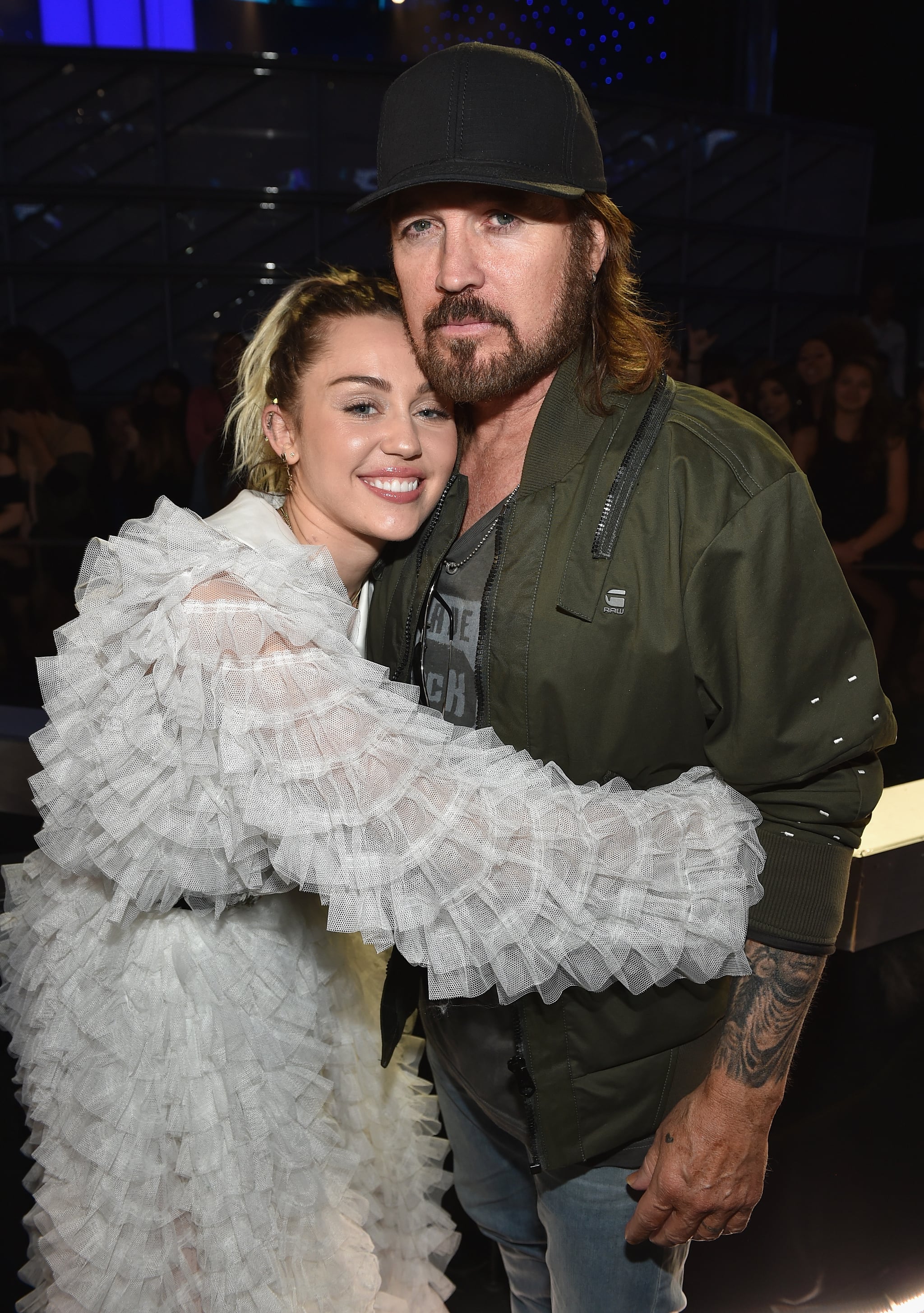 Image Source: Getty / John Shearer / BBMA2017
Hearing the title of Miley Cyrus's new single, "Used to Be Young," brings on all the nostalgic feels, so it makes sense the former Disney Channel star is looking back on her early years in honour of the song's 25 Aug. release. In a new clip from her "Used to Be Young" interview series, shared on TikTok on 27 Aug., the singer opens up about how her father, country singer and "Hannah Montana" costar Billy Ray Cyrus, influenced her.
The video starts off with Miley reviewing the top 100 country songs of 1992, the year she was born. "When I was born, my dad had the No. 1 country song," she says, referencing Billy's hit "Achy Breaky Heart." "When I see the numbers, I just see the humans behind it enjoying the music. And I just see people in numbers."
She goes on to explain why she thinks her outlook on fame is so different from Billy's, considering how he and her mother, Tish Cyrus, raised her. "My dad grew up the opposite of me," Miley says. "So I think that's where me and my dad's relationship to fame and success is wildly different. Him feeling loved by a big audience impacted him emotionally more than it ever could me. When he feels special or important, it's like healing a childhood wound, and I've always been made to feel like a star," she adds, beginning to tear up.
"It makes me emotional," Miley admits. "So I think that's the difference."
In another snippet, Miley watches a clip of herself as a child (she looks to be no older than 5 or 6), watching her dad in awe as he sings a song. "I do have a lot of great memories singing music with my dad, and learning and absorbing," she shares. "And I can see my wheels turning and watching his voice and the way that he's using the instrument. I will say that I feel, vocally, my dad was underappreciated."
In another TikTok posted the same day, Miley watches a news segment where a TV announcer talks about Billy's then-new marriage to Tish (which means the clip has to be from around 1993). "Miley is actually Destiny Hope," Billy says in the segment. "When I found out I was going to have a little girl, I just felt there in my intuition that it was going to be this little girl's destiny to bring a lot of hope to the world . . . I think she's got the Cyrus virus."
"I'm just grateful that that was projected into the universe before I even could fathom what that meant," Miley says about Billy's sentiments in the interview. "There's gratitude for that being the energy that was attached to my vessel, because it became a reality."
Miley's interview clips come just a week after Tish's wedding to Dominic Purcell on 19 Aug. — at which she and Billy's oldest children (Miley, Brandi, and Trace Cyrus) were all part of the wedding party. Their two youngest, Noah and Braison Cyrus, skipped the ceremony, sparking rumblings on social media that the kids may have chosen sides in Billy Ray and Tish's 2022 divorce after 28 years of marriage. Whether there's unrest in the Cyrus family or not (Miley no longer follows Billy Ray on social media and vice versa), it's clear Miley still holds her father in high regard.