Taylor and Taylor Lautner Talk Podcast The Squeeze
Taylor Lautner on Taking a "Step Back" From Hollywood and Embracing Therapy With His Wife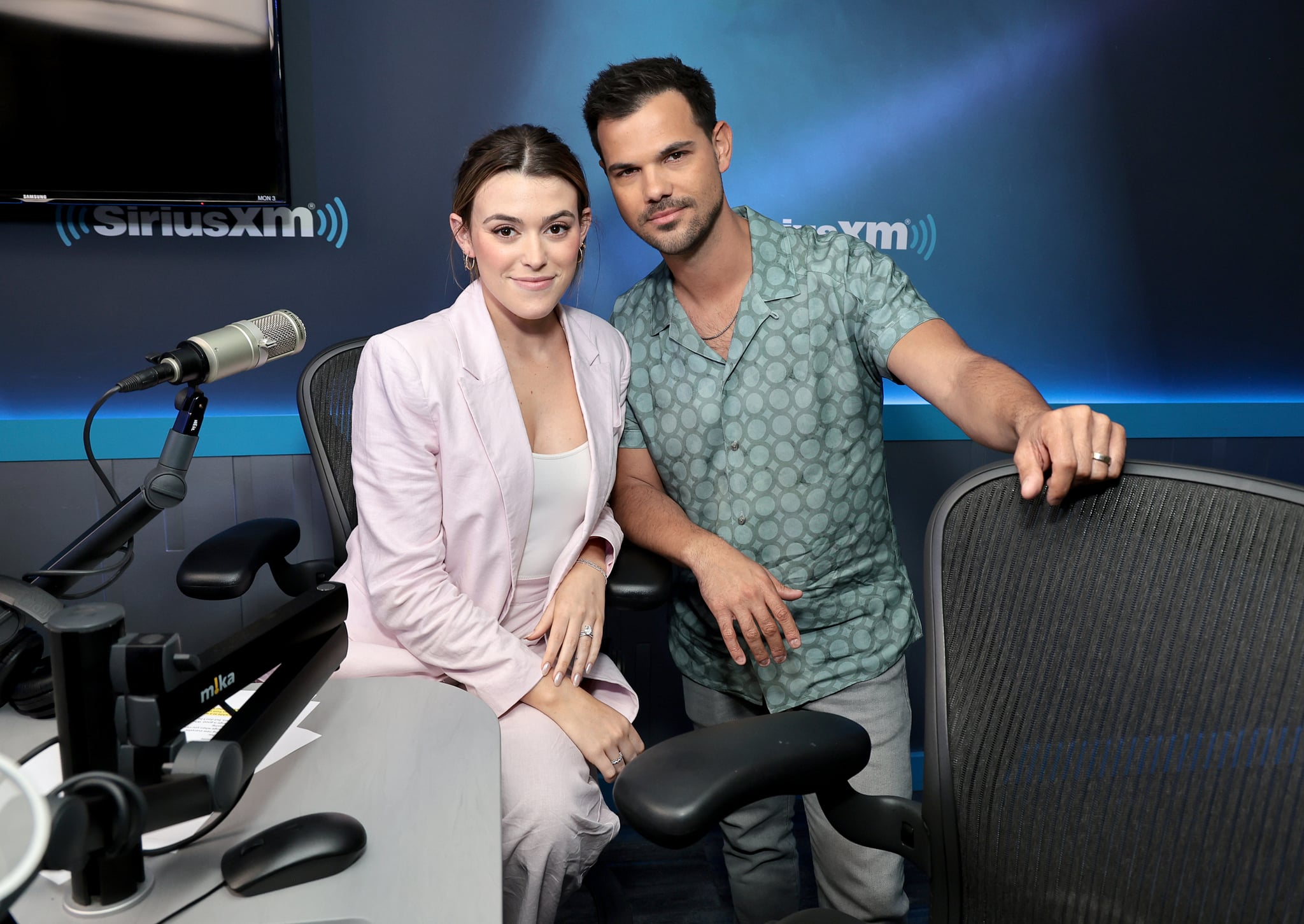 Image Source: Getty / Jamie McCarthy
Taylor Lautner seems pretty unbothered at the moment. The actor first rose to fame at the age of 13 with one of the titular roles in 2005's "The Adventures of Sharkboy and Lavagirl," then rocketed to another level of stardom thanks to his performance as the werewolf Jacob Black in the Twilight movies from 2008-2012. But now — after taking some time away from the chaos of the entertainment industry, focusing on his mental health, and getting married — he seems pretty clearheaded.
Twilight has been having a bit of a renaissance on social media over the past few years, and a new TV series based on the fantasy franchise has even reportedly been green lit, but Taylor says he's "in a great place now" about all that. "I don't know how much I've felt it, to be completely honest," he tells POPSUGAR of Twilight's resurgence in popularity. "If I have, I think it's been fine because of the healthy space that I'm in now. I kind of took a step back from everything for a couple years, and I think I just needed that break for myself."
During his time out of the spotlight, Taylor met and married Tay Dome, who took his last name, making them officially Taylor and Taylor Lautner. The pair tied the knot in a California ceremony on Nov. 11, 2022, and together, they seem to have developed an unshakeable bond, one that centres honest communication and growth. They share some insight into their relationship in their new podcast, "The Squeeze," which follows them as they speak to various experts and stars about all things mental health.
The podcast, which launched in April, started as Tay's idea. "I woke up one morning sometime last year and was like, 'Hey babe, I wanna start a podcast. [Taylor] was like, 'Great.' And I was like, 'OK, well, you're gonna do it with me,'" Tay says, laughing. ". . . I knew he was gonna absolutely love it. After the first episode, he was hooked. He was only supposed to be my part-time cohost, but we filmed our first two episodes and he was like, 'Can I actually be here full-time?' And I was like, 'Yes, you can. I knew this was gonna happen.'"
So far, the podcast has been a learning experience for both of them. "Our joke — that is slightly a joke but also kind of true — is that it's free therapy for us," Tay says. "We get to talk to so many amazing people that feel safe enough to share their stories and what they've been through, and their perspective on things or things they've learned about themselves."
They've spoken to everyone from "Wednesday" star Emma Myers to bestselling author and psychiatrist Dr. Daniel Amen, and so far, Tay says her main takeaway has been that "therapy works." Taylor notes that a major lesson he's learned over the past few years — and solidified through "The Squeeze" — has been the importance of opening up.
"I spent so many years never even thinking about the fact that maybe I do need to talk to somebody."
"I think the biggest thing for me is — and I think a lot of people can relate to this — the biggest step is the first step, and that's just talking about it," he says. "Just admitting that you're not OK, you're not happy and perfect all the time. I spent so many years never even thinking about the fact that maybe I do need to talk to somebody, whether that's a therapist or just friends, family, or a partner. It's very, very helpful to start talking about it and being open."
Taylor does just that in the first episode of the podcast, during which he gets candid about his struggles with mental health and discusses how Twilight messed with his body image. It ultimately led him to take that aforementioned time away from the industry. Tay then returns the favour in the second episode, opening up about what led her to start her nonprofit, The Lemons Foundation.
"I have a lot of family that struggle with addiction and bipolar disorder, and I lost a friend of suicide, and that has kind of always been in my life," she says. But it wasn't until the pandemic that she started really experiencing her own challenges, which led her to launch the foundation with the aim to share mental health resources for anyone experiencing mental illness or supporting someone who is.
Mental health has never exactly been an easy thing to deal with, but mental illness has been rising among younger generations in recent years, according to the National Alliance on Mental Illness. That spike has been blamed on many factors, from lack of community to increased stress, but social media is usually among them — and Tay and Taylor both place some blame on it as well.
"There's the judging or comparing yourself to other people," Tay says of social media's impact. ". . . Our brains aren't supposed to be disengaged as they are. They're just constantly firing, constantly scrolling through TikTok and Instagram. Our emails pop up as notifications. There's no quiet time."
"It's so important to be getting your time outside in nature, physically doing things with your hands," Taylor agrees. "There's a lot of studies that show those things equate to happiness and mental health."
For their part, though, the Lautners seem to enjoy a healthy relationship to social media, with neither one taking it too seriously. In 2022, Tay shared a TikTok about the fact that she was originally Team Edward as a young Twilight fan. Then, on May 17, the couple went viral once more when Taylor posted a video of himself jokingly praying for John Mayer in light of Taylor Swift's impending "Speak Now (Taylor's Version)" re-release. (Taylor, who dated Swift in 2009 and is believed to have inspired the song "Back to December," is definitely far safer from fans' ire than Mayer, who is thought to be the subject of some of the album's more bitter tracks.)
But Tay's early loyalties to Robert Pattinson and Taylor's highly publicized past relationships are all clearly irrelevant to the couple now. "We've been together for five years, so we've pretty much got a routine of kind of knowing who the other person is," Taylor says. "Obviously, it is different once you're married to some extent, but it's been great. We have just been having a whirlwind of a year."
"Nobody goes after their ideas and goals more than she does. I'm thankful to be along for the ride."
When it comes to Tay's dreams for the future of her foundation, the sky is the limit. "I wanna start doing some big stuff. Giving back to the community or funding research would be really cool," she says. "Bringing mental health resources to underprivileged areas . . . everyone needs it, and it's not very readily accessible."
As for Taylor, he has no doubt his wife will be able to accomplish whatever she sets her heart on. "She's got big goals, but I've yet to hear a goal of hers that she hasn't hit or is on her way to hitting," he says. "I don't doubt anything that she can do. She'll just wake up one morning and have a brand-new idea, and nobody goes after their ideas and goals more than she does. I'm thankful to be along for the ride."