Theo James, Mike White, Murray Bartlett White Lotus Reunion
Theo James, Mike White, and Murray Bartlett Have a "White Lotus" Reunion During Fashion Show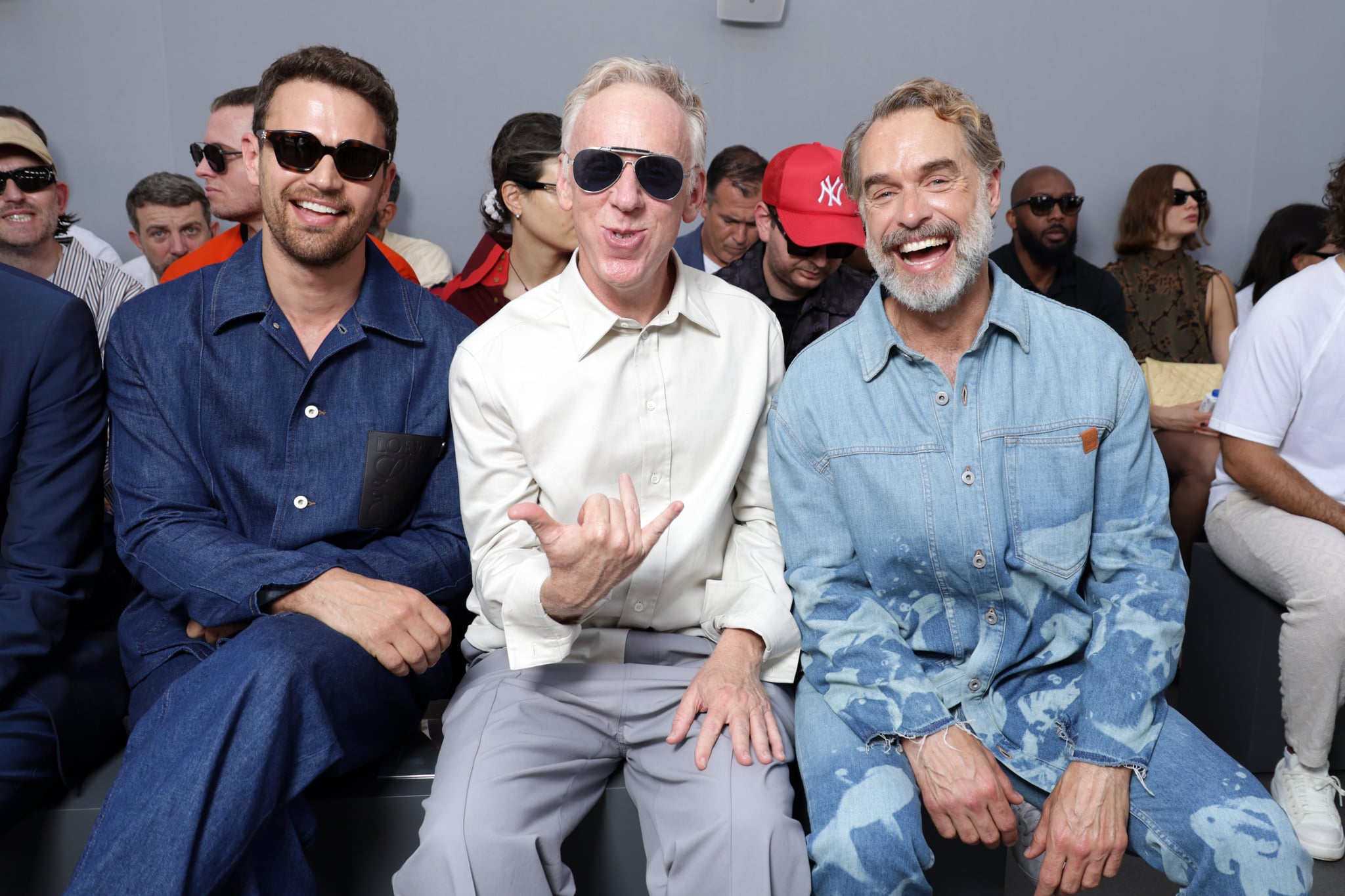 Cue up "The White Lotus" theme tune. On Saturday, Theo James, Murray Bartlett, and Mike White had an impromptu reunion at the Loewe Menswear Spring/Summer 2024 Fashion Show in Paris. The surprising convergence of "The White Lotus" stars brought seasons one and two together in the most fashionable way possible.
The trio of men posed for a photo together in the front row of the show. In the pic, all three men are grinning, with James and Bartlett flanking series creator, White. For his part, White flashes the camera a cowabunga sign. The only thing that could make the picture more perfect would be if Jennifer Coolidge had been there to join in.
Bartlett even shared the photo on his Instagram. He captioned the pic, "What a fun afternoon hanging with old and new friends! Congratulations @loewe and @jonathan.anderson for a mind-blowing #LOEWESS24 show!!"
Fans of the hit show will recall that Bartlett played the perpetually on-edge White Lotus Hawaii hotel manager Armond in season one, while James starred in season two as hedge fund bro Cameron. The two characters never met onscreen, but it seems fitting that the actors would link up with White in Paris, considering the globetrotting nature of the show.
This little snippet of "The White Lotus" goodness will have to sustain the show's devotees for now. While season three is rumoured to take place in Thailand, it's going to be a while before filming begins. With the writers strike still underway, most Hollywood productions — including the third instalment of White's satirical hotel drama — are in a holding pattern.
So far, only one cast member has been announced for season three: Natasha Rothwell is set to reprise her role as spa manager Belinda from season one. Sadly, Bartlett isn't likely to be returning to the show anytime soon due to his character's first season arc, but since James's Cameron made it out of season two alive he could potentially book another stay at a White Lotus in the future.
For the moment, seeing the trio of "The White Lotus" men hanging out together will just have to serve as an appetiser for the drama that's sure to come when season three does arrive.