Johnny Depp Surprising Fantastic Beasts Comic-Con Panel 2018
Johnny Depp Makes Surprise Comic-Con Appearance After Fantastic Beasts Controversy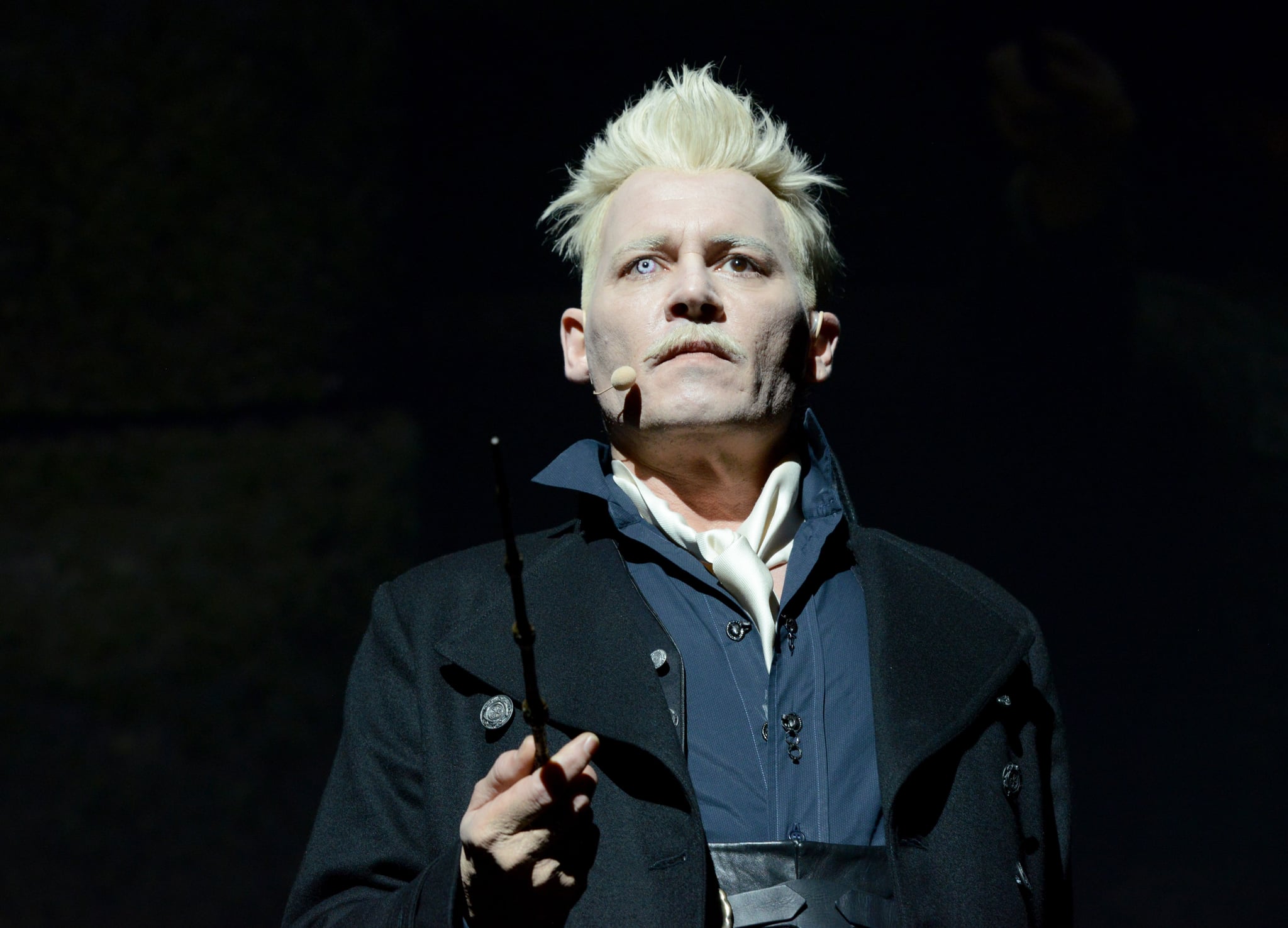 Johnny Depp's surprise appearance at San Diego Comic-Con this year was a shock on multiple levels. The 55-year-old actor, who has recently been wrapped up in multimillion-dollar lawsuits and other public financial problems, stepped out on the Hall H stage on Saturday dressed in the costume of his evil character in Fantastic Beasts: The Crimes of Grindelwald, Gellert Grindelwald.
His physical presence — a shock of bleach blonde hair, icy blue contacts, a floor-length black coat, and a wand — was enough to catch fans in the audience off-guard regardless, but given the recent controversy surrounding his casting in the sequel, it makes his choice to attend the annual convention even more concerning.
In 2016, Depp was embroiled in a contentious divorce from actress Amber Heard that dragged on for months before ending with disturbing domestic abuse allegations. Heard alleged that Depp "violently attacked" her on a number of occasions and that during the "entirety" of their four-year relationship, Depp was both "verbally and physically abusive" to her. Heard later won a $7 million settlement in the divorce case, which she donated entirely to charity. She and Depp finally settled their divorce in 2016, when she dismissed the claims and withdrew her request for a domestic violence restraining order.
For many loyal fans of J.K. Rowling's Harry Potter franchise, Depp's casting in Fantastic Beasts felt like the same old, same old as far as Hollywood is concerned — a man accused of brutal violence against a woman escapes from the fallout with his career unscathed and no punishment for his (alleged) actions. Since then, everything from harsh tweets about his inclusion in the series to petitions calling for his recasting have been made by fans. That being said, he still has plenty of support, as evidenced by people in the audience in Hall H who screamed out their love for the star.
Depp's appearance at Comic-Con came at the end of the Fantastic Beasts panel, when he stepped out following the rest of the cast's answers to questions like what they'd do if they had their own set of magical powers (Zoë Kravitz would "impeach Trump," FYI). He began a creepy speech about "muggles," who Grindelwald despises in the film. "We who live for freedom, for truth, the moment has come to rise up and take our rightful place in the world," he told the crowd, before exiting the stage without taking questions.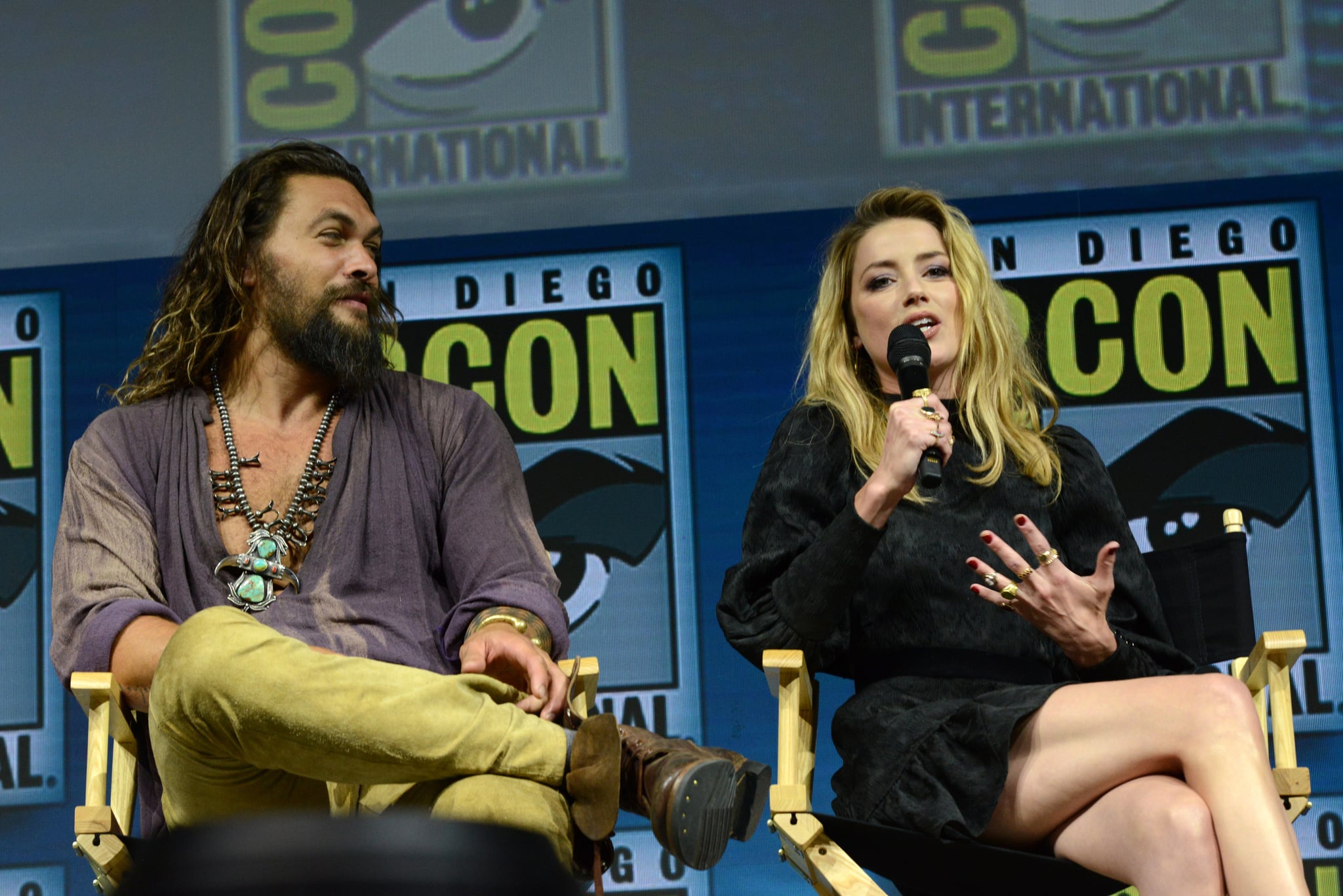 About an hour after his cameo at the Warner Bros. panel, the cast of fellow WB property Aquaman appeared for their own panel, which includes Amber Heard. The 32-year-old actress plays Mera in the upcoming superhero film, which dropped its long-awaited first trailer during the panel, but Twitter was already abuzz about the awkward and irresponsible scheduling on Warner Bros.'s part.
just realised amber heard and johnny depp are both in the same building promoting their WB blockbusters 👀👀👀

— lindsey romain (@lindseyromain) July 21, 2018
So sad to see how Amber Heard's allegations have destroyed Johnny Depp's career oh what's that he just got introduced at #ComicCon? #MeToo

— Amir Talai (@AmirTalai) July 21, 2018
Wait. This Warner Bros panel is going to have both Johnny Depp and Amber Heard at it isn't it?

Awkward.

— Joe (@JoebiWan94) July 21, 2018
James Gunn gets fired but Johnny Depp gets brought out on stage in Hall H 🤨🤨🤨🤨🤨

— Dana Schwartz (@DanaSchwartzzz) July 21, 2018
WB brought Johnny Depp out for the Fantastic Beasts panel (as a surprise!!!) immediately proceeding their Aquaman panel, featuring Amber Heard. That makes me nauseous.

— Dana Schwartz (@DanaSchwartzzz) July 21, 2018
Awkward moment when you realise Johnny Depp and Amber Heard will be on the same stage minutes apart

— Caleb Williams (@KnightGambit) July 21, 2018
WOW. WB really put Amber Heard and Johnny Depp in the same hall. Unreal and irresponsible. https://t.co/IC3zDkqEzo

— Rron R2 is an Ang Lee Shill (@rron007) July 21, 2018
Let me talk to the SDCC director for allowing Johnny Depp's ugly ass to be in the same vicinity as Amber Heard pic.twitter.com/sTfUWFkKYo

— mayа (@pamelaivys) July 21, 2018
I'd love to hear the hoops Warner Bros. had to jump through to make sure Amber Heard and Johnny Depp didn't run into each other during the studio presentation. #sdcc

— Rebecca Ford (@Beccamford) July 21, 2018