What Is the First Song in Spider-Man: Into the Spider-Verse?
Whoa: Post Malone's "Sunflower" Wasn't Supposed to Be on Into the Spider-Verse's Soundtrack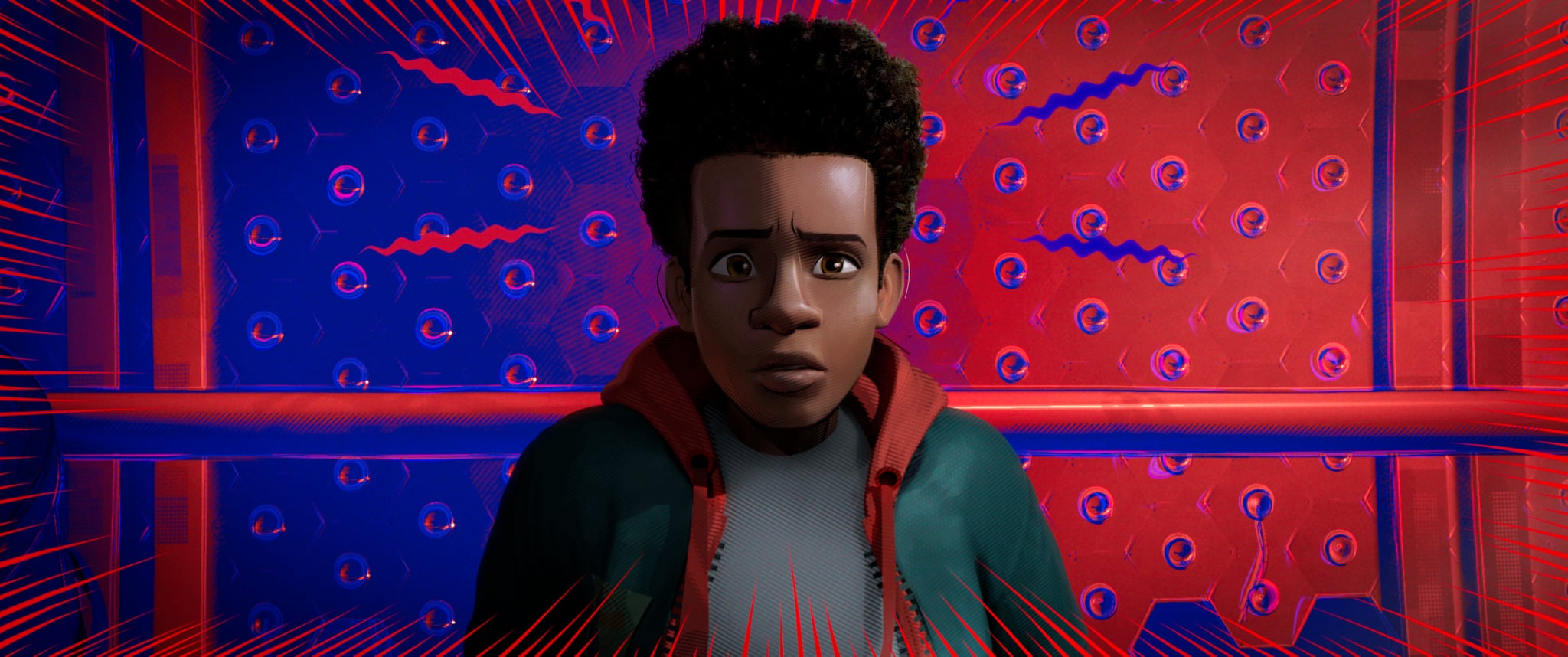 You want to know how I knew the dudes who live in the apartment above me had seen Spider-Man: Into the Spider-Verse? Because shortly after the Oscar nominated-film's release back in December, they started blasting Post Malone and Swae Lee's "Sunflower." Nonstop. (FOR DAY'S ON END.) Even though I've been permanently scarred by the opening "Ayy, ayy, ayy, ayys," I have to admit that it's the perfect track to introduce us to the movie's lovable protagonist, Miles Morales (Shameik Moore).
After a lengthy montage about Peter Parker, voiced by Hollywood's best Chris (Chris Pine, obviously), the movie cuts to young Miles hanging out in his bedroom with headphones on, stumbling over the lyrics to "Sunflower" as he draws and makes stickers at his desk. (It's OK, Miles — my upstairs neighbours still don't know the words, either.) It's one of many excellent songs on the soundtrack, but as writers Rodney Rothman and Phil Lord recently revealed to Vulture, "Sunflower" was actually their second choice.
"We had this idea that if he sang a song that was out of his register, it would make the audience laugh," Rothman and Lord recalled, noting that they had a "foolproof" way of doing so: by having Miles sing along to Childish Gambino's "Redbone." Considering how Donald Glover was linked to playing Miles Morales in a live-action film, it would have fit perfectly. Unfortunately, that all changed when they saw Get Out, which introduces us to Daniel Kaluuya's character, Chris, while "Redbone" plays in the background.
"It was critical that the song gag landed. We had a feeling it was because people knew the song, and they knew how he was messing it up," they explained. "We were in big trouble when we couldn't use it anymore — we needed to replace one of the greatest songs of the year, and we had to do it in time to spend the three months we would need to animate that shot."
Luckily, Republic Records had the Post Malone and Swae Lee collaboration on deck, and the rest is superhero history.
"We also liked the metaphor this presents: Miles is singing a song that theoretically he's a little too young for and he doesn't know the words yet," Lord and Miller told Vulture. "That's the metaphor we're going to be working with for most of the rest of the movie. He's going to be asked to step into shoes that he feels he's not ready for, he's not going to know the words, and he's going to feel very self-conscious and nervous about that."
If you're still curious about how that first scene with Miles would've sounded with "Redbone" in the background instead, however, listen to Childish Gambino's hit, ahead: