What Is Logic's "1-800-273-8255" Song About?
Here's the Story Behind Logic's Powerful "1-800-273-8255" Song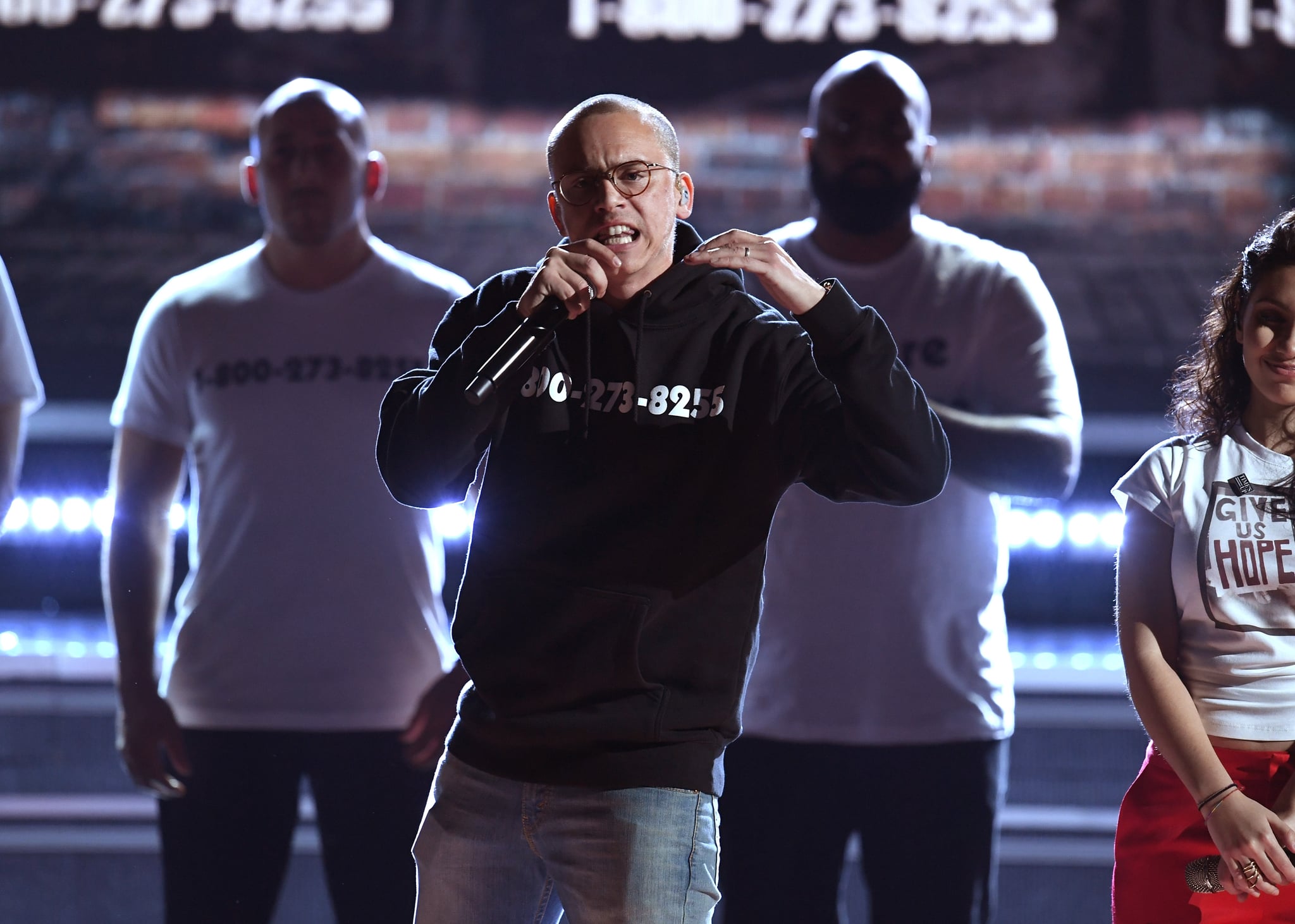 There were over a dozen performances during the Grammy Awards this year, and most were a flashy spectacle — because that's what the show does best. But there were a couple more serious moments, like Kesha's powerful performance of "Praying," which included Cyndi Lauper and Camila Cabello, or "Tears in Heaven" performed by Brothers Osborne, Maren Morris, and Eric Church, which was dedicated to the victims of the Las Vegas concert mass shooting.
One of the most touching moments of the night came when rapper Logic took the stage with Alessia Cara and Khalid to perform "1-800-273-8255," flanked by a group of people wearing "You Are Not Alone" t-shirts.
The song was released in April 2017 and is the third single off of Logic's third studio album, Everybody. The name of the piece is the same phone number as the National Suicide Prevention Lifeline. According to an interview the rapper did with Newsweek in August 2017, the inspiration for the song didn't come from any one incident in his life, but more from the desire to shine a light on important issues. He cites his other songs on the album about anxiety, racism, poverty — all things that are "really shedding light on who [he is]" and the messages he wants to spread.
According to a press release issued by the NSPL, the day the song was released, calls to the hotline went up 27 percent when compared to the average volume for that day of the week. Several call centers reported that callers had mentioned Logic's song, which he has since called "the most important" he's ever written.
The people who joined Logic, Cara, and Khalid on stage at the Grammys were a group of suicide survivors, something the rapper also did at the 2017 MTV VMAs. And following Logic's performance at the 2017 MTV Video Music Awards, which was coupled with Kesha giving a speech about how "none of us are alone," calls to the line spiked 50 percent.
"Logic's performance of '1-800-273-8255' on the MTV VMAs last night delivered a positive message that has had and will continue to have a lasting impact," said Lifeline's Director of Communications Frances Gonzalez in a statement after the award show. "Sharing that healing and hope are possible helps individuals in crisis, [and] changes the conversation around suicide from one of isolation to one of hope and connection."
In a 2017 interview with Genius, the rapper said that he has had numerous fans reach out to thank him for saving their lives, which he was not expecting.
"I was like, 'Man, I wasn't even trying to save nobody's life.' And then it hit me, the power that I have as an artist with a voice. I wasn't even trying to save your life. Now what can happen if I actually did?"