Aaron Jackson and Josh Sharp on Dicks, Megan Thee Stallion
"Dicks: The Musical"'s Writers and Stars Say Working With Megan Thee Stallion Was a "Dream Come True"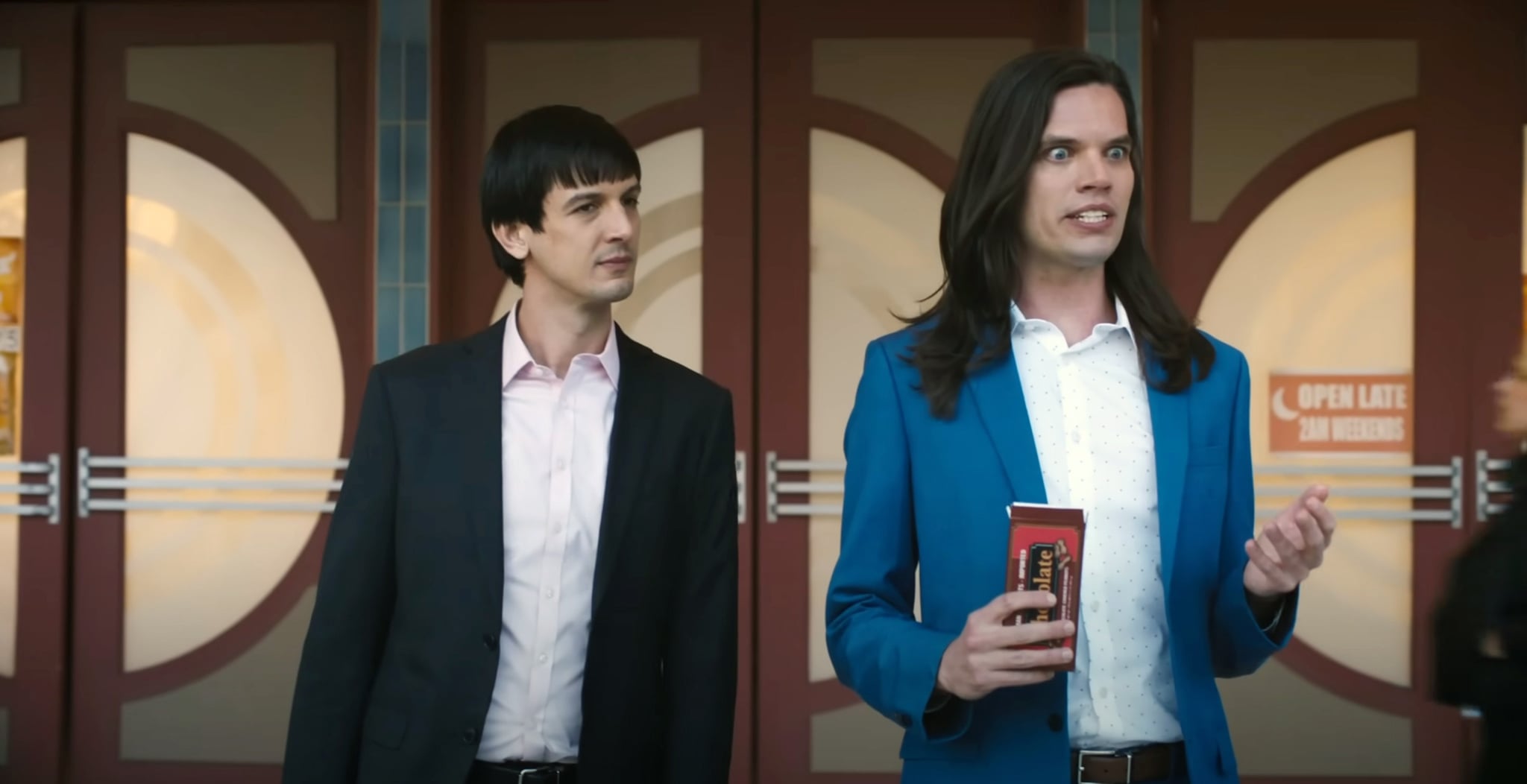 Aaron Jackson and Josh Sharp were permitted to conduct this interview amid the actors' strike through A24's interim agreement with SAG-AFTRA.
"Dicks: The Musical" is kind of like "The Parent Trap" — in that it follows two identical twins who are separated at birth and reunite later — and it's unlike "The Parent Trap" in that it has lots of jokes about sex and being gay and incest and the sewer boys (we'll come back to them). It stars Josh Sharp and Aaron Jackson, who first wrote the story as a two-person comedy show titled "F*cking Identical Twins."
"It's a classic story at this point," Sharp jokes to POPSUGAR, referring to why they decided to do a "Parent Trap" twist. "There's 'The Iliad,' there's 'The Parent Trap,' 'Macbeth.'"
"I think we both grew up watching both of [the movies], the Hayley Mills one and Lindsay Lohan one," Jackson says. "But the reason why we glommed on to that story was because it was easy to do a two-person show where one person plays the dad and one person plays the mom." Sharp teases, "It's what we in the business call 'Klumps'-style."
Of course, when Jackson and Sharp were doing their stage show years ago at the Upright Citizens Brigade Theatre in Manhattan, they could not imagine that one day Megan Thee Stallion would join them in a musical film adaptation of said show. "Truly a dream come true," Sharp says of working with the superstar. "She's obviously an incredible performer, rapper, dancer, and then so funny. [Before filming,] we were like, she could be not funny at all and we'll just figure it out in post, and then she showed up and was on it."
Jackson adds, "She can improvise, and she's very in the moment and very reactionary in a great way. She was so funny and so professional."
"You're like, 'You're a superstar, you should be mean to everyone, right?'" Sharp remembers thinking. "And then she was lovely and pleasant. Like, OK, where do the bad parts start?"
Also joining them in the film are legendary comedians Megan Mullally and Nathan Lane as the twins' bizarre mom and dad. Jackson says, "We wrote those parts for ourselves originally in the stage show, but then when we were expanding it into a movie, I know this sounds like horsesh*t, but they were truly our two dream people. We kind of wrote both parts for them."
For Sharp, the experience was surreal: "There were a lot of out-of-body experiences where I was watching Nathan Lane say a joke I had said in my mid-20s in a basement and being like, 'What is life?'" he remembers.
Jackson agrees. "It was very out of body," he says. "At midnight, you're watching Nathan Lane spit ham into a sewer boy's mouth. It's very special. It's a cherished memory."
Which brings us back to the sewer boys. The sewer boys — two uncanny, horrifying, but strangely compelling little creatures found in the sewers — are perhaps the most memorable part of the film. Sharp and Jackson said that when "Dicks" was just a stage show, the sewer boys were mentioned, but never seen, but when they expanded their role in the film, they got to be actual puppets. The pair love the puppets that popped up in movies in the 1980s and '90s, like "Gremlins" and "Jurassic Park." So Sharp, says, they knew the sewer boys "needed to be puppets."
"A lot of people describe them as disgusting, and I would say they're beautiful," Sharp adds. "We're two of the few who think they're some of the most elegant and beautiful, sophisticated creatures that have been put on this planet." Jackson quips that the boys have "one little sprinkle of cute."
"Dicks" is being released amid the ongoing SAG-AFTRA strike (the film has an interim agreement), and Sharp points out that the strike is for securing the future of the union's rank and file and youngest members. As relative newbies in Hollywood, they both understand how important those protections are. "This [movie] took seven years to make. We have worked so many other jobs while making this film," Sharp says, adding that they're "honoured" to have the movie released by a company that signed an interim agreement.
As evidenced by their constant bantering during our interview, Sharp and Jackson aren't just collaborators but also close friends. And for them, making a movie with their best friend is only full of positives. "You have a shared language," Jackson explains. "I can be completely honest with you, like 100 percent, I don't even have to be professional."
"There's that thing where you had the most magical day of your life, and then you want to call your friend and tell them about it," Sharp says. "I would just at the end of the day be like, 'Oh, yeah, you did it too.'"
"Dicks: The Musical" is in theatres now.