Alex Newell, J. Harrison Ghee First Nonbinary Tony Wins
Alex Newell and J. Harrison Ghee Become the First Openly Non-Binary Acting Tony Winners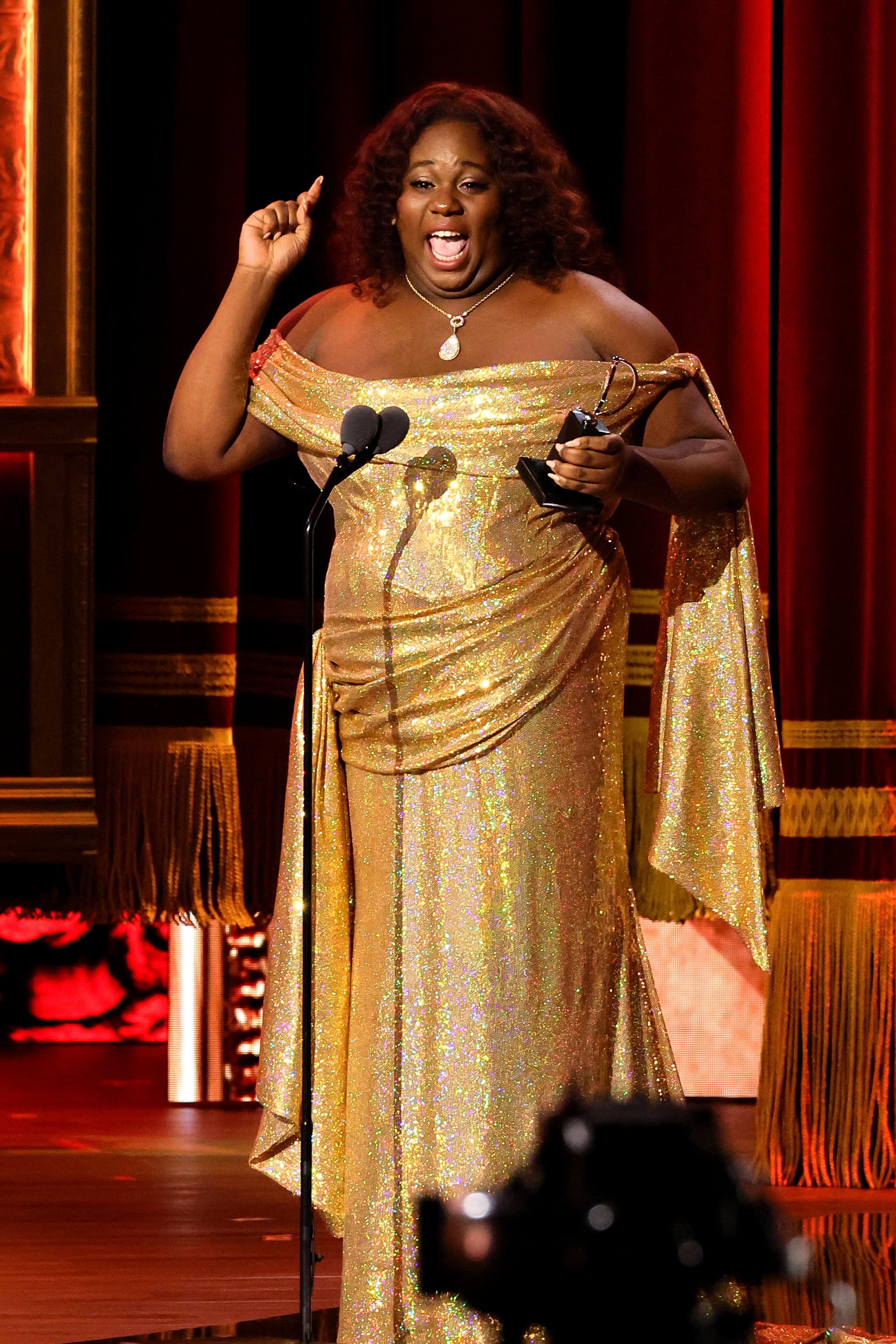 Image Source: Getty / Theo Wargo
Alex Newell and J. Harrison Ghee made history at the 2023 Tonys when they both took home the awards they were nominated for at the June 11 ceremony. The pair are the first-ever nonbinary people to win an acting award at the Tony ceremony.
Newell's category was announced first, and they won for best featured actor in a musical for their role in "Shucked." In their emotional speech, Newell said in part, "I have wanted this my entire life," and thanked their mom, who was in attendance, for her support and love.
"I should not be up here as a queer, nonbinary, fat, Black little baby from Massachusetts," Newell said. "And to anyone who thinks they can't do it, I'm going to look you dead in your face that you can do anything you put your mind to."
The "Shucked" Twitter account congratulated Newell, writing, "Liberated, calculated, educated, WE'RE ELATED! Congratulations to @TheAlexNewell for winning the Tony Award for Best Featured Actor in a musical!"
https://twitter.com/Shucked_Musical/status/1668067631222366208
Meanwhile, Ghee won best actor in a musical a few minutes later for their role in "Some Like It Hot." "For every trans, nonbinary, gender nonconforming human who ever was told you couldn't be, you couldn't be seen, this is for you," they said during their speech. They thanked the show's creative team "for letting me lead, for letting me bring myself to the work," and added, "As we say in the show, some like it hot, and that ain't bad, and honey, that's the gospel according to J."
Because the Tonys don't have gender neutral acting categories, Newell and Ghee had to choose which category to submit in (or if they were going to submit at all). "Actor is a genderless word," Newell told Rolling Stone of their choice in May after the nominations were released. "It truly is. And the last time I checked, we didn't say plumb-ess for a plumber. We didn't say I'm going to see my doctor-ress."
Of other nonbinary actors who chose not to submit at all rather than choose a category, Newell told the outlet, "These talented people shouldn't have to recuse themselves." Newell also said change on Broadway was "slow and steady," adding, "I love Broadway, but we haven't changed in a very long time."
Newell first rose to prominence on the first season of the Oxygen series "The Glee Project" in 2011. Newell joined "Glee" as Unique, a transgender teen with incredibly powerful vocals, and they were eventually promoted to a series regular. Newell is the second "The Glee Project" album to win a Tony; season two contestant Ali Stroker won best featured actress in a musical in 2019.
Ghee, meanwhile, made their Broadway debut in "Kinky Boots" and eventually joined the national tour. They also appeared in Broadway's "Mrs. Doubtfire."