Caitriona Balfe and Sam Heughan Talk Working Together
Caitriona Balfe Teases That "Outlander" Costar Sam Heughan Is "So High-Maintenance"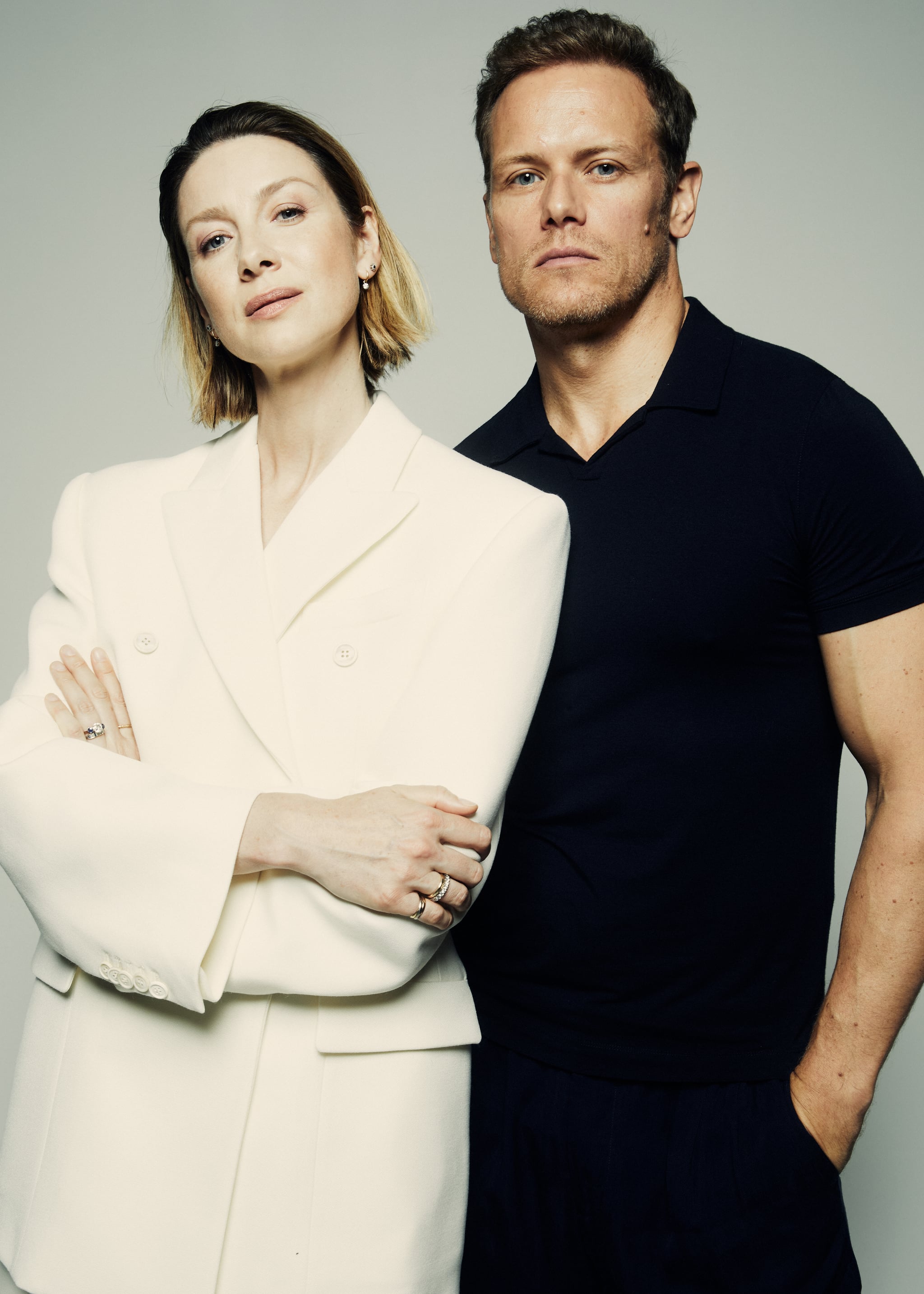 Jamie and Claire Fraser have been through a lot. War, child loss, allegations of witchcraft, and, well, the time travel of it all. That's nothing, though, compared to the daily battle their portrayers face just working alongside each other on "Outlander." "It's got worse, hasn't it? Each season, it just gets more and more fractious," Sam Heughan tells POPSUGAR. Echoes Caitriona Balfe, "It's very difficult. Very difficult to work with this human. So high-maintenance."
They're joking, of course. Much like their onscreen counterparts, Heughan and Balfe have developed a bond after a decade as scene partners. "It's like being in a relationship, I guess, isn't it? And a 10-year one at that," Heughan says. "I think over the years, we've learned a lot about each other, but also the characters. And living with these characters for 10 years has been such a joy; to age with them, to have their experiences. It is so fun, and I think this season, we're excited for the fans to see it. We've been on this incredible journey. We've been talking about the word 'independence,' and [independence] is finally here."
The seventh, penultimate season of "Outlander" has Jamie and Claire and the rest of Fraser's Ridge facing down the barrel of the Revolutionary War. The couple's journey began years prior, when combat nurse Claire was transported back through time from 1945 to 1743 Scotland. Her chance encounter with a young Jamie sets her on a path to become part of history.
"I can't believe it's been 10 years. That's so crazy," Balfe admits. That doesn't make the imminent conclusion of their epic, centuries-spanning tale any easier, though. Even if Balfe says they're "ready."
"Playing these characters has been just such a gift." — Caitriona Balfe
"It's been an amazing run, but it'll be over 10 years, so I think new challenges or different things that we get to do going forward is very exciting," she says. "But it's going to be really, really hard. I think this show has given us so much. Playing these characters has been just such a gift. Working together has been such an incredible gift, all of our cast and crew. I think it's going to be a really, really hard thing. . . . I'll probably sit in my room and stare at a wall for a little while, just be like, 'I don't know what to do with myself.'"
Echoes Heughan, "Losing that family, I think, definitely [will be the hardest part]. And losing the regularity of it and the structure. But yeah, I guess the family and friends we've made, right? It's going to be the hardest part."
The final season of "Outlander" premiered on Starz on 16 June.
— Additional reporting by Gabrielle Bailenson