GloRilla Talks Fame, Collaborating With Cardi B, New Music
GloRilla Recalls the First Time She Got Recognised by a Fan Overseas: "Wow, You Know Who I Am?"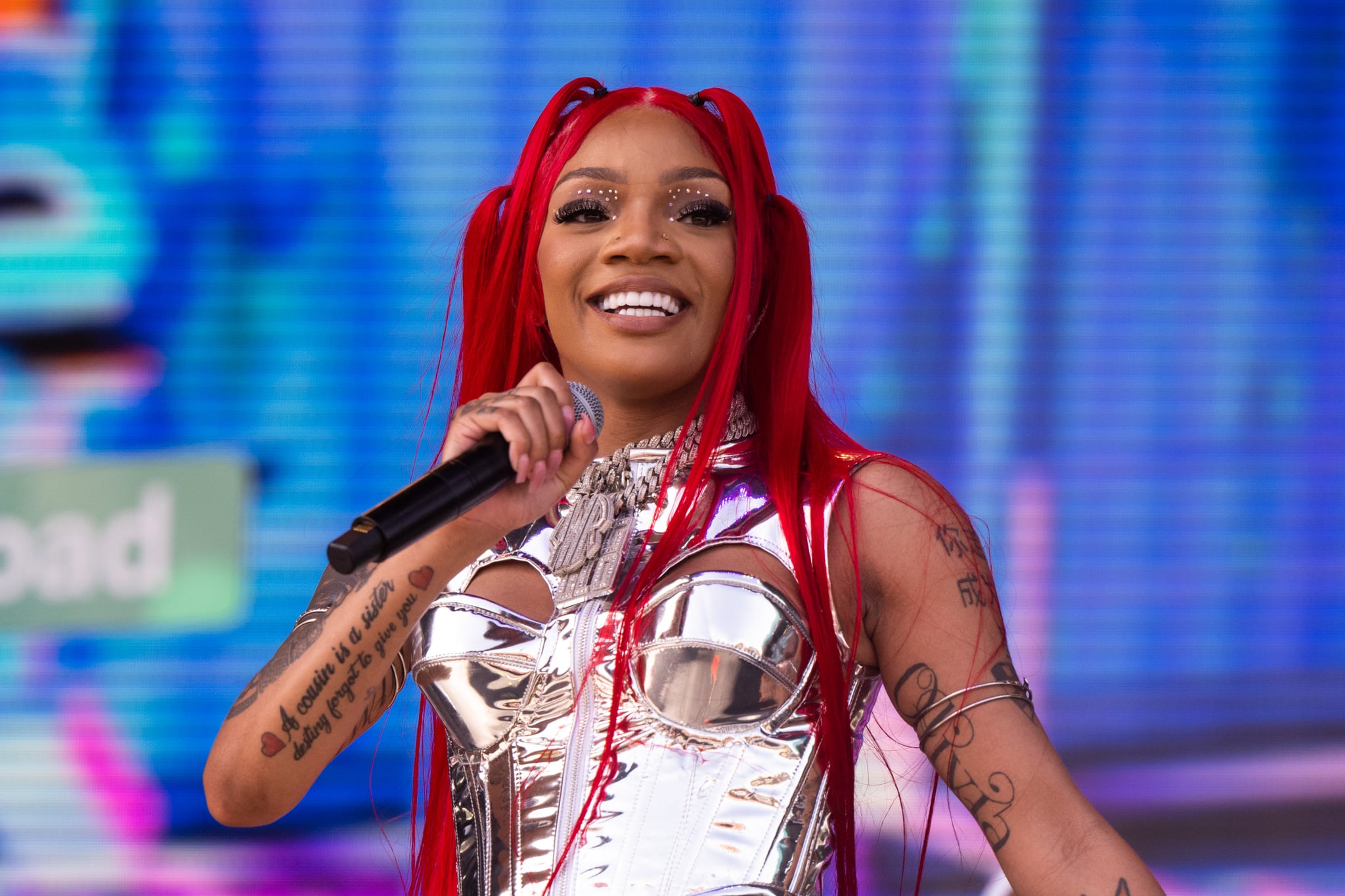 After a whirlwind breakout year, GloRilla is finally settling into her fame. The Memphis native, 23, burst onto the music scene seemingly overnight in April 2022 after the astronomical success of her now-certified gold hit "F.N.F. (Let's Go)." She then launched to superstardom after her September 2022 collaboration with Cardi B, "Tomorrow 2," became one of the biggest hits of the year. But even amid the hustle and bustle of her 180-lifestyle, the rap star tells POPSUGAR, "I now got to a point where I can just handle it."
"It's not overwhelming no more," GloRilla adds of navigating her star status. "It used to get like that at certain points, but I think for the most part, I know how to handle it."
"The biggest change [in my life] is really travelling the world."
Many young artists wouldn't be able to juggle a rapidly budding career along with major opportunities like performing at the American Music Awards and hitting the Grammys stage with a slew of hip-hop icons. However, GloRilla is handling her first year out with ease. In fact, she just checked another "surreal" accomplishment off her list: teaming up with Sprite to celebrate 50 years of hip-hop.
To honour the genre's groundbreaking anniversary on Aug. 11, GloRilla has been tapped to star in a tribute campaign alongside legends like Nas and Rakim, as well as fellow superstar Latto — part of which includes a spot in a remix of The Sugarhill Gang's "Rapper's Delight," the first-ever hip-hop song to hit the Billboard Top 40. GloRilla calls the campaign a "pinch-me moment" as she says, "I'm a big fan of Sprite, so I was excited to be a part of the summer campaign. I drink Sprite a lot, so I'm glad to help continue that legacy."
GloRilla's in the midst of creating her own legacy, one she still finds hard to believe has stretched across the pond. The rapper admittedly says, "I hadn't really travelled nowhere" beyond Memphis when she first blew up. Though she was locally known among hometown fans, she reveals, "The biggest change [in my life] is really travelling the world. I felt like I was going to be in Memphis for the rest of my life."
"I felt like I was going to be in Memphis for the rest of my life."
Nowadays, GloRilla says when she visits home, "I be like, 'Dang, I don't be here no more, and I be everywhere else.'" Residing in Atlanta and travelling back and forth to places like Miami and Los Angeles helped the rapper's name stretch across the map. Getting spotted in the airport took a minute to get used to because GloRilla would find herself asking folks, "Wow, you know who I am?" But the rap artist knew she really hit it big when she got recognised by a fan overseas.
"This was only two, three months after I blew up when I was in London," she shares. "I was in the mall, and the girl had recognised me. I just knew nobody in London was going to know who I was. That's one of the littest parts, for sure."
If someone would've told GloRilla she'd hit the pinnacle of success this time last year, she says she "wouldn't believe them," adding, "I'd think they lying and trying to play tricks on me." However, snagging a feature from one of the biggest women rappers today has given her more confidence to aim higher. GloRilla's next dream collaborations? Beyoncé, Chief Keef, and a "couple more" she's keeping close to the chest.
"It's a long list," she adds when asked about what else she's eyeing for the future. "I don't want to say. I don't want to jinx it."
One thing GloRilla is certain about, though, is the release of her first studio album — which she hopes will drop before the year is out. And unlike her 2022 debut EP, "Anyways, Life's Great…," she wants it to have "different vibes" than the rough-toned tracks she's known for.
"I'm still working on it, getting everything together," she says of her yet-to-be-named album. "I done crossed over different genres of music. Everybody know me for how I be hard on n*ggas and stuff, but I'm trying to give different vibes. Stuff that ain't so harsh." She's happy to share that she has "some happy vibes" on her upcoming project.
But more than that, GloRilla wants her album to prove she's here for the long haul. "That I'm solidifying my spot," she declares with no hesitation. "That I'm still not going nowhere. That this one for everything."