Are the Grease: Rise of the Pink Ladies Cast Really Singing?
Yes, That's the "Grease: Rise of the Pink Ladies" Cast Belting Out Those Showstoppers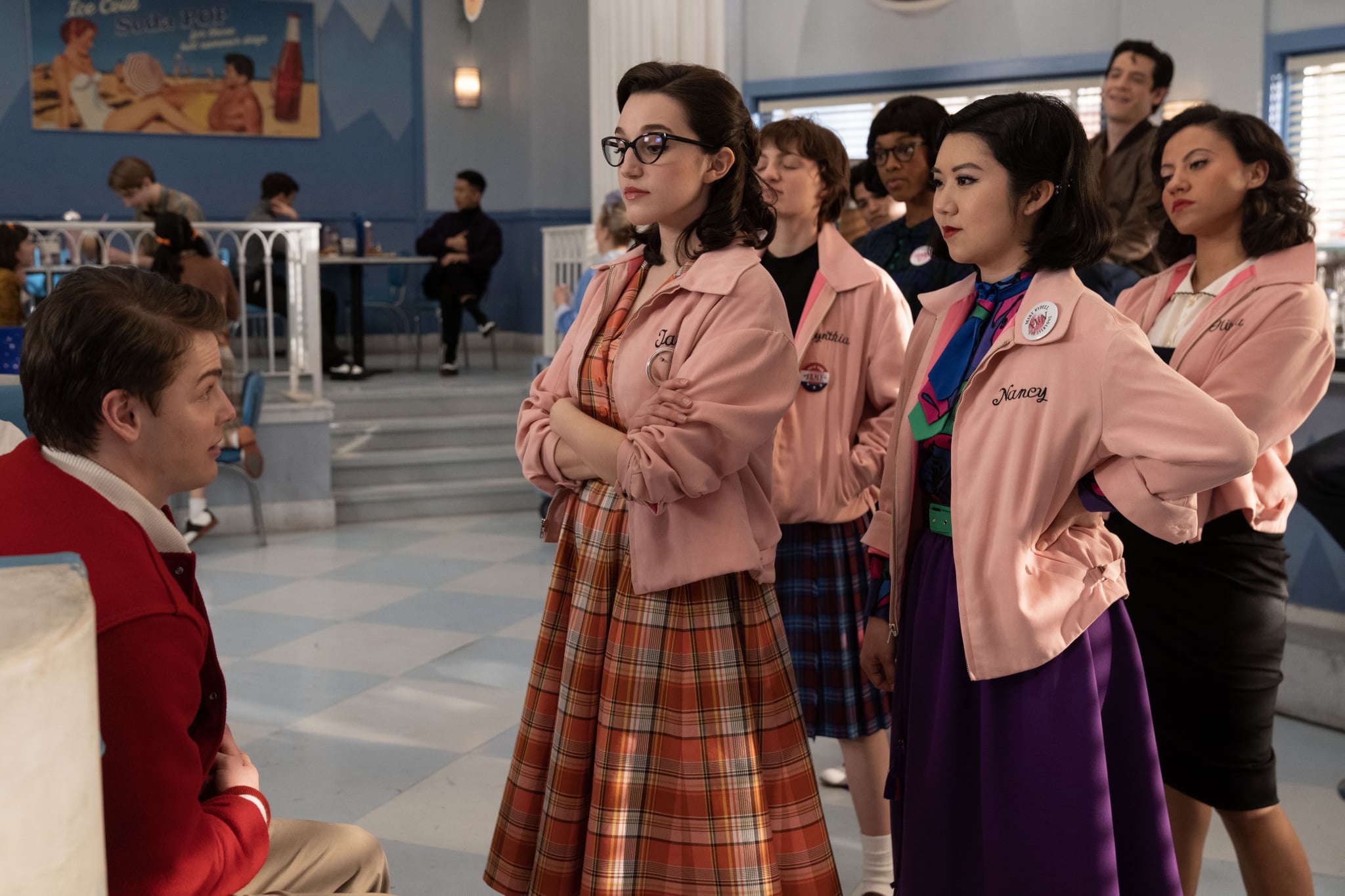 "Grease: Rise of the Pink Ladies" takes viewers straight back to high school, recounting the origin story of "Grease"'s infamous girl gang, the Pink Ladies. The show features a whole new slate of songs written for the series by hitmaker Justin Tranter, who designed the soundtrack to bridge a classic 1950s sound with more contemporary elements.
If you were wondering if the "Grease: Rise of the Pink Ladies" cast are really belting out all those showstoppers, the answer is yes! A rep for the series confirmed to POPSUGAR that each and every one of the actors sings all their own parts. Singing and dancing were always requirements for the show's stars, as it turns out; actor Fiona Vroom, who plays Susan, shared that the casting process for "Rise of the Pink Ladies" required everyone to show off their singing, dancing, and acting skills. "I sent in quite a hefty audition," she told Tell-Tale TV in April. "It was a scene from one of the episodes, and then had to put a dance reel together, and also had to sing a song. So it was a full musical theatre audition."
Fittingly, most of the series's young cast members are triple threats, such as Marisa Davila (Jane), who guest-starred on the musical TV show "Crazy Ex-Girlfriend" and actually released her first single, "Too Busy," in 2019. In an April interview with Screen Rant, Davila shared that being able to sing on screen actually makes acting easier for her. "What's funny is, I think that it's almost harder to have emotions come through when you don't get to sing," she said. "The fact that we get to break out into song and just let those emotions run wild is such a privilege. I think about all the other TV shows on other networks too; a lot of what they're going through is internal, and the audience has to imagine what their inner monologue could be. In our show, you get to hear a beat and rhythm."
Meanwhile, Cheyenne Isabel Wells, who plays Olivia, appeared on "The Late Late Show With James Corden" as a musical performer before donning the infamous Pink Ladies jacket. And Ari Notartomaso, who plays Cynthia, landed their role when a casting director spotted a video of them singing online. "I sent it to [casting director] Leigh Ann [Smith] and I said, 'I think this might be Cynthia,'" Conrad Woolf told Variety. Tranter also shared that Notartomaso's online presence helped them cinch the part. "Everything we could find online was basically them singing Barbra Streisand covers with a lesbian twist," Tranter told The Brunswick News. "But I was like, the voice is so good, I don't care if it's musical theatre. Then we got them in the booth to do 'New Cool,' which is our modern flip on 'Greased Lightnin',' and they're the best rock singer I've ever heard."
"Grease: Rise of the Pink Ladies" is set four years before the events of "Grease," and it shows how the Pink Ladies formed and took over Rydell High School. It was choreographed and directed by Jamal Sims, who worked on 2011's "Footloose" remake and the Step Up franchise. The first two episodes premiered on April 6.
Watch "Grease: Rise of the Pink Ladies" on Paramount+.