Harry Styles' Music for a Sushi Restaurant Video Meaning
Is Harry Styles's New Video About the Fickle Music Industry or Does He Just Like Sushi?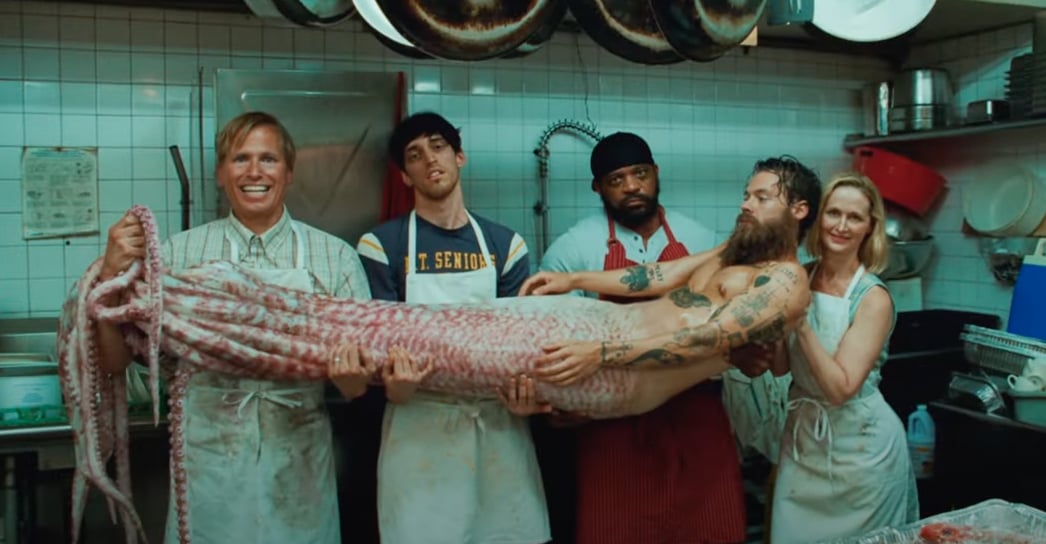 Image Source: YouTube user Harry Styles
There is a lot to unpack with Harry Styles' new music video for "Music For a Sushi Restaurant". Released on 27 Oct., not only do we get a glimpse of the singer sporting a full, bushy beard and moustache within the first few seconds, but he transforms into half-man, half-squid as he performs on stage. Confused? Let us take you on a deep dive with some of the fan theories.
On first watch, you would be forgiven for assuming the video is simply an eccentric, slightly bonkers take on Styles' love of sushi, as his singing squid character, complete with layered pearl necklaces, seashell sunglasses, and body glitter, is taken from the sushi kitchen to the stage. (Anyone else whipping this Styles tentacled look up for Halloween?) But fans have taken to Twitter to unpick a deeper meaning behind the visuals.
"this music video is very loud and its meaning very clear. harry is basically the famed golden goose that everyone uses and takes advantage of until they can and until he serves a purpose then they're done with him. and the fact that singing is his talent…" writes one Twitter user. Another tweeted, "I want to write an essay on how the music for a sushi restaurant music video was an allegory for the entertainment industry and how if an artist falls short in their ability instead of giving them space to improve and do better, they're just destroyed instead".
And they might be right. The "Pleasing" founder comes full circle in the video; he is eyed up as a potential sushi ingredient in the kitchen before becoming a star (and a bit of a diva) thanks to his singing ability, but as he begins to lose his voice and talent, the video ends with the chefs eyeing him up for food again. Could this be a reflection of the entertainment industry at large with its reputation of creating superstars only to chop them up and spit them out if interest wanes?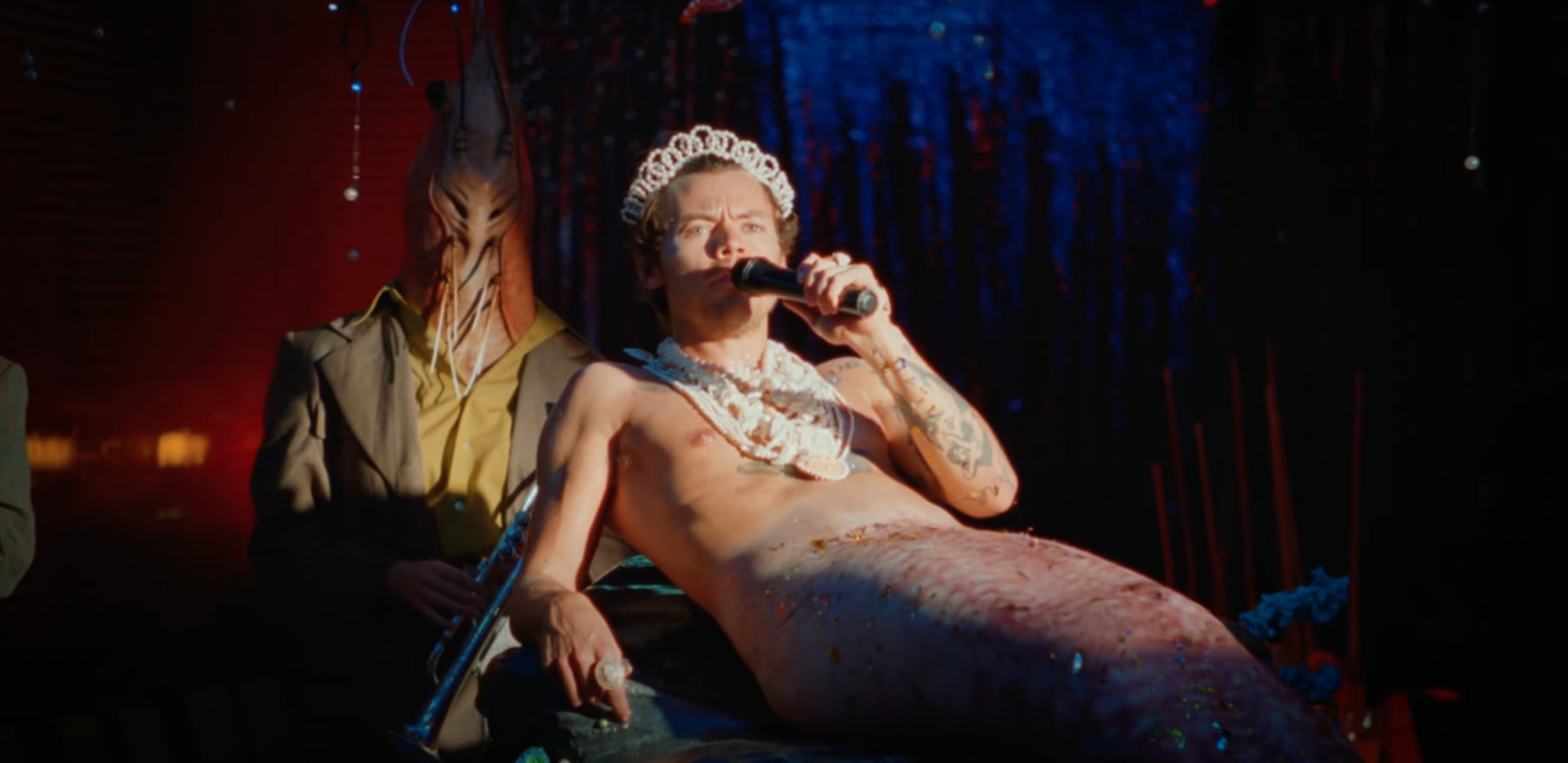 Image Source: YouTube user Harry Styles
Some fans have even made parallels with his tour playing out in real life. Styles was forced to cancel one of his "Love on Tour" shows in Chicago on 6 Oct. "due to band/crew illness" the venue tweeted, and in the video Styles appears to have a sore throat and lose his voice while performing. Perhaps life really does imitate art.
Styles also alluded to the volatile music industry during an interview with Zane Lowe for Apple Music in May. "You put so much love into an industry that's so fickle and it loves you back when you're doing well and, if you're not, you're just out," he said. Fans have even analysed his wider "Harry's House" album as a comment on the futility of fame, with similar theories behind his "As It Was" and "Late Night Talking" videos.
Styles is yet to comment on the meaning behind the "Music For a Sushi Restaurant" video (if there is one), but it's certainly left Stylers debating the significance of his fishy character. Another fan tweeted that the video "has a deeper meaning of once you lose your talent and appeal in the industry they quickly turn on you" while a second responded to this statement by simply writing "or he could just be an octopus". Touché!
Watch the video below and see what you think of Styles' singing squid.