Watch Iceland Eurovision 2020 Song "Think About Things Video
Sorry UK, Iceland's Quirky Eurovision 2020 Song "Think About Things" Already Has My Vote
My apologies to the UK and James Newman, but my 2020 Eurovision vote is officially going to Iceland's Daði Freyr and his song, "Think About Things."
Over the weekend at the Television Song Content (i.e. Söngvakeppni Sjónvarpsins) in Iceland, the country chose Daði and his band as their 2020 Eurovision representative. And it's not difficult to see why. Not only is the nu-disco sound of "Think About Things" delightfully catchy (with a synth-y opening that brings to mind the Stranger Things theme song), but the band's act on stage — inspired by the official video ahead — is also pure joy.
First, there's the band's matching '80s-style green tracksuits, each with a pixelated avatar of their faces decorating the front (and to answer the question you're definitely asking, yes, someone has made versions you can purchase, but unfortunately, they're all sold out already). Then there's the stiff, purposely awkward choreography that Daði — along with two backup singers, two keytar players, and one synth player — executed in perfect, robotic synchronisation à la Napoleon Dynamite, followed by some random wind machine action toward the end. Just a few seconds in, I promise that you'll find yourself grinning ear-to-ear, whilst bopping your head, shimmying your bum, and tapping your foot back and forth. "This song is too good for Eurovision," my sister texted me when I sent her a link to the video above.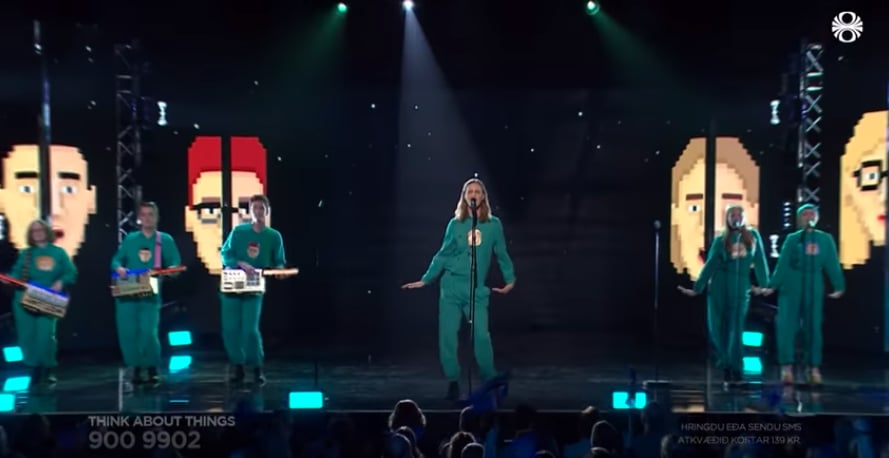 The dance moves might seem hilariously random, but they make more sense if you know the Icelandic version of the song "Gagnamagnið", which loosely translates to "data" (as in "data plan," in case this all wasn't random enough). This is according to my Icelandic boyfriend, who is the reason why I am even aware of Iceland's participation in Eurovision. He's also the reason I know that Daði Fryer (which you'll most likely see written as "Dadi Fryer" throughout the competition) is somewhat of a musical genius. Born in Iceland, Daði studied music in Berlin and then received a bachelor's degree in Music Management and Audio Production at the Abbey Road Institute in London.
But I digress; the Icelandic version of "Think About Things," which you can watch ahead, is all about dancing together, and the band's quirky dance moves illustrate how we should do that. And while the original English version is actually Daði wondering what his newborn daughter thinks about, I predict a lot of us will be dancing along to this bop right to the Eurovision finals on 16 May in Rotterdam.
Image Source: YouTube