Jimin Makes Billboard History With Face Album and Like Crazy
Jimin Makes History With Billboard No. 1 Hit, and His BTS Bandmates Couldn't Be Prouder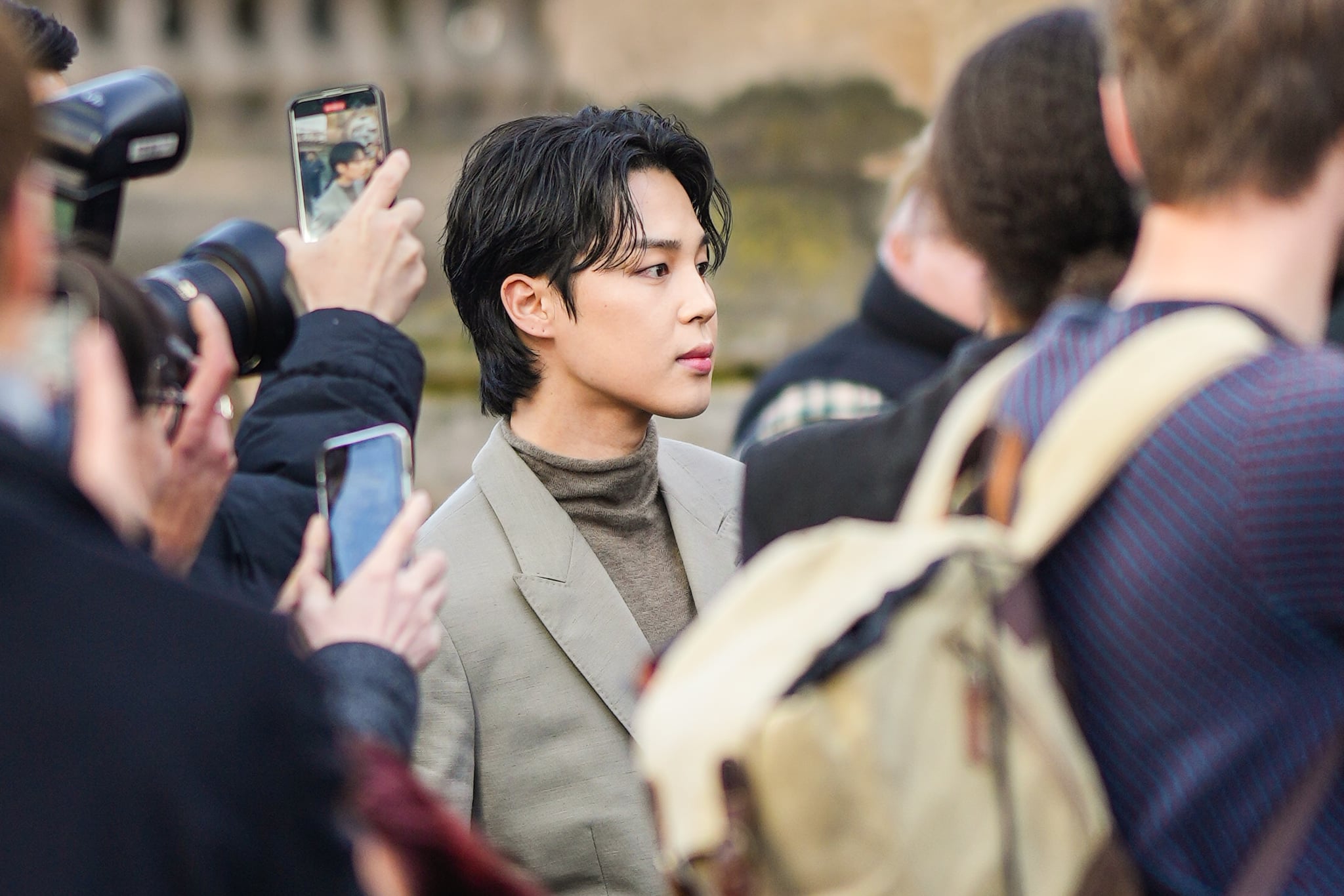 Image Source: Getty / Edward Berthelot
There's no end to how much musical history BTS has made as a group. They're the first and only Korean artists to notch six No. 1 singles on the Billboard Hot 100, and they're the only Korean artists to have been nominated for five Grammys, to name just a few of their major accomplishments. Now, as the group takes a temporary hiatus to serve in the Korean military and focus on their solo projects, it seems they'll start hitting even more milestones as soloists. Case in point: Jimin released his first solo album, "Face," along with the album's lead single, "Like Crazy," on 24 March, and a little over week later, he's now a Billboard Hot 100 chart-topping soloist.
On 3 April, Billboard reported that "Like Crazy" debuted at the top of the Billboard Hot 100, making Jimin the first and only Korean soloist to score a No. 1 hit on the chart.
Additionally, his album, "Face," debuted at No. 2 on the Billboard 200, selling 164,000 equivalent album units — which marked the highest debut on the chart by a Korean soloist (surpassing his bandmate RM, who previously held the record with his December 2022 album "Indigo"). According to Billboard, Jimin's No. 2 debut marks the second-largest debut week of 2023 behind only Morgan Wallen's "One Thing at a Time." Additionally, it's the biggest debut sales week for an artist with their first Billboard 200 entry since Olivia Rodrigo's "Sour" in 2021.
Jimin reacted to the news of his accomplishment shortly after it was announced on Weverse, posting a photo of a document on his computer screen in which he'd typed, "ARMY, you all, this is Jimin.
Ah.... as it still doesn't feel real, I don't know what to say (to you guys)," according to a translation by @BTSTranslation_. Shortly after that, he appeared in a Weverse livestream, relaying his thanks to fans out loud.
BTS's Reactions to Jimin Making Billboard History
Jimin's bandmates are just as thrilled about his accomplishment as he is. RM, who helped write some of the "Like Crazy" lyrics, posted a screenshot of Billboard's announcement with the message, "I'm proud."
\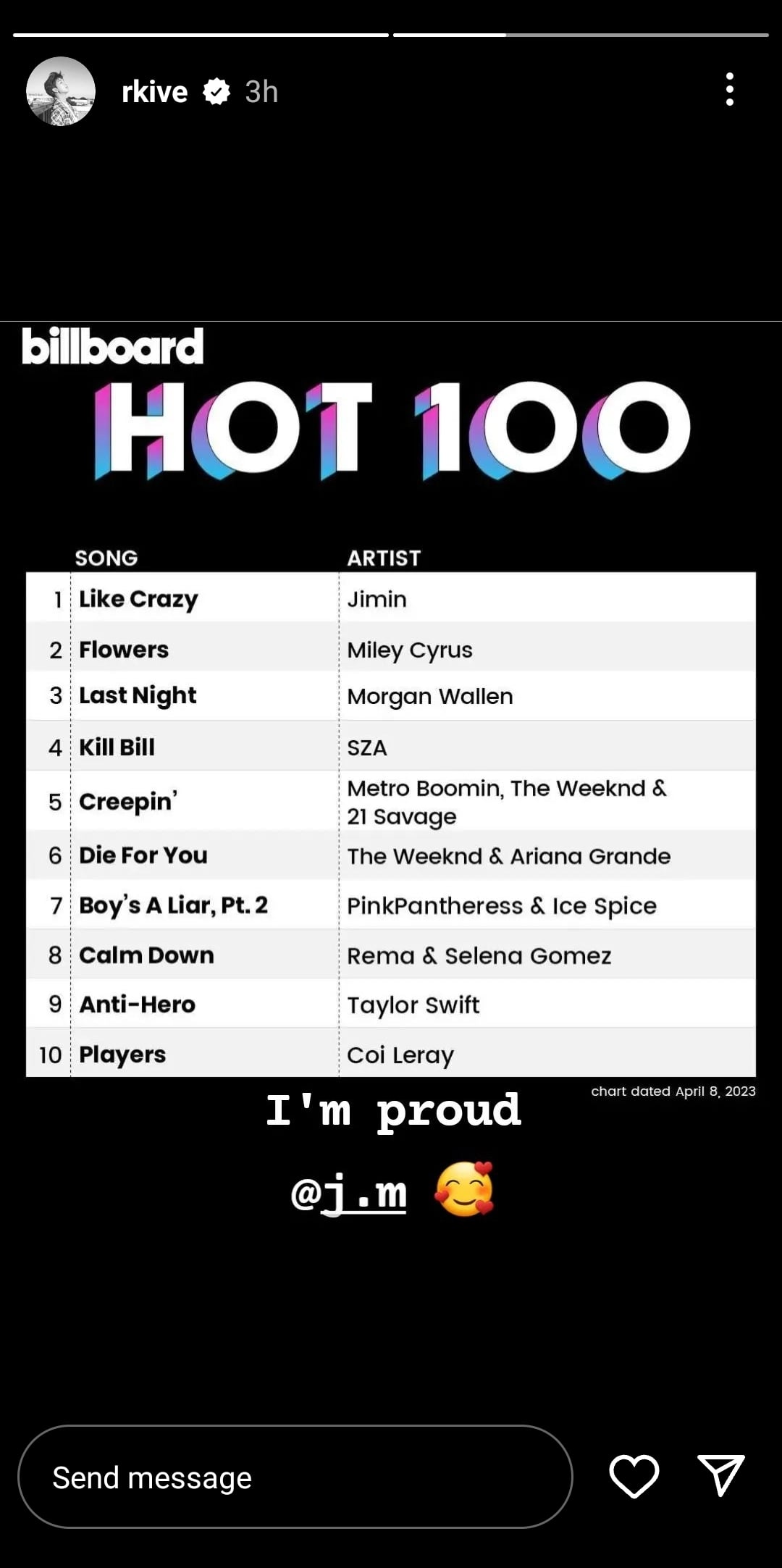 Image Source: Instagram user rkive
J-Hope posted a similar message to Instagram, writing, "Congrats @JM," and followed that post up with a message on Weverse, writing, "Jimin, I'm so proud of you. . . Great job! Congratulations!"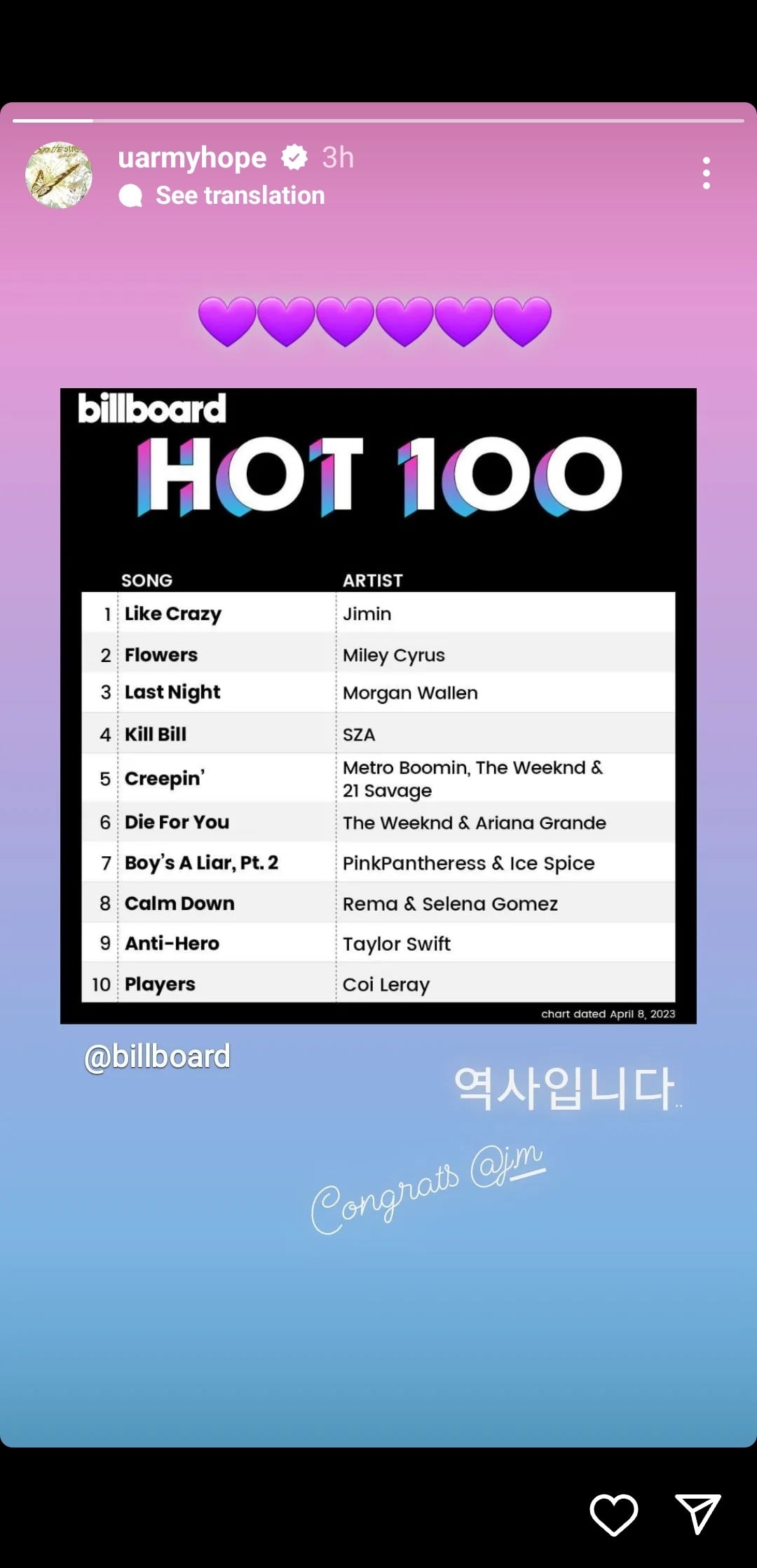 Image Source: Instagram user uarmyhope
Meanwhile, Suga — who is set to head out on his first solo tour later this month — responded to Jimin on Weverse, writing, "Yes, Park Jimin Billboard Hot 100 #1 artist. You're so cool (let's go)," according to a translation by @BTSTranslation_.
BTS members Jin (who's currently serving in the Korean military), Jungkook, and V have yet to post reactions to Jimin's accomplishments, but, to be fair, the news came out around 2:30 a.m. in Korea.